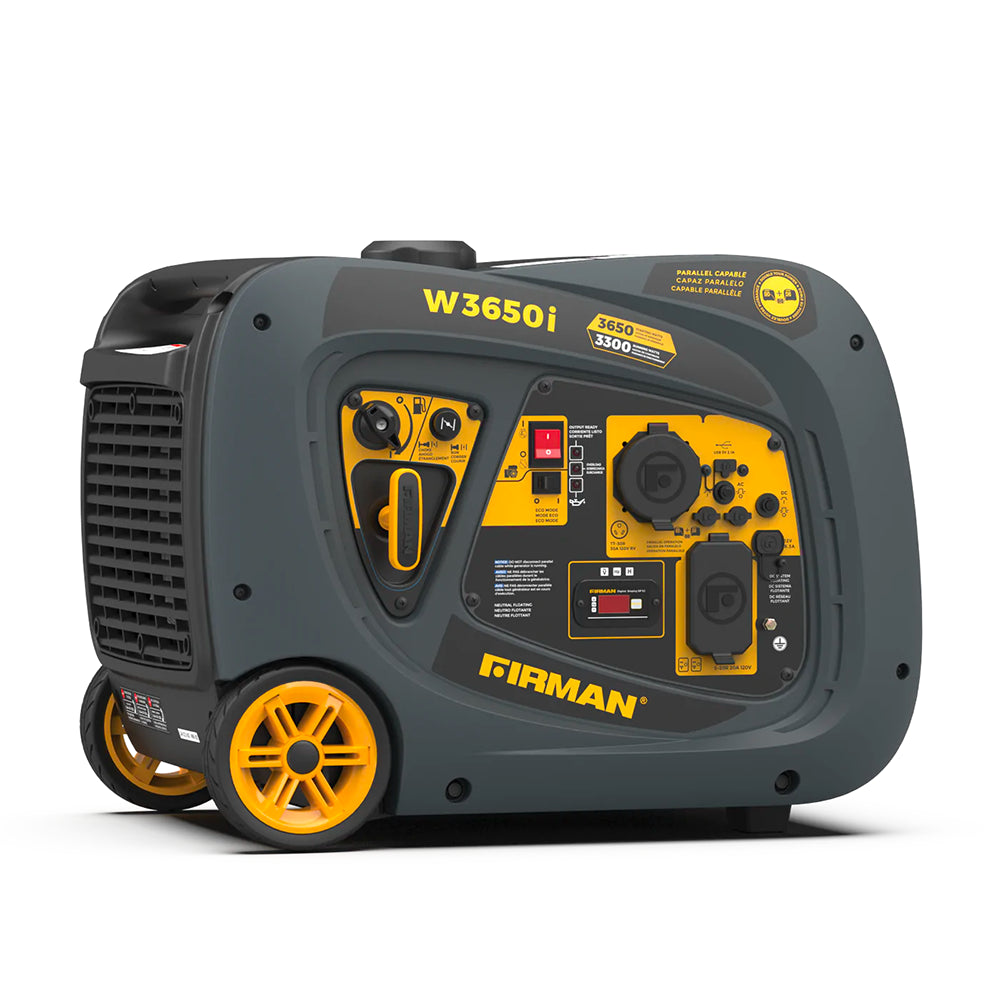 Firman W03381 Portable Inverter Generator - 3300 Watt
Consumers consider several key elements when shopping for a generator. Generally, they want a unit that suits their power needs, has a long run time, and doesn't make too much noise. The Firman W03381 generator ticks all the boxes for many people.
The Firman W03381 is a portable inverter generator that provides power for electronics, small appliances, lighting, and more. It is part of the Firman Whisper Series, designed to be quiet, efficient, and versatile. This generator is ideal for a variety of settings, including camping, tailgating, or power outages at home. 
W03381 Overview
This Firman Power Equipment W03381 is a portable inverter generator built with intention. It features a simple design that's easy to operate. Once fired up, the W03381 is quiet and can operate for up to 10 hours on a full tank. 
Consumers who know the Firman name expect top-of-the-line features and customer service. The Firman W03381 portable inverter generator offers an eco mode that adjusts the engine speed depending on the power load. The result is unrivaled fuel efficiency. Another stand-out Firman feature is the control panel with a variety of outlets, all covered for safety. 
All Firman inverter generators are engineered in the United States and constructed to endure extreme hot or cold weather. This generator comes with an industry-leading, three-year warranty with available customer support seven days a week.
Firman W03381 Specifications
The Firman W03381 portable inverter generator is loaded with top-quality features. It is CARB, EPA, and cETL certified. The aforementioned control panel features a 5-20R 120V 20A duplex outlet, a TT-30R 120V 30A RV outlet, a USB outlet, and more. 
Additional notable specs include the low oil shutoff, power stream alternator, and cast iron sleeve for unbeatable durability. The gas fuel system includes a 1.8-gallon plastic fuel tank.
Learn more about the most impressive Firman W03381 inverter generator specs below. We also have more inverter generators here.
Power & Run Time with the Phoenix Fat Head Block
The Firman W03381 portable inverter generator offers Firman's legendary engineering. It has a 193cc Firman Max Pro Series OHV four-cycle engine with an electric start. The generator can produce 3650 starting watts and 3300 running watts, and the Phoenix Fat Head Block consistently provides cool, efficient power. The 1.8-gallon fuel tank offers nine hours of run time at a 25 percent load. That's plenty of time for an entire tailgating party, powering an RV while boondocking, or comfortably enduring a power outage. Simply refuel the generator to add more time.
Key Features
Firman loaded the Firman W03381 with features, including clean power, numerous receptacles, a user-friendly control panel, and more. 
Clean power: The clean power creates less than 3 percent total harmonic distortion (THD) which makes it ideal for powering sensitive electronics. 

RV receptacle: The TT-30 RV receptacle is another outstanding feature, allowing users to easily connect the generator to an RV. However, it's important to note that RV users will need to purchase the 30A RV cord separately. 

Low oil warning system: The W03381 inverter generator features a low oil level warning system that automatically shuts the generator down when oil pressure gets low. 

Large fuel tank: The Firman W03381 is compact, but it can still pack in a lot of fuel. The 1.8-gallon tank provides nine to 10 hours of run time based on power use.

Eco mode: The Firman Eco mode adjusts fuel use based on the power load. The generator will automatically save fuel when less power is necessary. 

Multiple outlets: The unit includes one 12V DC outlet and one USB 5V outlet. Both are ideal for powering small electronics like smartphones, laptops, speakers, critical medical equipment, and more. 

User-friendly control panel: The control panel is easy to read and operate with a digital display that allows users to monitor voltage, operating hours, and frequency. 

Protection: Circuit breaker protection provides superior safety for users and electronics.

Firman Whisper Series muffler: Firman's Whisper Series generators run substantially below National Park requirements. 

Parallel operation capability: This Firman generator can connect to another for double the power. With two, users can easily power RV living with all the amenities, large home appliances, and more. 

Easy transportation: This Firman W03381 inverter generator features a lightweight design and 5-inch float-free rubber wheels that make transport and setup easy. 

Accessories included: The package includes engine oil, an oil funnel, a 12V battery coil, a quick oil drain, a screwdriver, and a spark plug wrench to make fueling and maintaining the generator a breeze.
Portability
A significant advantage of the Firman W03381 Whisper Series inverter generator is its light weight design. Firman did not design it to stay bolted in one place. Its size is 26.6 by 19.3 x 18.9 inches and the weight is 97 pounds with a wheel kit and handle for easy transportation. Fill it with gas at your destination to reduce overall weight. 
Emissions
The Firman W03381 Whisper Series generator meets EPA and CARB emissions requirements. The goal is to provide power where it's not available while going easy on the environment. Spark-detection technology also helps prevent fires in the wilderness or anywhere else the generator goes. 
RV and Quiet Power
A major drawback of many powerful generators is how loud they are. They can disturb neighbors at the campsite or at home and make concentrating amongst the noise next to impossible. This portable inverter generator is part of Firman's Whisper Series, known for providing impressively quiet sound. 
Shop our full Firman collection here.
Frequently Asked Questions
Who makes the Firman W03381 Whisper Series generator? 
Firman is a company founded for the unexpected. It is one of the largest manufacturers of generators in the world. Every Firman generator is engineered in the U.S. to provide larger fuel tanks, longer run times, and superior overall quality. 
How long do Firman generators last?
Firman generators are built to last. The company's experts test each new model for 500 continuous hours to find any areas that need improvement before going into production. Generators are also tested in rooms that simulate different temperatures, from freezing cold to scorchingly hot. Firman generators come with an industry-leading three-year warranty and outstanding resources account customer service seven days a week. 
Zoom in on the Firman W03381 Inverter Generator
This Firman W03381 Whisper Series inverter generator is a favorite among RV campers, tailgaters, and anyone who likes to explore off the grid. It's also an ideal backup source of power for storms and other emergencies. 
Firman portable generators are favored around the globe for their durability, quiet power, innovative elements, and environmentally-friendly features. The W03381 even comes with a long list of accessories, like an oil funnel and spark plug wrench, to ensure the generator is ready for use immediately upon arrival. 
W03381 Unboxing Video