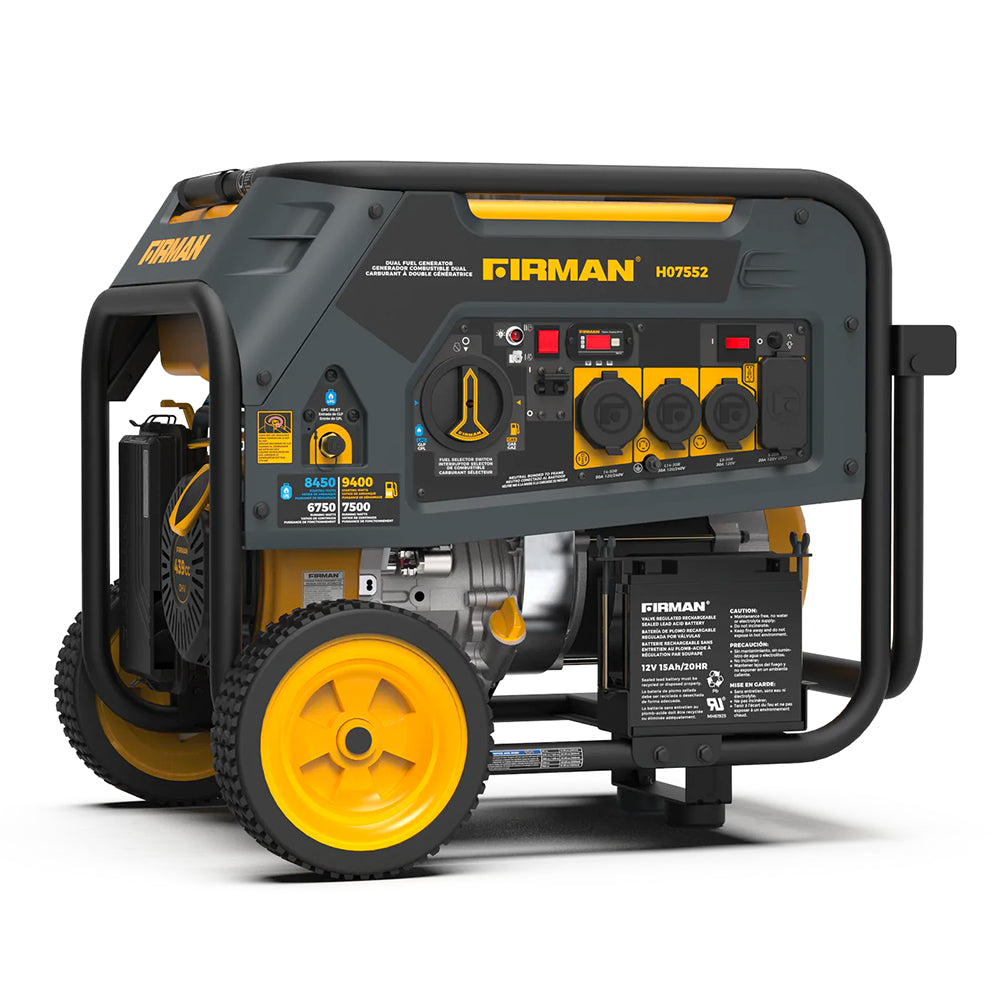 Firman H07552 Dual Fuel Portable Generator - 7500 Watt
The Firman H07552 is an excellent 7500-watt generator that's dual-fuel compatible. If you want a reliable generator that's sure to last you for many years, and want the flexibility of using different fuels based on availability, the H07552 might just be the perfect generator for you.
We're going to talk about what makes the Firman H07552 Hybrid Series generator great, walk through its specification in detail, and cover some common use cases that many customers buy this particular generator model for. 
What Makes the Firman H07552 Generator Great?
The Firman H07552 7500W Dual Fuel Generator Hybrid Series combines flexibility with high-quality engineering and a well-manufactured product. If you need a generator to power your Recreational Vehicle (RV) or to connect various electrical tools, hardware, or even appliances, then the power this generator provides (7500W) is more than enough to cover all of your needs.
This generator comes with everything you need to get started, including 10W-30 Firman Oil, an oil funnel, propane hose with a regulator, spark plug wrench, and your trusty owner's manual. 
In the most rugged commercial or industrial environments where you need a portable generator that you can easily transport from one location to another, the Firman H07552 really shines. You'll be hard-pressed to find a more flexible generator than this Firman model, especially if you require dual fuel capability with gas and propane. 
We sell a wide range of Firman portable generators here.
Firman H07552 Specifications
The Firman H07552 is one of the most flexible and reliable generators on the market, and it provides just enough power for RVs, industrial use, and commercial and business applications.
We're going to walk through the technical specifications of this Firman generator model and dive into what this generator really accomplishes in detail.
H07552 Specs:
Running Watts: 7500W (Gas), 6750W (LPG)

Starting Watts: 9400 (Gas), 8450 (LPG)

AC Voltage: 120V/240V

Frequency: 60 Hz

Operating Decibels: 74 dB at quarter-load

Run time: 12 hours

THD at Full Load: 25%

Recoil Start Capability? YES

Electric Start Capability? YES

1x 5-20R 120V 20A DUPLEX GFCI Outlet

1x L5-30R 120V 30A Twistlock Outlet

1x L14-30R 120V/240V 30A Twist lock Outlet

1x 14-50R 120V/240V 50A Outlet

Phoenix fat head block

Low Oil Shutoff Included

Power Stream Alternator Included

Cast Iron Sleeve Included

Fuel: Gas or LPG

Tank Size: 8 gallons

Unit Dimensions: 30.2" x 27.5" x 26.3"

EPA and CARB compliant
The Firman H07552 is a solid, reliable generator that can handle almost anything you throw at it. If you need power, and a lot of it, this generator unit won't let you down. 
Use Cases for the Firman H07552 7500W Generator
If you need a generator such as the H07552, you're likely going to be applying it to some unique situations where a significant amount of power is required.
We're going to cover several of the most common use cases for this particular generator model, including business applications, powering RVs, camping, and emergency preparedness. 
Business & Industrial Power Solutions
Business owners everywhere praise the reliability and flexibility of the Firman H07552, especially when it saves the day and helps them run their businesses smoothly without any interruptions.
Whether you need to power a food truck, small service van, or set up a stand or kiosk at an event outdoors where there aren't nearby power outlets, this generator is the perfect solution for these types of business and industrial use cases. By investing in the Firman H07552 7500-watt generator for your business, you'll be buying peace of mind and a continuous source of power that'll last you for many years to come. 
Firman H07552 for Recreational Vehicles (RVs)
Taking a trip in an RV is a great way to spend time with your family, unwind, and tour the countryside. Depending on where you stop, you may not find an accessible RV hookup, especially if you want to spend multiple days in a remote location.
Fortunately, the 7500-watts of power provided by the Firman H07552 generator allows you to power your RV on the go, no matter where you decide to stop. You'll always have electricity and be able to run all of your appliances and electronics without any interruptions.
RV owners who have the Firman H07552 praise its flexibility and ease of use, and often recommend this generator to other RV owners who need portable power on the go. 
Camping with the Firman Power Equipment H07552
Camping trips can be an exciting adventure when done the traditional way, but have you ever considered leveling up your experience by having a portable generator that lets you have power just in case?
If you have small electrical appliances, such as a mini camping stove, then you can take advantage of the power your generator provides to cook some meals more easily. If you want additional lighting around your campsite, the Firman H07552 will be able to power all of the lights you want.
Having a generator on your next camping trip can really transform your experience for the better. Consider purchasing the Firman H07552 for your next adventure out into the wilderness, and we're sure you won't regret it. 
Emergency Preparedness With the Reliable Dual Fuel H07552
Emergency situations can hit anyone at any time, whether it's a natural disaster such as a hurricane or tornado, or problems with the power grid that stretch out over many hours or even days.
If you have an emergency portable generator like the Firman Hybrid Series H07552, you'll be able to sleep soundly, knowing that if disaster strikes and all of your neighbors are without power, you can power your home, electronics, and appliances by using your hybrid generator. Firman are well known for their dual fuel generators.
Being prepared for an emergency is something everyone should look into and plan in advance. If you're already in the middle of an emergency situation, it'll already be too late to think and come up with a solid plan. 
Check out our wide range of dual fuel generator models on this page.
Benefits of Getting a Dual Fuel Firman H07552 Generator
There is a wide range of benefits the Firman H07552 generator can provide, especially in specific situations involving your work, business, or an emergency where you need power on the go.
This dual fuel generator model has a low oil shut off valve, wheel kit for easy transportation, deal fuel electric start capability including a propane tank and gas tank, and an easy to use control panel. It's RV ready, and with its hybrid dual fuel capability, you'll be able to plug in all of your electronics into the covered outlets that are CETL certified. This 7500/6750 watt dual fuel generator gives you more options than other models, has a folding handle for easy carrying, and allows you to use either gasoline or propane depending on what's available.
All in all, most customers are happy with this unit and in general Firman H07552 reviews are 4-5 stars. People are happy with the efficiency of its 439cc dual fuel engine and the other dual fuel portable generator features this unit provides.
Grab this efficient model for protection from emergency situations, flexibility, and solid running watts on both gas and propane. The price is very reasonable for its features compared to similar items, and you'll be able to get reliable shipping as well as multiple accessories in your generator package.
Getting a reliable generator in your hands has never been as easy as it is today, and this generator can provide you with the power you need for business purposes, camping, tailgating, emergencies, and a variety of other events where you need power without any electricity nearby. After reading the specifications mentioned in the earlier sections, you should know whether or not this generator meets your needs, although we believe that the versatility of this hybrid series generator is enough to accommodate nearly all use cases, especially with the large power output it provides.
The Firman H07552 is an excellent generator that'll be able to keep you powered up for many years to come, and the quality build and construction of each generator Firman builds will be seen as soon as you get your unit in your hands.
Don't delay, and consider purchasing an H07552 Hybrid Series generator from Firman today. As soon as you use it for the first time, we're sure you'll be pleasantly surprised at how easy it is to use, and at how much clean, reliable power it gives to all of your devices.
We offer free shipping in the US and factory direct pricing.
H07552 Overview Video