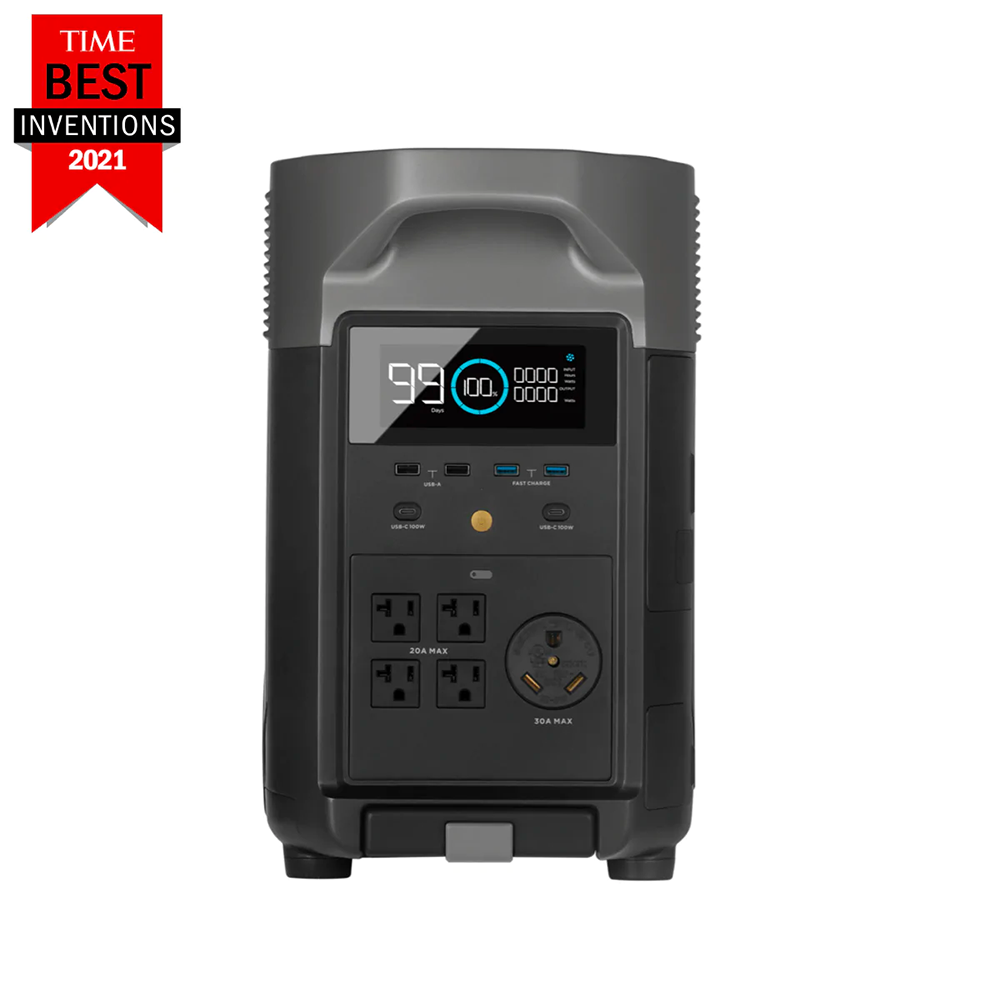 EcoFlow Delta Pro 3600 Portable Power Station
Save

Liquid error (snippets/product-badge line 32): Computation results in '-Infinity'

%
The EcoFlow Delta Pro Portable Power Station has a proven track record of efficiency, reliability, and power generation for a wide range of use cases.
If you'll be camping, you can use this power station to improve your experience out in the wilderness. On the other hand, if you just want a generator that'll be able to power your appliances and give you the juice you need in case of a power grid failure or natural disaster, the EcoFlow Delta Pro 3600 won't let you down.
We're going to walk through the EcoFlow Delta Pro in detail, including why you should consider this particular portable generator model, what the specifications are, general use-cases that people usually purchase this device for, and then a few additional benefits you can take advantage of with this easy to use portable power station.
Why Get the EcoFlow Delta Pro Portable Power Station?
The Delta Pro 3600 lets you power practically anything and is the perfect portable power generator solution when you need clean and reliable AC power output. With the EcoFlow Delta Pro unit, you can generate 3600 watts of power on the fly. If you need even more power, you can connect two units together and get a staggering 7200 watts of reliable power generation.
Unlike other portable power technology solutions that are completely standalone as one single unit, the EcoFlow Delta Pro provides an entire ecosystem of equipment that you can use to expand your unit with additional add ons.
Need extra battery power? You can add additional batteries to your Delta Pro unit.
Do you want a Smart Home Control Panel that lets you manage your device through the simple EcoFlow app? There's an add on that lets you do that too.
The EcoFlow Delta Pro is the ideal generator for anyone who wants to have peace of mind that their generator will perform and get the job done, no matter the circumstances.
Finally, the EcoFlow Delta Pro Portable Power Station is one of the world's fastest charging available. You can choose from any of six charging methods, and even charge your device from an Electric Vehicle (EV) output port if you choose to do so!
Achieving a full 6500W charge with this unit is as simple as ever, and you'll be able to get a completely charged unit at record breaking speeds.
For anyone who wants reliable power generation in their home and is fond of smart home devices that can integrate into multiple home circuits (the EcoFlow Delta Pro integrates into up to 10 home circuits), this portable generator will let you sleep soundly knowing that you're covered in case the power goes out or you need to get electricity in a remote location or environment. 
EcoFlow Delta Pro Specifications
The Delta Pro 3600 is a powerhouse portable generator that can be used for nearly all power generation use cases. With its 3600-watt power generation capability, multiple output ports, extra battery capacity, and fast charging, you'll be able to get electricity whenever you need it and wherever you need it.
In this section, we'll walk through the specifications of the EcoFlow Delta Pro in detail. If you're looking for specific outlet ports, unit dimensions, or charging input details, you should be able to get all of the specifics about this unit by reading through the specifications detailed below.
Delta Pro 3600 Specs:
Power Output Capacity: 3600 watts

AC Output: 5 total outlets, 7200 watts surge power

2x USB-A ports, 5V, 2.4A, 12W max per port

2x USB-C ports, 5/9/12/15/20V, 5A, 100W max per port

2x DC5521 ports, 12.6V, 3A, 38W max per port

AC Charging Input: 1800W maximum, 120V~15A, 3000W maximum, 240V~12.5A

Car Charging Input: Supports 12V/24V battery, 8 amps

Total Estimated Cycle Life: Approximately 6,500 cycles at 50% capacity, 3500 cycles at 80% capacity

Weight: 99 pounds

Delta Pro Smart Extra Battery Capability: Supports up to two additional DELTA Pro Smart Extra Batteries/Smart Generators

X-Boost Power Support Maximum: 4500 watts

2x USB-A Fast Charge Ports

Car Power Output: 12.6V, 10A, 126 watts maximum

Anderson Port: 12.6V, 30A

Solar Charging Input: 1600 watts maximum, 11-150V, 15A

Battery Chemistry: LFP

Connections: Bluetooth, Wired, Wi-Fi
After reading these specifications, you should have a good understanding of whether or not this unit meets your expectations or requirements.
We consider the EcoFlow Delta Pro to be one of the best portable power generation units available on the market today due to its versatility and expansion abilities. 
Shop all EcoFlow portable power stations here.
EcoFlow Delta Pro Power Station Use-Cases
There are a wide variety of use cases for the EcoFlow Delta Pro Portable Generator Unit, and we're going to walk through several of the most common use cases in the section below.
Whether you're going to need extra power during your next camping trip, want some reliable clean electricity to connect your RV to, or are just looking for a great generator that can be used in the case of an emergency power outage, this generator unit is surely going to give you the peace of mind you need deserve because of its reliable operation and a large number of happy and satisfied customers that recommend EcoFlow any day of the week
Complete Power Solution for Camping Trips
When you're heading out into the wilderness on your next camping trip, have you ever thought about leveling up your experience and making it more pleasant by giving yourself the ability to have electricity on the go?
Usually, traditional camping involves becoming completely disconnected from your regular, busy day-to-day life and enjoying time out in nature and breathing the crisp, fresh air. This is all well and good, but having some small appliances to help you cook, provide extra electricity for lighting your surroundings, or even having enough power to turn on a few mosquito-repelling units can make your next camping experience much more enjoyable.
With the EcoFlow Delta Pro Portable Generator, you can have all of the electricity you need while camping out in the wild. Consider leveling up your next camping experience and purchasing an EcoFlow Delta Pro 3600 to help you make the most of your next trip out into the wild. 
The device can also be charged with solar panels, making it a great choice if you'll be out in the wilderness for an extended period of time. You can choose third party solar panels, or get your solar power from the EcoFlow's panels which can be purchased separately if you need them. This makes the entire Delta Pro ecosystem highly versatile. Of course check the weather for your trip if you're planning to rely on solar generation for your off grid power!
A Smart Generator for Recreational Vehicles (RVs)
Taking a trip in an RV cross-country has always been a nice, relaxing way to see different locations, visit national parks, go to your favorite destinations, and disconnect from your busy daily life.
Even though you can find electrical hookups for RVs in designated stops, stations, campgrounds, and rest areas, sometimes you want to stop in a remote location to look at the starry night sky or enjoy time away from the rest of civilization. If you don't have power hookups, making a stop like this for an extended period of time can be challenging, and you'll likely find yourself wanting to start driving to the next destination or rest area in order to get the amenities you need, such as having an operational kitchen to cook food on.
With the power the EcoFlow smart generator delivers you can connect your RV anywhere and have all of the electricity you need to power all of your appliances, chargers, or other electrical units.
If you have a larger RV and 3600 watts of power isn't enough, the dual-unit capability of the EcoFlow Delta Pro lets you connect multiple units together to get more power with the use of extra batteries.
All in all, having a generator like this on hand during your next RV trip is going to make your experience more enjoyable and let you make stops that you otherwise would think twice about.
Electricity powers everything in our daily lives these days, and having power can significantly level up your next RV trip for the better. 
EcoFlow Delta Pro for Emergency Power Generation
Emergencies tend to happen to everyone, and getting stuck without power is something that'll significantly impact you and your family.
The EcoFlow Delta Pro smart generator is the perfect portable power solution for making your next emergency less stressful and ensuring that you have enough power for all of your home appliances, lighting, and other devices that you need in an emergency situation.
For powering larger homes, you can connect multiple EcoFlow Delta Pro units together to get more power and ensure that everything you need stays online.
Whether you're in an area that experienced a power grid failure or are stuck in a natural disaster such as a hurricane, the peace of mind you'll get by having a generator connected to your primary power supply is unmatched.
Get an EcoFlow Delta Pro Power Station for your home today, and make yourself less worried about emergency situations in the future immediately. 
EcoFlow Delta 3600 for Tailgating Events
Tailgating events can be a great time to bond with your friends, family, and other fans, but not having power limits what you can do and what you can have up and running during your next tailgate.
Consider having a portable generator like the EcoFlow Delta Pro that you bring to your next tailgating event as a reliable and secure power source, and you'll likely find that your experience will immediately become more enjoyable.
You'll be able to connect small devices like speakers, and cooking equipment, or just use your EcoFlow Delta Pro unit for making sure everyone in your group has their devices charged and ready to go.
Having a portable power generator at your next tailgating event is something we recommend, and once you try it once, you'll likely never want to go without having the extra tailgate power again! 
Business Use & Commercial Applications
If you operate a small food truck, portable service station, or need to get power in a remote location for business purposes, then the EcoFlow Delta Pro just might be the perfect solution.
Business owners can connect their equipment, appliances, and hardware to a portable generator and be able to operate their business as usual, even if the location they're in doesn't have any nearby power connections. Depending on how much energy you need, don't forget that you can connect multiple EcoFlow Delta Pro units together to get more power and have the ability to power your larger trucks, portable service trailers, or other larger equipment.
As a business owner, you need to be prepared for any situation that arises, and having an EcoFlow Delta Pro will allow you to have power on the go and be prepared in case a power outage hits you when you're busy taking orders from customers.
Even if the power goes out, simply connect all of your equipment to this generator, and you'll likely be able to continue operating even if everyone around you is stuck until the power comes back online. 
Primary Benefits of the EcoFlow Delta Pro 3600 Portable Power Station
We've discussed what the EcoFlow Delta Pro portable power station is, common use cases that customers use it for, and all of its specifications. In this section, we're going to continue going deeper into this unit's capabilities and discuss the primary benefits of ownership for this powerhouse of a generator. For those situations you need more power, connect two delta pro units for continuous output and to have enough power for all of your needs compared to a single delta pro unit.
Anyone who wants a smart home panel or even the ability to charge their unit from solar panels will love the backup power generator and battery management system this unit has. You'll be able to charge your phones or other devices on the go with a car charging cable, and have power supported capabilities in any situation. Portable battery power is another plus since this unit can act as an uninterruptible power supply (UPS) to keep your devices online when the power goes out. You can also remote control your unit, use EV station charging to recharge your batteries, and have an industry gold standard generator on hand whenever you need it.
Don't rely on just grid power which can fail in extreme blackouts, use solar charging cables or the AC charging cable to bring your unit back to full capacity. Additionally, if you need to power heavy duty devices or household appliances, you can do so as well with ease.
All in all, the EcoFlow Delta Pro is one of the best portable power generators you can find on the market today. Its solar panel capabilities, DC power output, and the fact that it beats your traditional gas generator, are all reasons to get this unit for safe and optimal performance. It has a manageable net weight for portability, a USB C output port, AC outlet port, double voltage hub, and can provide uninterrupted power when you need it. Take advantage of its smart generator adapter, max device power, input power capabilities, and even use it with standard AC wall outlets for charging.
This is a great portable home battery generator you can power from a standard AC wall outlet, supply power, AC input, and even power devices like window air conditioners with. Never wonder how much power you need to produce again, and rest assured that the Delta Pro 3600 delivers and can power most household appliances with ease, as well as be used for reliable home backup power and for air conditioning units. The delta pro's capacity is excellent, and the EcoFlow smart home panel along with adjustable AC charging speed ports and solar generator capabilities will ensure you have power security at all times.
Remember we offer Free Shipping in the US on all EcoFlow products including the EcoFlow Delta Series.
Delta Pro Overview Video