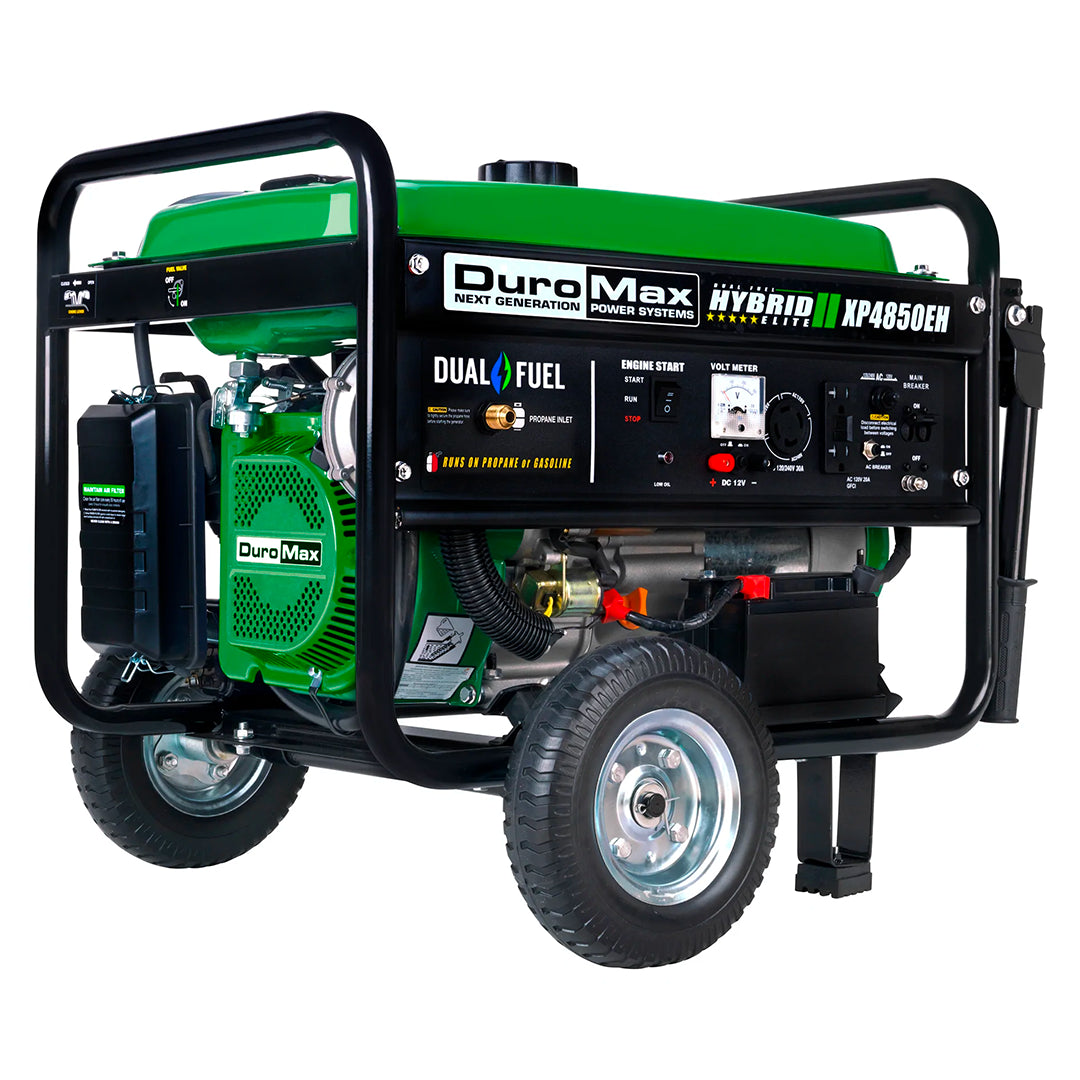 DuroMax XP4850EH - 4850 Watt Dual Fuel Portable Generator
Save

Liquid error (snippets/product-badge line 32): Computation results in '-Infinity'

%
The DuroMax XP4850EH 4,850 watt dual fuel portable generator is the perfect choice whether you are at home, camping, or on a jobsite. Its compact and lightweight design makes it easy to move around wherever you need it.
An included wheel kit makes moving the generator a breeze, and its electric start means you can get it running without throwing out your back. But best of all, as a hybrid generator, it can run on either gasoline or cleaner burning liquid propane.
Let's look at how this generator packs a punch:
Compact generator

Easy to move

Hybrid gasoline or propane

Wheel kit included

Electric start

4850 watt portable dual fuel gas/propane
Power Your Life with this DuroMax Portable Dual Fuel Generator
DuroMax's XP4850EH provides the essential functions you need to stay powered when you are off the grid. Whether for work, pleasure, or a power outage, it can deliver power in a variety of ways to meet your needs.
The most common connection featured is two GFCI protected 110V outlets. These are perfect for plugging in devices, appliances, or tools directly into the generator. The outlets are capable of delivering a combined 20 amps.
Alternatively, a 120V/240V twist lock outlet is capable of powering high voltage appliances, high amperage power tools, or even an RV. The outlet is a NEMA L14-30 and is rated for a maximum of 30 amps. There is also an MX2 Power Boost switch that can divert more power to the 120V outlets if you are not using the twist lock outlet.
The DuroMax XP4850EH 4,850 watt portable generator is capable of powering vital needs like a refrigerator, a small window air conditioner, and small devices during an outage. However, it is important that you calculate your power needs based on what you plan to use. This will ensure the generator is the proper size and can run everything you need.
Finally, there is an onboard battery charger with included charging cables, perfect for charging external batteries. This is a great way to keep your ATV and golf cart batteries charged while traveling without having to lug around extra charges.
Dual Fuel Gas and Propane Technology
The DuroMax XP4850EH is a dual fuel gas propane generator, so you can choose which fuel source to use. Switching between fuel sources is also simple and requires just the turn of a knob.
A propane hose is included with the generator so everything you need to get up and running is included. The included hose is removable which makes for easy storage and safekeeping when not in use. Also, the propane hose attaches to all standard propane bottles as well as many large ones.
Even better, everything you need to run on both fuels is included. A 4-gallon gas tank can hold enough fuel to run for about 10 hours. An included propane hose easily attaches to standard propane cylinders. However, you will need to supply your own propane tank.
Speaking of propane, you can also hook the DuroMax XP4850EH to larger propane tanks for even longer runtimes. However, you may need additional hoses and fittings to connect to larger propane bottles.
Propane is not nearly as messy as gasoline which could easily spill. Therefore it is a much better choice while on a jobsite or camping. Using cleaner burning liquid propane is not only convenient but also good for the environment.
Keep in mind you can always use gasoline as well, which will actually give you slightly more power. This is a great option as you have flexibility in the event you cannot readily get one fuel. More importantly, some campsites and jobsites frown upon or ban gasoline cans because of their chance of spillage; with a dual fuel gas propane generator, you never have to worry one way or another.
See the full DuroMax dual fuel range here and all of our dual fuel generators here.
DuroMax XP4850EH Features
The DuroMax XP4850EH 4,850 watts portable generator with electric start has plenty to offer. Its features certainly make using the generator a breeze, starting with its included wheel and handle kit.
Moving a generator around a campsite or worksite with rough terrain can be a real hassle. Wheels and a handle are a must, but many other generators do not have them or charge extra for them. The wheels are metal with solid fill tires, which are great for moving it around your yard, campgrounds, and even job sites.
The next thing you are sure to love is its electric start. No more struggling to pull-start; just press the button, and you are up and running. This makes the DuroMax XP4850EH great for anyone to use since it is very easy to start. But, of course, there is still a built-in pull start, just in case you ever need it.
A little less noticeable but equally important feature is a voltmeter conveniently located on the power panel. With it, you can make sure the generator is producing a steady stream of voltage. The power panel includes all of the important settings and outputs you will need to familiarize yourself with before using the generator.
A handy fuel gauge on top lets you quickly and easily check how much gasoline you have left in the tank so you can always stay filled. Also, a quiet engine that produces about 70db won't be much louder than a vacuum cleaner or a hairdryer. This unit is both EPA and CARB approved.
XP4850EH Generator Specifications
The DuroMax XP4850EH is capable of producing 4,850 peak watts and 3,850 running watts on gasoline. At the same time, it can produce 4,608 peak watts and 3,658 running watts on propane. The onboard fuel tank capacity is 4 gallons and can keep the generator running for up to 10 hours.
Its compact size is only 25" X 24" X 21", making it easy to store. The dry weight of the XP4850EH is 122lbs dry, but keep in mind it will be heavier depending on how much fuel is in it. It is encapsulated by a metal construction built tough frame for extreme durability. The frame not only holds everything together, but also protects the engine and all its components.
The two GFCI protected 120V outlets have an independent 20A breaker. However, the generator is protected with a 30A main breaker. Both work to prevent damage to the generator as well as your devices.
A low oil shutoff light located on the power panel indicates when the generator is low on oil. It will also turn the generator off to protect it if low oil is detected.
The engine cylinder has a cast iron sleeve for prolonged life, and the generator is made with all copper winding material. Plus, the XP4850EH is backed by a 3-year warranty.
We also stock the full range of DuroMax generators, see the full collection here.