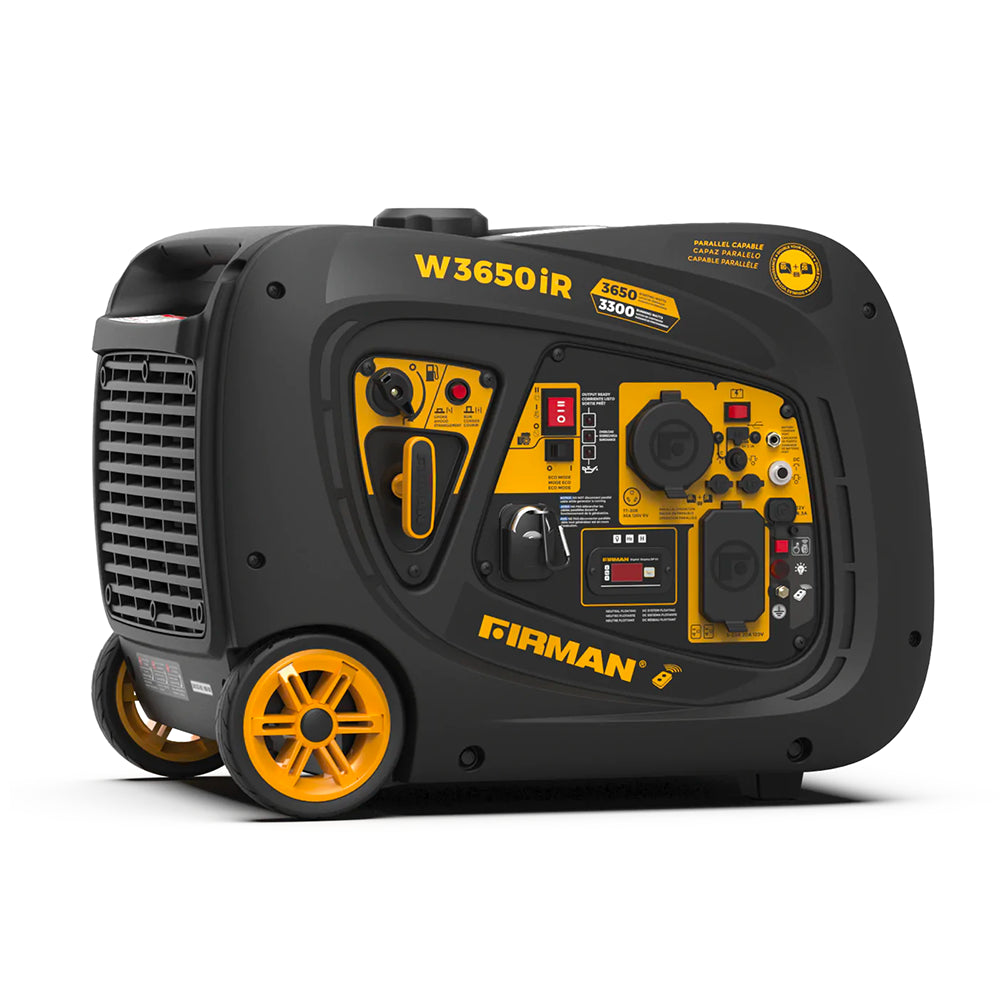 Firman W03383 Portable Inverter Generator - Gas 3300 Watt
Save

Liquid error (snippets/product-badge line 32): Computation results in '-Infinity'

%
Finding a quiet, fuel-efficient generator that you can take with you on the go isn't always easy, especially if you're looking for reliability and stable power that'll last you for years to come.
The Firman Whisper Series W03383 is considered one of the leading generators on the market and provides clean power for electronics and sensitive equipment. Whether you need a generator for tailgating, camping, or just for outdoor recreational use, the Firman W03383 is an excellent choice for clean fuel efficient power.
In this guide, we'll be covering the Firman W03383 3650/3300 Watt Inverter Generator in detail, and describing what it is, its specifications, the benefits of this particular generator model, and common use cases.
What is the

Firman W03383

Portable Generator?
The Firman W03383 is a 3650-watt electric portable generator that has remote start capabilities and a muffler that runs incredibly quietly at just 58 decibels. If you'll be using this generator in a national park, you can rest assured that this model is well below National Park noise standards. This is a remote start gas generator, also known as an inverter generator, that also has the Firman Remote Start System built right into it.
Built with a 1.8-gallon fuel tank, you'll be able to have electricity for up to 10 hours and take advantage of this model's economy or Eco mode if you'd like to maximize fuel efficiency. The Firman W03383 weighs 104 lbs and has a handle and wheel kit, allowing you to quickly transport this generator and take it with you wherever you need to go.
Everything that you need to operate, run, and maintain this generator (except fuel, of course) is included in the package when it arrives. This includes a funnel, oil, an operating manual, and spark plug wrenches. Firman's products generally have a three-year limited warranty that covers any manufacturer defects, allowing you to have peace of mind that you'll have a solid, working model on hand before you know it.
All in all, this is a great generator that's excellent for outdoor events, campgrounds, national parks, and tailgating events. Out of all of the generators available on the market today, you'll be hard-pressed to find one similar to the W03383 3650/3300 Watt Remote Start Inverter Portable Generator.
Firman W03383 Inverter Generator Features & Specifications
The Firman W03383 portable generator has everything you need to get up to 10 hours of power at your next outdoor event, camping trip, or tailgate.
Detailed Specifications:
Starting Wattage: 3650 Watts

Running Wattage: 3300 Watts

2x 5-20R 20A-120V Outlets

1x TT-30R 30A-120V Outlet

1x USB 5VDV Plug

1x DC Outlet 12V 8.3A

Recoil, Remote, and Electric Starting Systems

1.8 Gallon Capacity Fuel Tank

104 lbs Weight

58 decibels at quarter-load

10-Hour Runtime

23.2" x 17.8" x 17.9" Physical Dimensions

Spark Plug Wrench
The Benefits of The

Firman Power Equipment W03383
Firman Whisper Series Power Equipment, particularly the W03383 generator, has a tremendous amount of benefits for anyone looking to spend their day outdoors, in the wilderness, or even use as backup power in an emergency situation.
This generator produces 3650 watts of power upon startup, and 3300 continuous watts when running. This means it can power a wide range of electronics, small appliances, and general hardware while running.
With 10 hours of runtime, you can use this generator all day without refueling, allowing you to have peace of mind that this generator won't run out of fuel halfway through your event or occasion.
When you first receive this generator, you'll have to run it for a 5-hour "break-in period", and then ideally change the engine oil, or add oil if you have low oil. Additionally, the volume levels of the W03383, coming at just 58 decibels at quarter-power load, is incredibly quiet. You'll be surprised at how quiet this generator actually is, and that it allows you to stay under National Park & National Parks Service noise levels and even run it on campgrounds without causing a disturbance to your surrounding neighbors.
The Firman W03383 has a wide range of benefits that are useful in numerous situations. For a flexible, portable, has a simple control panel, easy-to-carry generator that's reliable, has consistent power output, has maximum fuel efficiency, and runs for an extended period of time, consider purchasing the Firman W03383 Whisper Series Today. Firman has great customer service, a wide range of covered outlets included, is an inverter generator, has a Firman power stream alternator, and a Whisper Series muffler for quiet operation.
Firman W03383 Whisper Series

Use Cases
There's no shortage of situations and use cases where the Firman W03383 Whisper Series can come in handy and save the day. We're going to discuss its use in camping, tailgating events, emergency power, and general outdoor events and gatherings.
Camping with the
Firman W03383 Inverter Generator
Spending time in the great outdoors is a great way to recharge your batteries, explore, and become one with nature. In our technologically advanced world, however, you'll likely want to be connected to the real world with electricity or be able to run some electric hardware, equipment, or appliances while on the go.
The Firman W03383 lets you do just that, allowing you to turn your campground into an electrically-powered "powerhouse", and make the most out of your time in the wild.
If you frequently travel to National Parks, you'll know that there are noise restrictions that most inverter generators don't fall under. Fortunately, the Firman Whisper Series (as insinuated by its name), is whisper-quiet and runs at just 58 decibels under a quarter-load of power output.
Furthermore, you won't disturb your camping neighbors and won't attract unwanted attention while using the Firman Whisper Series on your next camping trip. This portable generator is both quiet and fuel efficient.
Tailgating with the
Firman W03383
Tailgating at your next sporting event can be significantly improved if you have electricity and power right in your vehicle! Instead of worrying about electrical hookups or where you'll be able to plug your gear, appliances, or general hardware, you can use the Firman Generator W03383 to provide you with 10 hours of solid electrical power right then and there.
This generator makes it incredibly easy to have all of the electricity you need at your next tailgating event, so take advantage of the Firman Whisper Series to level up the quality of your next event. Due to its whisper-quiet operation, you won't have to worry about disturbing anyone around you or causing an unwanted commotion.
Firman W03383 as an
Emergency Power Generator
We all had situations where the power suddenly goes out, whether it's from a snowstorm, heavy winds, or a natural disaster. Fortunately, having access to leading portable generators like the Firman Whisper Series on hand allows you to power your most essential devices, appliances, and gear for up to 10 hours without worrying about where you'll be getting your power.
Purchasing the Firman Whisper Series and using it in emergency situations is something that a lot of users praise in this particular model. Emergency power generation is something everyone should have, and being prepared for the worst can give you peace of mind that you're prepared and ready no matter what happens. Consider purchasing the Firman Whisper Series today to handle all of your emergency power needs and requirements.
Shop our Firman generator collection here.
Firman W03383 Unboxing Video