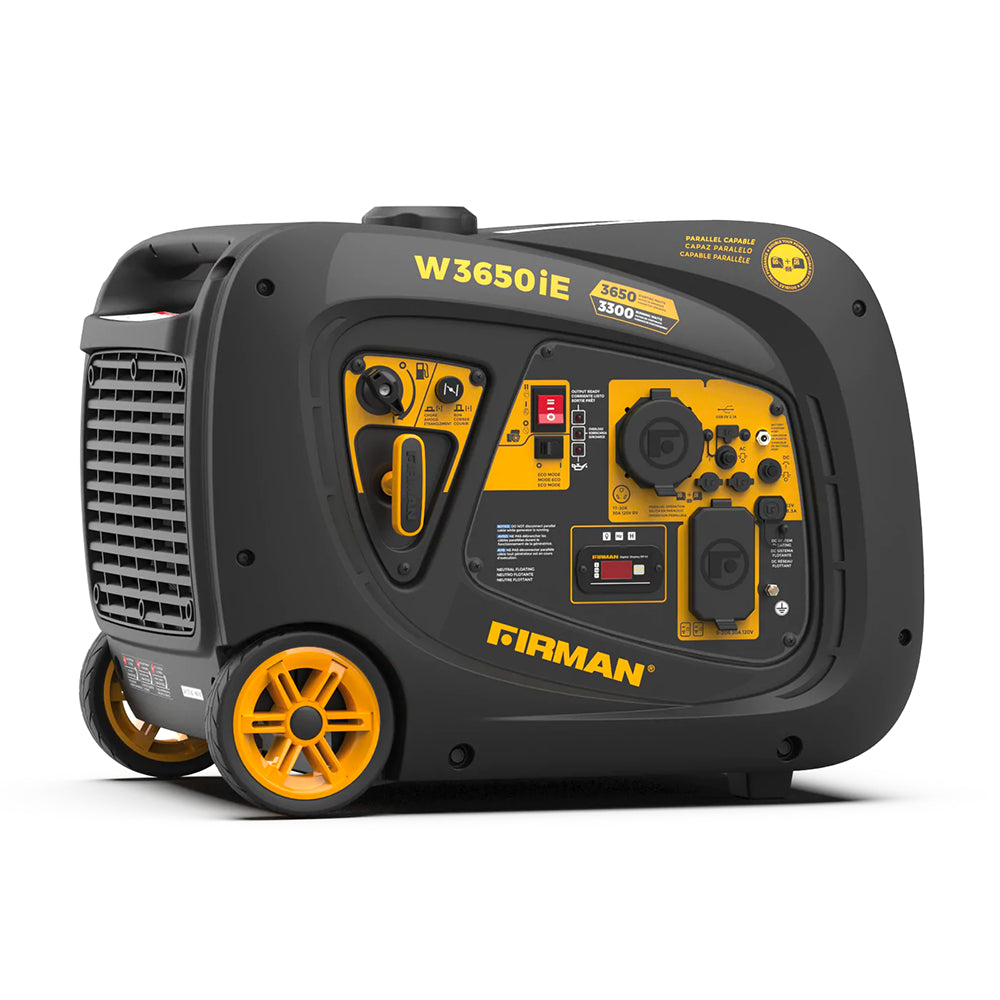 Firman W03382 Portable Inverter Generator - Gass 3300 Watt
The Firman W03382 Portable Generator is a part of the Firman Whisper Series due to its incredibly quiet operation.
When you're on the go, whether it's tailgating, camping, in an RV, or in a remote location, you want to have a quiet generator that doesn't disturb you or anyone in your vicinity.
The Firman Power Equipment W03382 model is able to provide just that, and it comes with a large number of features that make it easy to use and the ideal solution for portable power generation.
In this guide, we're going to cover the W003382 portable generator in detail, describe why you should consider this generator , walk through its specifications, and then look at some common use cases that other buyers frequently use this generator for.
Why Get the Firman W03382 Portable Generator?
The Firman W03382 is the perfect portable power solution that's easy to take with you on the go. If you need something you can easily pack and have available when you need it most, this Firman portable generator model could be the perfect fit.
Many individuals use this generator for camping, tailgating events, powering and charging their devices when out in the wilderness or in remote locations, and just to have reliable power on the go. If you don't have electricity easily accessible, there's no easier way to power all of your devices and even appliances than having a generator like the Firman W03382 on hand.
If you want to level up your next outdoor event, camping trip, or tailgate, then the Firman W03382 Whisper Series is one of the best portable generators on the market that won't let you down. 
Firman W03382 Specifications
The W03382 Whisper Series inverter generator is the perfect portable solution for a variety of events, camping trips, or just to hang out in nature with friends and family and have access to electricity in order to make the experience more enjoyable, with low noise levels well below national park standards.
We're going to walk through the specifications of this Firman generator and what it can do in terms of power generation. Take a look at these specifications and see if this portable generator has what you need – if all you need is portability and a decent amount of power generation, this model could very well satisfy your needs.
Firman W03382 Remote Start Inverter Generator Specifications:
Running Watts: 3300W

Starting Watts: 3650W

AC Voltage: 120VAC

Frequency: 60 Hz

Decibels: 58 dB at quarter-load

Runtime: 9 hours

Unit Dimensions: 23.2" x 17.8" x 17.9"

Recoil Start Included? Yes

Electric Start Included? Yes

1x 5-20R 120V 20A DUPLEX Outlet

1x TT-30R 120V 30A RV Outlet

1x USB Outlets (5V)

2x Parallel Ports for connecting to additional generators

Fuel System: Gas

Tank Size: 1.8 gallon

Phoenix fat head block

Wheels: 5.5" portable carry wheels (optional wheel kit)

Handle: U-shape folding handle

Battery included with charging cables

Digital display and voltage meter

Eco Mode varying power option
The Firman W03382 3300W electric start generator is great for for a large number of situations, and the specifications that it includes, including all the power outlets and USB ports on its control panel, are sure to be more than enough for most use cases.
This is a portable inverter generator with a cast iron sleeve and built in parallel kit that was engineered to have a light weight design and have great fuel efficiency.
We have a full range of inverter generators here from leading brands.
What the Firman W03382 is Frequently Used For
No matter where you might be or what situation you might be in, the Firman W03382 is a generator that's frequently used on camping trips, for tailgating events, in emergency situations, and even for recreational vehicles.
We're going to cover how customers typically use this generator and give you some ideas for what you can use your Firman W03382 model for as well. The possibilities are endless, and you can take advantage of having a solid, reliable generator on the go no matter where you might find yourself.
Firman Power Equipment W03382 will allow you to have an electric start inverter generator to power your RV and with super quiet power generation. This inverter generator has parallel operation capability, provides clean power, comes with an oil funnel and spark plug wrench, and is great for sensitive equipment like electronics.
The Firman W03382 for Camping Trips
Camping trips traditionally were done by heading out into the wilderness and disconnecting from the busyness of the real world completely, but why not spruce up your experience and have electricity in order to improve your camping quality of life?
Using the Firman W03382, campers are able to keep their devices charged, have emergency power in situations that require it, and are even able to power their cooking devices or other small electrical appliances in order to make their lives easier. Firman generators are popular for camping overall with a low decibel rating.
If you frequently take camping trips and can benefit from electricity on the go, then getting a small portable generator like this W03382 Whisper Series unit can be the perfect solution for you. This generator runs whisper-quiet at just 58db well below national park standards thanks to how well effective Whisper Series muffler runs.
The W03382 Generator for Tailgating Events
Tailgating events at your next sporting event can be a great experience to have with friends and family, but it can be made even better if you have a small portable generator on hand that you can use to connect all of your devices to and level up your experience.
As this is one of the quietest Firman generators it is a great option for Tailgating. You'll be able to get up to 9 hours of electrical generation, and you won't have to worry about disturbing your neighbors with noise either while you enjoy quiet power.
The Firman W03382 Inverter Generator for Emergency Power
In an emergency, having a reliable generator can be a life saver, especially if you are without power for days or weeks at a time.
Many people who have been in hurricanes, natural disasters, or other events where the power grid goes out for a significant amount of time can tell you that having a generator saved them from struggling significantly more than they already were.
Getting a generator for emergency situations is ideal, especially if you live in an area prone to hurricanes, floods, or other natural disasters that have the capacity to knock out the power grid.
Getting a generator like the Firman W0338s can be the perfect solution if you want to power your devices, sensitive electronics, equipment, and some small appliances when disaster strikes. 
The W03382 for Recreational Vehicles (RVs)
RV owners take trips all around the country, and while having access to areas where you can connect your RV to electricity is great, why not have all of the power you need even when you're in some of the most remote locations in the world? What could be better than an extended trip in your RV and quiet power to keep all of your devices going reliably?
The Firman W03382 is a great portable generator to have on hand with your RV, just in case you need to make a remote stop and want to have power when you're there. 
We off free shipping in the US and factory direct pricing on all Firman Generators.
W03382 Unboxing Video