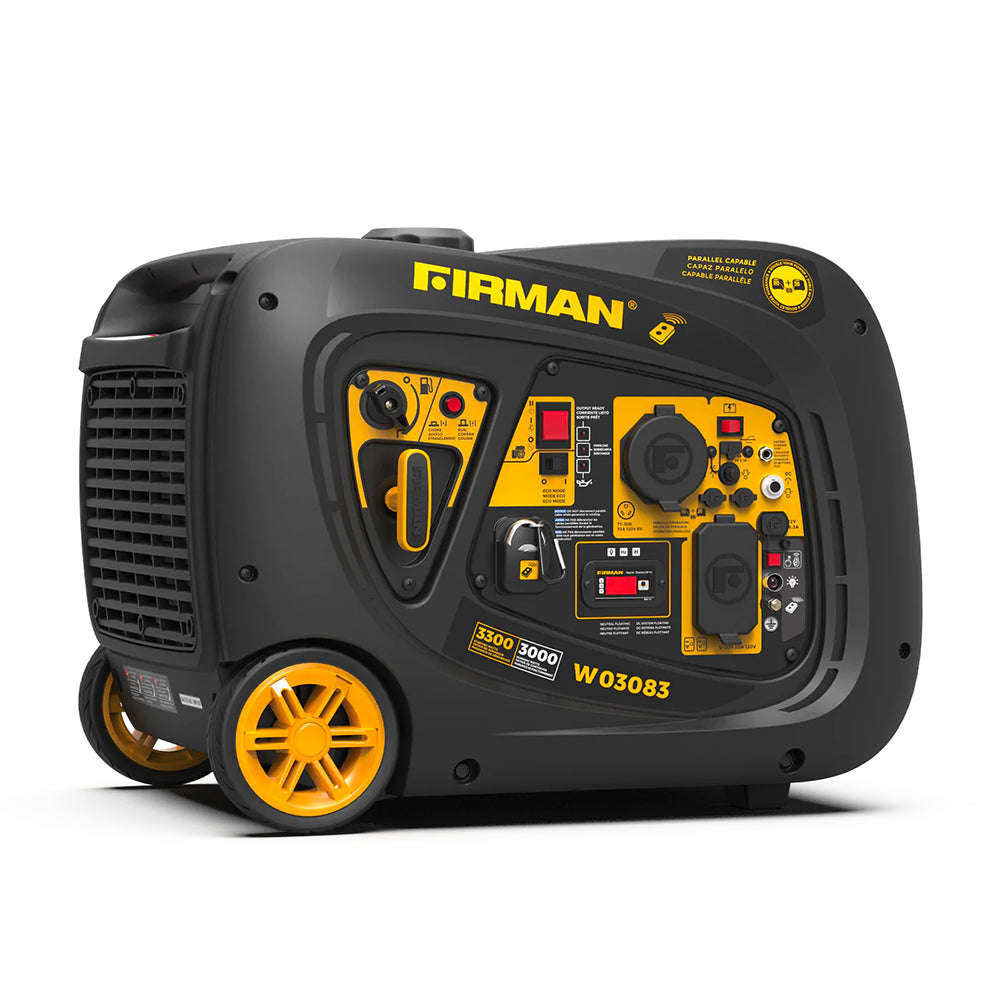 Firman W03083 Portable Inverter Generator - 3300 Watt
Save

Liquid error (snippets/product-badge line 32): Computation results in '-Infinity'

%
Whether you want backup electricity for emergency outages or just want to power all your adventures, set your sights on the Firman W03083 Generator – Whisper Series.
With a 171cc gasoline engine at the center of its build, this portable power station can easily run and charge all your essential devices. A TT-30R outlet keeps you RV ready while 120V AC, DC, and USB outlets offer all the flexibility you need while powering devices at home or on the go.
Convenience, safety, and durability are the name of the game, too, giving you true peace of mind whenever you need to start up your inverter generator.
Firman W03083 Specifications
When you want ample power at your fingertips, the Firman W03083 Whisper Series 3000 is the way to go. With its Phoenix Fat Head Block, its powerful motor produces 3,000 running watts and a peak wattage of 3,300 without making a racket.
Startups are easy, too, using the remote start key fob, electric starting system, or recoil start. So, you can always enjoy power on demand whenever camping trips call your name or emergency power outages occur.
See our full range of Firman generators here.
Choose the Firman Power Equipment W03083 to enjoy all these specs:
3,000/3,300 watts

171cc engine with Firman Power Stream alternator

120V AC, DC, 5V USB, and TT-30R outlets

Parallel operation capability

Push-button remote start from 168 feet away

1.8-gallon gasoline tank with 9-hour runtime

Inverter design supports sensitive electronics

58-decibel noise levels at ¼ load

90-pound dry weight

Cast iron sleeve
What You'll Get with Your W03083 Generator Purchase
If you decide to add the Firman W03083 portable generator and tool kit to your life, you'll receive:
Firman W03083 generator with wheel kit

12V battery cable

Remote control

Floater charger

Quick oil drain

Engine oil bottle

Oil funnel

Spark plug wrench

Screwdriver
Your Firman generator also comes with a three-year consumer warranty to help protect your investment. With that, you'll have the opportunity to have the unit fixed at a local service center or replaced if needed.
If you buy your portable inverter generator from us, you'll always enjoy factory direct pricing as well. To sweeten the deal even more, we offer free shipping to any physical address in the United States. We're also well known for our quality customer service and support, so please feel free to reach out with any questions you may have or to learn further details. 
The Firman W03083 Portable Generator for Tailgating, Camping, and More
Well-known as the perfect recreational generator, the Firman W03083 Whisper Series was built to supercharge your tailgating sessions, RV adventures, and other outdoor activities.
But it's also a fantastic way to power up your life when emergency outages occur. As long as you have a couple of gallons of gasoline, you'll get to enjoy up to nine hours of power at a moment's notice.
You can then run all your devices with ease, including kitchen appliances, sensitive electronics, and everything in between.  
Powerful 171cc Engine Provides Big Energy
An innovative Firman creation, the 171cc engine consistently generates 3,000 watts with a peak wattage of 3,300. With its Phoenix Fat Head Block, the engine runs smoothly while staying cool, helping extend its life considerably. And when you need to double up on the consistent power output, you can do so quite easily by simply using a cable kit to run this inverter generator parallel to another unit.
Firman W03083's Eco Mode Varies the Engine Speed Based on Load
When you want to make your inverter generator more fuel efficient, just flip on Eco Mode and let the high-tech control system get to work. When in this mode, these portable power stations automatically change the engine speed to best match the load. As the load increases, so does the engine speed and vice versa. Fuel efficiency improves as a result, saving you money in the long run while reducing your carbon footprint.
Three Convenient Startup Options at Your Fingertips
You have ample choices when it comes to firing up the Firman engine and getting your generator running right. With the included remote, you can trigger the manual electric start remotely from up to 168 feet away. When you're right next to the generator, you can either hit the electric start directly or use the trusty recoil start system.
Ample Outlets Available for All Your Essential Devices
On the multi-control panel, you'll find all the covered outlets you need for your kitchen appliances, power tools, electronics, and many other devices. You have a set of duplex 120V AC outlets plus a TT-30R receptacle making your setup RV ready. Beyond that, you have a 5V USB port and a 12V 8A receptacle for all your DC power needs.  
Whisper Quiet Operation Makes It Easy to Take Anywhere
Whenever you fire up your Firman inverter generator, its whisper quiet operation lets you lower the decibel rating of your campsite or home operations. In fact, while chugging along at a ¼ load, this generator stays at a low hum, generating noise levels in the 58-decibel range. Although the noise increases from there, it's never difficult to hold a conversation at reasonable volumes while standing right by the power station.
Nine-Hour Runtime Allows You to Run Your Devices All Day
Every time you fill up the Firman W03083 portable power station's 1.8-gallon tank with gas, you'll get another nine hours of runtime. You can then focus on completing all your daily obligations while the remote start inverter generator keeps your devices running and charging. The modest tank size doesn't impact the light weight design either, allowing you to move your power station around as needed.
With so many benefits available, the Firman W03083 portable generator definitely won't let you down when you need power. The quiet, durable, and powerful build allows you to ditch the worries in favor of simply setting up the system whenever it's time to run and charge your devices.
Keep Ample Power by Your Side with the Firman W03083 Generator
The Firman W03083 Whisper Series generator with remote start is a tried and true source of power whether you're chilling at home or enjoying your travels. So, whether you're dealing with a power outage or just want to kickstart your camping trips, you can count on this portable inverter generator for all the electricity you need. All it takes to get started up is less than two gallons of gasoline and a click of a button on the remote. From then on, you'll have up to nine hours of power to run your essential devices, like kitchen appliances, laptops, and more.
If you'd like true peace of mind always, it's definitely time to get the Firman W03083 power station on your side – and we make it easy. All you have to do is add the portable inverter generator to your cart, and then move through the checkout steps. After that, our main contact person will handle the rest, including providing free shipping details to locations all across the US. Your unit factory direct ships to your door quickly and totally free.
So, really, you're just moments away from taking the first steps in getting your remote start inverter generator of choice delivered to your good shipping address. Once it arrives, you'll be ready to generate power in an instant whenever you need to run and charge your devices.
W0383 Overview Video