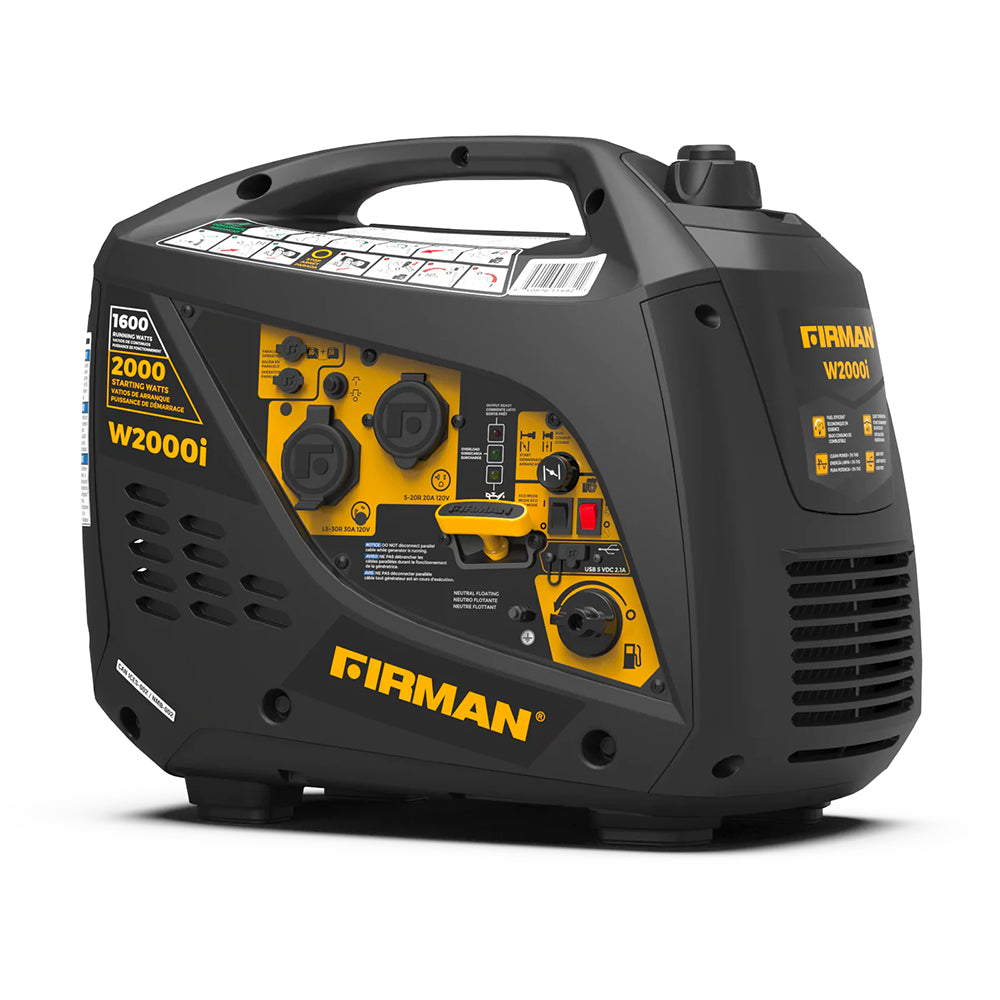 Firman W01682 Portable Inverter Generator - 1600 Watt
The Firman W01682 2000/1600 Watt Recoil Portable Inverter Generator has been the ideal choice for thousands of happy campers, tailgaters, and explorers worldwide.
If you're looking for a portable generator that's quiet, lightweight, and ideal for adventurers, for setting up outdoor events where electricity is required, and even for emergency preparedness in case of a national disaster or extended power outage. 
Here we'll cover the Firman W01682 Portable Generator in detail and explore its features, specifications, primary benefits, and how you can use this generator in the real world to get the most out of its design.
The Power of the Firman W01682 Portable Inverter Generator
The Firman W01682 Generator is geared towards campers, tailgaters, and handcrafters who need power on the go, and even RV travelers. If you need power where it's not accessible and want to have a solid, reliable power source that runs for up to 9 hours with a full tank, this Firman Whisper Series W01682 model won't let you down.
This generator contains an 80 CC 4-Stroke Engine that can deliver 120V. While running on its standard cycle, it produces 1600 watts of power and can reach a peak wattage of 2000 watts. Another great benefit of this particular model is that it has parallel connection capabilities and comes with a parallel kit. This means that by linking a secondary compatible unit, you can double the power output of your generator in seconds.
All in all, the power of the Firman W01682 generator is impressive, and it has all of the features one needs to get power on the go without worrying about running out of fuel midday or not having enough to power all of your hardware, gear, devices, or appliances.
For anyone looking to level up your next trip, outdoor event, camping adventure, or tailgate, the Firman W01682 Whisper Series won't let you down. 
Firman W01682 Specifications
Firman products including the W01682 generator have a reputation for being built to the highest standards of manufacturing.
In this section, we're going to discuss the specifications of the Firman W01682 Portable Generator.
W01682 Specifications:
Control Panel Start Type: Recoil Start

1x 5-20R 120V 20A Single Outlet

1x L5-30R 120V 30A Twistlock Outlet

1x USB Outlet 5V2

Running Wattage: 1600 Watts

Starting Wattage: 2000 Watts

AC Voltage: 120 VAC

Frequency: 60 Hz

Runtime: 9 Hours

THD @ Full Load: 3 Percent

Dimensions: 20.0" x 12.1" x 16.7"

Fuel: Gasoline

Tank Size: 0.9 Gallons

Low Oil Shutoff

Power Stream Alternator

Cast Iron Sleeve

Fixed Handle & Wheel Kit
Primary Benefits of the Firman W01682 Inverter Generator
When thinking about how you can use the W01682 Whisper Series, there's no shortage of opportunities and occasions where this portable generator can come in handy and even save the day. We're going to walk through all of the primary benefits of the Firman W01682 and show you how you can get the most out of your generator on a day-to-day basis.
First off, understanding the control power of your generator and the power outlets present will let you determine whether or not your particular electrical unit or appliance is compatible. This Firman generator model has a single 20A outlet, a Twistlock 30A outlet, and a USB 5V outlet for connecting your devices and for charging purposes.
Additionally, it has a runtime capacity of 9 hours on a full fuel tank, and contains additional helpful features like low oil shutoff, a power stream alternator, a cast iron sleeve, and a fixed handle and wheel kit for easy transport and carrying.
When running on its standard operating cycle, this generator will produce 1600 watts of power and reach a peak power of 2000 watts.
All in all, if you're looking for the ideal generator that's built well, reliable, and has a recoil start inverter, the W01682 can be the perfect generator for your purposes and use cases. Consider purchasing one of these Firman Whisper Series generators today in order to experience all of its great features and benefits on your next trip, tailgate, outdoor adventure, or any other situation or circumstance that requires electricity away from standard power outlets and buildings.
If you run this generator with an excessively rich fuel mixture, you'll get some more power out of it. Additionally, to replace the fuel tank, drain gas tank quickly, or replace a dirty fuel filter, this generator's design will make it easy. It contains a fuel shutoff lever, fuel shut off valve, spark plug wires, and easily accessible ways to replace air filter components fast. This is a great recreational use power supply with moderate fuel consumption that'll let you make the most of your next event or adventure.
Shop our full range of inverter generators here.
Firman Power Equipment W01682 Use Cases
A generator is useful to have on hand in a wide variety of situations, especially if the power goes out or you're camping out in the wilderness away from any buildings, power lines, or electrical outlets.
When you're away from civilization and need electricity to plug in your devices, hardware, gear, or appliances to improve your quality of life, the Firman W01682 can be there to save your day and level up your experience.
It doesn't matter if you're taking a camping trip, exploring the outdoors, on an RV, on a tailgate, or just needing a generator for emergency preparedness purposes, this Firman Whisper Series generator is guaranteed to help you make the most out of your next trip, and be the companion you need while on the road and on the go.
Let's walk through some common use cases and reasons to buy and purchase the Firman W01682 in detail, one by one, in order to understand the benefits and help you envision what this generator can do to help you level up your next trip and take it to its maximum potential. 
W01682 for Camping Trips
When you're spending time outdoors in the wilderness, you often need to power some devices, gear, equipment, or appliances in order to improve your experience and help you make the most out of your time outdoors. After all, camping can be a great way to recharge your batteries, get away from the busyness of everyday life, and become one with nature and the environment.
The Firman W01682 is the perfect camping companion, in that it lets you turn your campground into an electrically powered "home base" that lets you make the most out of your camping time.
One of the primary benefits of this Firman model when it comes to camping is its low noise while operational, especially in National Parks where noise restrictions exist. The Firman W01682 runs at a staggeringly quiet 54 decibels, which is beneath the National Park noise limit and falls well within specifications.
When you're on a campground, the low noise level of this powerful generator will help you stay friends with your neighboring campers and not cause any unwanted disturbances. 
W01682 for Outdoor Exploration
Exploring the outdoors can be extremely rewarding, challenging, and tough all at the same time, but having a portable generator that lets you plug in your devices and improve your quality of life through the use of electricity can be a real game-changer.
When you're out alone in the wilderness or exploring a new environment you've never been in, you likely have camera gear, laptops, or other electronic devices that you need to charge in order to document your experience or look up various information about the environment you're in.
Using the W01682 on your next outdoor exploration adventure will allow you to always have the juice you need to power your devices and have peace of mind that you'll be able to stay "plugged in" if the situation requires it. 
W01682 for RV Trips
RV trips are a great way to explore the countryside and travel in a family-friendly, comfortable way. When you're taking your next RV adventure, consider taking along the Firman W01682 portable generator to help you level up your RV experience.
Whenever you're on the road and make a pit stop in a location that doesn't have RV hookups, your trusty generator will give you all the power you need and keep you connected.
No more worrying about stopping in off-road or unknown locations – with this generator, you can always have power on the go, even in the roughest and most remote environments. 
W01682 for Tailgates
When you're tailgating at your favorite sporting event, having a generator on hand can help you make the most of your experience. Instead of looking for power outlets, chargers, or electrical hookups, you can have everything you need right at your fingertips.
Using this generator and taking advantage of its whisper-quiet operation will allow you to operate it at tailgates without worrying about disturbing those around you or causing some excess commotion. Overall, it's the perfect solution. 
W01682 for Emergency Preparedness
When you need emergency power, whether due to a power outage or natural disaster, a generator can be the difference between spending your time in the dark and having access to electricity in order to make it much easier to navigate the lack of electricity. Maintaining this generator is simple as well. If you need to replace a dirty air filter, fill fuel tank, replace fuel filter, fix an intake valve stuck open problem, or figure out why your engine lacks power, it can be diagnosed and addressed quickly. If you need a new spark plug wire, want to check your engine speed, or want any other maintenance work done, you can speak to a mechanic for tips if you aren't able to figure out the problems on your own.
In summary, the Firman W01682 inverter generator is a great companion to have for emergency preparedness – after all, it's better to have it and not require it than run into a situation where you're lacking electricity and power.
W01682 Overview Video