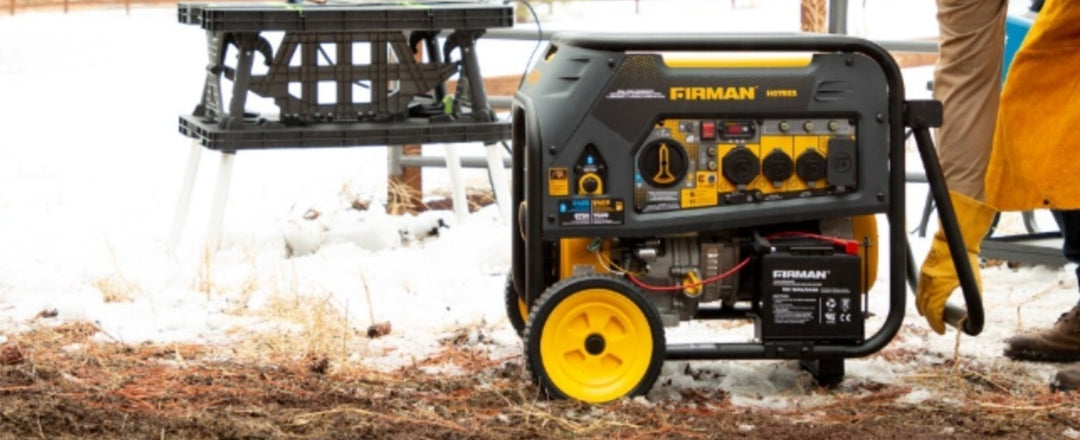 Firman Generator Reviews - Are They Any Good?
Firman Power Equipment are considered to be one of the premium generator manufacturers whose products are known to be of high quality, reliable, durable, and fit for purpose in both home use and commercial settings such as job sites. Firman reviews are generally very positive wherever you choose to research their products online. Durability and reliability are often mentioned as reasons why.
In this guide we'll explore what makes Firman generators a good option, why we've chosen to be one of the few Firman authorized online generator dealers, and the types of use cases Firman products are best suited to. We'll also highlight some Firman generator reviews which show why they continue to be a trusted manufacturer by customers.
Reliability and Durability is Key in any Portable Power Solution
When buying a generator, it's important that you get one that will provide many trouble-free years of operation especially in harsh conditions. Even more critical is that the generator is dependable and reliable during a power outage.
There is nothing worse than having a generator fail during a power outage and leaving you in the dark at the time you need it most. Going for the cheapest available option isn't necessarily the best idea if you're looking for a generator to use in emergency situation, so keep that in mind. Firman aren't the cheapest, but they do have a track record of reliability and customer service in their corner which is reflected in many Firman generator reviews online.
So are Firman Generators any Good?
Fortunately, Firman generators are of very high quality and come with a fantastic warranty and customer support. Generally the warranty is 3 years in length. Firman is also the world's largest portable generator manufacturer, giving them the knowledge and experience to make an exceptional product.
They've been refining their processes for decades now and improving reliability along the way. It is also worth noting that Firman are a portable generator company through and through. They don't really focus on any other product lines. They didn't start off manufacturing other things then make the switch to generators. One of the reasons we're proud to be a Firman partner is that they're 100% a generator company, and always have been. 
Generators are complex machines, and problems can occur that are beyond anyone's control. That is why it is important to buy a generator from a company that not only delivers a quality product but also stands behind what they sell and has a strong network of support, repair and maintenance services available.
What Makes a Firman Generator Great? It Starts with Reliability and Durability
Firman generators are designed in the USA with the highest standards to ensure every product is high quality. Every generator that leaves Firman is tested and run to ensure it is performing optimally.
Firman also rigorously tests their new generators during the design and manufacturing process in the roughest of conditions to make sure they will perform no matter where a user needs one. These tests are also used to determine how dependable Firman generators are in tough conditions.
Innovation is also important; as technology improves, so does the way electricity is generated. Safety features and advantages in cleaner power are just some of what Firman generators are great. Plus, when Firman launches a new line of generators, they test it with over 500 hours of continuous runtime to make sure it will not fail when you need it most. 
Firman generators also have larger fuel tanks and are designed for longer runtime than other generators on the market. Also, Firman generators come in a wide range of models and sizes that are designed to meet different needs and budgets.
Firman Generator Review Examples: What are Firman Customers Saying?
One of the best way to determine if Firman generators are any good, if they're reliable and durable in real-world situations is to read verified online reviews of Firman generators.
We could carry on telling you all the great things about Firman Power Equipment products. However, you shouldn't just take our word for it; let's look at what Firman owners are saying about their generators and the typical things brought up in Firman reviews online.
Some common talking points in customer reviews are:
Very easy to use and set up. Great instructions.

Nice looking designs (by generator standards at least!).

Easy to start, with clear and simple instructions for non-techies.

Noise levels - some quiet options, but some are also loud depending on the model type and performance you require.

Multiple reviews mentioning how useful the generators have been in major natural disasters in the US over the last decade.

Good performance during other power outages, which generators lasting a good amount of time using different fuel sources such as gas and propane.
Real Generator Reviews from Firman Customers
So is Firman a good generator manufacturer? Let's look at the online reviews.
Some of the best reviewed Firman products are from their tri fuel range here. Let's start by looking at some of those.
Customer comments for the T08071 tri fuel (verified review from Firman):
"My neighbors are jealous!"
Customer comments on the T07571 tri fuel (verified review from Firman):
"Proved itself through Zeta and Ida"
Customer comments on the T09275 tri fuel (verified review from Firman):
"I would strongly consider buying this again"
Now let's look at some popular models from the dual fuel range.
Customer comments for the H07553 dual fuel (verified review from Firman):
"This is the Best product for the money!"
Customer comments for the H07552 dual fuel (verified review from Firman):
"Hurricane Sally Lifesaver"
Customer comments for the newly released Zero E Power Station (verified review from Firman):
"I Will Buy More"
And finally let's look at a Firman generator review for the P09201 from the Performance Series (Verified review from Firman):
"Impressive Generator"
Warranties on Firman Generators
Firman also backs their generators with industry-leading warranties and customer support to instill confidence in their products. Many generators on the market today have warranties that are less than a year, and their manufacturers don't even offer customer support.
All new Firman generators come with a 3-year warranty that guarantees it is free from manufacturer defects. You get the full warranty when purchasing with us. Firman also has a support line that is open seven days a week to help you get your generator running in the event you have a problem, regardless of where you originally purchased it from.
That hopefully that answers any questions you have around whether Firman generators are any good, if they're reliable, and what Firman generator customer reviews say about the products. Of course if you have any further info you need them feel free to reach out to us here at at time.