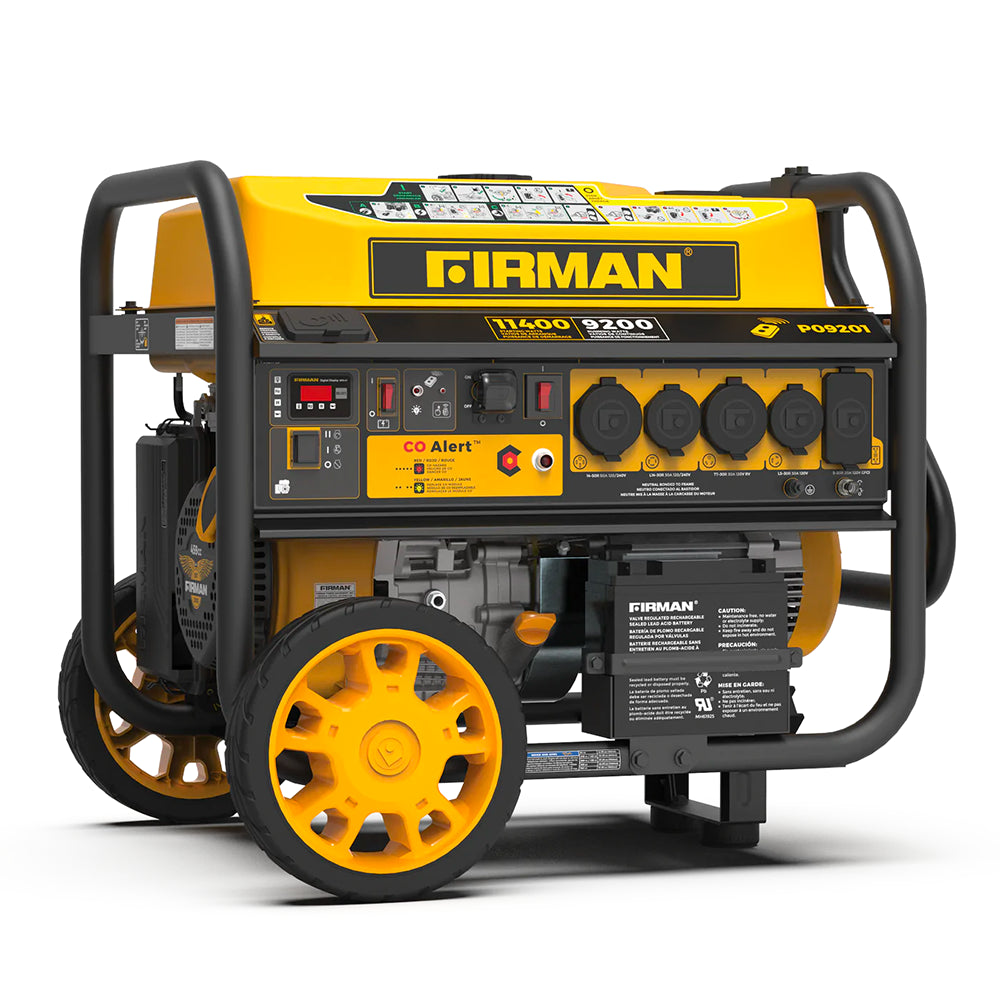 Firman P09201 Portable Generator - Gas 9200 Watt
Finding the perfect generator is challenging when there are thousands of different models on the market to choose from. Fortunately, the Firman P09201 is a great, reliable generator that has everything you need to power multiple electronics, appliances, or other hardware with ease.
We're going to walk through the details of the Firman P09201 model, what makes this generator so special, its specifications, and some use cases and ideas for where you should use your generator while on the go or on an exciting trip. 
Why the Firman P09201 Performance Series?
The P09201 Generator is one of the most reliable and efficient generators on the market, especially when you look at how much power output this unit provides. When you need to power multiple devices, appliances, or other electronic devices, the massive 9200 running watts provided by this model are enough to power everything you need.
If you're trying to find a reliable generator and power source that's going to stay reliable for years to come, this could be the perfect unit for you. Whether you need a reliable generator in case of a natural disaster for emergency preparedness or want to use this generator for commercial and business applications to power a food truck or service vehicle on the go, the Firman P09201 generator won't let you down in the long run. 
Firman P09201 Specifications
The Firman P09201 is a powerhouse generator that produces 9200 running watts for up to 11 hours. It has recoil start and electric start capability, multiple power outlets of different types, a low oil shutoff, a power stream alternator, and many more features that really make this unit stand out from the crowd.
Once you read through the specifications listed below, you should have a better understanding of whether or not this model fits your most common use case. Due to the power output of this model and its reliability over time, we imagine that the Firman P09201 Performance Series will be the last generator you'll need.
Specifications:
Running Watts: 9200W

Starting Watts: 11400W

AC Voltage: 120V/240V

Frequency: 60 Hz

Decibels: 81 dB at three-quarter load

Run Time: 11 hrs

THD at Full Load: 25%

Recoil Start Included

Electric Start Included

1x 5-20R 120V 20A Duplex GFCI Outlet

1x L5-30R 120V 30A Twistlock Outlet

1x L14-30R 120V/240V 30A Twistlock Outlet

1x 14-50R 120V/240V 50A Outlet

1x TT-30R 120V 30A RV Outlet

Low Oil Shutoff

Power Stream Alternator

Cast Iron Sleeve

Unit Dimensions: 28.5" x 28.5" x 27.5"

Fuel: Gas

Tank Size: 9 gallons

Material: Steel

Certifications: CARB, EPA, cETL
Use Cases for the Firman P09201 Generator
People buy and use generators for all kinds of purposes, but there are some use cases that are more popular than others. We're going to discuss small business and commercial applications for the Firman P09201 generator, as well as how you can use it to power your RV or for emergency preparedness. 
Small Business & Commercial Applications
If you run a small business that needs portable power on the go, such as a food truck or small service trailer, the P09201 generator can be perfect for your business. Due to its incredible 9200 running watt output, you'll be able to easily power an entire business vehicle and all of the appliances and hardware that reside within it.
Small business owners, and large enterprises right behind them, are always looking for ways to improve their operations and make them more efficient. This generator is great for commercial applications due to its reliability, the clean power it produces, and the sheer amount of power you can get out of this generator when running at full capacity. 
Recreational Vehicles (RVs)
Recreational vehicles (RVs) are a great way to get out into the wilderness, explore, or just take a cross-country trip and explore the countryside on a family adventure. If you have an RV and want to take stops that don't involve common rest areas or RV hookup sites, then you can use the Firman P09201 generator to make your life easier when you're off the beaten path. 
Having a generator like the P09201 on hand will allow you to stop anywhere you want, knowing that you'll have more than enough power to hook up your RV and run all of your appliances, cookware, electronics, and anything else you have that requires electricity.
All in all, this generator is the ultimate power source for RVs and anyone who is frequently on the go and traveling to remote environments and locations. Don't forget to grab the Firman P09201 for your RV today, and we know you'll be pleasantly surprised when you first connect your RV and see the type of power it provides. 
Emergency Preparedness
Emergency situations happen, whether it's a power outage, power grid failure, or a natural disaster such as a hurricane or earthquake. If you want to be prepared and ready for any situation that life might throw at you, getting a reliable generator for emergency situations such as the Firman P09201 can be a great thing to do well in advance of the time you need it.
Preparing for an emergency always starts well before anything happens, and having an emergency plan on hand will take the stress off tremendously if you do happen to find yourself in a situation where emergency power is required.
Get the Firman P09201 generator today, and sleep soundly knowing that you're covered, protected, and ready for any emergency that might come your way.
See our full range of Firman products here.
Get Your Firman Power Equipment P09201 Today
Using the Firman Performance Series generator is a great way to make the most of any situation where you need power. This generator comes with a Phoenix fat head block, is a start gas portable generator, allows you to remote start gas portable equipment like this one, and is Canada emissions certified with a CO alert system. This is a 9200 remote start gas generator with co alert, a low oil indicator, it is EPA certified, cETL certified, (not UL certified), comes with a spark plug wrench, and has excellent remote starting distance.
Out of all performance generators, this one comes with a wheel kit and is listed at one of the absolute best prices you'll find. Get this 11400 9200 remote start generator today, and compare other prices online if you wish. We guarantee that purchasing this from our online store will get you fast, quality service, and allow you to use this generator with ultimate ease and receive immediate shipment.
P09201 Overview Video