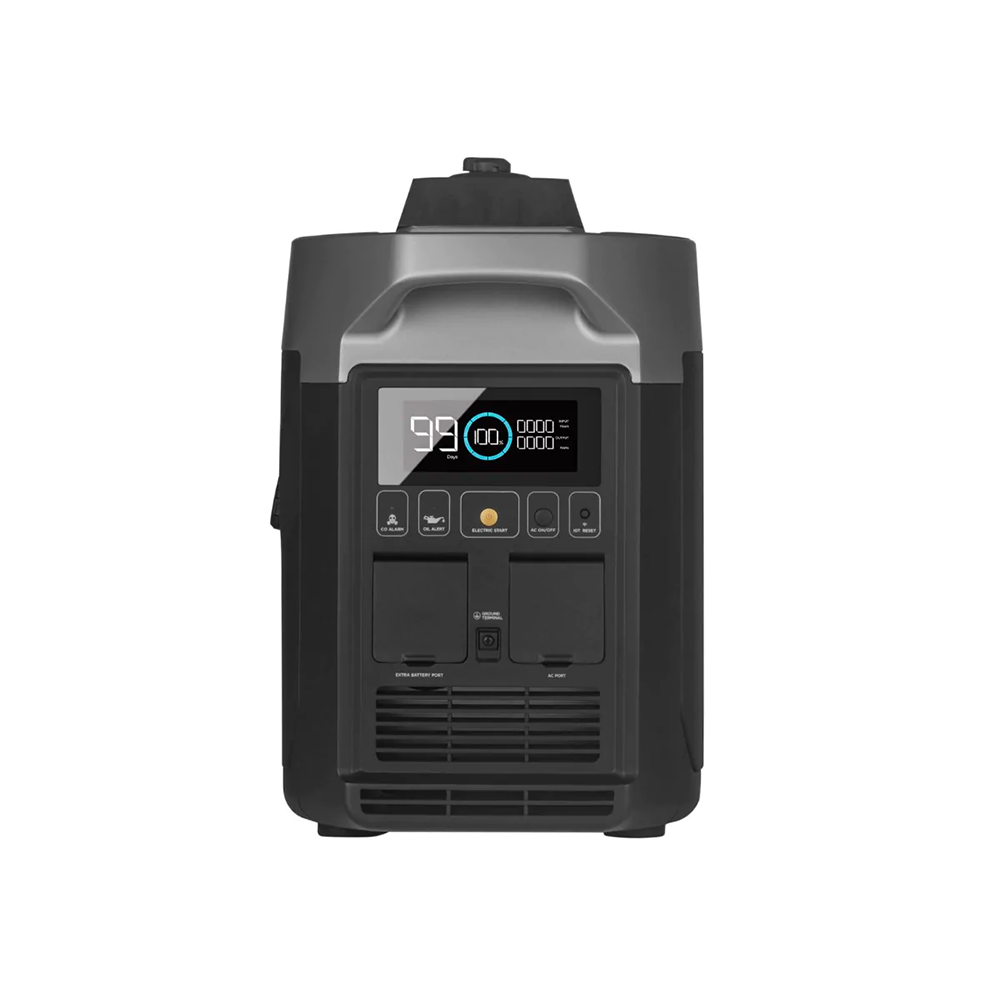 EcoFlow Smart Generator
Save

Liquid error (snippets/product-badge line 32): Computation results in '-Infinity'

%
When you need electricity on demand for any situation that comes your way, the EcoFlow Smart Generator is the way to go. With its truly innovative design, this generator serves as a backup for the EcoFlow Delta Pro and Delta Max power stations yet can run independently on gasoline.
All along the way you can monitor and control the generator using the EcoFlow app, allowing you to stay on top of its operation. And when you cannot oversee its usage, you can trust the auto shutoff and other safety features to step in for you, offering true peace of mind always.
We sell the full EcoFlow power range here.
A Look at EcoFlow Smart Generator Specifications
When nothing else will do but sheer efficiency, it's the EcoFlow 1800W Smart Generator that you want on your side. Since it's made to complement the EcoFlow DELTA Pro and DELTA Max portable power stations, you can count on having ample power on tap whenever extended blackouts and severe storms occur.
With that, severe storms, extended blackouts, and similar emergencies will never prove problematic again when you get your hands on this smart emergency power station.
The EcoFlow Smart Generator specifications:
1,800/1,900 watts

79cc OHV 4-stroke engine

Noise levels as low as 56 decibels

DC charging for the EcoFlow DELTA Pro/Max

Runs independently on gasoline as needed

1-gallon gasoline tank with 3.5-hour runtime

Inverter generator design safe for sensitive electronics

62.8-pound dry weight

Smart app control

Electric or manual start

Auto shutdown

LCD screen
What You'll Get with Your Purchase
When you add the EcoFlow Smart Generator to your life, you'll receive:
Smart generator unit

Battery connection cable

Spark plug socket

Breaker bar

Oil funnel

Screwdriver

Spanner wrench

User manual

EcoFlow warranty card
When you buy your EcoFlow generator from us, you'll also get free shipping to anywhere in the contiguous United States. We always provide factory direct pricing, too, plus the highest quality of service around.
So, please feel free to let us know if you have any questions about the EcoFlow Smart Generator, DELTA Max/Pro power stations.
A Generator Designed to Exceed All Your Expectations
If you're looking for a great way to have emergency power at your fingertips, let the EcoFlow Smart Generator exceed your every expectation. At the heart of its build, the 79cc OHV 4-stroke engine produces a running wattage of 1,800 with peak power of 1,900 watts.
The single-gallon gasoline fuel tank runs for 3.5 hours on full load without breaking a sweat – even while using DC to charge your EcoFlow DELTA Pro/Max portable power station. Noise levels stay as low as 56 decibels as it operates, too, so you can keep your generator running without attracting unwanted attention.
EcoFlow Smart Generator Settings Give You Functionality at Every Turn
The intelligent EcoFlow design goes well beyond the functionality of traditional gasoline generators.
You can operate the unit using either its LCD display or the app, letting you decide how to stay in control of your generator and portable power station. On top of that, the unit comes with a fuel alert, CO alert, and auto shutdown system for true peace of mind.
Get Constant Power with EcoFlow Delta Pro/Delta Max Links
When you need endless power, the Delta Max/Pro links come through in a big way. By using the DC charging technology, you can efficiently recharge your portable power station on demand. The simple process doesn't take much time either, letting you move on with your day in no time flat.
Run the EcoFlow Smart Generator Independently
If you just need to run your equipment and charge up devices, you can operate the smart generator independently as often as you wish.
The unit does everything traditional gas generators can do, letting you enjoy 3.5 hours of power on a single tank of gasoline. All you have to do is plug the device into the AC output to start using its power however you would like.
Charge and Get Recharged at the Same Time With this EcoFlow Generator
While using the AC output to power devices, you can plug your Delta Max/Pro power station in at the same time.
This high-performance generator will still keep your devices running as intended while charging up your power station. Once your portable power station shows it's full, you can unplug it and take it on the go. Or you can just leave it plugged in to automatically recharge as its battery level declines.
Enjoy Quick and Easy Startups – Four Ways
When it comes to starting up your EcoFlow Smart Generator, you definitely have options. If you're nearby, you're welcome to use the manual or electric start to get it fired up.
Otherwise, the EcoFlow app lets you turn on your generator with the tap of a button. Want to keep your power station charged always? Just set your generator to turn on automatically when the portable power station reaches the set battery limit.
Use the EcoFlow App to Always Stay in Control
The EcoFlow app lets you oversee the full operation of your generator whether you're nearby or on the go. The app lets you monitor how well the system operates plus gives you the ability to turn the generator on and off with the touch of a button.
You can even change all its settings, including the autostart system, as needed to keep the power on until the emergency situation comes to an end.  
Stay Powered Up with the EcoFlow Smart Generator
The EcoFlow Smart Generator offers the support you need when all your other sources of power go awry. So, whether you're dealing with a lengthy emergency power outage or are just far from civilization, this generator is always great to have on hand.
Since the unit runs on gasoline and recharges EcoFlow Delta Pro/Max generators through DC, you have virtually endless power on tap – just as long as you still have fuel. The sheer intelligence and efficiency of the system is unmatched by traditional gas generators as well, letting you savor the future of portable power station technology.
If you want to stay safe and sound whenever your power goes out, it's high time to add the EcoFlow Smart Generator to your tool collection. And we're here to help. All you have to do is add the unit to your cart, and then complete the checkout process.
Once that's done, we'll do the rest. We'll provide factory direct pricing always plus deliver the generator for free to your US address.
After that, you'll soon have your generator on hand, leaving your household more than ready for your next outage. You can then roll the unit and its portable power station out as needed to provide power as needed throughout the emergency situation.