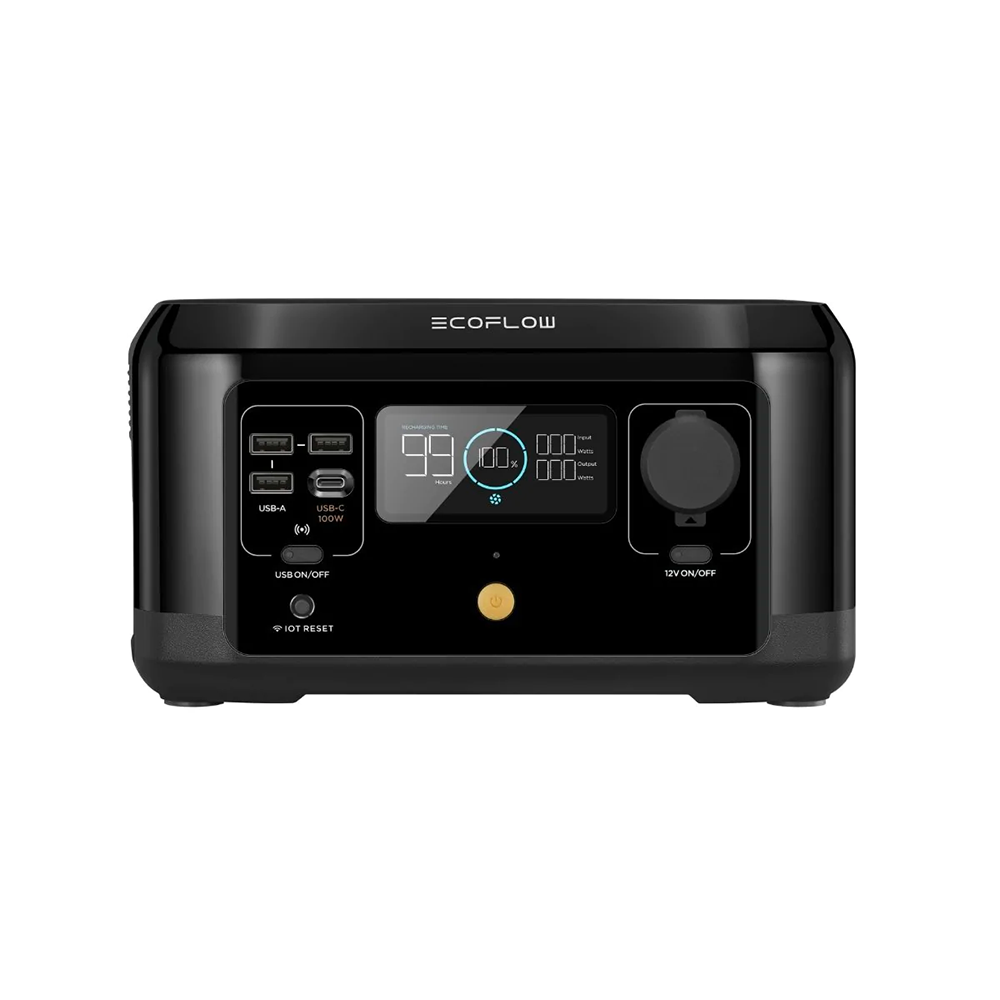 EcoFlow River Mini Portable Power Station
With the EcoFlow River Mini Portable Power Station, you can get reliable power on the go – all without weighing down your bag.
At just 6.3 pounds, this lightweight little portable unit easily fits in your backpack, so you can power up your adventures in an instant. Plus, when it comes time to use your electronics and charge up your devices, no one will get left out of the fun thanks to its eight separate ports.
Upon running your power station down to low charge, the EcoFlow X-Stream charging technology promises to get it back up to 80% charge in just one hour. You can even charge up the unit with AC power outlets, DC connections, or a solar panel. So, once you add the EcoFlow River Mini to your life, you'll never again have to go without your favorite devices while on the road.
EcoFlow River Mini & River Mini Wireless Specifications
The EcoFlow River Mini Portable Power Station comes in both standard and also the popular River Mini wireless models. The main difference is that the wireless version comes with a wireless charging pad up top plus a USB-C fast charging port.
Both The Standard And EcoFlow River Mini Wireless Power Stations Boast The Following Specs:
300/600 watt output

2 AC, 1 DC, and 3 USB ports

Durable jet black one-piece build

9.8 x 5.5 x 5.2 inch dimensions

Lightweight 6.3-pound profile

Connects to eight devices at a time

Ability to charge back up to 80% in one hour

Recharges via solar, your car, or a wall outlet

Holds its full charge for up to one year

Pure sine wave output for charging sensitive electronics
What You'll Get with Your EcoFlow River Mini Purchase
When you buy the EcoFlow River Mini portable generator, you'll get:
EcoFlow River Mini power station unit

Charging cables for AC, car, and solar

A helpful quick start guide

An EcoFlow warranty card
If you decide to buy from us, you can always count on getting factory direct pricing and free shipping all across the United States as well. We offer the highest quality of service and support as well, so you always enjoy the finest online shopping experience.
The EcoFlow River Mini is Portable Power Station You'll Love
Whenever you need portable power on demand, the EcoFlow River Mini won't let you down.
With this portable generator in hand, immense opportunities for adventure open up without worry about your devices letting you down. As you travel all over the globe, you can conveniently keep your devices juiced up and ready to go with help from your generator.
Stay Powered Up Wherever You Go
Your portable power station provides a running wattage of 300 while peak power can reach 600 watts. With all that power on hand, you can watch top-notch TV shows, play your Nintendo Switch, and charge up all your devices with ease. So, whether you're hiking deep into the forest or camping out for the weekend, your portable generator will keep your devices operating as expected.  
Charge Up Easily with DC Outlet, USB Ports, and AC Power Outlets
Since you cannot predict what life will bring your way, it's best to stay prepared with all the outlets you could ever need. The many AC, DC, and USB ports on the River Mini will definitely come in handy then as you live your life to the fullest.
With all those outlets and USB outlets on hand, you can put down your power bank collection for good and just rely on your portable generator whether you're powering small electrical appliances or other USB devices.
Power Multiple Devices at the Same Time with the River Mini
Across all its outlets, your EcoFlow River mini portable power station can power up to eight separate devices at one time. So, you never have to say no when family and friends want to plug in their devices alongside your own. If you love technology, you can even keep all the power to yourself – just as long as you hook up your like-minded loved ones with portable power stations of their own. Just be sure to ask if they want the wireless charging pad or the standard version.
The Lightweight Build You Can Carry Everywhere
Built with your convenience in mind, the River Mini portable power station is always easy to carry everywhere you go. At less than six inches wide, this generator is a cinch to pick up with just one hand, allowing you to grab it and head out the door with the quickness. Want to keep your hands free? Just put your portable generator in your backpack or keep it in your glove box and hit the road in style.
Enjoy Multiple Ways to Recharge The EcoFlow River Mini's Power
When the River Mini or River Mini Wireless runs low on power, it's simple to recharge the unit wherever your travels take you.
You can plug the unit right into the wall, of course, by using the AC plug in regular AC outlets. If you're not close to a wall outlet, then hook the DC cable up to your car and let its battery get you back up to 100%. When you're really far away from it all – or just staying eco-friendly always – your portable solar panels can recharge your portable generator for you.  
Fast Recharging for the EcoFlow River Mini Power Station
Whether you're using a solar panel with the solar charging cable, AC power sockets, or the DC plug, you don't have to wait long for the River Mini portable generator to get back up to full speed either.
In just one hour, the X-Stream charging technology will have your power station back up to an 80% charge. Wait just a little bit longer and you'll have 100% of its power at your fingertips throughout your next adventures.
With so many excellent benefits awaiting you, it just makes sense to add the EcoFlow River Mini generator to your travel setup. As with all EcoFlow products, average customer ratings point to the sheer convenience and efficiency of this portable power station as well.
Upon making this portable generator your own, you get to say goodbye to worries about powering up all your devices while on the road, exploring the outdoors, or simply enjoying a day at the lake.   
Supercharge Your Travels with the EcoFlow River Mini Generator  
Whether the standard or wireless version EcoFlow River Mini Generator speaks to you, this portable generator model awaits the chance to supercharge your travels. And the sky is the limit in how you can use it.
From enjoying picnics in the park to camping in the wild, there's no limit to where you can take your devices when you have this generator on your side. No matter where you go, this unit will give your devices the power they need, allowing you to enjoy the creature comforts of home while in the great outdoors.
If that sounds like just what you need on all your adventures, it's time to add the EcoFlow River Mini Portable Power Station to your life. We make it easy, too. Just add it to your cart and checkout, and then we'll handle the rest. We always offer free shipping all across the United States plus ensure you get factory direct pricing every time.
So, complete your order today and we'll get your River Mini generator to your door ASAP. You can then head out on all your explorations with technology right on hand always.
Check out the full EcoFlow collection here.
EcoFlow River Mini Overview Video