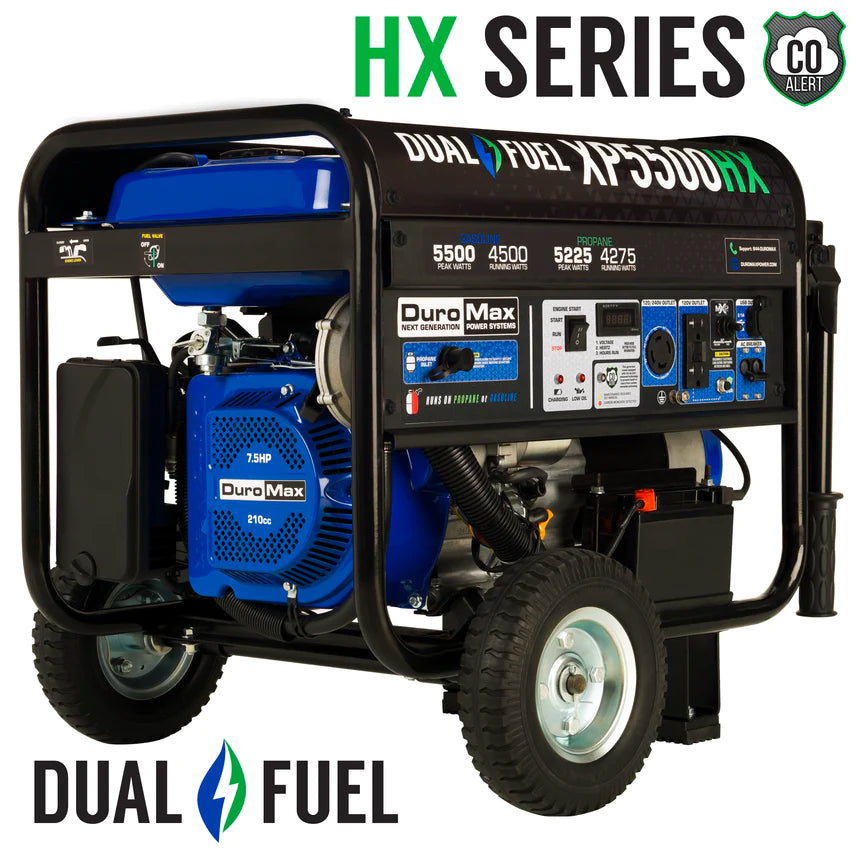 DuroMax XP5500HX - 5500 Watt Dual Fuel Portable Generator
Save

Liquid error (snippets/product-badge line 32): Computation results in '-Infinity'

%
Featuring Dual Fuel Technology, the DuroMax XP5500HX 5,500-watt portable generator provides you with choice and flexibility, allowing you to choose your fuel source since the unit runs on both propane and gasoline.
Reaching up to 4,500 watts of running power, the DuroMax XP5500HX can power small and large appliances, making it ideal for job sites and RV-camping cars. The unit not only delivers power but also sustainable levels of energy thanks to a 4-gallon fuel capacity.
Having the 5,500-watt portable generator by your side during a camping trip or on a job site ensures you get the work done thanks to a 210cc engine capable of powering high voltage appliances, charging external batteries, and heavy-duty power tools.
Key DuroMax XP5500HX Features:
Dual Fuel Technology:

Use whichever fuel source you have at your disposal thanks to a mechanism capable of running on both propane and gasoline.
CO Alert:

Automatically shuts down the engine when high levels of carbon monoxide are detected, keeping you safe.
210cc Engine:

The DuroMax engine is capable of running at 3600RPM to deliver enough power for your lights, and refrigerators, and sustain any needs you might have.
9+ Hours of Runtime:

At 25% load, the 5,500-watt portable generator can provide power for up to 19 hours on a full tank.
Metal Build:

Full metal construction and heavy-duty frames protect the unit from wear-and-tear and severe weather for years to come.
EPA and CARB Certified:

DuroMax generators follow strict environmental guidelines, making them perfect for responsible outdoor use.
Noise Muffler:

The DuroMax XP5500HX is equipped with a spark arrestor noise muffler which reduces noise through reverberation.
XP5500HX Generator Specifications:
Gasoline:
Peak Watts: 5,500

Running Watts: 4,500

Peak Amps @120V: 70.8

Running Amps @120V: 37.5

Peak Amps @240V: 35.4

Running Amps @240V: 18.8
Propane:
Peak Watts: 5,225

Running Watts: 4,275

Peak Amps @120V: 67.3

Running Amps @120V: 35.6

Peak Amps @240V: 33.6

Running Amps @240V: 17.8
Engine:
Amperage: 37.5A/18.8A (Gasoline), 35.6A/17.8A (Propane)

Voltage: AC: 120/240V 60 Hz, DC: 12V

Frequency: 60Hz

Horsepower: 7.5HP

Engine Size: 210cc

Engine Type: 4-Cycle Air-Cooled Spark-Ignition

Engine Speed: 3600RPM

Fuel Type: Dual Fuel (gasoline/propane)

Fuel Tank Capacity: 4 Gallons
Product:
Runtime: (Gasoline) at 50% Load: 8.9 Hours, (Propane) at 50% Load: 7.6 Hours

Start Type: Electric/Recoil

Volume Level: 69dB

EPA Certified: Yes

CARB Certified: Yes

CSA Certified: No

Product Dimensions: 23"L x 25" W x 22" H

Product Weight: 128 Lbs
A Lightweight and Efficient Portable Generator
Although the DuroMax XP5500HX only features a 210cc engine, it is nothing short of remarkable. The unit can deliver considerable levels of power with no hiccups thanks to 5,500-watt peak performance, allowing you to power your appliances and even make yourself and hot beverage while you're at it.
The ample 210cc headroom allows the cylinders to efficiently digest air, which translates into better performance and less strain on the engine. In addition, while the splash-type cooling oil system provides optimal working temperatures, the engine can run at 3600RPM to make sure all your problems are solved.
To top it off, 100% copper windings allow for improved heat dissipation. This leads to increased performance since aluminum is an inferior heat conductor.
The DuroMax XP5500HX Uses 

Dual Fuel Technology

The XP5500HX dual fuel generator combines efficiency and convenience by running on both gasoline and propane thanks to Dual Fuel Technology. Pick whichever fuel is on the shelf and immediately get to work.

For added convenience, the portable generator uses an idle control feature that automatically lowers engine speeds to prolong runtime, along with an automatic voltage regulator that prevents voltage spikes and raises the engine's tolerance for power surges.

See more dual fuel options here.
CO Alert
The DuroMax XP5500HX brings safety measures to another level with its CO Alert feature. For an even safer environment, the portable generator automatically shuts down if carbon monoxide levels emitted by the engine are high.
Carbon monoxide can be a deadly hazard in the worst-case scenario. The DuroMax generator protects you, your family, and your friends so you can focus on your mission or simply have a good time with no worries.
Outdoor Use
The DuroMax XP5500HX complies with strict eco-friendly guidelines provided by the Environmental Protection Agency (EPA) and California Air Resources Board (CARB). This means the engine regulates pollution and emits fewer toxic fumes, making it the ideal solution for camping trips and family gatherings.
Industrial DuroMax Durability with the 
XP5500HX
To make sure your investment is protected, full metal construction and frames surround the engine and power panel to adapt to severe weather conditions and years of wear-and-tear.
Besides the robust build, solid fill tires and a foldable handle provide a stronger contact with the ground, making this unit a breeze to push around just like all DuroMax models.
Fully Loaded Power Panel
The 5,500-watt dual fuel generator has it all: an electric start button, a circuit breaker and battery switch in case of overloads, an idle control switch to save fuel, and a wide range of outlets, perfect for workers on a job site.
Next to the fully featured power panel lies a front fuel input switch where you can choose between gasoline and propane.
Benefits of Using Propane
Even though gasoline can yield about 5% more power, using propane can be beneficial depending on living conditions. Here are some benefits of using propane:
Quick Start:

Unlike gasoline, propane doesn't need to be warm to make its way through the fuel lines, making it ideal for cold temperatures.
Cheaper and Effective:

Propane is a much more widespread resource, and is thus cheaper. It also burns for longer.
Easy Maintenance:

You will inevitably spill gasoline on the ground while trying to pour it from one container to another. Propane can be connected through a propane hose with no spills whatsoever. 
Clean Fuel Source:

Propane is a clean-burning fuel. This avoids you having to clean the residue off the fuel lines, unlike gasoline which can leave dirty spots all around the engine parts.
Environment-Friendly:

By emitting only half as much carbon monoxide, propane qualifies as the healthier option and reduces the risks of dizziness and health hazards if you're in close proximity to the unit for extended periods of time.
Longer Shelf Time:

Gasoline requires expensive stabilizers in order to keep it from going bad and can only last for a few months. Propane doesn't and can be stored for up to 30 years without any additives.
DuroMax XP5500HX Overview Video