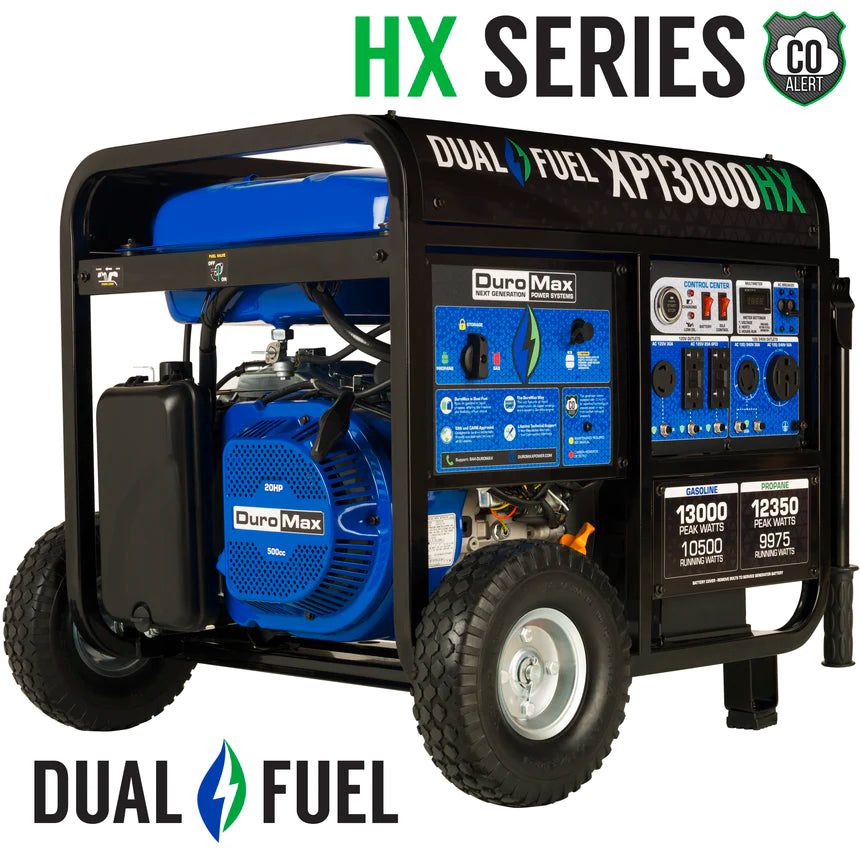 DuroMax XP13000HX - 13000 Watt Dual Fuel Portable Generator
Save

Liquid error (snippets/product-badge line 32): Computation results in '-Infinity'

%
The DuroMax XP13000HX is the perfect generator to keep you going during a power outage. With 13,000 watts of power, it is sure to handle anything you can throw at it. Additionally, it is dual fuel gas propane, so you can run it off of either gasoline or a propane tank.
This DuroMax generator also includes many features to make operating it a breeze. An included wheel kit makes for easy mobility. It also has a wide range of power outputs, including 120V and 240V options. An electric push button start means instant electricity the moment you need it.
Take a quick look at some of the features this DuroMax dual fuel gas propane generator has to offer:
Home standby ready

Dual fuel with CO alert

Electric Start

50 amp outlet

Wheel kit included
Ultimate Dual Fuel Power Options - 13,000 Watts
DuroMax's XP13000HX gives you the ultimate power options with numerous power outlets everything you need. It has four GFCI 120V outlets to directly power all of your standard electronics.
But where it really stands out is with its high voltage and amperage outlets. There is a 120V 30A twist lock, great for smaller campers. There is also a 120/240V 30A twist lock, which could be used for larger tools, RVs, or even a house. But the biggest outlet is a 120/240V 50A that is perfect for powering your whole home.
Being able to power an entire home with just one cable is the ultimate convenience, and when you pair the DuroMax XP13000HX with a large propane cylinder you can weather even the longest outages. The electric start also makes for easy operation so anyone can use this generator.
Each outlet has individual circuit breakers, so if one outlet trips, it won't shut everything off. There is also a main breaker to protect against overcurrents and short circuits.
While this generator and most of the DuroMax 13000 watt models can easily supply power for most uses, you should always calculate your wattage demand to make sure it is capable. The DuroMax XP13000HX has a 13,000 watt peak with 10,500 watts running on gasoline. Whereas running on propane it can produce 12,350 peak watts and 9,975 running watts. 
DuroMax's Dual Fuel/Gas Propane Versatility
The DuroMax XP13000HX uses dual fuel technology to supply the engine with either gasoline or propane, depending on the user's selection. You can easily switch between fuel sources with the turn of a knob. You are not locked into one or the other and don't need to go through a complicated process to switch fuels.
Gas is an excellent choice because it is easy to get, no matter where you are. Unfortunately, refilling the generator can be messy and a problem to transport if you don't have a truck. On the other hand, propane burns much cleaner and no mess is involved. However, you are limited to the size tank you have on hand. But, large tanks are available and propane companies will even com out to fill them.
Propane is the best choice for those who want to power their whole house during a power outage. However, you will see a slight drop in power output while running on propane. This is due to propane not being as powerful as gasoline. However, its benefits, such as ease and efficiency will usually outweigh this slight drop in output. Plus, you don't have to worry about filling and transporting messy gas cans.
DuroMax as well known for their dual fuel models. See more of them here.
Key XP13000HX Features
The DuroMax XP13000HX comes with many convenient features that make using it effortless. Solid fill tires on steel wheels are included and durable enough for even the roughest terrain. A handle kit is also included to make pulling it around easy.
An electric start is almost a necessity on a generator of this size, and it is a real lifesaver compared to using a recoil starter. It also makes the generator more accessible to those who would otherwise not be able to start a generator. However, it also has a recoil starter in case you ever need it.
A fully loaded power panel has an all new control center that puts everything you need to operate the generator in one place. This includes the start controls, breakers, outlets and a multimeter. The digital multimeter displays voltage, hertz, and hours run. It is a great upgrade from analog voltmeters. The hour meter also makes it very easy to track run time so you know when to perform maintenance.
Next to the power panel is a front facing fuel interface. This is where the included propane hose connects and also where you will find the fuel switch. A simple knob goes between propane, gas, and storage. Just turn the knob and run the generator out of fuel to prepare it for longterm storage
But the most important feature on the fuel interface is the CO alert. If carbon monoxide is detected, a light will illuminate and shut the generator off for your safety. CO is a growing concern among generator users and having a monitor built-in delivers peace of mind to owners.
Generator Specifications
The DuroMax XP13000HX dual fuel generator runs on either gas or propane. It is competitive with home stationary home standby generators and can be used as a whole home backup. In addition, it costs just a fraction of what big home standby generators would, while also being portable.
On gasoline, it has a peak wattage of 13,000 with a running wattage of 10,500. On propane, it produces 12,350 peak watts and 9,975 running watts. There is an onboard 8 gallon fuel tank, and at least a 40lb cylinder is recommended if running on propane.
DuroMax's XP13000HX has 4 GFCI protected 120V 20A outlets. It also has a NEMA L5-30 twist lock 120V outlet, a NEMA L14-30 120/240V 30A outlet and a NEMA 14-50 120/240V 50A outlet. They are all protected by breakers, including a main breaker. There is also an idle control switch that allows it to lower its idle speed if using the generator intermittently, such as for power tools.
Protecting the generator is a low oil sensor shutdown which turns the generator off if the engine gets low on oil. A light also illuminates on the control center. Similarly, there is a battery charging light on the control center to let you know that the onboard starting battery is charging.
A rugged steel frame protects the generator from damage and, combined with the included wheel kit, makes for a truly durable yet portable package. Also adding to the durability is a cast iron sleeve for the cylinder wall and copper windings designed for prolonged use and durability. Backing up the generator's quality is an industry leading three year warranty. This generator is CARB and EPA approved.
Want to browse more DuroMax generators? See the entire range here.
DuroMax XP13000HX Video Overview