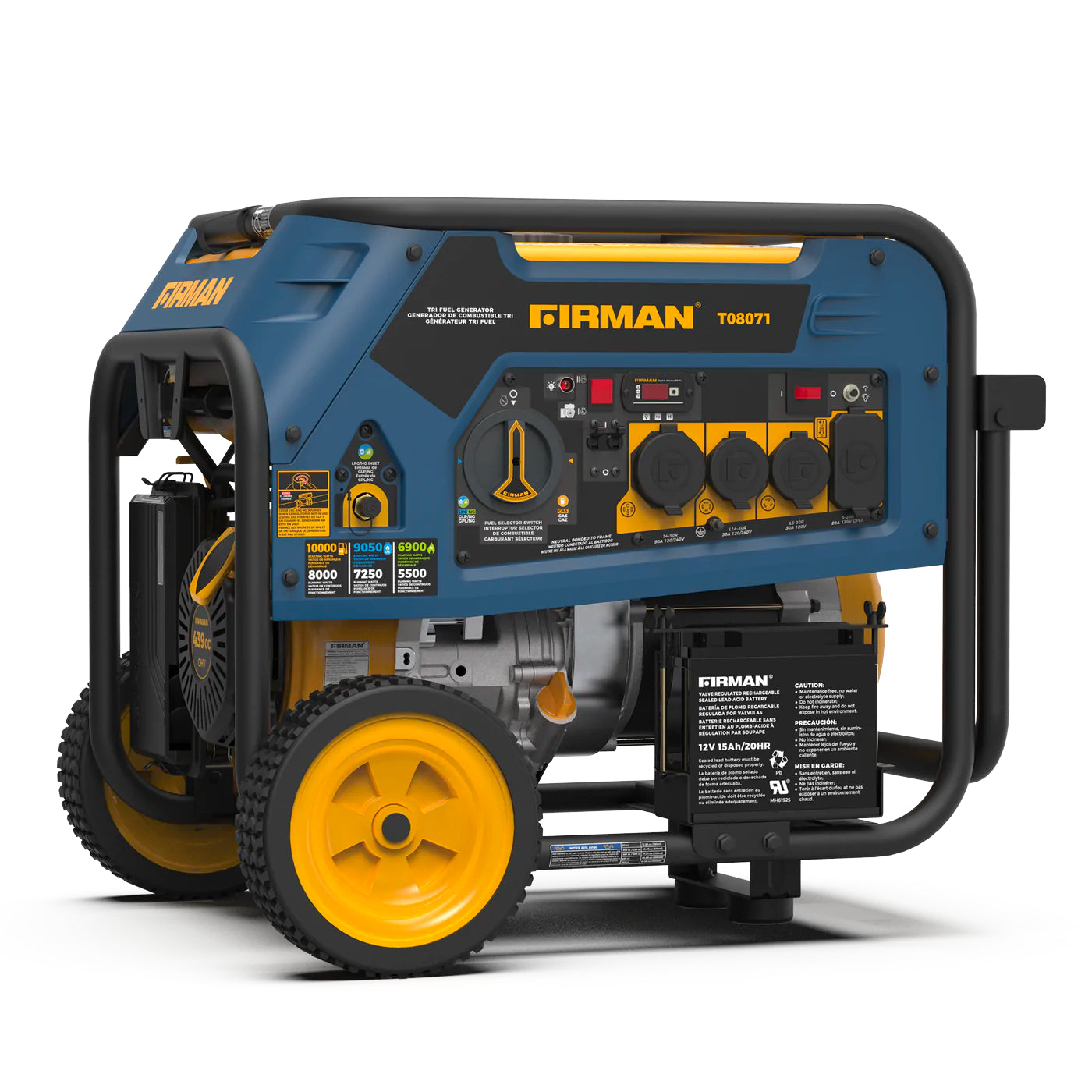 Firman T08071 Tri Fuel Generator - 8000 Watt
Save

Liquid error (snippets/product-badge line 32): Computation results in '-Infinity'

%
This Firman T08071 tri fuel portable generator is a versatile and portable electric start generator that is built to deliver reliable electricity under even the most extreme weather conditions.
Part of the Firman Power Equipment Hybrid Series, the T08071 can run on gasoline, on propane, or on natural gas.

Firman T08071 Portable Generator Functionality & Uses
The T08071 generator is capable of delivering starting 10000 watts of power and 8000 running watts on demand no matter what the season.
In addition to providing reliable backup power for all types of structures and equipment, this open steel tube frame generator is ideal for providing electricity to large recreational vehicles (RVs) and performing various types of farm and ranch work in the field. 
The Firman tri fuel T08071 has a tri fuel electric start portable design making it easy to power up, and easy to move around.
Once operational, the unit's Max Pro Series 439cc engine puts out clean and reliable power, running with maximum efficiency and temperatures control with the help of its Phoenix Fat Head Block.
Built for convenience, this bestselling Firman tri fuel generator has an 8-gallon tank that can fuel the unit for up to 12 hours. The T08071 also comes complete with a 5.5-foot LPG hose that allows users to easily attach even larger tanks.
For easy transport, handling, and storage, the unit has a built-in 10-inch wheel kit and a folding handle.
The Firman T08071 is engineered in the United States by Firman Power Equipment.
Reflecting the Firman company's firm commitment to the health of its customers and the environment at large, the T08071 is certified for California Emissions through the California Air Resources Board (CARB California emissions certified), and also the US Environmental Protection Agency (EPA). 
Firman T08071 Tri Fuel Generator Specifications
Below you'll find all of the specifications for the T08071 Firman tri fuel generator in terms of its included parts, its performance capabilities, and the available accessories to make your generator even more functional and effective.
T08071 Technical Features and Dimensions 
Key aspects and characteristics of Firman's T08071 generator include:
439cc Tri fuel engine with low oil shut off and cast iron sleeve

Phoenix Fat Head Block

8 gallon tank provides 12 hours of run-time

Operates on gasoline, liquid propane, or natural gas

9400/7500 Gas

8450/6750 Liquid Propane

6900/5500 Natural Gas

Includes 5.5 ft LPG regulator hose

Includes natural gas meter assembly

Propane tank not included

Multi-feature control panel

Outside electrical interlock box

Covered Outlets:

(2) 5-20R 20A-120V

(1) 14-50R 50A-120/240V

(1) L14-30R 30A-120V/240V Twist Lock

(1) L5-30R 30A-120V Twist Lock

Electric starting system with engine mounted recoil starter backup

Engine life automatic shutdown

Power output

Running Watts

Gasoline – 8000

Liquid petroleum – 7250

Natural gas – 5500

Starting Watts

Gasoline – 10000

Liquid petroleum – 9050

Natural gas – 6900

AC Voltage –120/240

Frequency (Hertz) – 60

Decibels – 4dB 1/4 load

Power stream alternator

Low oil shutoff

Sound Rating – 74dB

Heavy duty wheels

10 inches

Flat black/yellow plastic

Wheel kit

Handle

Single high handle with grip

Folds for storage and generator use

Physical parameters

Gross Weight – 239 pounds

Unit Weight – 212 pounds

Unit Dimensions – 29.8" x 27.5" x 26.1"

Carton Measurements – 23.1″ x 22.2″ x 24.6″

Ships with operator's manual, spark plug wrench, oil funnel, and package of oil.

UPC – 840876180716

California Air Resources Board (CARB) certified

US Environmental Protection Agency Certified

Engineered in the United States of America
Optional Firman T08071 Generator Accessories
Apart from fuel, this Firman tri fuel generator comes complete with everything you need to begin generating power immediately.
However, you may want to augment your unit to meet your specific wants and needs.
Consider one or more of the following official Firman accessory products.
Each is built for full compatibility with this specific Firman tri fuel generator.
25' Medium Duty 5-15P to 5-15R Generator Utility Power Cord with Storage Strap

50' Medium Duty 5-15P to 5-15R Generator Utility Power Cord with Storage Strap

25' Medium Duty 5-15P to (3) 5-15R Generator Utility Power Cord with Storage Strap

50' Medium Duty 5-15P to (3) 5-15R Generator Utility Power Cord with Storage Strap

Multi Use Velcro Storage Strap with Handle

25' Heavy Duty L5-30P to (3) 5-20R Power Cord with Storage Strap

3' Heavy Duty TT-30P to (3) 5-20R Short Power Cord
T08071 Portable Generator Pricing, Free Shipping, Packaging, and Warranty
Customers who chose to purchase the T08071 portable generator from us benefit from factory direct pricing and free shipping in the continental United States. Sales tax may apply based on your location.
Within the box, Firman includes everything you need to get your tri fuel generator in working order including an operator's manual, a spark plug wrench, a small package of compatible engine oil, and an oil funnel.
You simply need to choose how you want to fuel your Firman T08071 and use the appropriate gasoline, liquid petroleum, or natural gas hookups and accessories. The tri fuel design offers maximum flexibility.
Located in Peoria, Arizona, the skilled and knowledgeable Firman customer support team is available seven days a week, offering the help that you need exactly when you need it.
Our customers are also supported by Firman's industry-leading consumer warranty.
The Firman T08071 and all new Firman generators we sell are backed by a comprehensive three-year warranty.
In the unlikely even you experience issues with the T08071 generator, just contact the Firman customer support team.
The team will troubleshoot all problems over the phone or via email. If this troubleshooting process fails to fix the problem, Firman will authorize on-site warranty service evaluations, repairs, and replacements of defective parts or units as necessary.
Issues caused by user error, a lack of proper maintenance, or botched service by an unauthorized repair facility are not covered under this warranty.
Firman T08071 Reviews: What Are Customers Saying?
This popular tri-fuel model gets overwhelmingly positive feedback from buyers.
First and foremost, customers consistently report that Firman's factory direct shipping with all advertised components for delivery means their product arrives on or ahead of schedule.
You'll get shipping status updates along the way.
When the Firman T08071 generator unit arrives, customers appreciate the fact it comes out of the box ready to use after a few simple set-up processes.
One of the key aspects of its ease of use is the T08071's tri fuel operation capability. Depending on the type of fuel you want to use, you simply turn the knob to the proper fuel sector, push the electric start button, plug in your cords, and you're ready to power just about anything.
Even better, it is extremely fast and hassle-free to switch from one fuel source to another.
Firman customers report using the T08071 for a wide range of purposes from powering farm equipment to providing emergency heat in the midst of a blizzard-related power outage.
No matter how they choose to employ it, buyers are overwhelmingly satisfied with the T08071 generator.
On average customers give this product 4.5 out of five stars for overall quality.
Furthermore, Firman reports that at the time of writing, 100 percent of customer reviewers would recommend the Firman T08071 generator to a friend.
You can also see our full range of tri fuel generators here.
Frequently Asked Questions About Firman Portable Generators
Who makes the engines for Firman generators? 
Firman has evolved into a leader in reliability and performance in the portable power market. In its 1870s, Kohler Engines was the first family owned business. Since the introduction to power generation in 1921, the Kohle engine company has more than 90 years of product experience on offer to consumers.
Q: Are Firman generators loud? A: Its noise is much lower than a 240 Watt generator and measures 75 decibels from 25 feet out.
Firman T08071 Unboxing Video