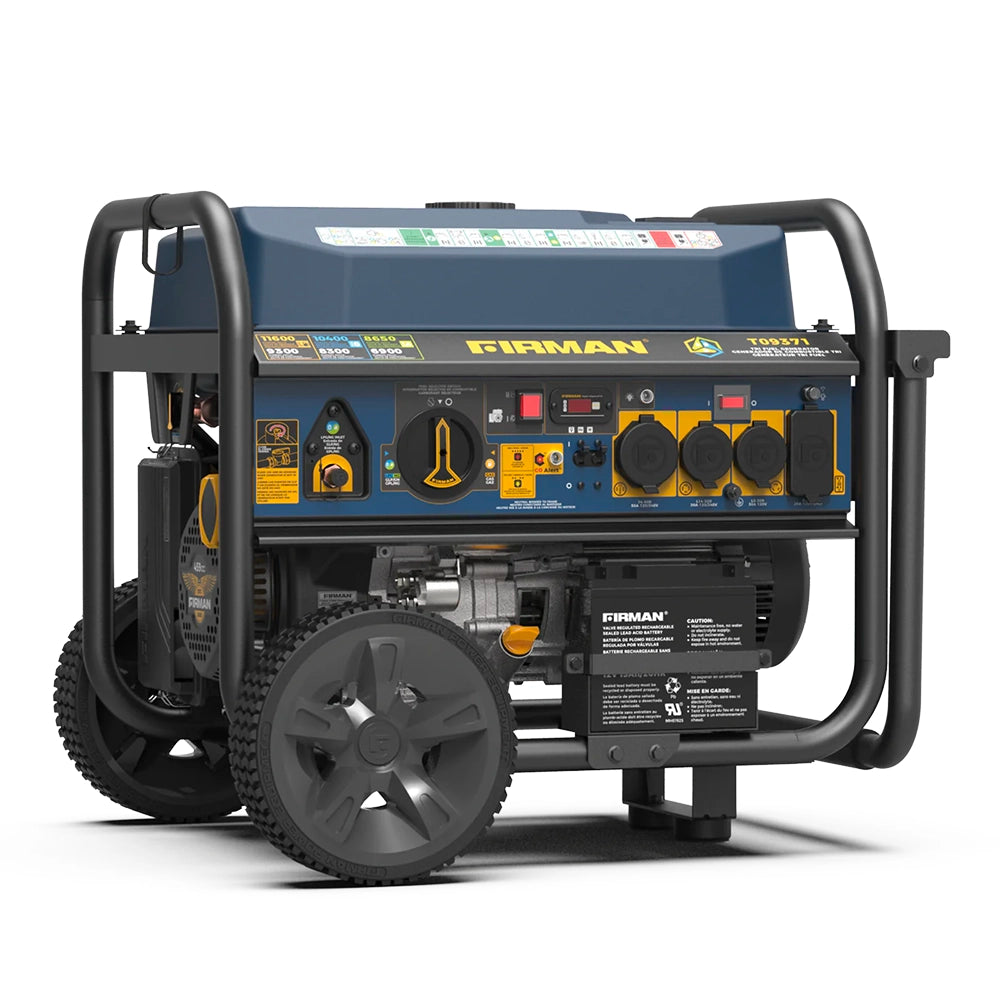 Firman T09371 Tri Fuel Generator - 11600 Watt
The T09371 is now more flexible than ever thanks to Firman's Tri-Fuel Technology, which allows it to operate on liquid propane gas, natural gas, or gasoline. Focus on getting things done rather than worrying about power outages thanks to this 11,600-watt portable generator.
The T09371 is equipped with a robust 459cc engine, making it suitable for everyday use on the job site as well as quick response in an emergency. This 11,600-watt portable generator can be a life-saver thanks to its stable, reliable, and risk-free output across a wide range of scenarios. This includes powering high-amperage power tools and household appliances as well as charging external batteries.
Built to perform but also designed to last, the Firman T09371's autonomy ensures that you won't have to worry about refueling for hours to come. This portable workhorse can keep you going for 11 hours at 25% load, so you can keep working through power outages and heavy workdays without losing momentum.
With its L14-30R outlet, the T09371 is ready to be connected to a transfer switch for maximum compatibility and with minimal effort. In the event of a blackout, you can simply plug the generator into your home's breaker box and start using the electricity it generates right away.
Carbon monoxide is a poisonous gas that is undetectable to the human senses; however, the unit is equipped with CO Alert Technology that will shut off the engine if dangerous levels of carbon monoxide are detected.
Key Firman T09371 Features:
459cc Engine:

The maximum running power of 9,300 watts for the T09371 allows you to keep working in the most demanding conditions.
Tri Fuel Technology:

This portable generator can use propane, natural gas, or regular gasoline as fuel, making it convenient to use whichever fuel source is most accessible.
CO Alert: Because this system can immediately shut off the engine if it detects dangerously high levels of carbon monoxide, you can operate at full throttle without worrying about carbon monoxide poisoning.
Up to 11 Hours of Runtime:

With a 9-gallon fuel tank, the 11,600-watt generator can run for a remarkable 11 hours at quarter load, giving you plenty of time to get through power outages and long days on the job site.
Modern Design:

The Firman T09371 is both functional and decorative thanks to its understated color palette, distinctive accents, and sleek design. 
EPA and CARB-Certified:

This tri-fuel portable generator is both EPA and CARB-approved, so you can rest assured that it complies with their environmental regulations and emits significantly less pollution than the industry standard.
Specifications:

Gasoline:
Peak Watts: 11,600

Running Watts: 9,300
Propane:
Peak Watts: 10,400

Running Watts: 8,300
Natural Gas:
Peak Watts: 8,650

Running Watts: 6,900
Engine:
Voltage: AC: 120/240V, 60 Hz

Frequency: 60Hz

Engine Size: 459cc

Engine Type: OHV 4-stroke

Engine Speed: 3600RPM

Fuel Type: Tri Fuel (Gasoline/Propane/Natural Gas)

Fuel Tank Capacity: 9 Gallons
Outlets:
1 x 5-20R 120V 20A DUPLEX GFCI

1 x L5-30R 120V 30A TWIST LOCK

1 x L14-30R 120V/240V 30A TWIST LOCK

1 x 14-50R 120V/240V 50A
Product:
Runtime: (Gasoline) at 25% Load: 11 Hours

Start Type: Electric Start/Recoil

Volume Level: 74dB

EPA Certified: Yes

CARB Certified: Yes

Product Dimensions: 31"L x 29.4" W x 27" H

Product Weight: 217 Lbs
Geared for Heavy Load
The Firman T09371 boasts an impressive 9,300 watts of running power from its powerful 459cc engine. This means that even heavy-duty power tools and other small and large appliances around the house will have an instant and steady supply of electricity.
The built-in Power Stream Alternator protects you and the unit from damage caused by sudden electrical surges.
Firman Tri Fuel Technology
The T09371's ingenious design means it can function on any of three fuels—liquid propane gas, natural gas, or gasoline—maximizing its adaptability, convenience, and cost-effectiveness.
With an autonomy of up to 11 hours on a quarter load, this tri-fuel portable generator can keep you going in the event of a power outage or when you need to make an impact on the worksite.
Thanks to low oil shutoff, the engine will turn off automatically if the oil level is too low to prevent damage from contaminated oil. The low oil indicator flashes to let you know when it's time to refuel the unit so you can focus on what's important instead of worrying about the fuel gauge.
We sell the full range of Firman Tri Fuel models here.
Inferior Toxic Emissions
By adhering to stringent environmental guidelines established by the Environmental Protection Agency (EPA) and the California Air Resources Board (CARB), the T09371 is both EPA and CARB-approved and is able to produce significantly lower levels of toxic emissions than is the norm.
As a result, there is no longer any reason to worry about potential dangers, and there is also much less of a chance that the device will have any negative health effects.
CO Alert
Carbon monoxide is a poisonous gas produced by combustion that has no odor and no taste but can cause headaches, nausea, and even unconsciousness due to its rapid spread.
Fortunately, the Firman T09371 is equipped with cutting-edge CO Alert Technology, which instantly shuts off the engine if dangerously high levels of carbon monoxide are detected.
Ergonomic Build
Even though this portable powerhouse weighs in at a heavy 217 pounds, it remains incredibly easy to transport thanks to its foldable U-shaped handle.
The plastic wheel set provides reliable support for the unit over rough terrain without ever needing to be replaced since it will never run flat.
Fully Loaded Power Panel
The three concealed outlets on the power panel are complemented with an L14-30R receptacle for maximum adaptability. The T09371 can easily be installed as a backup power source by hooking it directly to your home breaker box in the case of an electrical emergency.
While this 11,600-watt portable generator features an electric start, if the battery dies, power can be quickly restored by using the recoil mechanism.
In the event of an overload, the power may be promptly cut off using circuit breakers located on the power panel. These safeguards protect it from becoming too hot and wearing down too quickly, while a spark arrestor keeps it from catching fire by mistake.
Benefits of Using Propane and Natural Gas
Only 5% less powerful than using gasoline, the performance loss from using green fuels is negligible compared to the practical, environmental, and financial benefits, depending on your living conditions. Some of the advantages are:
Quick Starts:

As opposed to conventional fuels like gasoline, which must be heated before they can flow through the fuel lines, green fuels can be used immediately.

Cost-effectiveness and Accessibility:

Because it requires power in order to be pumped from the gas station to your container, gasoline cannot be found easily during a power outage as opposed to propane and natural gas, making them the more reliable option in addition to being cheaper.

No Spills:

Pouring gas from one container into the fuel tank will inevitably result in a greasy spill that will require cleaning. Refueling this unit is a breeze since a propane hose is included in the packaging, sparing you the hassle of handling gasoline.

Low Maintenance:

The combustion of propane and natural gas is relatively clean, so they leave little residue on the components of the unit.

50% Lower Toxic Emissions:

Switching to a green fuel source, like propane or natural gas, can eliminate as much as 50 percent of the harmful emissions, greatly reducing the risk to people's health both inside and outside the home.

Extensive Shelf Life:

Propane can be stored without any special care for up to 30 years, whereas gasoline must be treated with expensive stabilizers to prevent deterioration.
Looking for more from Firman? Shop the complete Firman range here.