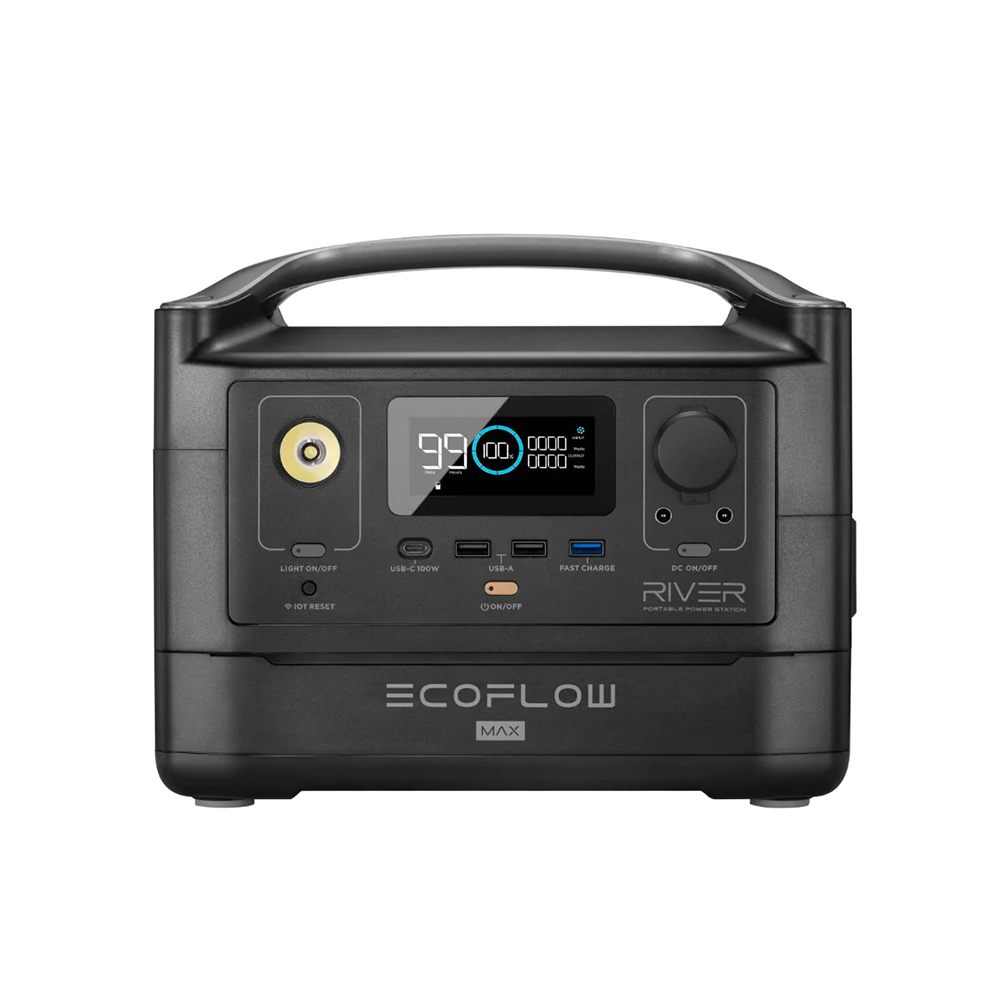 EcoFlow River Max 600 Portable Power Station
The EcoFlow River Max portable power station is a great option for reliable power on the go. You can operate as many as 10 devices at one time.
You'll have AC outlets, solar charging, and the ability to get more done. Whether you're on a camping trip or other adventure, or you're at home and your power is out, the EcoFlow generator is one you can rely on.
This unit offers quality and value. It also comes with the option of an extra battery, so you'll have additional power when needed. No matter where your travels take you, backup power can help you have more peace of mind.
The River Max is an impressive performer, and customer reviews say it's one of the very best portable power stations for its size and class. This device gives you 288Wh, and doubles to 576Wh when you use the extra battery.
Surge availability is 1800W, but the River Max operates better when you use it with appliances under 1200W.
There are plenty of good reasons to own an EcoFlow River Max 600. If you like to camp or travel, but you want to keep your devices charged and have options for more, the EcoFlow can be a great choice for your needs. Also consider this generator if you live in a part of the country where you have power outages and storms. You'll need something to keep your appliances operating.
Do More With the EcoFlow River Max Portable Power Station
The River Max will give you the support you're looking for during travels, or in an emergency when you need to power devices and electrons. It can recharge to 80% in one hour, and then reach a full 100% with another 30 minutes of charging.
With a battery that's bigger than the competitors' you can expect to power your small appliances along with some larger ones. The EcoFlow River Max portable power station has multiple options for power and three AC outlets, allowing you to simultaneously power up to 10 devices. The X-Boost mode can be used to start up higher-wattage devices, too.
EcoFlow offers the fastest charging options for portable power stations in the world. If you want the lightest weight option possible, you can remove the extra battery and enjoy a carrying weight of just 17 pounds.
The River Max 600 power station measures in at 11.4 x 7.3 x 9.3in, and offers AC, car, and solar panel charging capabilities.
Solar charging takes only 3 hours, while you can charge the generator from your car in just 6.5 hours. If you combine options you'll get the fastest possible charging for your EcoFlow power station.
The EcoFlow River Max 600 Gives You Reliable Portable Power
Reviews of the River Max portable power station show buyers appreciate the rapid charging, different options to reach full charge quickly, and number of devices that can be simultaneously powered by the generator.
Most power stations don't charge as rapidly, so that's a big advantage. Especially if you're going to need emergency power quickly, or you want to take an impromptu camping trip, having fast charging means you'll be ready to go.
EcoFlow River Max is small and compact, with the power you need for larger devices. With the surge capability you can start up plenty of devices needing up to 1800W, so you can use small appliances like your hair dryer.
EcoFlow River Max Specifications
The River Max 600 is an impressive combination of plenty of power in a small, compact size.
The double wattage of the extra battery helps you get more done, and the X-Boost mode makes it much easier to start up larger appliances, including those that take up to 1800W.
EcoFlow River Max portable power station specs:
Net weight: 17lbs (7.7kg)

Dimensions: 11.4 x 7.3 x 9.3in (28.9 x 18.4 x 23.5cm)

Charge Temperature: 32-113°F +/- 5°F (0-45°C +/- 3°C)

Discharge Temperature: -4-113°F +/- 5°F (-20-45°C +/- 3°C)

Color: Black

Charge Method: AC Wall Outlet, 12V Car Adapter, or Solar Panel

Cycle Life: 500 Cycles to 80%+ capacity

Battery: Lithium-ion

Management Systems: BMS, Over Voltage Protection, Overload Protection, Over Temperature Protection, Short Circuit Protection Low Temperature Protection, Low Voltage Protection, Overcurrent Protection

Full Recharge Time: 1.6 Hours (AC), 6.5 Hours (12V Car Adapter), 3-6 Hours (Using 2x110W Solar Panels in parallel with full sun), or 4.8-9.6 Hours (Using 1x160W Solar Panel with full sun)

Warranty: 24 months
A lot of portable power stations are limited in the number of devices they can handle at once, and the more devices they're handling the shorter time they'll operate. But with the River Max's extra battery you can get more power and more time, to keep devices charged up and appliances running as needed.
You can choose from three AC outlets, including ones with pure sine wave technology. The River Max has all the great benefits of a bigger power station in a compact, lightweight size you can carry easily.
Use The EcoFlow River Max Portable Power Station On The Go
Your portable power unit from EcoFlow is a trustworthy option for quality and reliability on all your outdoor adventures. Whether you're camping in a tent for the weekend, or traveling in an RV for the summer, backup power from a portable generator will increase your peace of mind. Then you can enjoy your outing, and have all your devices and appliances charged up and working as expected. With the EcoFlow app you can control your generator right from your phone for even more convenience.
We offer free shipping in the US and factory direct pricing on all EcoFlow portable power stations for the best possible value.
EcoFlow River Max Overview Video