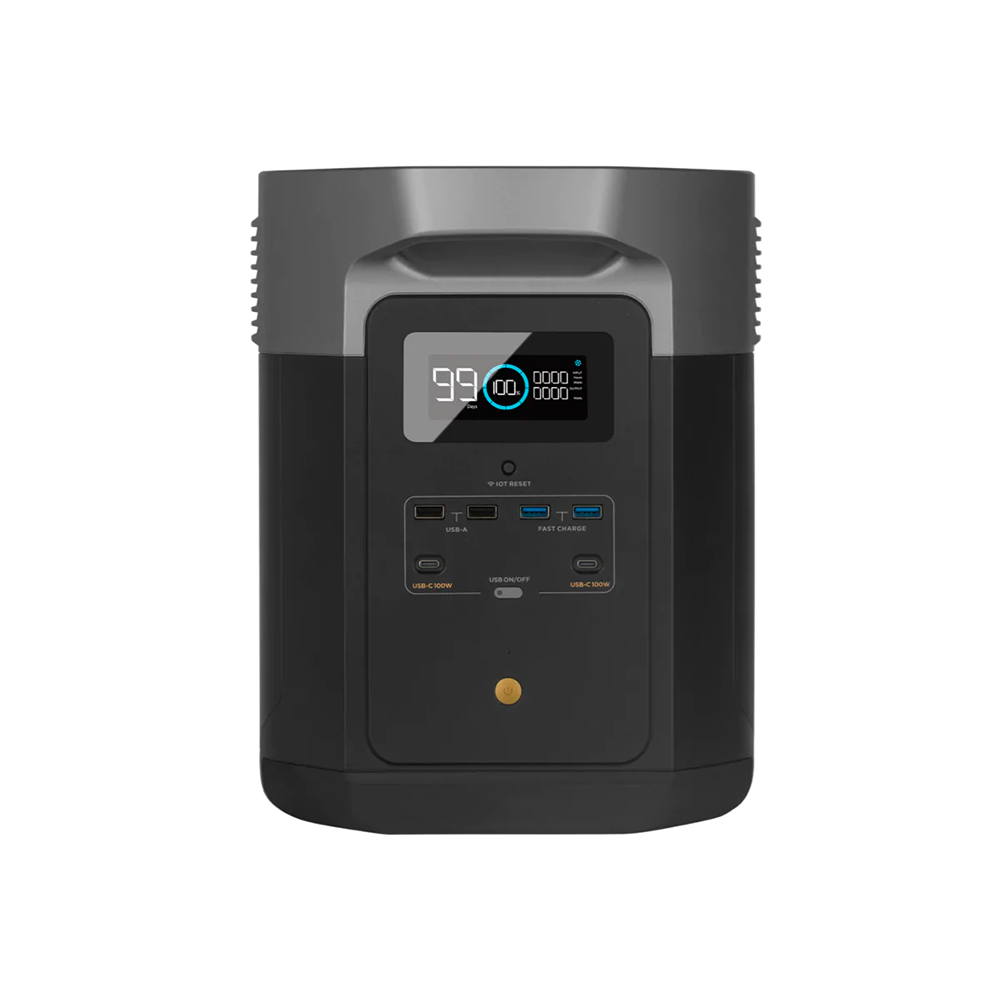 EcoFlow Delta Max 2000 Portable Power Station
The EcoFlow Delta Max portable power station is a great way to power multiple devices with ease. It comes with two different power options (1600 and 2000).
You can power your dryer, refrigerator, and other heavy-duty devices with this great portable power station, so you don't have to worry about going without in a power outage. This is true backup power when you really need it most.
The EcoFlow portable power station features an expandable capacity, so you can get up to 6kWh. With an 800W max solar input, you'll be able to keep your power station on and powering multiple devices as needed.
Dual charging is also built in so you won't have to worry about running out of power unexpectedly. The Delta Max 2000 is a true performer, and has strong reviews from buyers who are happy with what the generator offers for its class and size. The Delta Max 1600 is equally as impressive for those who want something slightly cheaper.
Backup power isn't needed that often, but when you need it you really want to have something that's not going to let you down. If you need portable power that offers charging with solar panels, the EcoFlow Delta Max generator is the right option for your needs.
You'll have strength and security, all in one package that outperforms its competition. With a recharge speed that's faster than many other portable power stations.
Do More With the EcoFlow Delta Max Portable Power Station
Having an emergency power supply is easier than ever before with your EcoFlow smart generator, and solar panels that can keep the power flowing. While the solar panels won't recharge your power station as quickly as electricity, they can still keep it charged up and working when you don't have access to another power source.
For anyone who wants to take this generator with them while traveling, or who needs to power appliances during extended power loss, EcoFlow solar panels could be a good choice.
Solar power works at any time. Whether you're in the brightly lit desert or a part of the country where clouds are more common, solar panels still receive light and convert it to energy.
An EcoFlow smart generator like the Delta Max 2000 or 1600 is designed to provide plenty of support for big and small appliances, to give you as much power as you need for comfort.
The EcoFlow Delta Max portable power station can recharge to 80% in just 65 minutes. If you want to charge it faster you can use a combination of charging methods to get it ready to go as quickly as possible.
Combining the smart generator with solar or AC, or combining AC with solar, all provide options for more rapid charging. The power station automatically switches as needed, and you can expect strong battery power you can rely on.
You also won't be dealing with a noisy gas generator, as the Delta Max is quiet and efficient.
A Delta Max portable power station coupled with a smart generator can be the right combination for long-term use in areas where you need a good backup option. Solar panels to keep your unit charged add to the value, and you can combine a solar panel with AC charging, to get your Delta Max ready to go faster.
Smart extra batteries plus solar charging help ensure that you'll always have the backup power you need. Combining solar charging with AC charging, and having the extra battery connected, means you can keep your electronics plugged in and working for a long time without fear that you'll run out of backup power for your needs.
Fast charging through a wall outlet is convenient when you have power and need to keep your unit charged. You can also use a wall outlet and solar power combined, to create a faster charge.
EcoFlow Delta Max Specifications (2000 and 1600)
The Delta Max is an AC and solar generator, so you get the best of both worlds. When you look for a solar generator option, it's important to find one that you can also charge in other ways as solar panels usually charge a device much more slowly.
This particular portable power station has specifications that are impressive, with an X-Boost mode that adds additional ability for powering up devices that require a lot on start-up.
You can operate more than one large appliance at a time, or a number of smaller appliances and devices, without worrying about a shortened power life or an inability of the generator to handle the load. 
EcoFlow Delta Max 2000 Specifications Include:
Capacity: 2016Wh

Extra Battery: Support up to two DELTA Max Smart Extra Battery/Smart Generator

AC Output: 6 outlets, 2400W total (Surge 5000W)

Max Device Power With X-Boost: 3400W

Net Weight: Approx. 48lbs

Dimensions: 19.6x9.5x12 in

Cycle Life: 800 cycles to 80% capacity

Battery: NCM

Connection: Wi-Fi
EcoFlow Delta Max 1600 Specifications Include:
Capacity: 1612Wh

Extra Battery: Support up to two DELTA Max Smart Extra Battery/Smart Generator

AC Output: 6x20A outlets, 2000W total (Surge 5000W)

Max Device Power With X-Boost: 2800W

Net Weight: Approx. 48lbs

Dimensions: 19.6x9.5x12 in

Cycle Life: 500 cycles to 80% capacity

Battery: NCM

Connection: Wi-Fi

Shelf Life: 1 year (after a full charge)
Many portable power stations have limits to the number of devices they can handle at one time. They can also be limited in the length of time they're able to power those devices. The Delta Max's extra battery helps to avoid that problem.
You'll get more power and additional runtime, so you can keep your appliances running and your devices charging. Pure sine wave technology for outlets is an added benefit, and you'll have the ability to accomplish more when you have enough power to get the job done.
The EcoFlow Delta Max Means Portable Power You Can Rely On
You don't have to settle for anything less than a strong, trusted power source. When you choose the EcoFlow Delta Max portable power station 2000 or 1600 you're choosing a reliable EcoFlow product that's going to give you years of protection and backup power for your home, and for your adventures out in nature, too.
RVing and camping are two great reasons to own one of these generators, along with just wanting to make sure you can operate important appliances and devices around your home if you experience a loss of power.
With a Delta Max you'll have a lot more peace of mind. Then you can turn your focus to the experiences you want to have and the things you want to do. It's easy to trust that you'll have the power you need, when you know you've chosen your portable power option wisely.
See all EcoFlow power stations here.
EcoFlow Delta Max Overview Video