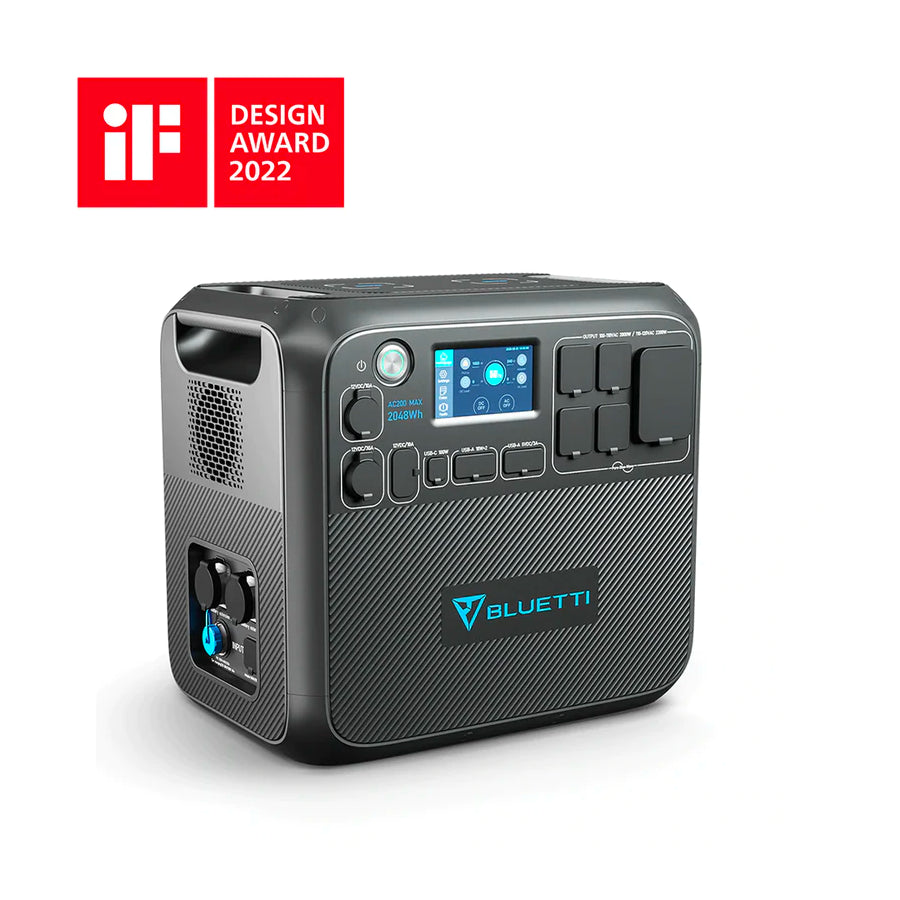 BLUETTI AC200 MAX Expandable Power Station - 2200W 2048Wh
Save

Liquid error (snippets/product-badge line 32): Computation results in '-Infinity'

%
If you're in the market for a customizable portable generator, set your sights on the BLUETTI AC200 MAX Expandable Power Station. Designed for endless flexibility, this portable generator will prove quite handy whether you're camping, tailgating, or just spending time on the beach. When emergency power outages occur, you'll be glad that you have this power station awaiting the chance to run all your essential devices, including your lights, coffee maker, space heater, and air conditioner. All along the way, you can closely monitor and control your generator by simply tapping a few buttons on the BLUETTI Bluetooth app.
A Look at BLUETTI AC200 MAX Specifications
Whether used on its own or with expansion batteries hooked up, the BLUETTI AC200Max offers ample electricity in a small footprint. Its enclosed case takes up less than two square feet of space and only weighs a little more than 60 pounds. Despite its modest size, this AC pure sine wave inverter consistently produces 2,200 watts of energy. And when you need big power to start up your essential devices, surge wattage can reach 4,800 in an instant.
With the BLUETTI AC200MAX Portable Power Station on your side, all these specs are yours to enjoy:
2,200/4,800 watts

2,048 watt hour onboard battery capacity

Expandable up to 8,192 watt hours

16 AC, DC, USB, and TT-30 outlets

Dual wireless charging pad up top

Compatible with B230 and B300 expansion batteries

LiFePO4 battery good for 3,500 or more charge cycles

Seven ways to recharge your generator

900 watt maximum solar input

BLUETTI Bluetooth app functionality
What You'll Get with Your Portable Power Station Purchase
When you treat yourself to the BLUETTI AC200 MAX Portable Power Station, you'll receive:
AC200MAX power station unit

T400 AC adapter and cable

PV solar charging cable

Car charging cable

XT-90 aviation cable

Certificate of quality control pass

Generator user manual

BLUETTI warranty card
When buying your generator new, the manufacturer provides a two-year hassle-free warranty and lifetime BLUETTI support.
If you decide to get your portable generator through us, we'll provide the absolute best service and support as well. On top of that, we offer factory-direct pricing to help you get the most value out of your investment. That's not all either. We also provide free shipping to all locations across the United States.
An Expandable Generator You Can Bring on All Your Adventures
The BLUETTI AC200MAX devices are perfect portable power stations for all your adventures. With its base 2,048 watt hours, it provides all the electricity you'll need for a fun day visit to the beach. When weekend camping trips call your name, you can easily boost its overall capacity by plugging in up to two B230 or B300 expansion batteries. Either way, this generator always comes through in a big way when power outages leave you without reliable voltage for all your electronics.
Smart Design Looks Great at Home, While Camping, and Beyond
As is tradition with BLUETTI generators, the AC200Max features a beautiful compact design that looks absolutely fantastic on all your travels. The dark gray case lets the BLUETTI logo stand out while the light grey diagonal lines make the design look even more dynamic. All the ports come with protective covers, too, which add to the beauty of the enclosed case while keeping dirt, dust, and debris from getting inside.
Ample Electricity for Appliances, Electronics, and Everything in Between
With its 2,200 running wattage inverter, the AC200MAX has the power needed to run most of your appliances, electronics, and everything in between. So, when you're stuck without a reliable power source, you can bring out this generator to run your electric grill, refrigerator, air conditioner unit, and so much more.
Pure Sine Wave Inverter Safely Runs All Your Sensitive Electronics
Since the expandable BLUETTI power station uses a pure sine wave inverter, you can trust that it'll run and charge all your electronics at full capacity. From your CPAP machine to refrigerator, all your electronics will run just like they would when plugged into AC outlets. With the pure sine wave inverter mimicking AC power, your electronics aren't at risk of suffering damage from the new energy source either.  
Expansion Ports Let You Max Out Your Power Output on Demand
Sheer expandability is the name of the game when it comes to the BLUETTI AC200MAX Portable Power Station. All on its own, this inverter generator boasts a 2,048 watt hour capacity for all your electronics. Need even more power on the go? Just connect two of the B230 expansion batteries to increase the watt hours to 6,144. If you'd like to fully maximize your battery life, go with two B300 batteries for an impressive 8,192 watt hours.
Eco-Friendly Operation Allows You to Reduce Your Carbon Footprint
If you want to minimize your carbon footprint, the BLUETTI AC200 MAX is definitely the way to go. With its innovative 900 watt max solar input, this generator lets you tap into the power of the sun at a moment's notice. By recharging with solar energy alone, you'll always get to feel good about using green energy to run and charge all your essential electronics. But when the sunshine does not cooperate, you still have many other ways to recharge your power station battery.
No Noise + No Carbon Monoxide Output = No Worries for You
Unlike gas generators, the BLUETTI AC200MAX Portable Power Station does not require any smelly fuel. Instead, it uses a LiFePO4 battery to run the AC pure sine wave inverter as needed for all your devices. As a result, this solar generator does not produce any carbon monoxide and runs without making a racket. You can then operate your generator whenever you'd like without any worries about having to avoid exhaust fumes or disturbing your neighbors.
The BLUETTI AC200 MAX promises to provide all the features and benefits you could want from a generator. You just have to keep your power station and all its expansion batteries charged, so it'll be ready for all your adventures. The unit will maintain its charge for up to six months, too, just in case of an emergency power outage.
Green Power for Your Essentials and Generator Recharging Needs
With the BLUETTI AC200MAX on hand, it's possible to keep your electronics working at their best while keeping your carbon footprint to a minimum. To keep the device 100% environmentally friendly, just charge the LiFePO4 battery pack using a solar panel hooked into the 900 watt max solar input. If that's not a viable option, then you have many other ways to recharge the power station battery. No matter what charging method you choose, you'll get up to 8,192 watt hours per charge to use for your many devices.
A Stunning 16 Outlets Let You Run and Charge All Your Devices with Ease
You simply cannot predict what devices you might need to power up when the lights go out or you land off-grid. So, it just makes sense to be prepared for it all with the 16 outlets on this power station.
All around the LCD control panel and power button at the front of the machine, you'll find:
4 AC outlets

1 12V 30A max DC outlet

1 12V 10A max cigarette lighter port

2 12V 10A DC 5521 output port

2 18 watt USB-A ports

2 5V USB-A ports

1 100 watt USB-C fast charging port
If you'd like to be RV ready always, you're in luck. There's also a NEMA TT-30 RV outlet right next to the AC outputs.
For the ultimate in convenience, this power station comes with two 15 watt wireless charging pads on top as well. With that, you can simply place your smartphone, tablet, or other devices on top of the generator and let it charge up like magic.
When using expansion batteries, you get even more outlets at your disposal. The external battery packs come equipped with an additional input port, allowing you to plug in an AC adapter. Beyond that, each module adds up to 400 watts of input capability, maxing out at 800 watts for the AC200MAX.
Seven Smart Ways to Recharge Make It Easy to Keep the Power Flowing
Wherever you go with your generator in tow, you can easily charge up its battery by using one of the seven recharging methods. All the charging methods work to refill the expansion batteries, too, getting you back up to 8,192 watt hours at the most.
If you have a wall outlet nearby, you can use a single AC charging cord or go with the dual AC adapters setup. When you're far off the grid, you're welcome to use the other charging cables to connect the power station to your car, lead battery, or gas generator.
For a truly eco-friendly way to recharge, hook your solar panels up to the 900 watt max solar input. The fastest charging comes from using a solar panel and wall outlet simultaneously. With that setup, you'll enjoy the 1,300 watt max fast dual charging abilities of this innovative solar power station.
More than 3,500 Life Cycles to 80% Keep the Generator Going and Going
As you deplete the power in the LiFePO4 battery packs and charge them back up again, you'll undoubtedly wonder just how many charges you'll get from each pack. Fortunately, the news is quite good: the AC200MAX and its expansion batteries stay functional through over 3,500 life cycles.
Wondering just how far that will get you? Well, if you charge up your generator just once per day, you'll get a full 10 years out of your machine. By then, you'll likely be ready to upgrade to the newest state-of-the-art generators anyway.
With so many ways to charge and run your electronics – plus charge up your power station – the AC200MAX will never let you down. So, get yours today to ensure you're always ready for whatever outdoor recreation opportunities, emergency power outages, and other events come your way.  
Additional Products You Can Use with Your BLUETTI AC200 MAX
If you want to use your portable solar generator to the fullest, add the following BLUETTI products to your life as well:
Solar Panels
BLUETTI has several PV solar panels for your consideration, including their:
PV120: 120 watts

PV200: 200 watts

PV350: 350 watts
With the 900 watt max input power, you can use up to six of the PV120 or four PV200 solar panels. If you'd like to use fewer panels at once, you'll need to go for two of the larger PV350 solar panels instead.
Expansion Batteries
Both the B230 and B300 expansion batteries work in the AC200MAX portable power station. For up to 6,144 watt hours, just add two of the B230 batteries. If you'd like up to 8,192 watt hours, you'll need to use two of the B300 expansion batteries instead.
Want to keep continuous power on hand? Buy even more of the expansion batteries and hot swap them as needed to keep your generator running as long as you wish.
Power All Your Adventures with the BLUETTI AC200MAX Portable Power Station
When nothing else will do but flexible power on demand, give the BLUETTI AC200MAX Portable Power Station a try. Upon investing in this portable generator, you'll have the ability to run and charge all your devices on the go. Plus, you'll be ready for power outages and other moments when reliable voltage is otherwise unavailable.
If that sounds like just what you need in your life, it's time to add the BLUETTI AC200MAX to your toolkit – and we're here to help. To get started, you just have to add your power station of choice to your cart, and then move through the checkout steps. Once that's done, we'll handle it from there.
Our team works fast to deliver your generator to your door, so you can get going on your adventures. Upon receiving your generator, just charge it up and head out on your travels with confidence you have all the power you need.
AC200 Max Overview Video