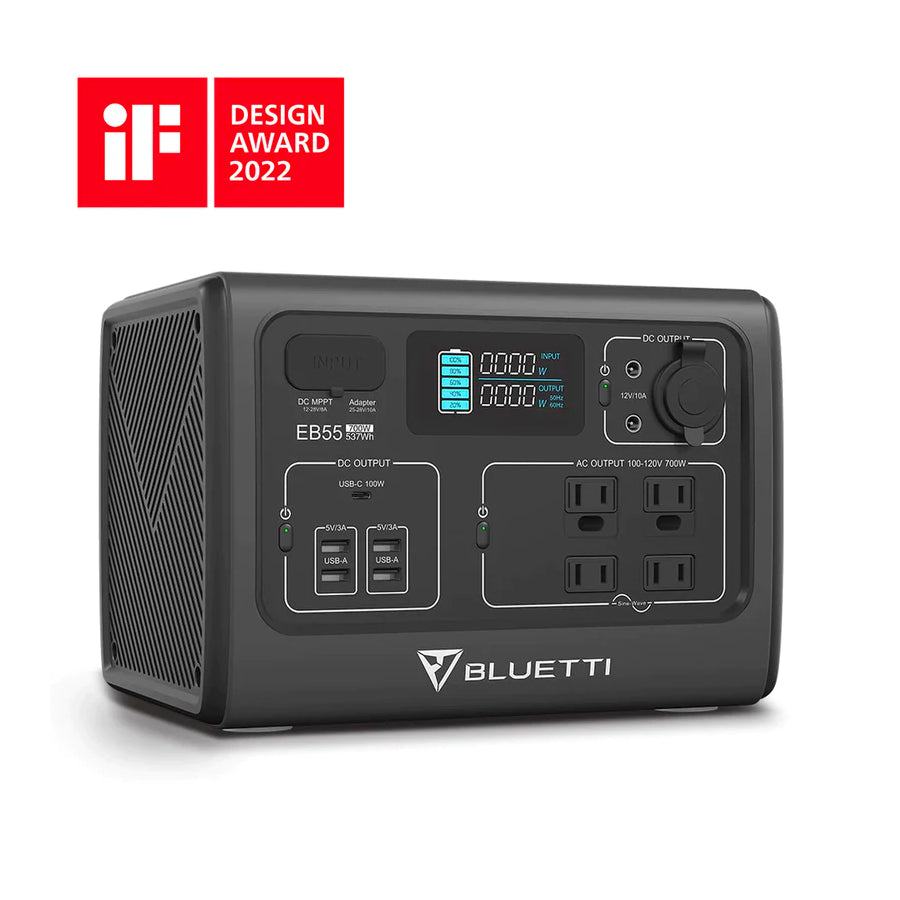 BLUETTI EB55 Portable Power Station - 700W 537Wh
Save

Liquid error (snippets/product-badge line 32): Computation results in '-Infinity'

%
Smaller than a boombox and just as awesome, the BLUETTI EB55 Portable Power Station lets you keep all your devices running and charging wherever you go. With its convenient carrying handle, this 16.5-pound generator can easily accompany you on all your adventures, including picnics, hikes, camping trip, and tailgating parties. You'll undoubtedly appreciate the power on demand while at home, too, if a power outage leaves you in the dark for a short while. No matter where life takes you and your portable power station, it's easy to plug in up to 12 devices at a time. Plus, you can use the wireless charging pad up top to get back up to speed.
A Look at BLUETTI EB55 Specifications
The EB55 offers ample clean energy in a compact package complete with a folding handle. You can get yours in basic gray, bright orange, or sky blue hues, allowing you to color coordinate your inverter generator with your outdoor gear. Across all color options, this portable power station has the ability to produce a running wattage of 700, plus it has 1,400 watt surge capability. You'll get 537 watt hours capacity on a single charge, too, and have six smart ways to recharge the generator whenever it runs low on power.
When you buy the BLUETTI EB55 Portable Power Station, you'll enjoy:
700/1,400 watts

537 watt hour capacity

12 AC, DC, and USB outlets

Wireless charging pad up top

Run and charge up to 13 devices at a time

Pure sine wave output for sensitive electronics

Six ways to recharge the LiFePO4 battery

Ability to hook up to a 200 watt solar panel

Colorful compact build with carrying handle

Ultra-lightweight construction at just 16.5 pounds
What You'll Get with Your Generator Purchase
If you decide to jump at the chance to own the BLUETTI EB55 generator, you'll receive:
EB55 power station unit

AC adapter and charging cable

Car charging cable

Solar charging cable

Power station user manual

BLUETTI warranty policy card
When you buy the generator new, the manufacturer provides a two-year hassle-free warranty and lifetime customer support.
If you complete your BLUETTI EB55purchase through us, we'll also provide exceptional service every step of the way. We always offer factory direct pricing, too, so you can save money on your investment in portable power. Beyond all that, we offer free shipping to any location in the United States.
Truly Portable Power for All Your Essential Devices  
When you want a power station that you can just grab and go, set your sights on the BLUETTI EB55. With this generator on your side, you can keep all your essential devices operating at their best through all your travels. From camping in the woods and hiking up the mountainside to tailgating before the game and chilling at the skate park, there are no adventures too big or too small for this portable power station to handle. Your power station can even come in handy at home when you experience a power outage or just need an extra outlet.
An Ultra-Lightweight Build That Will Never Tire You Out
The BLUETTI EB55 came to life with travel in mind. The designers packed a whole lot of power into a small footprint of just 10.94 x 7.87 x 7.79 inches. On top of that, the designers managed to keep it lean, ensuring it weighs in at a svelte 16.5 pounds. So, whenever you need to take your power on the road, just grab the handle and head out the door knowing that it won't dare wear you out.  
Match Your Generator Design to Your Unique Personality
With three vivid case colors to choose from, you get the chance to match the BLUETTI EB55 power station to your unique personality. To do that, you just have to decide whether sunny orange, mellow blue, or classy gray tones speak to you. Want to get all your friends in on the fun? Get your portable solar generators in different colors, so you always know which one's yours.
Bring Up to 700 Watts of Eco-Friendly Power Wherever You Go
Although it's small, the EB55's built-in inverter is plenty mighty. In fact, as soon as you power up the machine, you'll get to tap into a running wattage of 700. Plus, when you need more starting power, these solar generators can produce up to 1,400 watts at its peak. The power keeps flowing for up to 537 watt hours, too, ensuring all your essential devices have a long battery life. 
Pure Sine Wave Inverter Runs and Charges Sensitive Electronics
Since the BLUETTI EB55 generator uses a pure sine wave inverter, it's always safe to use for your most sensitive electronics. The steady power mimics the waves produced by AC wall outlets to best help your devices run at full capacity. As that occurs, you can run everything from a mini fridge to your mobile phone without worrying about the risk of poor operation or damage.
Use the 12 Outlets to Power Up All Your Essential Devices
Despite its tiny footprint, the BLUETTI EB55 generator has all the outlets you could need for your small kitchen appliances, electronics, and other devices. Expertly arranged all along the front, you'll find four 120V AC outputs, for starters. Alongside those outlets, there are also four 5V USB-A ports plus a fast-charge 100 watt USB-C port. Multiple DC ports complete this generator's hookup options, allowing you to plug in all your essentials.
Enjoy Wireless Charging for Your Smartphone and More
In addition to the 12 separate outlets along the front of the unit, a wireless charging pad sits right on top of the BLUETTI EB55, ready to charge up your electronics. Just plop your smartphone, tablet, or other compatible devices on top of the generator and watch in awe as your battery levels magically increase. With that, you never have to worry about having a dedicated charging cord available when your device's battery gets low.  
With so many benefits offered by the BLUETTI EB55 portable power station, it just makes sense to add it to your life. You can then hit the road with confidence that you'll always have the power you need to run and charge all your essential devices, including drones, coffee makers, video projectors, and laptop computers. In between each outdoor trip, your portable power station provides true peace of mind that you'll still be well-equipped if any power outages occur.
Restore Your Battery Power Quickly and Easily Always
As you plug in all your electronics, the BLUETTI EB55 LiFePO4 battery handles the demands with grace and poise. But that doesn't mean it won't run out of juice eventually. Once it does, you have many excellent recharging options available, including solar power. So, you'll never be out of the game for long – just as long as you have a surefire way to fully recharge on hand at all times.
Charge Up Your BLUETTI EB55 Portable Power Station in Battery Six Smart Ways  
When it comes time to recharge the durable LiFePO4 battery, you can go about it six different ways. You have the ability to plug the BLUETTI EB55 portable power station right into a wall outlet or generator to use AC power to get recharged. Or you can tap into DC power by plugging the car outlet into your vehicle's cigarette lighter. If you prefer a more eco-friendly way to recharge, you're welcome to use solar panels instead.
For even faster charging, use the dual AC connections to draw power into the generator unit with the quickness. Still not quick enough? The fastest 400 watt max recharging setup uses a solar panel and AC adapter simultaneously. No matter how you decide to charge, the BLUETTI EB55 power station can work double duty by allowing you to run and charge your devices while recharging the unit.
Hook Up a 200 Watt Solar Panel for Eco-Friendly Charging
Since the EB55 generator doesn't use any fuel or emit carbon monoxide, it's already plenty eco-friendly. But if you want to further reduce your carbon footprint while using your portable power station, solar panels are the way to go.
The solar input power allows you to recharge your portable generator using up to a 200 watt solar panel. Plus, if you're in a hurry, having a solar panel on hand is key in tapping into the 400 watt max recharging option.
Recharge the LiFePO4 Battery Through 2,500 Charge Cycles
While accompanying you on all your explorations, the EB55 power station will repeatedly deplete its battery, potentially leaving you worried about its lifespan. Fortunately, you really have nothing to worry about when it comes to charge cycles.
The reliable LiFePO4 battery offers an impressive 2,500 charge cycles up to an 80% charge. So, you can charge, run down, and recharge your portable power station as many times as you wish without worrying about it going bad.
With so many quick and easy ways to charge, you'll never have to wait long to head out the door with your portable power station in tow. Plan it right and you won't have to wait any time at all because your generator will stay ready to go whenever outdoor fun calls your name.
Additional BLUETTI Gear to Use with Your Portable Power Station
If you want to always have the ability to charge up your portable power station, solar panels are a great investment. BLUETTI has two excellent options that will work with your EB55, too: the PV120 and PV200.
The PV120 gives you 120 watts of recharging power whenever the sunshine comes your way. If you'd like to max out the charging abilities of your generator, then get the 200 watt PV200 instead.
Either way, having solar panels on hand will allow you to charge your generator anywhere you go. You'll get to enjoy ample power on tap at all times while feeling good about minimizing your carbon footprint.
Amp Up Your Adventures with the BLUETTI EB55 Portable Power Station
Whether you want the orange, blue, or gray model, the BLUETTI EB55 Portable Power Station awaits the chance to amp up your recreational activities. You can trust this generator to come through in a big way while spending time on the beach, BBQing with friends, or simply going on a hike. Furthermore, it's a great little machine to have on hand whenever power outages leave you without your essential devices.
So, if that sounds like just what you're looking for in a portable power station, it's time to get an EB55 of your very own – and we're here to help. All you have to do is select your preferred generator hue, and then add it to the cart. From there, move through the checkout steps from beginning to end.
Once that's done, we'll process your order and provide free shipping to any good address in the US. At that point, it won't be long before you can charge your portable power station and try it out during your upcoming travels.
BLUETTA EB55 Promo Video