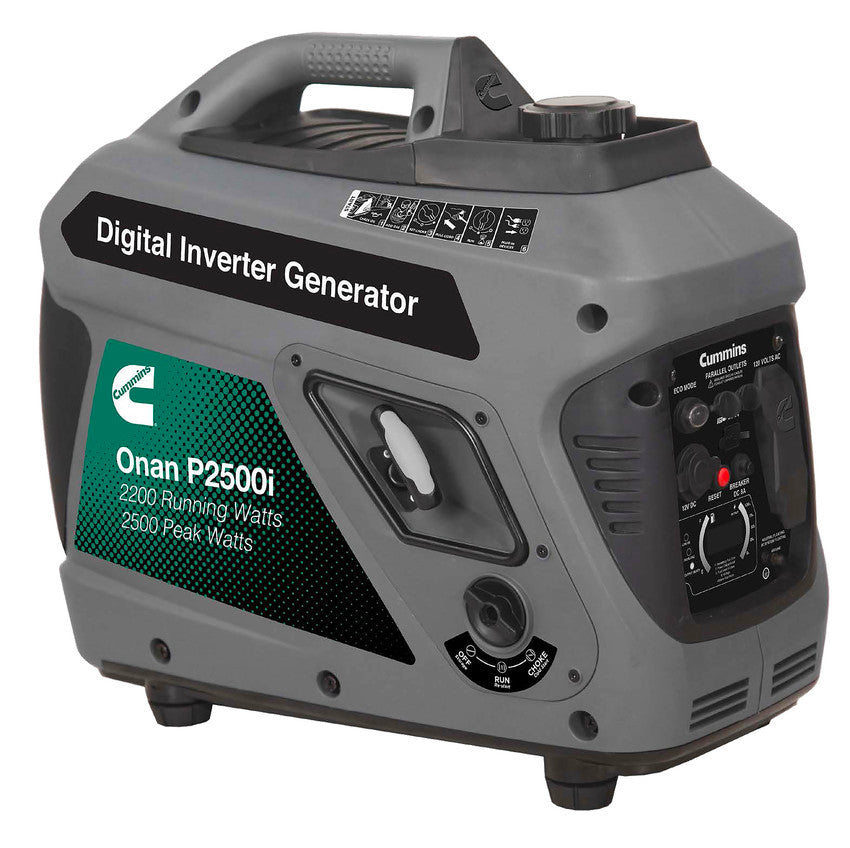 Cummins Onan P2500i Portable Inverter Generator - A058U944
Save

Liquid error (snippets/product-badge line 32): Computation results in '-Infinity'

%
The Cummins Onan p2500i inverter generator is capable of 2,500 peak watts. It is the perfect portable generator for those who are constantly on the go. It is both lightweight and fuel-efficient, which allows you to bring it anywhere you need.
As an inverter generator, it is also very quiet, which makes it perfect for camping trips. In addition, it outputs clean power, unlike traditional generators, so you don't have to worry about damaging sensitive electronics.
Inverter technology

Built-in carry handle

LED display

USB charging ports
Power Anywhere You Need It
The Onan p2500i inverter portable generator is one of the smallest generators Cummins Onan has to offer. But don't let its small size fool you; this generator can still deliver more than enough power. It can easily power TVs, small appliances, and tools in addition to charging mobile phones and laptops.
This makes it the best in versatility if you need a generator for camping or job sites. Weighing in at 48lbs dry and including a carrying handle, it won't break you back when tracking to a campsite. This means you can easily bring it wherever it is needed.
Besides being lightweight, it is also very compact, so it will easily fit in the back of a side-by-side or in the bed of a truck. It is also great for doing work around your property as you can easily tote it around to supply power to your tools, even when away from an outlet.
Inverter Technology
The Cummins Onan P2500i is an inverter generator which means that the engine creates AC power, then turns it into DC power and then back to AC. While this may sound counterproductive, it is actually more efficient than just creating straight AC power.
Conventional generators have a motor attached to an alternator that outputs AC power that you can use to run household devices. The problem is the power is very dirty and is subject to fluctuations from the motor's output. For example, if the engine revs higher, there could be a spike in electricity, damaging sensitive electronic devices.
This is more important than ever because everyday electronics, such as appliances and even lighting, rely on delicate circuit boards. Fluctuations in power easily damage these circuit boards.
an inverter generator solves this problem by converting power to DC and then inverting it back to AC. Doing so produces a very clean sine wave which is needed to ensure your devices are powered safely. But there are other benefits as well. Inverter generators require a smaller motor, making them lightweight and more compact than their conventional counterparts.
These smaller motors are also much quieter, which is great if you have neighbors that you don't want to disturb. The AC alternator is also much smaller, which allows the generator to fit in a compact casing rather than a bulky metal frame.
Everyday Uses
portable generators are the perfect choice for many applications where electricity is not readily available. The Onan P2500i is perfect because it is easily maneuverable and can go anywhere. But that doesn't mean you can't use it simply around your house for backup power.
Many people assume that you need a large backup generator in the event of a power outage. But this is not the case; a portable generator can also get the job done and has many other benefits. The main one of which is that it can be used in other places. While a standby generator is tied to your home, a portable one means you can take it anywhere.
This means that it's also great for powering tools on job sites. You can easily bring the this lightweight inverter generator to wherever you're running your equipment, so you don't need tons of extension cords. Similarly, you can pick it up and put it in the back of a truck with ease.
But one of the best uses for the Onan P2500i is for camping. Particularly for tent camping, where your needs for power are fairly limited. Its quiet operation means you won't disturb the people around you, and the built-in USB charging ports are perfect for keeping all your devices powered up as well as charging sensitive electronics.
Powering the Essentials
The most important question for any generator is how much power it can deliver. The Onan P2500i inverter portable generator can deliver 2500 peak watts and 2200 running watts, but it's also important to put that into perspective by looking at what you can actually run off of it.
the best way to do this is to look at the appliances or devices you plan to power from the generator and determine their wattage. Every electronic device is different, so it is important to check the actual item you plan on running to ensure it will work.
However, you should be able to run a very small window air conditioner and charge a couple of devices, such as cell phones or even a TV. You could also power most refrigerators or freezers, but would again be limited to what you could also power at the same time.
The 2,500 watts will also be enough power for most tools, such as drills and saws. Plus, you can always use it to charge batteries and power lighting. The biggest power hogs tend to be tools and appliances with heating elements that could really test the generator's power.
However, if you do find yourself needing more power, you can attach it to another Cummins Onan P2500i inverter generator as it is parallel capable, which effectively doubles the output. It is also important to consider what order you start various devices, as you should always start the largest first to ensure ample starting wattage.
Cummins Onan P2500i Features
Onan's P2500i inverter generator comes with plenty of features built in that make use much easier. The first thing to notice is that it is shaped like a briefcase with a carrying handle. Since it is so lightweight, it can be easily carried around wherever you need it.
Underneath the handle is a rubber mat which is designed to safely hold your phone while the generator is running. This is a great addition since it has built-in USB charging ports. Without this mat, phones would be left sitting on the ground, where they could get easily damaged.
Another important feature is the LED display which shows how many hours the engine has run as well as its current power output, remaining run time, fuel level, and voltage. Each of the outlets on the generator also has its own covers, so you don't have to worry about dirt or debris getting in them when not in use.
P2500i Specifications
The Onan p2500i inverter generator is capable of delivering 2,500 peak wattage and 2,200 running wattage. Power output comes from 2-120V 20A outlets to power your standard home electronic devices. It also has 1-12V 8A DC outlet alongside 2- 5V USB ports for charging mobile devices.
The generator is 19.75" X 10.5" X 18.25" and weighs about 50lbs. It has a 1-gallon fuel tank that can keep it running for 10 hours at 25% load. The P2500i uses a recoil starter to get it running and only produces 52 decibels of sound.
The Onan engine is protected by a low oil shutoff sensor which turns the engine off if low oil is detected. The generator is also backed by a 3-year residential warranty and a 1-year commercial warranty. Support for Cummins Onan portable generators is also available 24/7 - offered by Cummins directly - to help you with any problems that may arise.