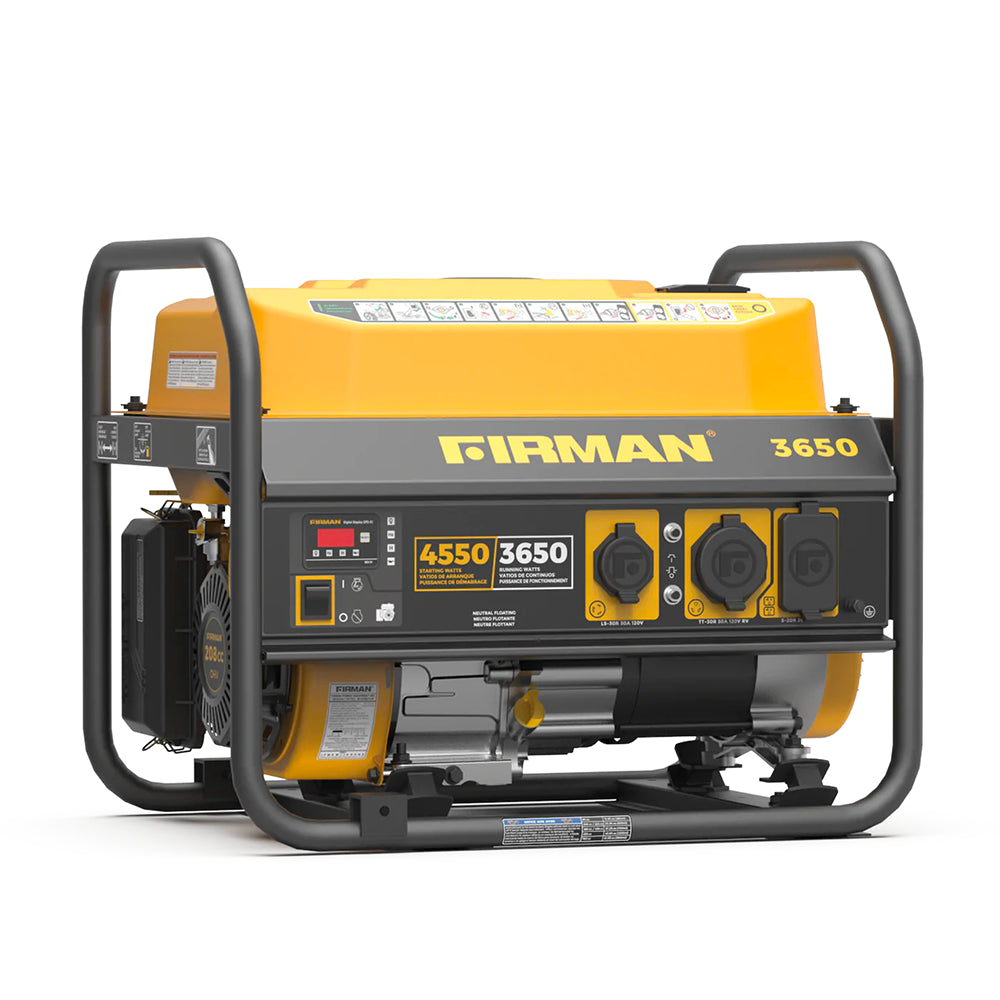 Firman 4550 Watt Generator - P03601 Gas Powered
Save

Liquid error (snippets/product-badge line 32): Computation results in '-Infinity'

%
The Firman P03601 features a powerful 208cc engine that produces 3,650 watts of running power, making it ready to handle your toughest needs and tasks. This unit can handle multiple jobs without any issues, including powering high-amperage power tools and household appliances, making it a dependable and trustworthy option whenever you need it.
The 4,550-watt portable generator offers exceptional fuel efficiency and can run at half load for up to 14 hours. The P03601 promises hours of runtime on a full 5-gallon tank to make sure you complete tasks on the job site and keep going through bad weather and power outages.
To accommodate different uses and scenarios, this gas portable generator features 3 outlets, one of which is a TT-30R receptacle, meaning the P03601 is RV-ready and can power your RV with no need for an external adaptor.
By following environmental regulations set by the Environmental Protection Agency, this unit produces far lower toxic fumes and particles and is thus EPA-approved, making it a safe and healthy backup solution.
Key Firman P03601 Features:
208cc Engine:

At the pull of a cord, the robust Firman engine is able to supply all of your heavy-duty power tools and household appliances with constant running power of 3,650 watts.

14+ Hours of Runtime:

This gas portable generator has a 14-hour runtime at half load to meet all of your needs and is designed to help you get through difficult times and have productive workdays at the same time.

Sleek Build:

The P03601 is undeniably stylish; it keeps the firm's signature accent while remaining sober, making it an elegant piece of decoration when stored.

EPA-Certified:

This 4,550-watt portable generator conforms to strict environmental regulations to ensure your safety while in use.
Specifications:
Gasoline:
Peak Watts: 4,550

Running Watts: 3,650

Peak Amps @120V: 37.9

Running Amps @120V: 30.4
Engine:
Amperage: 30.4A

Voltage: AC: 120V 60 Hz

Frequency: 60Hz

Engine Size: 208cc

Engine Type: OHV 4-stroke

Engine Speed: 3600RPM

Fuel Type: Gasoline

Fuel Tank Capacity: 5 Gallons
Outlets:
1x Duplex 120V 20A (5-20R)

1x 120V 30A (TT-30R)

1x 120V 30A (L5-30R)
Product:
Runtime at 50% Load: 14 Hours

Start Type: Recoil

Volume Level: 67dB

EPA-Certified: Yes

CARB-Certified: No

Product Dimensions: 23.2"L x 17.8" W x 18.6" H

Product Weight: 110 Lbs
Take a look at our full Firman generation selection here.
Reliable Performance
You can power household appliances and heavy-duty power tools with ease and confidence thanks to the robust, performance-tuned 208cc Firman engine's 3,650 watts of running power.
Additionally, the Firman P03601 has an automatic voltage regulator to deal with sudden power surges. Since the unit can be damaged by these electrical surges, it's important to have this feature in case of an unexpected surge.
Autonomy and Independence
The 4,550-watt portable generator can run for up to 14 hours on a single tank of gas. The P03601 lets you focus on what matters right now and get things done with a full 5-gallon fuel tank.
This powerful machine warns you when it needs a refill and automatically shuts down when oil levels are low, preventing the use of contaminated oil that could damage it.
EPA-Approved
The Firman P03601 follows strict environmental guidelines that regulate toxic emissions to ensure your safety at all times.
By complying with the Environmental Protection Agency's regulations, this portable generator produces far lower amounts of toxic fumes and particles, making it a safe and trustworthy option.
The P03601 is not CARB-approved, and can therefore not be purchased or sold in California.
Fully Featured Power Panel
The P03601 has multiple outlets that can be used for a variety of tasks, whether you're on the job site or dealing with a power outage.
In addition, the device is equipped with circuit breakers that immediately turn off the engine and prevent overloads from damaging it.
Besides, the unit features a spark arrestor, making it safe and suitable for forested use.
Firman Performance 3650 Series Video