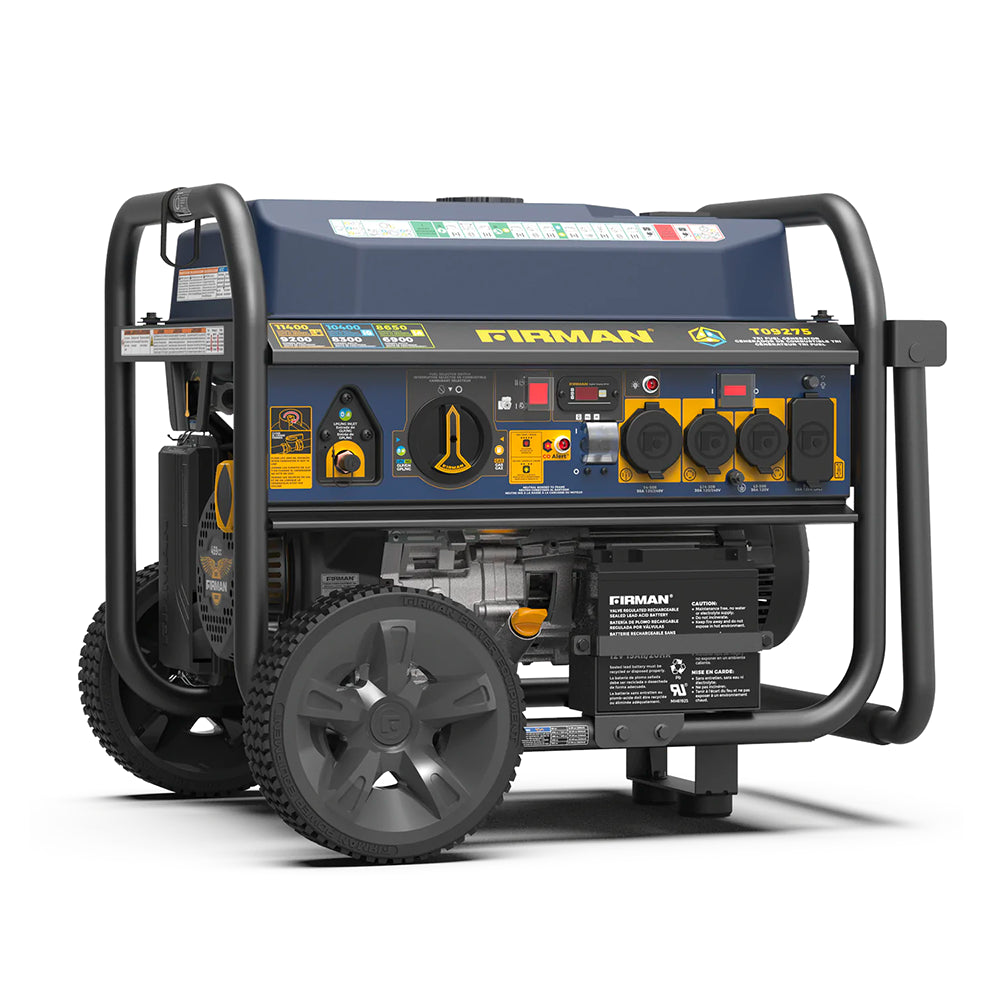 Firman T09275 Tri Fuel Generator - 11400 Watt
Engineered to back you up every time you need a power source, the Firman T09275 runs on 3 different fuel sources: liquid propane gas, natural gas, and gasoline. This tri-fuel portable generator ensures you're never out of options so you don't have to worry about anything but the present moment.
Thanks to its robust 459cc engine, the T09275 carries you through your productive workdays and stressful moments of emergency. From powering high-amperage power tools to small and large appliances, this 11,400-watt portable generator can handle multiple jobs with consistency, reliability, and safety.

Even though the Firman T09275 delivers staggering numbers in terms of raw power, it doesn't compromise autonomy. This tri-fuel portable generator runs continuously for up to 12 hours at 25% load, allowing you to get things done on the job site and power through heavy weather during power outages.

Designed with maximum compatibility, the T09275 houses an L14-30R receptacle that allows you to plug the unit directly into your home breaker box and begin producing power to the entire household.

With Firman's CO Alert technology, the unit automatically detects unsafe levels of carbon monoxide, a toxic, colorless, and odorless gas, and shuts the engine down in case of danger so you can remain safe indoors and out.

Key Firman T09275 Features:
459cc Engine:

Heavy load-ready, the T09275 boasts up to 9,200 watts of running power to keep you going at all times no matter your needs.
Tri Fuel Technology:

With the ability to choose between propane, natural gas, and gasoline as fuel sources, depending on availability is a thing of the past.
12+ Hours of Runtime:

The 9-gallon fuel tank allows the 11,400-watt powerhouse to run for up to 12 hours at 25% load, and allows you to power through blackouts and heavy workdays alike.
Modern Esthetic:

In pure industrial fashion, the Firman T09275 adds style to your workspace and home in blue color, and yellow accents, a signature of the Firman brand.
EPA and CARB Certification:

Compliant with globally recognized environmental regulations, this tri-fuel portable generator keeps its toxic emissions far below standards so you can remain safe wherever you go.
Specifications:
Gasoline:
Peak Watts: 11,400

Running Watts: 9,200
Propane:
Peak Watts: 10,400

Running Watts: 8,300
Natural Gas:
Peak Watts: 8,650

Running Watts: 6,900
Engine:
Voltage: AC: 120/240V, 60 Hz

Frequency: 60Hz

Engine Size: 459cc

Engine Type: OHV 4-stroke

Engine Speed: 3600RPM

Fuel Type: Tri Fuel (gasoline/propane/natural gas)

Fuel Tank Capacity: 9 Gallons
Outlets:
1 x 5-20R 120V 20A DUPLEX GFCI

1 x L5-30R 120V 30A TWIST LOCK

1 x L14-30R 120V/240V 30A TWIST LOCK

1 x 14-50R 120V/240V 50A
Product:
Runtime: (Gasoline) at 50% Load: 11 Hours

Start Type: Electric Start/Recoil

Volume Level: 74dB

EPA Certified: Yes

CARB Certified: Yes

Product Dimensions: 33.2"L x 23.2" W x 24.4" H

Product Weight: 241 Lbs
Built to Perform
The Firman T09275 is equipped with a robust 459cc engine that is capable of sustaining a staggering 9,200 watts of power, pushing enough juice to power all your household appliances and heavy-duty power tools.
With a focus on safety, the 11,400-watt portable generator features a Power Stream Alternator that automatically handles sudden electrical surges to prevent any damage being done to you or to the unit.

Firman Tri Fuel Technology
Thanks to clever engineering, the T09275 runs using one of 3 different fuel sources: liquid propane gas, natural gas, and gasoline. This versatility allows for game-changing benefits such as cost-effectiveness, convenience, and control.
Geared for performance as well as autonomy, this tri-fuel portable generator keeps you going for up to 12 hours at 25% load, so you can make an impact on the job site or power through blackouts.

In order to avoid using contaminated oil before it damages the unit, the engine automatically shuts off when oil levels are low. Additionally, the unit has a low oil indicator that illuminates when the tank needs to be filled.

Firman are well known for their tri fuel technology. Check out Firman's most popular tri-fuel model (T08071) here.
We also have a dedicated page for all of the tri fuel models we sell.
Certified Eco-friendly
The T09275's toxic emissions fall far below standards since it follows strict environmental guidelines from the Environmental Protection Agency and the California Air Resources Board. This ensures the unit is safe to use and greatly reduces health risks.
Ergonomic Build
Equipped with a U-shaped foldable handle, the tri-fuel portable generator is easy to push around despite its 217 lbs body.
Additionally, the plastic wheel set will never run flat.

Fully Loaded Power Panel
Besides the 3 covered outlets, the fully featured power panel also includes an L14-30R receptacle for maximum compatibility. This means that the T09275 is transfer switch-ready and can be plugged directly into your home breaker box as an immediate power source.
Moreover, you can quickly begin producing power using the electric start feature or the recoil mechanism in case of battery drain.

The power panel includes circuit breakers that can be used to immediately cut the power out if the unit is overloaded. This prevents it from overheating and damaging itself while the spark arrestor prevents fire hazards.

Benefits of Using Propane and Natural Gas
While you only sacrifice a fraction of the performance while using green fuels, the benefits can be revolutionary from a practical, environmental, and economical standpoint:
Quick Start:

While non-renewable fuels such as gasoline need to be heated in order to make their way through the fuel lines, green fuels don't, and are ready to go anytime you need a backup plan.

Cost-effectiveness:

Gasoline requires power to be pumped from one container to another, making it unreliable in times of distress, while propane and natural gas are cheaper and easier to find.

No Fuel Spills:

Human error is inevitable and you can find yourself cleaning up a greasy gasoline spot on the floor. Using the in-the-box hose, you can safely fuel the unit and avoid the hassle.

Low Maintenance:

Due to their nature, propane and natural gas burn clean and leave very little residue on the engine parts.

Reduced Toxic Emissions:

Using green fuel reduces toxic fumes by up to 50%, making them the safer alternative.

Extended Shelf Life:

Propane has a shelf life of up to 30 years and requires no maintenance, unlike gasoline, which needs expensive stabilizers to keep it from going bad.
We sell a wide range of generators from Firman. See our full Firman selection here.
T09275 Video Overview