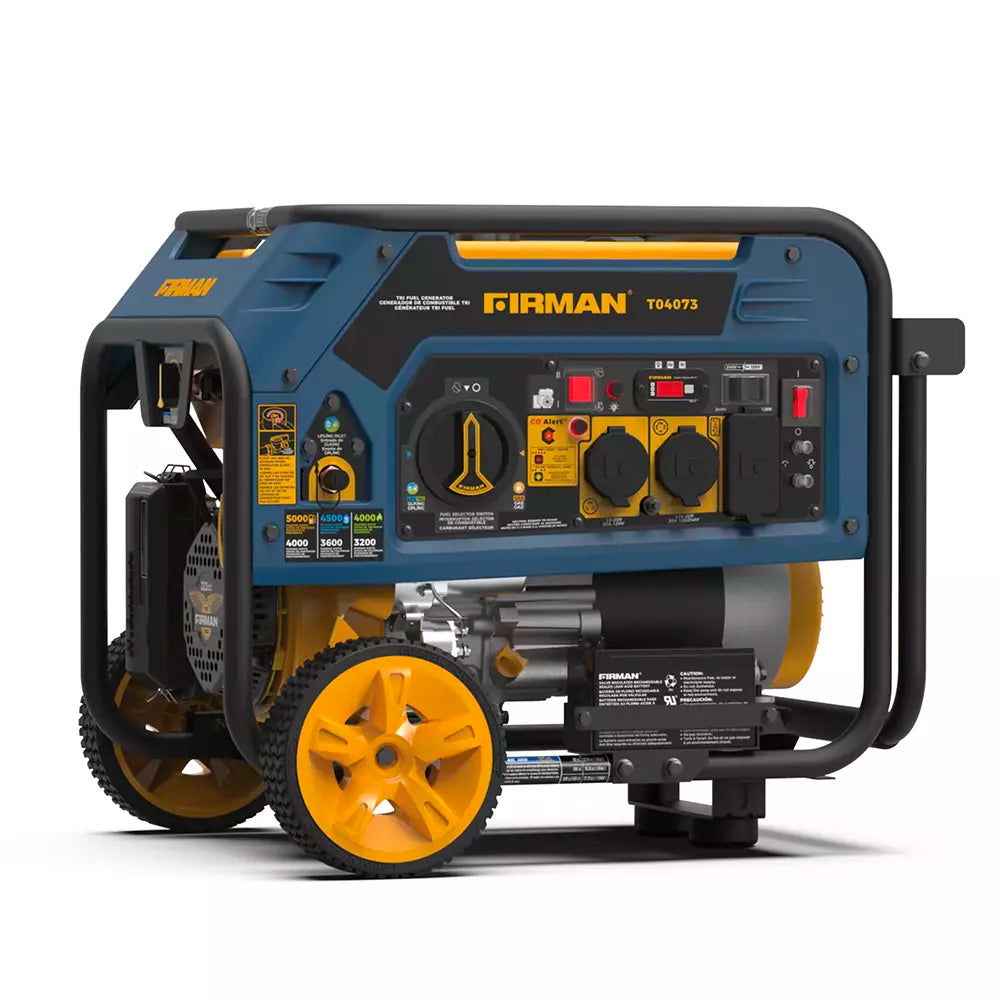 Firman T04073 Tri Fuel Generator - 4000 Watt
With the ingenious integration of Firman's Tri-Fuel Technology, the T04073 now runs on liquid propane gas, natural gas, or gasoline, so you're no longer dependent on availability. This 4,000-watt portable generator will help you stay one step ahead of your power requirements so you can focus on getting things done.
The T04073's strong 223cc engine will get you through any situation, from regular workdays to sudden emergencies. With its consistent, reliable, and safe output across multiple tasks, this 4,000-watt portable generator is a must-have. This includes running high-amperage power tools at the job site and home appliances during a power outage.
While its engine keeps you going at full throttle, the Firman T04073's autonomy will keep you going for hours. Clocking in at 14 hours at 25% load, this compact powerhouse allows you to tackle your tasks on the job site with confidence and power through blackouts and emergencies stress-free.
Ensuring maximum compatibility and minimum hassle, the T04073 incorporates an L14-30R outlet, making it transfer switch-ready. This means you can directly plug the unit into your home breaker box to immediately begin producing power in case of a power outage.
Even though carbon monoxide is a poisonous gas that is undetectable to human senses, you can feel safe knowing that the unit is equipped with CO Alert Technology, which can detect dangerously high levels of carbon monoxide and automatically turn the engine off if needed.
Key Firman T04073 Features:
223cc Engine:

The T04073's maximum running power of 4,000 watts ensures that you can keep working no matter how demanding the situation.
Tri Fuel Technology:

Thanks to its ability to run on 3 different fuel sources: propane, natural gas, or regular gasoline, this tri-fuel portable generator takes availability off the equation so you can use whichever fuel is readily available.
CO Alert:
This system can automatically detect dangerously high levels of carbon monoxide and instantly shut off the engine, allowing you to go full steam without fear of carbon monoxide poisoning.
Up to 14 Hours of Runtime:

The 4,000-watt generator's 5-gallon fuel tank ensures that you have plenty of time to get through power outages and long days on the job site, clocking in at a remarkable 14 hours at quarter load.
Modern Design:

With muted colors, signature accents, and a sleek aesthetic, the Firman T04073 doubles as an elegant piece of decoration and fits any setting.
EPA and CARB-Certifeid:

By conforming to internationally recognized environmental laws, this tri-fuel portable generator keeps its toxic emissions far below industry standards, ensuring your continued safety and health.
Specifications:
Gasoline:
Peak Watts: 5,000

Running Watts: 4,000
Propane:
Peak Watts: 4,500

Running Watts: 3,600
Natural Gas:
Peak Watts: 4,000

Running Watts: 3,200
Engine:
Voltage: AC: 120/240V, 60 Hz

Frequency: 60Hz

Engine Size: 223cc

Engine Type: OHV 4-stroke

Engine Speed: 3600RPM

Fuel Type: Tri Fuel (Gasoline/Propane/Natural Gas)

Fuel Tank Capacity: 5 Gallons
Outlets:
1 x 5-20R 120V 20A DUPLEX GFCI

1 x L5-30R 120V 30A TWIST LOCK

1 x L14-30R 120V/240V 30A TWIST LOCK
Product:
Runtime: (Gasoline) at 25% Load: 14 Hours

Start Type: Electric Start/Recoil

Volume Level: 67dB

EPA Certified: Yes

CARB Certified: Yes

Product Dimensions: 25.7"L x 21.8" W x 21.6" H

Product Weight: 123 Lbs
Performance-tuned
Powered by a 223cc engine, the Firman T04073 can deliver an impressive 4,000 watts of running power. This translates to an immediate and reliable supply of power to high-amperage power tools as well as small and large appliances around the household.
The 4,000-watt portable generator has a Power Stream Alternator, which automatically handles sudden electrical surges to protect you and the unit from harm.
Firman Tri Fuel Technology
Firman are well known for their tri-fuel generators.
Thanks to cleverly designed internals, the T04073 runs on 3 different fuels: liquid propane gas, natural gas, or gasoline, allowing for versatility, convenience, and cost-effectiveness.
For up to 14 hours on a quarter load, this tri-fuel portable generator will keep you powered on the job site and at home when the power goes out.
In order to protect itself from damage caused by contaminated oil, the engine will shut off automatically if the oil level drops too low. To let you know when to refill the oil tank, the unit has a low oil indicator that lights up.
Controlled Emissions
The T04073's toxic emissions are significantly lower than standards because it follows strict environmental guidelines set forth by the Environmental Protection Agency and the California Air Resources Board. This eliminates all safety concerns and greatly reduces the likelihood of any adverse health effects from using the device.
CO Alert
Because of the dangerous levels of carbon monoxide it produces, running a portable generator inside is not recommended. Humans have no way of sensing this poison gas, which can rapidly spread and cause health issues such as dizziness.
Firman generators have state-of-the-art CO Alert Technology, which automatically shuts down the engine if excessive carbon monoxide levels are detected, so you can rest assured knowing the Firman T04073 is there to protect you.
Ergonomic Design
Despite weighing in at a hefty 123 pounds, the tri-fuel portable generator is simple to move around thanks to its foldable U-shape handle.
Confidently supporting the unit through rough terrain, the plastic wheelset offers the advantage of never requiring replacement since it will never run flat.
Fully Loaded Power Panel
In addition to its three covered outlets, the fully featured power panel's L14-30R receptacle ensures maximum compatibility. In the event of an electrical emergency, the T04073 can be quickly installed as a backup power source by directly connecting it to the breaker box in your home.
Although this 4,000-watt portable generator can be kicked into gear thanks to the electric start feature, power generation can be quickly restarted with the recoil mechanism in the event the battery dies.  
The power panel also includes circuit breakers that can quickly shut off the power if the unit is overloaded. These safety measures prevent it from overheating and wearing out, and a spark arrestor prevents it from accidentally igniting.
Benefits of Using Propane and Natural Gas
The practical, environmental, and financial benefits of using green fuels can be game-changing depending on your living conditions while the performance loss remains minimal. These benefits include:
Speedy Start:

Green fuels, on the other hand, don't require heating to move through the fuel lines like traditional fuels such as gasoline do, so they're always ready to go in an emergency.

Cheaper Price and Accessibility:

Propane and natural gas, on the other hand, are more affordable and readily available, while gasoline is less reliable because it must be pumped from one container to another using electricity.

No Fuel Spills:

Inevitably, you'll find yourself cleaning a greasy spot on the floor when attempting to pour gasoline from one container into the fuel tank. With the hose contained within the packaging, refueling the device is a breeze and avoids all the hassle that comes with handling gasoline.

Low Upkeep:

Propane and natural gas, by their very nature, burn cleanly, leaving little residue on the engine parts.

50% Lower Toxic Gases:

As much as half of the harmful emissions can be eliminated when switching to a green fuel source such as propane or natural gas, which also significantly lessens potential health hazards indoors and out.

Extensive Storage Life:

Unlike gasoline, which needs pricey stabilizers to prevent deterioration, propane can be stored for up to 30 years with no special care.
See our full tri fuel collection here.
T04073 Overview Video