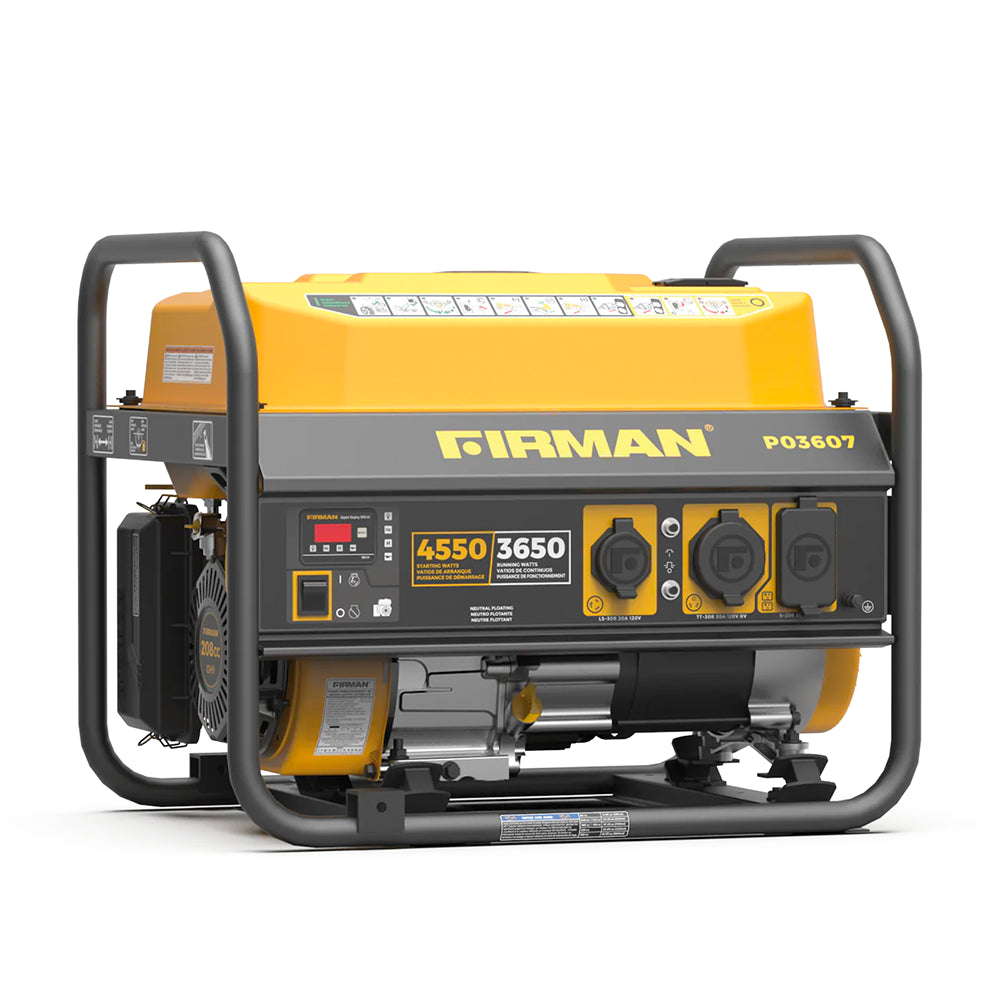 Firman P03607 Portable Generator - Gas 3650 Watt
The Firman P03607 Performance Series generator is perfect for anyone looking to power multiple devices, appliances, or electronic devices when normal power isn't available or nearby. There are thousands of generator models available on the market today, but none can match the quality, reliability, and solid performance of the Firman P03607.
We're going to explore what makes this generator so remarkable, its specifications, and how you can use this generator to its full potential. Whether you want to have power at your next outdoor gathering or event, want to power your recreational vehicle (RV), or are just looking for a generator that can help you in an emergency situation such as a natural disaster, the Firman P03607 Performance Series won't let you down. 

The Remarkable Firman P03607 Performance Series
The Firman P03607 Performance Series generator is a remarkable unit that produces 3650 running watts, can run for up to 14 hours, contains multiple different types of outlets on its control panel, and is perfect for powering your equipment, charging your electronics, or running various appliances on the go.
Everyone who has used the Firman P03607 generator at one point or another has praised its ability to produce clean power, run efficiently, and still be operational many years down the line due to its high-quality manufacturing and build. If you're looking for a performance generator, consider the P03607 as your next unit, and chances are you'll be pleasantly surprised. 
Firman P03607 Specifications
The Firman P03607 is perfect for a wide range of applications ranging from recreational vehicles (RVs) to outdoor gatherings to emergency preparedness. If you need a generator that can power a moderate amount of electronics and equipment, this model is the perfect choice when comparing the cost to function.
Take a look at the detailed specifications of the Firman P03607 model below, and you'll get a much better idea of how this generator fits your needs and requirements.
P03607 Specs:
Running Watts: 3650W

Starting Watts: 4550W

AC Voltage: 120V

Frequency: 60 Hz

Decibels: 67 dB at half-load

Run Time: 14 hrs

THD at Full Load: 25%

Unit Dimensions: 23.2" x 17.8" x 18.6"

Recoil Start

Multiple Outlets on Control Panel

1x  5-20R 120V 20A Duplex Outlet

1x  L5-30R 120V 30A Twistlock Outlet

1x TT-30R 120V 30A RV Outlet

Low Oil Shutoff

Power Stream Alternator

Cast Iron Sleeve

Fuel: Gas

Tank Size: 5 gallons

Material: Steel

Certifications: CARB, EPA
You can shop our full range of Firman portable generators here.
Use Cases for the Firman P03607 Generator
The Firman P03607 is a solid, reliable generator that produces clean power and can be used for a large variety of different applications. We're going to explore some of the most common ways customers use this generator model, including for outdoor gatherings and events, recreational vehicle (RV) power, and emergency preparedness purposes.
Whether you've had many generators in the past or are just getting started by searching for your first model, hopefully, these use cases will get you thinking about other potential ways you can use your generator to the fullest extent possible. 
Outdoor Gatherings & Events
When you're having an outdoor gathering, whether it's a family reunion or corporate event, you'll likely have music and sound equipment to connect, lights to power, and perhaps even microphones and other electronics that need to be connected to a power source.
The Firman P03607 Performance Series generator will give you clean, reliable power for your next outdoor event or gathering without compromising on quality. Getting a generator like this one for your next event will guarantee that you'll be able to power everything you need, and perhaps have some power left over! With the 3650 watts of power that this generator model provides, you should have enough for most use cases. 
Recreational Vehicles (RVs)
Taking a trip across the country and visiting national parks, landmarks, or other historic places can be a great family trip or vacation. If you're like most, you'll probably want to stop at campsites, RV hook-up locations, or other places where you can connect your RV to amenities and have services available.
While this is all well and good, sometimes you want to camp off the beaten path, perhaps for an extended period of time, and still have power for your RV, your electronics, and all of your appliances. The Firman P03607 generator is perfect for this use case, as it allows you to connect your RV to power quickly and easily, allowing you to get everything connected and powered whenever you'd like. 
Emergency Preparedness
Emergency situations can happen to anyone at any time, which is why being prepared well in advance is absolutely essential. Whether you find yourself stuck in a hurricane, earthquake, or power outage that lasts for several days, you'll need emergency power to power your home, electronics, appliances, and other essentials you need to live day to day.
Having a generator like the Firman P03607 for emergency purposes will let you have peace of mind that you're covered in case disaster does strike. While most people will be without power, you'll know that you have enough to power your most essential appliances, cookware, and other devices that you need in an emergency. 
Get Your Firman Power Equipment P03607 Today
When you need a reliable generator, this Firman Performance Series model with phoenix fat head block and automatic voltage regulator can get the job done. It comes with a spark plug wrench, is considered portable power, low oil shut off, low oil indicator, a recoil starting system, generator carb, easy engine oil checks, and is one of the most powerful generators on the market today. It also comes with a wheel kit, fuel tank, owner's manual, and is great for emergency use.
Get the Firman P03607 today and enjoy solid, reliable power whenever you need it for many years to come -- you won't regret it! Having reliable power on the go is absolutely essential if you frequently travel to remote locations, set up outdoor events, or want to power your RV when exploring the countryside or visiting places you've never been to before.