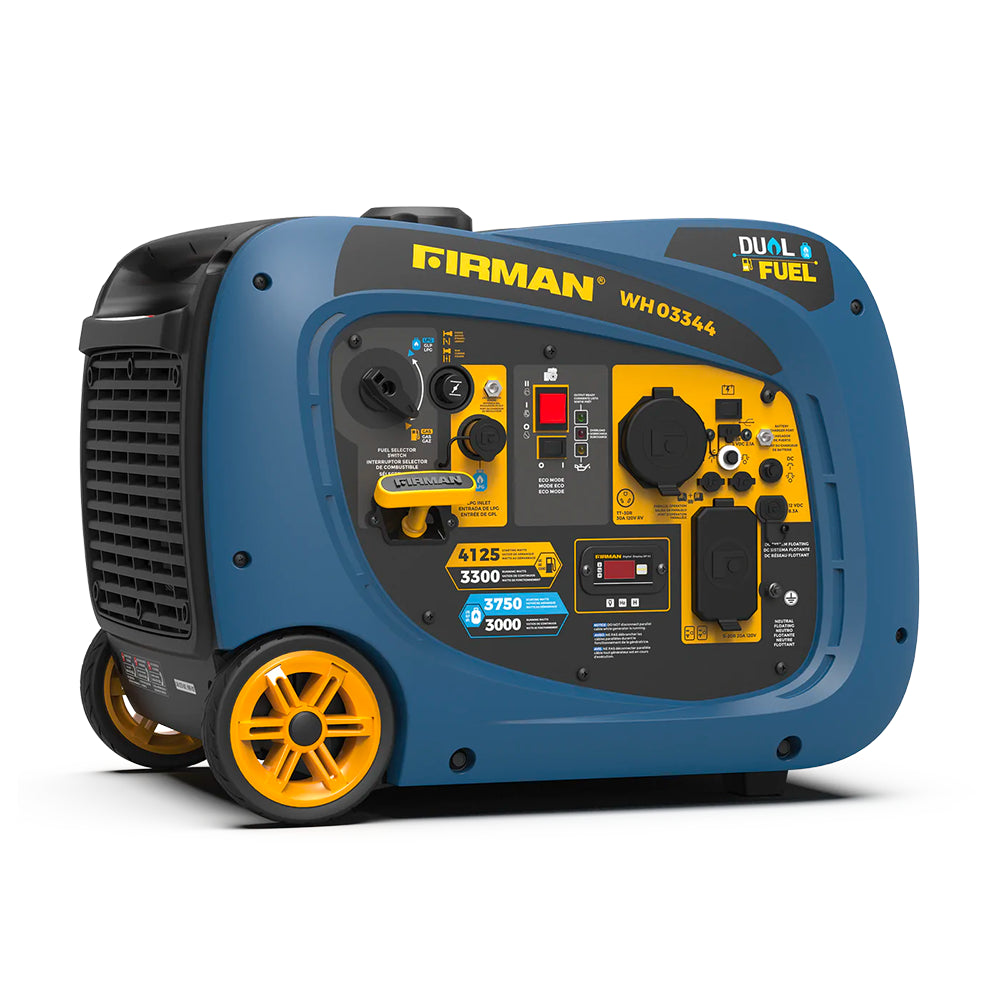 Firman WH03344 Dual Fuel 3300W Inverter Generator
True versatility, quiet operation, and immense power are all yours with the Firman WH03344.
With its ability to use both gasoline and propane, this dual-fuel generator serves as the perfect portable power supply for all your RVing, camping, and tailgating adventures. Plus, you can always count on it to save the day at home when emergency power outages occur.
In all settings, the clean power produced by this generator works equally well for large appliances and sensitive electronics. So, upon adding the Firman Power Equipment WH03344 to your life, you'll always have quick access to the electricity needed to run and charge all your devices.
A Look at Firman WH03344 Specifications
With its enclosed frame, the Firman generator comes in an attractive blue, black, and yellow package designed with travel in mind. The u-shaped handle and never-flat wheels make it super easy to move the 90-pound inverter generator around your home, campsite, and tailgate parties.
Once it's positioned in a safe, open area, you can easily access all its controls and outlets right on the side of the case. While in operation, the generator's enclosed frame also works with the Whisper Series muffler to keep noise levels down to a hum.
WH03344 Generator specs:
191cc Firman engine

Cast iron sleeve motor build

3,650/3,300 watts on gasoline

3,300/3,000 watts using propane

1.8-gallon gas tank with 9-hour runtime

2 120V AC plus DC, USB, and TT-30R outlets

58 decibels at a ¼ load

90-pound dry weight

Automatic low oil shutoff

Recoil and electric start
What You'll Get with Your Firman WH03344 Portable Generator Purchase
If you decide to invest in this popular Whisper Hybrid Series generator, you'll receive:
WH03344 generator unit

Bottle of 10w30 oil

Oil funnel

Tool kit

Battery float charger

LPG regulator assembly

Battery charging cable

Owner's manual

Quick start/stop guide

Firman generator cover
Whenever you buy a new Firman generator, the manufacturer provides a three-year warranty as well. Purchasing your portable generator from us also ensures you get factory direct pricing every time.
On top of that, we provide free shipping to anywhere in the United States. Plus, we're always here to provide the guidance and support you need while shopping for quality generators.
The Firman WH03344 is a Dual Fuel Inverter Generator with Ample Clean Power
Whether you want to run all the kitchen appliances in your RV or need to operate sensitive equipment at home, this generator model will undoubtedly exceed your every expectation. As a high-quality inverter generator, this unit creates truly clean power you can trust. You can then send electricity to your refrigerator, microwave, CPAP unit, and even laptop computers with confidence that they'll operate at full capacity without suffering any damage.
Shop more dual fuel generators on this page.
The 193cc Engine Easily Powers All Your Essential Devices
The WH03344 Whisper Hybrid Series uses a capable 193cc engine to produce ample electricity for all your devices. While using gasoline, you'll enjoy a running wattage of 3,300 with a peak of 3,650 watts.
On a tank of propane, the engine consistently produces 3,000 watts while the starting wattage can hit up to 3,300.
WH03344 Dual Fuel Design Offers Immense Flexibility on Your Travels
With its dual-fuel capability, this portable generator allows you to enjoy immense flexibility any time you need extra power. If you have a gas station nearby, you can fill up the tank with just 1.8 gallons of fuel. Otherwise, you're free to bring along 20-pound tanks of propane to keep your generators running even longer.
Enjoy 9 Hours of Runtime on Just 1.8 Gallons of Fuel
You can simply fill up the tank with 1.8 gallons of gasoline to enjoy the highest power output across nine hours of runtime. If you'd like to use propane, you'll get nearly as much power as when using gasoline while benefiting from even longer runtimes. Either option gives you plenty of time to handle all your daily obligations while your generators keep your devices running and charging at their best.
Ample Outlets Power Up All Your Essential Devices
These Firman generators feature all the plugs you need to run your most important devices. For starters, the TT-30R outlet helps you stay RV ready always, ensuring you can head out on fun explorations at the drop of a dime.
Then, you also have two 120V AC ports plus DC and USB ports designed to conveniently run multiple devices all at the same time.    
Quiet 58 Decibel Operation Allows You to Take It Anywhere
On either type of fuel, these generators stay fairly quiet, too, only hitting 58 decibels at a ¼ load. Although the noise levels go up from there, you'll still find it easy to hold a conversation nearby. Since it's never too loud, this unit can run all your appliances, power equipment, and other devices without riling up your neighbors.
Get True Peace of Mind from the Low Oil Shutoff Feature
Your Firman WH03344 generator comes with a low oil shutoff feature that helps protect your investment through the years. This simple yet innovative system simply turns off the engine when the oil reaches critically low levels. Then, you just need to top off the oil reservoir with a new bottle of 10w30 before starting up again.
With so many benefits ready to come your way, it just makes sense to add this inverter generator to your life. Upon making that investment, you'll never again have to worry about power outages at home or going without your favorite devices while out on the road.
Boost Your Power Output with the Firman WH03344 Generator
If you need a dependable source of clean energy on hand always, then the Firman Power Equipment WH03344 is definitely the way to go. With its smart dual fuel design and ample power output, this portable generator awaits the chance to fuel all your adventures. Beyond that, it's just what you need when emergency power outages leave you in the dark and without the use of all your essential devices.
So, if you'd like to power up your life in an instant, it's high time to add this generator model to your toolbox – and we're here to help. All you have to do to get started is add your generators of choice to your cart. After that, move through the checkout process from beginning to end and we'll get it to your door in a hurry. While we always provide free shipping anywhere in the US, our team still works quickly to get your generator to your doorstep. Once you complete your order, you can eagerly await the arrival of your portable generator. Then, as soon as it lands in your hands, you're free to power all your appliances, sensitive electronics, and more.