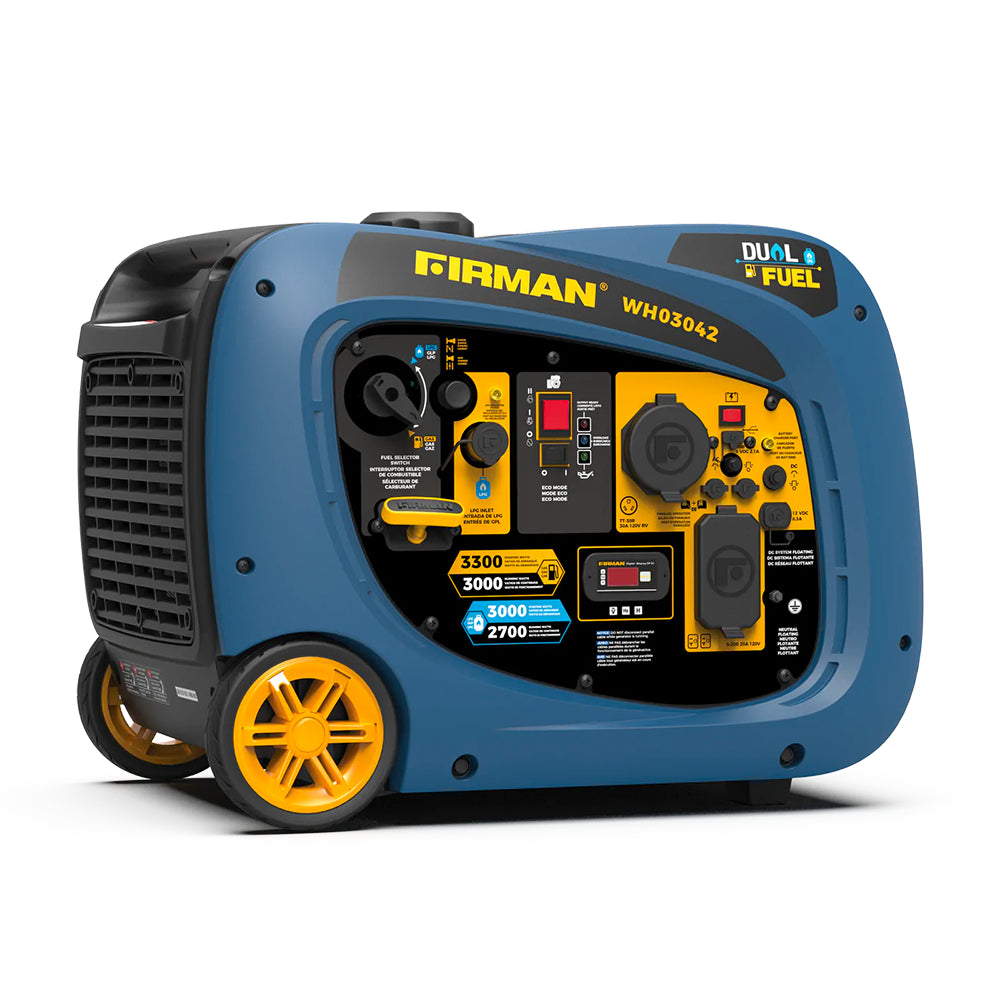 Firman WH03042 Dual Fuel 3000w Inverter Generator
Save

Liquid error (snippets/product-badge line 32): Computation results in '-Infinity'

%
The Firman WH03042 is a quality dual fuel generator that offers plenty of power to get the job done. Finding the right generator for your specific requirements is important, and you want to make sure you can trust the Firman WH03042 generator to meet your needs. As part of the Whisper series, this generator has a dual fuel inverter and a quiet operation you can rely on.
It is versatile and extremely fuel efficient, this is a popular electric start model that provides clean power when you need it most. 
This dual fuel inverter generator is a good choice for electronics and sensitive equipment, and is approved for California and Canada emissions. The dual fuel engine gives you options, so you can choose which fuel is easiest and best to have on hand for your recreational plans.
The 3300 watt generator is efficient and versatile, with a solid box from a quality manufacturer. Accessories can improve the already great experience of using this propane and gasoline powered generator.
A low oil shut off is a big benefit, to ensure that the generator does not overheat. Clean power from a quality device adds to the value that Firman provides with all their great generators.
The power stream alternator and fuel efficient design give you options and opportunities, while making it easier than ever to have the recreational experiences you want in life.
Covered outlets and a Canada emissions certified designation help protect your generator and the environment at the same time.
Easy access points let you power the items that are important to you, and a low oil indicator reduces the risk to the generator. You can see when it needs oil, and add oil before there is a risk of overworking or other damage.
With this reliable and efficient dual fuel generator, you can truly have peace of mind for every recreational adventure.
The Firman Power Equipment WH03042 Dual Fuel Generator
The very best uses of the Firman WH03042 are camping, and tailgating, along with recreational use.
It is California emissions certified, and protected by a low oil shut off and a cast iron sleeve. Not only is this generator a solid choice for its applications, but it is also an option that provides good peace of mind.
The Firman WH03042 generator offers a 1.8 gallon tank, which gives you nine full hours of run time. The propane tank is not included.
With all the features you would expect from the Firman Whisper Series, this generator offers a multi-feature control panel with covered outlets, and is RV-ready. Firman generators are engineered in the United States, and designed to endure all the conditions you can put them through.
Hot summer days, cold winter nights, and all the weather in between will not stop the Firman Power Equipment WH03042 from doing its job and keeping you supplied with all the power you need for your adventures.
If you plan to camp or tailgate, or you have other recreational activities to engage in, you can take a look at the Firman WH03042 and feel confident that it will provide what you need, when you need it.
The 3-year, industry-leading warranty on the Firman WH03042 means great peace of mind. If you choose a buy a refurbished generator, you can expect a great, 90-day warranty to help you feel more secure in your generator purchase.
The Series WH03042 Firman Generator
The Firman Whisper Series is one of the most popular options from the company. People who buy generators in this series appreciate the 171cc engine, and all the compatible accessories they can use with their generator.
Covers, straps, and power cords are all great options to accessorize your dual fuel engine generator, allowing you to use it to its fullest potential in the easiest and most convenient way possible.
Like the other dual fuel generators in the Firman Whisper Series, the WH03042 does exactly what it claims it can do, and reviews state that it is simple to use.
That is extremely important for anyone who is not familiar with generators, or who does not use theirs frequently. When you want and need a generator that works well and does not require complicated instructions, the Firman WH03042 generator is a great option that can give you the ability to power the equipment you want to use.
Firman Dual Fuel WH03042 Specifications and Product Overview
The dual fuel option is an important part of the Firman WH03042 specifications. Being able to operate on either gasoline or propane means you have more than one option to keep your generator working successfully. If one type of fuel is in short supply for you, it is easy and convenient to choose the other fuel option and make the switch to it. The Firman WH03042 is easy to start, set up, and shut down, so you can get it running quickly and then put it away when it is no longer needed.
The Firman Power Equipment WH03042 is CARB, EPA, and cETL certified, with running watts of 3000(Gas) 2700 (LPG) and starting watts of 3300 (Gas) 3000 (LPG). It has an electric start. It provides 120 AC voltage and a frequency of 60 hertz. Unit dimensions are 23.2x17.8x17.9, and the Firman WH03042 weighs just 90 pounds. That makes it easy to transport and move around, so you can use it where it is needed, but it is also a solid generator you can feel secure in using for your recreational activities.
A big advantage of the Firman Whisper Series is that generators like the WH03042 is quiet, with decibels of 58dB @ 1/4 load.
A nine-hour run time and a low total harmonic distortion (THD) of 3% at full load just increases the value of this great generator. The generator offers recoil start and electric start, with two parallel ports, one USB port, and one DC outlet. The Firman generator features a U-shaped folding handle and 5.5" yellow plastic flat-free wheels.
Choose the Dual Fuel Firman WH03042 Generator
When you choose the Firman WH03042 dual fuel inverter generator, shipping is always free within the US, and customers can enjoy factory direct pricing, as well. You may need to pay sales tax based on your shipping location.
Customer reviews and feedback say Firman's Inverter generator WH03042 is a great choice for a solid, smaller generator. It is not going to power your entire house, but it will certainly power your tailgating plans or your next camping trip. The Firman Power Equipment WH03042 is also a good option for your RVing needs, and can be stored away in a relatively small space, so it is ready the next time you need it.
With easy set-up and a quick start and shut-down sequence, you can have the generator ready to go quickly, and store it away fast, too. Another part of the value of this quality generator is that the Firman Whisper Series is designed to be quieter.
You can use it with confidence, and not worry about bothering other people or making a lot of noise that would drown out conversation or other parts of your adventures.
Before you choose another generator for your next recreational experience, consider the Firman WH03042 specifications and see how they fit into everything you need and want in your next generator purchase.
With excellent pricing and free shipping right to your home, you really cannot go wrong with the WH03042 duel fuel inverter generator.
Firman WH03042 Overview Video