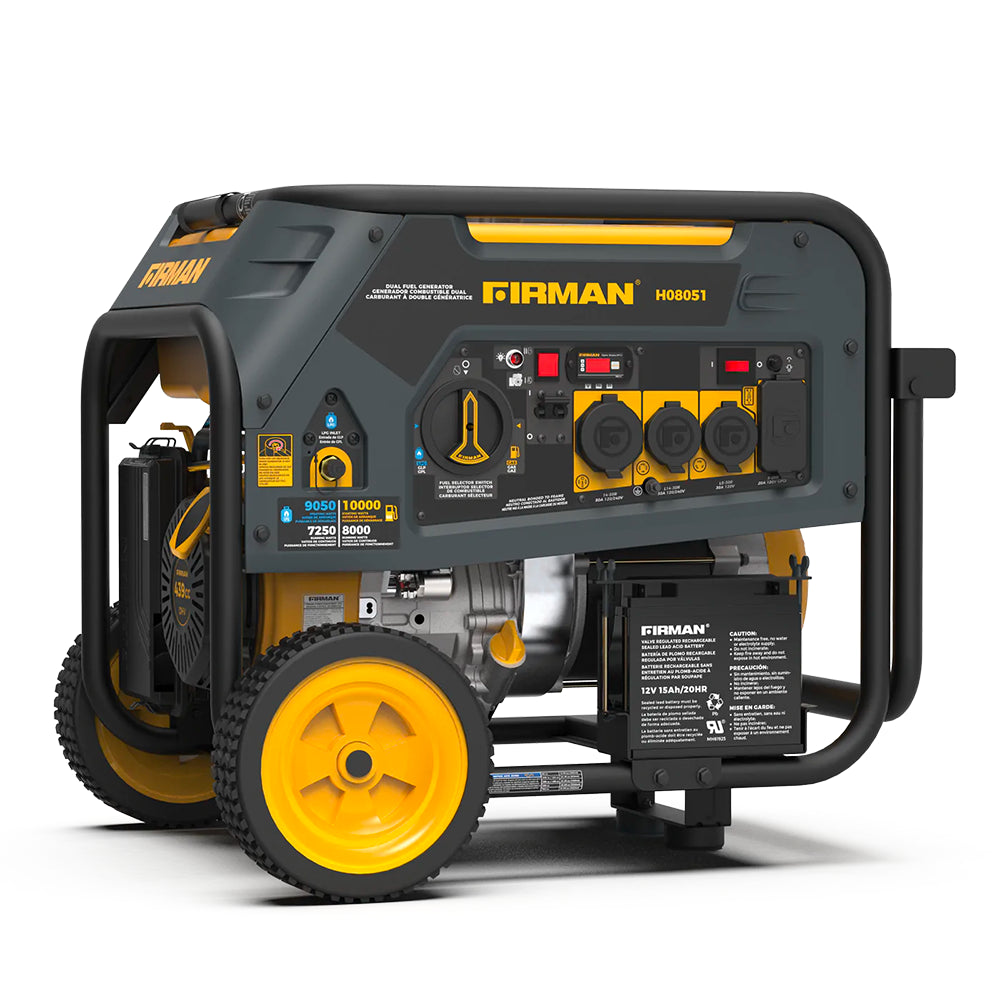 Firman H08051 - 8000 Watt Dual Fuel Generator
Save

Liquid error (snippets/product-badge line 32): Computation results in '-Infinity'

%
Engineered for the sole purpose of being a robust tool that you can count on, the Firman H08051 offers reliable performance, minimum maintenance, and maximum compatibility.
Thanks to Firman's Dual Fuel technology, the H08051 generator can run on both liquid propane gas and gasoline, with the former being the cheaper and safer alternative. While propane-powered, the unit lowers toxic emissions by a staggering 50%. You can see more Firman dual fuel models here.
Capable of sustaining an impressive 8,000 watts, the Firman H08051 ensures all your needs are met from powering high-amperage power tools to small and large appliances.
This dual-fuel portable generator runs on an 8-gallon fuel tank which allows it to sustain up to 12 hours of runtime at half load, so there's one less thing to worry about.
Built with a U-shaped ergonomic foldable handle, the Firman H08051 is a breeze to pull around despite its hefty 212 lbs weight. Once you're done using it, you can fold the handle to make room and leave the unit looking like a clean and modern piece of decoration.
Key Firman H08051 Features:
439cc Engine:

Freely operate off-the-grid using 8,000 watts of running power thanks to a cast-iron sleeve engine with consistent and reliable output.
12+ Hours of Runtime:

With up to 12 hours of runtime at 50% load, the Firman H08051 ensures you're making an impact for an extended period of time.
Clean and Modern Build:

Signature of the Firman brand, the duotone look adds an undeniable layer of style to your workspace or home.
EPA and CARB-Approved:

With an emphasis on health and safety, the Firman H08051 complies with environmentally-conscious guidelines so you can safely use the unit with reduced toxic emissions
Specifications:
Gasoline:
Peak Watts: 10,000

Running Watts: 8,000

Peak Amps @120V: 83.3

Running Amps @120V: 66.7

Peak Amps @240V: 41.7

Running Amps @240V: 33.3
Propane:
Peak Watts: 9,050

Running Watts: 7,250

Peak Amps @120V: 75.4

Running Amps @120V: 60.4

Peak Amps @240V: 37.7

Running Amps @240V: 30.2
Engine:
Amperage: 66.7A/33.3A (Gasoline), 60.4A/30.2A (Propane)

Voltage: AC: 120/240V, 60 Hz

Frequency: 60Hz

Engine Size: 439cc

Engine Type: OHV 4-stroke

Engine Speed: 3600RPM

Fuel Type: Dual Fuel (gasoline/propane)

Fuel Tank Capacity: 8 Gallons
Outlets:
1x Duplex 120V 20A (5-20R) GFCI

1x 120V 30A (L5-30R)

1x 120/240V 30A (L14-30R)

1x 120/240V 50A (14-50R)
Product:
Runtime: (Gasoline) at 50% Load: 12 Hours

Start Type: Electric Start/Recoil

Volume Level: 74dB

EPA Certified: Yes

CARB Certified: Yes

Product Dimensions: 30.2"L x 27.5" W x 26.3" H

Product Weight: 212 Lbs
High-power Engine
For all your needs and necessities, the H08051 dual-fuel generator boasts 8,000 watts of running power to keep you going in times of distress such as power outages or in heavy weather.
The built-in Power Stream Alternator acts as an automatic voltage regulator that handles sudden electrical surges that could damage the unit. This ensures the portable generator is safe and consistent with its output.
Dual Fuel Technology
Depending on fuel availability is a thing of the past. Clever engineering means the Firman H08051 runs on both propane and gasoline, allowing you to use whichever one is available at hand thanks thanks to dual fuel technology.
While yielding many benefits, propane is considered to be a green fuel, meaning toxic emissions are reduced by up to 50% when used to power the engine. This is a fantastic alternative for a cleaner and safer environment, and the H08051 generator allows you to experience high power with no compromises to your health.
Dependable Autonomy
Engineering a reliable unit such as the Firman H08051 cannot overlook autonomy. This is why this dual-fuel portable generator lasts up to 12 hours at half load on a full 8-gallon fuel tank, helping you meet your needs in times of distress and make an impact when you're on a mission.
The low oil shutoff feature automatically shuts the engine down when oil levels are low to avoid the use of contaminated oil before it damages the unit. It also features a low oil indicator that lights up when the unit needs a refill.
Safety
Both EPA and CARB-approved, the Firman H08051 is a safe option when it comes to eco-friendly use.
This dual-fuel portable generator complies with strict regulations from the Environmental Protection Agency and the California Air Resources Board to ensure you're safe while using the H08051.
Fully Featured Power Panel
Built for maximum compatibility, the H08051 houses 4 covered outlets, one of which is an L14-30R receptacle that can be directly connected to your home breaker box to immediately begin producing power in times of need.
Additionally, the dual-fuel portable generator features an electric start button for an easy start-up as well as a recoil start mechanism in case of battery drain.
Built-in circuit breakers allow you to remain safe in case of overload and prevent fire hazards.
Benefits of Using Propane
Using Firman's Dual Fuel capabilities, you can benefit from using propane as a fuel source since it is the safer and cheaper option. Game-changing depending on your living conditions and availability, using propane as fuel yields many benefits:
Speedy Start-Up:

Even in cold weather, propane doesn't need to be warmed up unlike its fossil-based counterpart, and allows for quick and reliable start-ups.

Cheaper:

Easy to find during power outages, propane is the cheaper option if you plan on saving a few bucks.

Spill-free:

Spilling gasoline is inevitable. Using the in-the-box propane hose, you can safely connect the unit and start powering your appliances.

Hassle-free:

With 50% lower toxic emissions, propane leaves little residue on the fuel lines which makes it a low-maintenance option, avoiding you the hassle of having to clean up after using the unit for hours.

Reduced Toxic Emissions:

You only sacrifice about 5% of the overall performance but in return create a much safer environment for everyone in the vicinity since toxic emissions are reduced by 50% when using propane.

Longer Storage Time:

Gasoline requires expensive stabilizers to keep it from going bad, while propane can last for up to 30 years with no maintenance at all.
Firman H08051 Video Overview