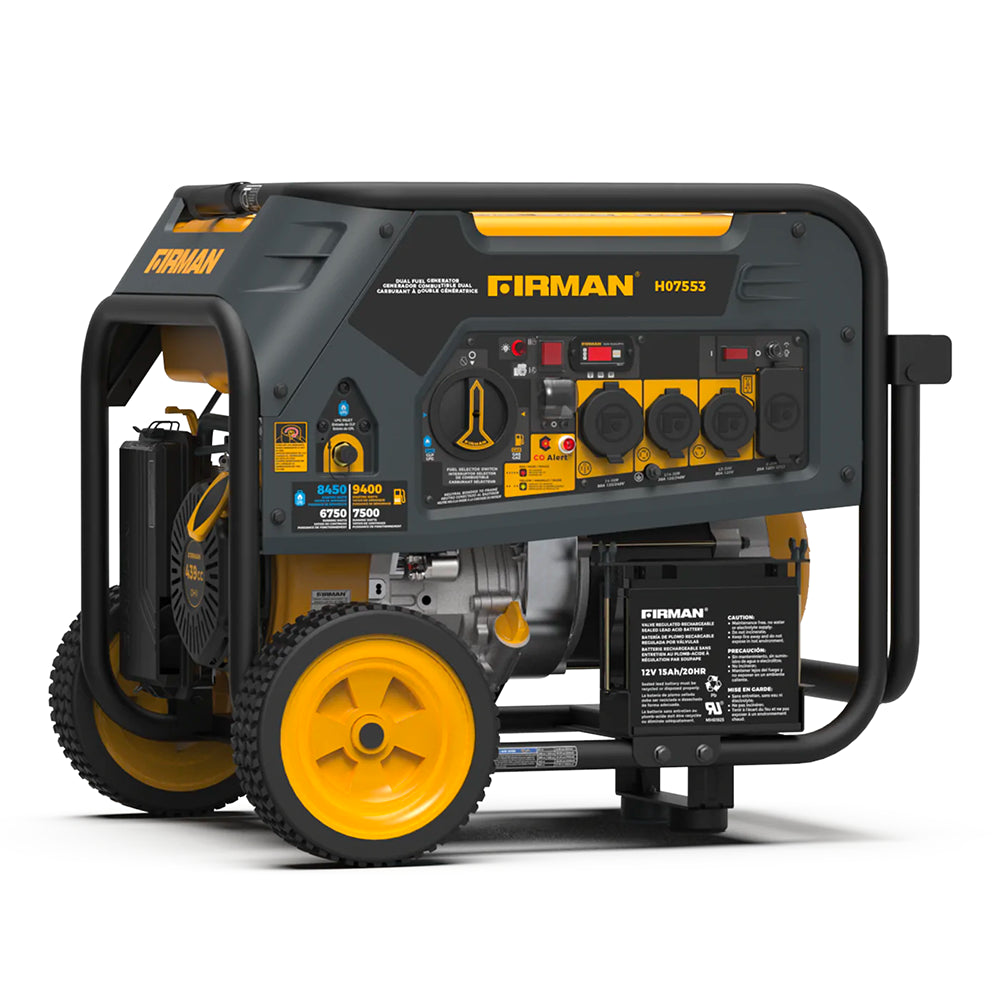 Firman H07553 Dual Fuel Generator Hybrid - 7500W
Save

Liquid error (snippets/product-badge line 32): Computation results in '-Infinity'

%
The Firman H07553 dual fuel is well known for it's combination of power, reliability, and build quality. It's a popular model in the Firman Hybrid Series. 
This generator can run using either gas or propane and is best used for backup power, work, camping, or powering large RVs to provide them all of the power they need for up to 12 hours.
If you need a solid generator that you can count on for power and performance on the go, the H07553 won't let you down. Here we'll cover this portable generator in detail, including why it's such a popular model, its specifications and output, and common use cases. 
The Firman H07553 Dual Fuel Generator is a Powerhouse
Th H07553 generator is an absolute powerhouse, especially if you're traveling around the country in a large RV, taking an extended camping trip, or using it to power your work equipment in remote locations without connectable power.
Food truck owners, dog grooming service trailer owners, and other entrepreneurs use this generator to power their mobile service units on the go, and let them serve customers wherever they may be.
Homeowners also use the Firman H07553 dual fuel generator in order to power their home appliances and stay connected in case of an emergency or natural disaster. When disaster strikes, it pays to be prepared and have everything you need to get electricity right there with you.
Overall, this is a great generator for a wide variety of uses, and using the Firman H07553 the next time you need a large amount of power will give you an experience you won't forget. Firman are well known for building reliable generators with dual fuel technology.
Firman H07553 Dual Fuel Specifications
As we've mentioned previously, this Firman dual fuel generator is one of the powerhouse portable generators that's ideal for situations where you need a significant amount of power on the go. We're going to walk through the specifications of this amazing work of engineering and describe what it can do in detail.
Since this generator can use gas or propane, you'll see specifications and output that apply when using either regular Gas as fuel or Liquid Propane (LPG).
Firman H07553 Generator Specs:
Running Wattage: 7500 (Gas) 6750 (LPG)

Starting Wattage: 9400 (Gas) 8450 (LPG)

AC Voltage: 120V/240V

Frequency: 60 Hz

Sound Decibels: 74 dB on half load

Runtime: 12 hours

Dimensions: 30.2" x 27.5" x 26.3"

Recoil Start Included? Yes

Electric Start Included? Yes

1x 5-20R 120V 20A Outlet

1x L5-30R 120V 30A Twistlock Outlet

1x L14-30R 120V/240V 30A Twistlock Outlet

1x 14-50R 120V/240V 50A Outlet

Phoenix fat head block

Low Oil Shutoff Included

Multi feature control panel

Power Stream Alternator Included

Cast Iron Sleeve Included

Folding Handle and Wheel kit

EPA and CARB compliant
When you need a reliable generator that gets the job done, the Firman Power Equipment H07553 is the perfect choice due to its ability to use dual fuel sources and the amount of power it produces.
H07553 Generator Use Cases
Due to the tremendous power the Firman H07553 generator provides, there are few limits to how it can be used in the real world for day to day use cases. In this section, we're going to cover several common uses of the H07553.
Even though this isn't an exhaustive list, many people who purchase this generator use it for emergency situations, recreational vehicles, for their businesses where they need remote power, or even for camping.
If you need power and want a generator that's flexible and reliable, this is one of the best Firman generator models on the market today. This popular model from the Firman Hybrid Series is the type of portable generator you want to have with you when you need one most.
It has a manufacturer warranty, is a dual fuel generator, has plenty of power outlets (covered outlets), and is UL Certified, EPA Certified California Emissions Certified, and CARB compliant.
A Portable Generator for Emergency & Disaster Relief Power
When disaster strikes, cities are often left without power for extended periods of time. Fortunately, if you have a generator on hand like the Firman dual fuel generator H07553, you can get power and keep your devices, appliances, and home powered up and running until the power grid is able to be restored.
Some of the most prominent stories and H07553 generator reviews involve customers using this unit during hurricanes (like Hurricane Ida), where they're left without power for days or even potentially weeks. Since this generator can run on Gas or Liquid Propane, you can be flexible with the fuel you can find and store, and have a significant amount of power when this generator is up and running. Keeping extra gasoline and an extra propane tank on hand will give you access to a lot of power. And of course larger propane tanks give you even more.
All in all, there are few better generator than Firman dual fuel generators to have on hand in an emergency situation. If you need power and performance, even to power a significant number of appliances, tools, or hardware at full load, this generator model can get the job done. 
The Firman H07553 for Recreational Vehicles (RVs)
Taking trips in an RV can be an exciting adventure, especially if you're going cross-country and exploring vast areas of the country. While you could stop at RV parks and specially designated stopping points that have electrical hookups, you won't always get that option. For Large RV's or where an extension cord isn't enough, the details in this generator's design won't let you down.
When you need power in the middle of nowhere, the Firman H07553 comes to the rescue and generates all the power you need for your RV and all of your devices, appliances, or various electrically powered items you carry on hand. This is a great generator to use when going on extended RV trips.
A Dual Fuel Generator For Portable Power & Business Use
While you can always use the H07553 for personal use, there are a large number of business use cases that this generator can handle as well.
If you set up stands at sporting events where you don't have access to electricity, or have a service trailer that acts as a hair salon, dog grooming trailer, or is involved in any number of mobile service businesses, having a powerful generator like this Firman Hybrid Series model will ensure you get power everywhere you go.
If you currently run a small business or work for a company that frequently needs remote power on the go, then consider getting the Firman H07553 in order to satisfy all of your electrical and power needs, no matter where in the world you might be. 
A Great Generator for Camping
Camping trips are a great time to become one with nature, bond with friends and family, and take a break from our fast-paced day-to-day life. While camping without electricity has been the "traditional" method of camping, sometimes you want electricity in order to power appliances, cook food more efficiently, or just have backup power in case of an emergency. The control panel of this generator is also simple to use, and this unit is great for any camping situation. The low oil shut off valve will help prevent damage to your generator.
The Firman H07553 is the perfect companion for camping trips and extended vacations since it allows you to power a significant number of appliances and electronics for practically an entire day! On your next camping trip, consider taking this powerful Firman dual fuel portable generator with you to make the experience much more enjoyable. 
Remember we offer free shipping and factory direct pricing on all Firman Power Equipment generators. Be sure to contact our team if you have questions about any of them.
H07553 Unboxing Video