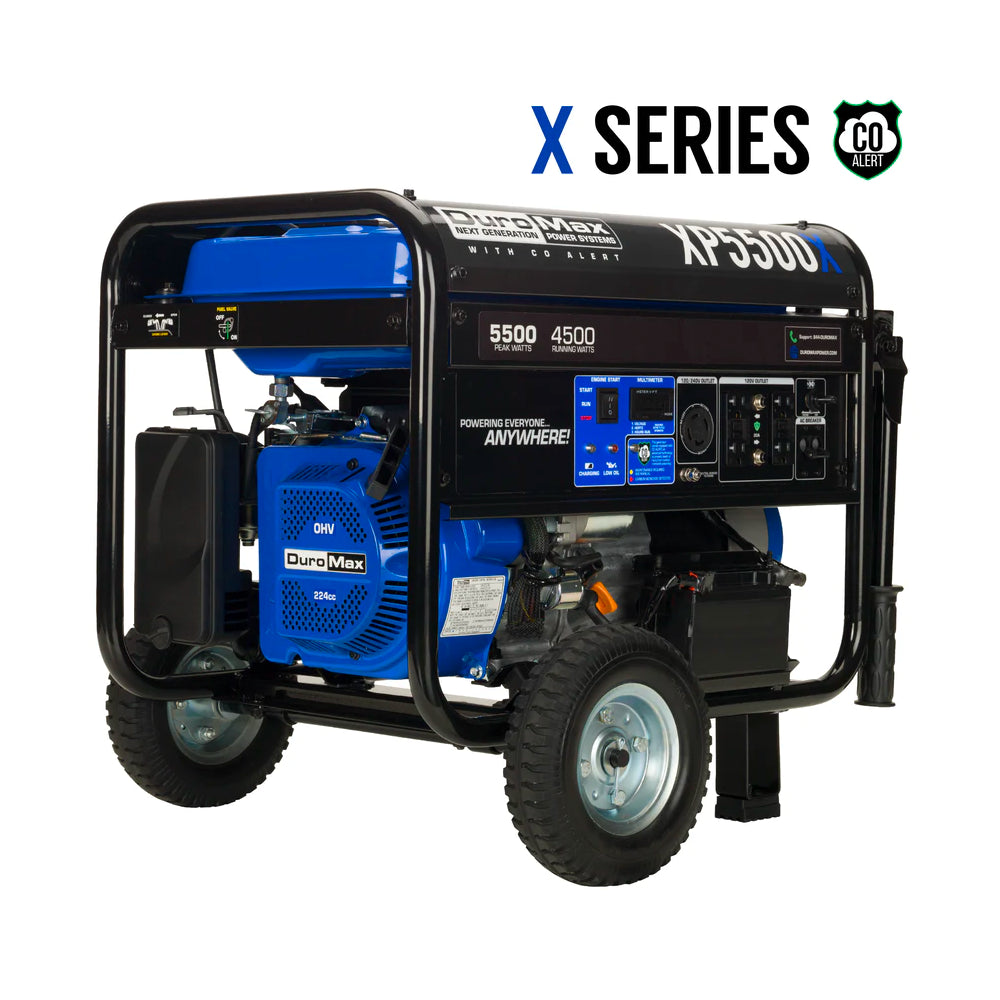 DuroMax XP5500X - 5500 Watt Gas Portable Generator
Save

Liquid error (snippets/product-badge line 32): Computation results in '-Infinity'

%
Remain operational during power outages and fully productive throughout your workdays with the DuroMax XP5500X, boasting a consistent 4,500 watts of running power. Capable of powering high-amperage power tools as well as small and large appliances, the 5,500-watt portable generator allows you to perform brilliant footwork to handle multiple jobs and work at full throttle.
Unpredictable weather no longer affects how you operate thanks to highly-resistant full metal construction. This sleek and rugged build allows the DuroMax XP5500X to withstand severe weather conditions and inevitable little accidents, so you can have the ultimate feeling of having a unit that you can count on for years to come.
Easy to set up, the XP5500X quickly comes into play when the grid goes down or when you're planning on making an impact on the worksite. Clocking in at a remarkable 9 hours of continuous use at 50% load, the 5,500-watt portable generator ensures you're never out of options, and always ahead of your needs.
Offering peak levels of convenience, the gas-powered portable generator comes equipped with grippy solid-fill tires for easy navigation. Coupled with that, foldable handles are comfortable and conveniently placed, so you can move the unit around as needed and put it down knowing it's supported and ready to go again whenever you are.
Additionally, the DuroMax XP5500X houses multiple outlets for maximum compatibility. Thanks to EPA and CARB certification, the 5,500-watt portable generator remains safe with its toxic emissions remaining below required standards.
Key DuroMax XP5500X Features:
224cc Engine:

Set and ready to go at the push of a button, the 224cc DuroMax engine sustains a remarkable 4,500 watts of running power thanks to a cast iron cylinder.

CO Alert:

Counteracting the colorless and odorless carbon monoxide poisoning, CO Alert Technology is a life-saving innovation that automatically shuts the engine down when carbon monoxide levels get too high, allowing you to remain safe inside enclosed spaces.

9+ Hours of Runtime:

The XP5500X is well balanced between performance and autonomy, allowing you to stay up and running for a full 9 hours at 50% load for all your needs and tasks.

Full Metal Body:

DuroMax generators are made with full metal construction and are designed to withstand years of use, even in severe weather conditions that can cause power outages lasting for hours or days.

EPA and CARB-Approved:

The dangers of toxic emissions are now reduced far below concerns thanks to both EPA and CARB certification.
Specifications:
Gasoline:
Peak Watts: 5,500

Running Watts: 4,500

Peak Amps @120V: 45.8

Running Amps @120V: 37.5

Peak Amps @240V: 22.9

Running Amps @240V: 18.8
Engine:
Amperage: 37.5A/18.8A

Voltage: AC: 120/240V 60 Hz

Frequency: 60Hz

Engine Size: 224cc

Engine Type: OHV 4-stroke

Engine Speed: 3600RPM

Fuel Type: Gasoline

Fuel Tank Capacity (Gasoline): 4 Gallons
Product:
Runtime (Gasoline) at 50% Load: 9 Hours

Start Type: Rocker Switch/Recoil

Volume Level: 69dB

EPA Certified: Yes

CARB Certified: Yes

CSA Certified: No

Product Dimensions: 27"L x 20" W x 19" H

Product Weight: 135Lbs
Competent and Reliable
Tailored for performance, the DuroMax XP5500X can run anything from high-amperage power tools to small and large appliances thanks to 4,500 watts of running power. Its dependable nature makes it perfect for professionals and homeowners who are looking for a versatile option.
The thoughtful and exclusive feature "MX2 Power Boost" allows you to double the voltage for all the outlets, perfect for RV enthusiasts.
While their counterparts use inferior aluminum to save on cost, the sophisticated design of DuroMax generators helps them last longer, run smoother, and be more efficient thanks to 100% copper windings. This superior conductor offers improved heat dissipation which allows for consistent performance in all conditions.
Dependable Autonomy
No matter where you are, the XP5500X consistently pushes up to 9 hours of continuous use at 50% load, allowing you to remain operational during times of emergency and throughout heavy workdays.
When the unit is not in use, Idle Control conserves fuel by reducing engine speeds. As a result, you save money and extend runtime.
CO Alert
While the health hazards of carbon monoxide poisoning can be overlooked, CO Alert Technology ensures you're safe inside your home.
This system automatically shuts the engine off whenever unusual levels of carbon monoxide are detected, so you can rest easy knowing your loved ones are far from vulnerable to an otherwise silent poison.
EPA and CARB-Approved
Improving air quality by reducing toxic emissions, DuroMax generators conform to eco-conscious guidelines from the Environmental Protection Agency (EPA) and the California Air Resources Board (CARB).
Both EPA and CARB-certified, the DuroMax XP5500X produces far lower toxic emissions, making it a unit that you can trust with your life thanks to globally recognized certification.
Industrial-grade Protection
Specifically designed to withstand years of wear-and-tear and severe weather just like the entire DuroMax range, the 5,500-watt portable generator features full metal construction and sturdy steel frames to account for unpredictable occasions when Mother Nature decides not to cooperate.
The robust exterior of the unit protects it from harsh weather conditions, while the solid-fill tires give you a strong grip on rough terrain. Additionally, the comfortable handles ease the burden of moving the unit around and provide more space when folded up.
Fully Loaded Power Panel
Whenever you're out and about, the XP5500X's compatibility will strike you as extremely user-friendly and convenient.
Protected thanks to Power Surge Protection, the power panel includes four 120V outlets so you can plug your household appliances and heavy-duty power tools and begin producing power in seconds.
Additionally, an L14-30R receptacle is a perfect solution for home backup, allowing you to directly connect the unit to your home breaker box and provide instant power to the entire household.
An easily-readable oil gauge helps you monitor your unit's oil levels, while the low oil indicator and low oil shutoff give you time to react and prevent any contaminated oil from damaging the engine before taking matters into its own hands and shutting it down entirely.
Circuit breakers prevent potential fire hazards and immediately cut the power if an overload occurs, keeping you safe from any damage.