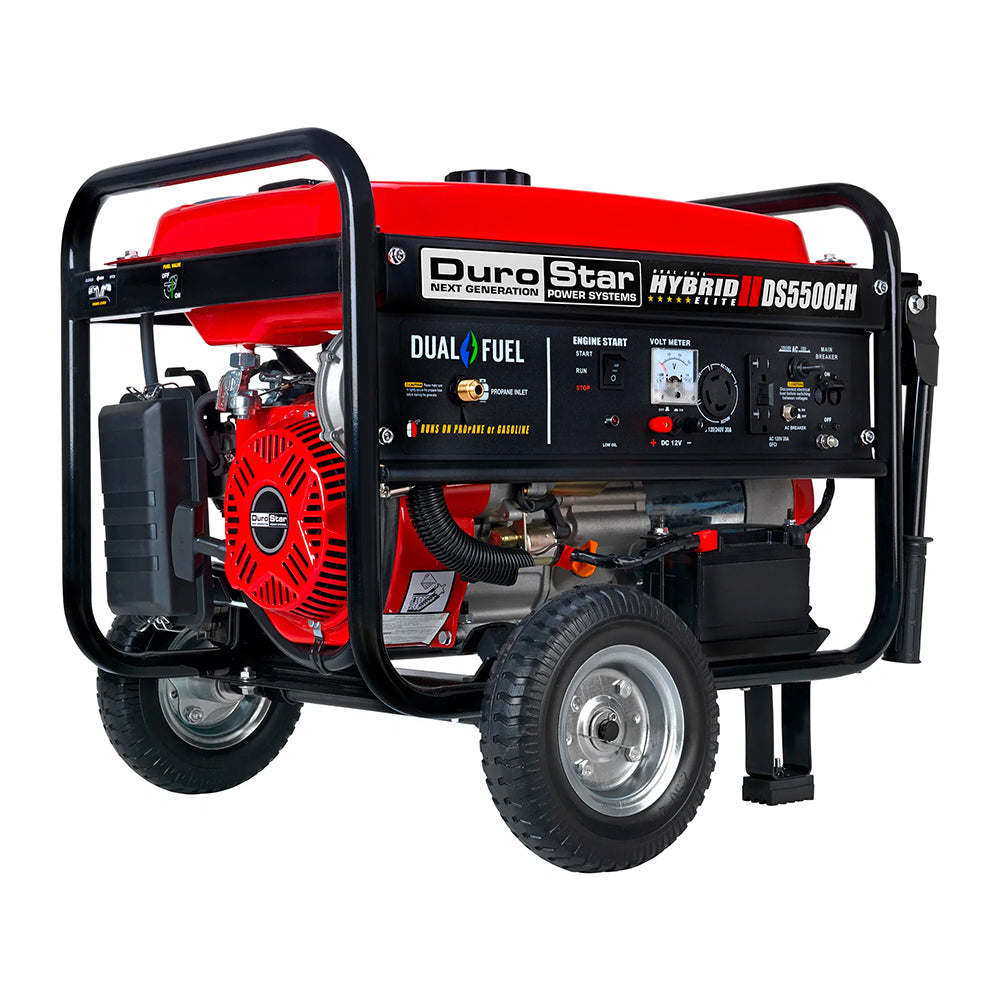 DuroStar DS5500EH - 5500 Watt Dual Fuel Portable Generator
Save

Liquid error (snippets/product-badge line 32): Computation results in '-Infinity'

%
With innovative Dual Fuel Technology making its way to DuroStar generators, this 5,500-watt unit is nothing short of remarkable. Able to run on both gasoline and propane, the DuroStar DS5500EH produces 50% lower carbon emissions while using the latter, providing a safer and healthier environment for its users.
Supported by semi-solid tires and foldable handles, the 124lbs portable generator can easily be relocated which makes it perfect for job sites and camping trips where the unit will be moved around.
Using 100% copper windings, the DS5500EH provides efficient thermals that allow the 224cc to shred at an impressive 3600RPM. This allows you to freely operate off the grid, including charging external batteries and powering high-amperage power tools as well as lights and appliances.
To provide you with reliable autonomy, the 5,500-watt portable generator pushes out a remarkable 9 hours of runtime under half load. Using its built-in idle control feature, it extends runtime even further by lowering engine speeds when it detects it's not in use, saving fuel and cost.
Key DuroStar DS5500EH Features:
Reliable 224cc Engine:

Built with all your needs in mind, the DS5500EH was designed for the exact purpose of making sure you're ahead of your tasks thanks to a robust 4,500 watts of running power.
Dual Fuel Technology:

The 5,500-watt portable generator works using both gasoline and the cleaner alternative, propane. This offers a breadth of benefits aimed toward convenience, cost-effectiveness, and eco-friendliness.
9+ Hours of Runtime:

In order to meet your needs, the DuroStar DS5500EH is capable of sustaining a considerable 9 hours of continuous use at 50% load.
Built Tough:

For guaranteed longevity, the dual-fuel portable generator is wrapped in full metal construction which allows it to endure harsh weather conditions and inevitable roughhousing for years to come, offering peace of mind and a significant return on investment.
Eco-friendly:

By being both EPA and CARB-compliant, this unit remains safe to use thanks to reduced unhealthy emissions.
DS5500EH Specifications:
Gasoline:
Peak Watts: 5,500

Running Watts: 4,500

Peak Amps @120V: 45.8

Running Amps @120V: 37.5

Peak Amps @240V: 22.9

Running Amps @240V: 18.8
Propane:
Peak Watts: 5,225

Running Watts: 4,275

Peak Amps @120V: 43.5

Running Amps @120V: 35.6

Peak Amps @240V: 21.8

Running Amps @240V: 17.8
Engine:
Amperage: 37.5A/18.8A (Gasoline), 35.6A/17.8A (Propane)

Voltage: AC: 120/240V 60 Hz, DC: 12V

Frequency: 60Hz

Engine Size: 224cc

Engine Type: 4-Cycle Air-Cooled Spark-Ignition

Engine Speed: 3600RPM

Fuel Type: Dual Fuel (gasoline/propane)

Fuel Tank Capacity: 4 Gallons
Product:
Runtime: (Gasoline) at 50% Load: 9 Hours, (Propane) at 50% Load: 8 Hours

Start Type: Rocker Switch

Volume Level: 69dB

EPA Certified: Yes

CARB Certified: Yes

CSA Certified: No

Product Dimensions: 25"L x 22" W x 22" H

Product Weight: 136 Lbs
Tailored for Performance
To ensure you're always a step ahead of your tasks, the DS5500EH packs a sizeable 224cc engine. Capable of sustaining 4,500 watts of running power, this dual-fuel portable generator is the perfect solution for professionals looking for a reliable and trustworthy option for powering heavy-duty power tools as well as small homeowners and camping enthusiasts.
Complementing its strong capabilities, 100% copper windings offer optimal heat dissipation for the unit to operate properly. Unlike conventional builds that use aluminum as a heat conductor to save on cost, DuroStar generators make sure you can use it years down the line since copper doesn't quickly overheat, and prevents the unit from damaging itself.
Dual Fuel Technology by DuroStar
Using the latest and greatest Dual Fuel Technology, the DS5500EH portable generator can be a game-changer. Instead of relying solely on fossil fuels such as gasoline, this 5,500-watt portable generator can operate using propane, a much cleaner, and cheaper alternative.
Providing reliability and peace of mind, this dual-fuel unit can last for up to 9 hours at half load, making it ideal during an inevitable blackout, a relaxing camping trip, or heavy days of work.
Safely and easily switch between gasoline and propane in seconds using the fuel input switch situated on the power panel and immediately begin producing power.
Reduced Toxic Emissions
To ensure optimal safety, DuroStar generators are both EPA and CARB-approved, meaning they generate far lower unhealthy emissions resulting from combusting fuel sources.
Set by the Environmental Protection Agency (EPA) and California Air Resources Board (CARB) for decades, strict eco-conscious guidelines aim to reduce toxic fumes and allow for extended use even when in close proximity to the unit. By following these directives, the DuroStar DS5500EH is a safe and healthy option for everyone to benefit from.
Robust Build
To ensure perfect health and longevity, the 5,500-watt portable generator is wrapped in metal construction, protecting it from severe weather and years of being pushed around work sites and camp sites.
Conveniently, solid-fill tires will never run flat and provide improved grip on the ground while foldable handles ease the weight of the 124lbs unit.
Fully Loaded Power Panel
Tailored for maximum compatibility, the DS5500EH dual fuel portable generator provides different outlets to accommodate different situations, making it perfect for work sites where various tools are used.
Additionally, it also features an L14-30R receptacle, allowing the unit to be directly connected to your home breaker box and immediately begin producing power. Simply plug it in and use the rocket switch or recoil mechanism to power your household.
The fully featured power panel includes a circuit breaker that can automatically protect the engine from overloads, automatically shutting it down to ensure your safety. Besides, an oil gauge allows you to get information about current use at a glance.
Benefits of Using Propane
When choosing a clean-burning fuel source such as propane, not only do you reduce toxic emissions by half, but you also benefit from other advantages depending on your living conditions:
Quick and Consistent Start:
Due to its nature, propane does not need to be warmed up and immediately starts powering the engine, making it perfect for cold weather.
Cost-effective:

Propane can be found cheaper in stores, unlike gasoline which requires power to be poured from the station to your container, which would not be possible during a power outage.

No Spills:

Avoid the inevitable spilling when pouring gasoline from a fuel can into the engine. Instead, directly connect it via a propane hose with zero leaks.

Low Maintenance:

Unlike fossil fuel sources, propane leaves no unwanted residue on the engine parts so you don't have to clean up after use.

Safe to Use:

As clean-burning fuel, propane generates 50% lower toxic emissions, ensuring the safety of its users and everyone surrounding the unit.

Longevity:
As opposed to gasoline which requires expensive stabilizers to keep it from decaying, propane lasts for up to 30 years with no need for additives.
See the full DuroStar generator range here. The have options for all budgets and power requirements.