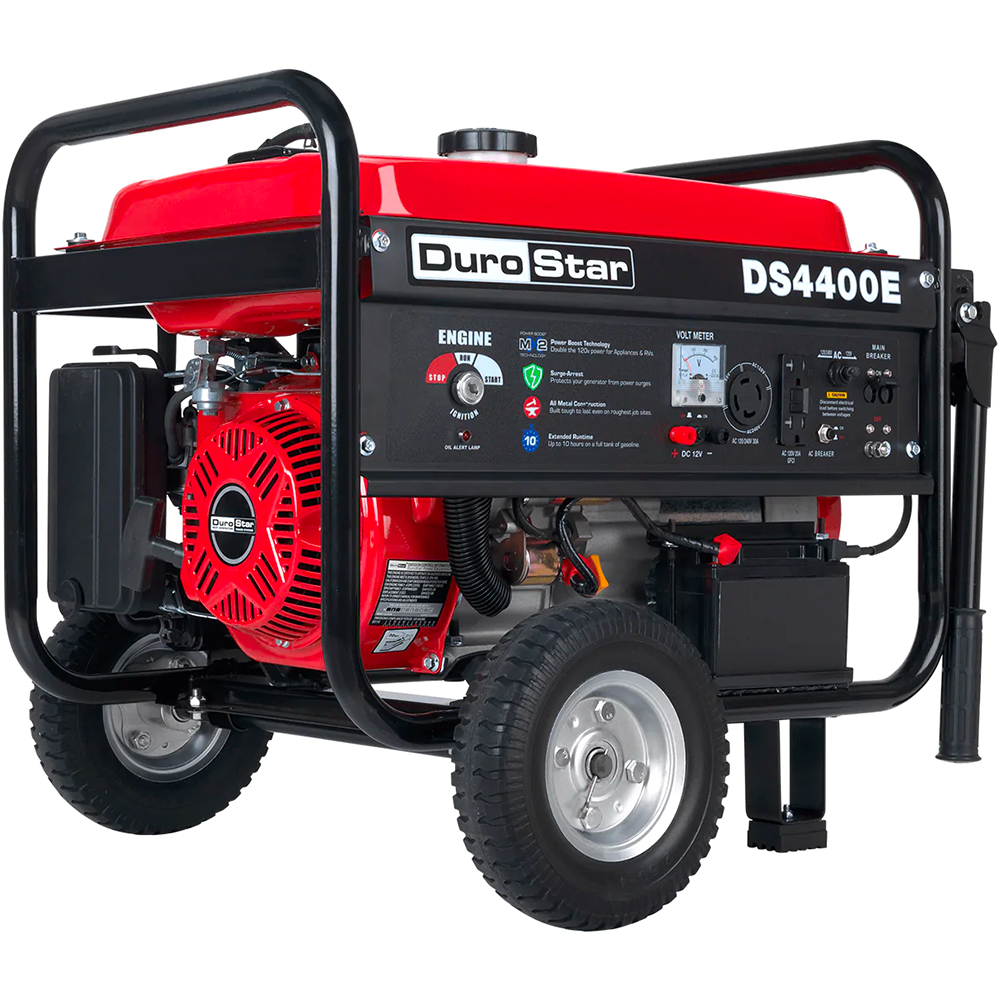 DuroStar DS4400E - 4400 Watt Gas Portable Generator
Save

Liquid error (snippets/product-badge line 32): Computation results in '-Infinity'

%
Make sure you're ahead of your needs with the DuroStar DS4400E. Running at an impressive 3,500 watts, this portable generator easily qualifies as your wingman, providing you with a powerful and reliable power source.
Remarkable for its size, the DuroStar DS4400E clocks in at 10 hours of runtime under half load. For light use such as powering lights or small appliances, this 4,400-watt portable generator can last for a whole 25 hours to remain on your side when you need it the most.
To ensure you're getting the best of both worlds, the DS4400E 4400 watt generator delivers power in a full metal body that is capable of withstanding severe weather conditions and quite a bit of roughhousing, guaranteeing years of use and peace of mind.
Furthermore, as a standard, all DuroStar generators are built using 100% copper windings, allowing the engine to work at optimal speeds while keeping temperatures stable, and protecting the unit from wearing down over time.
Key DuroStar DS4400E Features:
Powerful Engine:

Coupled with efficient thermals thanks to copper windings, the 212cc engine can push out a consistent 3,500 watts of running power to make sure that your appliances and high-amperage power tools are running smoothly.
MX2 Power Boost:

Adapted for light use as well as serious scenarios, the DuroStar DS4400E features MX2 Power Boost Technology that allows it to double the voltage up to 240V, pushing even greater amounts of power.
10+ Hours of Runtime:

While only packing a small 3.96-gallon fuel tank, the 4,400-watt portable generator is nothing short of impressive, reaching up to 25 hours on low use.
Built to Resist:

The DS4400E was manufactured using full metal construction to allow it to endure harsh weather and years of wear-and-tear.
EPA and CARB-approved:

For safer use and a healthier environment, this gas portable generator follows eco-friendly guidelines to reduce toxic emissions.
Specifications:
Gasoline:
Peak Watts: 4,400

Running Watts: 3,500

Peak Amps @120V: 36.7

Running Amps @120V: 29.2

Peak Amps @240V: 18.3

Running Amps @240V: 14.6
Engine:
Amperage: 29.2A/14.6A

Voltage: AC: 120/240V 60 Hz, DC: 12V

Frequency: 60Hz

Engine Size: 212cc

Engine Type: 4-Cycle Air-Cooled Spark-Ignition

Engine Speed: 3600RPM

Fuel Type: Gasoline

Fuel Tank Capacity (Gasoline): 3.96 Gallons
Product:
Runtime (Gasoline) at 50% Load: 10 Hours

Start Type: Key Switch

Volume Level: 69dB

EPA Certified: Yes

CARB Certified: Yes

CSA Certified: No

Product Dimensions: 25"L x 24" W x 21" H

Product Weight: 130 Lbs
Check out our full range of DuroStar portable generators here.
Powerful and Reliable
In order to provide as much value for its size as possible, the DS4400E generator makes use of its 212cc engine to push out a remarkable 3,500 watts of running power. This translates to stable performance across the board, no matter what your needs are.
While traditional home backup units rely on aluminum windings to reduce costs, DuroStar generators house 100% copper windings. As a superior heat conductor, copper spreads heat to keep temperatures optimal and prevent the unit from damaging itself over time, while aluminum quickly overheats and has inferior heat dissipation.
Built for camping lovers and professionals alike, the 4,400-watt portable generator holds one more ace up its sleeve. Using innovative MX2 Power Boost Technology, this unit is capable of doubling the baseline 120V voltage to keep up with heavy loads such as powering heavy-duty power tools.
All of these characteristics combined make the DuroStar DS4400E a reliable and robust option for homeowners during a power outage and workers on a job site.
Extended Runtime
When it comes to outrunning your needs, the 4,400-watt portable generator is truly a unit you can count on. The DuroStar DS4400E makes efficient use of its 3.96-gallon fuel capacity to accommodate all levels of use. For reference, this gas portable generator can last for as long as 25 hours at low load, and 10 hours at half load.
Combined with its compact size, it presents itself as a no-brainer for outdoors enthusiasts and professionals looking for a reliable option.
The DS4400E also features a smart idle control feature that automatically cuts down engine speeds when it detects it's not being used, saving fuel, and cost, and extending runtime.
EPA and CARB-approved
To ensure the safety of its users, DuroStar generators comply with strict eco-conscious guidelines provided by The Environmental Protection Agency (EPA) and California Air Resources Board (CARB). These directives aim to reduce toxic emissions and by following them, the 4,400-watt portable generator is safe to use in close proximity, making it perfect for work sites and occasional fairs, family gatherings, or festivals.
By being both EPA and CARB-approved, the DS4400E produces far lower levels of carbon, offering a worry-free experience and peace of mind when using the unit.
Geared for Endurance
From a build quality standpoint, the DuroStar DS4400E is a beast. Featuring full metal construction and heavy-duty frames, this 4,400-watt portable generator can endure years of use under harsh weather conditions and work perfectly even after being roughed up a bit.
In addition, the DS4400E features a grippy set of semi-solid tires that will never run flat, easing the pain of moving the 122lbs unit around. Conveniently, this gas portable generator also comes with foldable handles to complement the ease of use.
Fully Featured Power Panel
Providing maximum compatibility, the fully featured power panel includes different outlets to accommodate different uses, making it ideal for charging external batteries, powering high-amperage power tools, and small and large appliances.
The DuroStar DS4400E is also transfer switch-ready, meaning it can be directly plugged into your home breaker box and immediately begin producing power to your household through an L14-30R receptacle.
In order to prioritize the safety of its users, the unit also features a circuit breaker that shuts down the engine in case of overloads while the low oil shutoff does so when oil levels are low.