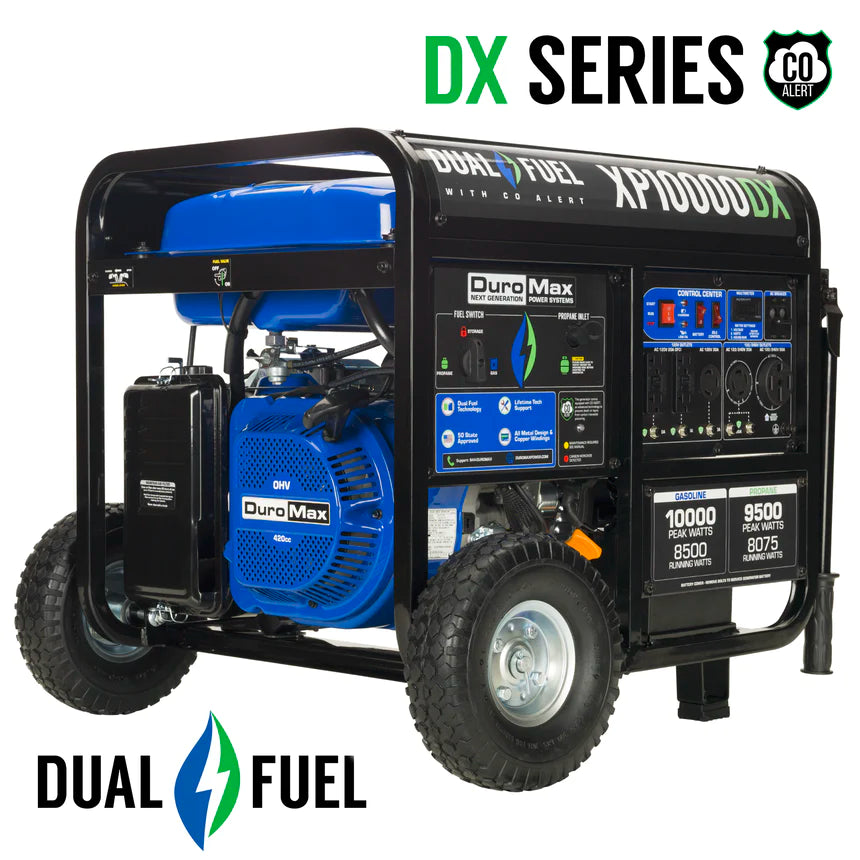 DuroMax XP10000DX - 10000 Watt Dual Fuel Portable Generator
Save

Liquid error (snippets/product-badge line 32): Computation results in '-Infinity'

%
Whether you're planning a highly productive day or are simply in need of an emergency backup plan, the DuroMax XP10000DX has got your back with 8,500 watts of running power, several outlets, a user-friendly power panel, and a 100% metal construction for years of reliable power.
Protected by full metal construction yet remaining easy to move around, the 10,000-watt portable generator is equipped with comfortable and conveniently-placed foldable handles, in addition to solid-fill tires that will never run flat whilst being grippy on rough terrain.
The DuroMax XP10000DX is powered by Dual Fuel Technology, which allows it to run on both gasoline and propane. Propane is a clean-burning fuel that results in 50% lower toxic emissions than gasoline, making it a more environmentally friendly choice. Additionally, propane is typically cheaper than gasoline, meaning using the XP10000DX can save you money.
Powerful yet versatile, the 10,000-watt portable generator provides different outlets in order to handle multiple jobs, one of which is an L14-30R receptacle that is capable of powering your entire household by connecting directly to your home breaker box.
Key DuroMax XP10000DX Features:
420cc Engine:

Power through your tasks with a state-of-the-art DuroMax engine. Clocking in at an impressive 8,500 watts of running power, this powerhouse is capable of powering high-amperage power tools, small and large appliances, RVs, and lights with ease and reliability.

Dual Fuel Technology:

With the ability to run on gasoline and propane, the XP10000DX still gets the job while being environmentally friendly and safe to operate, reducing toxic emissions by a massive 50%.

CO Alert:

While carbon monoxide buildup can be extremely dangerous due to its colorless and odorless nature, CO Alert Technology automatically detects when its levels are unsafe and immediately shuts the engine down, keeping you safe.

10+ Hours of Runtime:

On a singular fuel tank, the XP10000DX generator sustains power for up to 10 hours at 50% load, allowing you to keep going during a power outage and to operate off the grid.

Full Metal Construction:

Designed with years of durability in mind, the 10,000-watt portable generator handles unpredictable timings like a beast. Thanks to a full metal body and steel frames, this dual-fuel unit can withstand severe weather and inevitable accidents for years to come.

EPA and CARB-Approved:

Allowing for safety and peace of mind, the DuroMax XP10000DX ensures your safety by following strict environmental guidelines, resulting in far lower toxic emissions.
Specifications:
Gasoline:
Peak Watts: 10,000

Running Watts: 8,500

Peak Amps @120V: 83.3

Running Amps @120V: 70.8

Peak Amps @240V: 41.7

Running Amps @240V: 35.4
Propane:
Peak Watts: 9,500

Running Watts: 8,075

Peak Amps @120V: 79.2

Running Amps @120V: 67.3

Peak Amps @240V: 39.6

Running Amps @240V: 33.6
Engine:
Amperage: 70.8A/35.4A (Gasoline), 67.3A/33.6A (Propane)

Voltage: AC: 120/240V 60 Hz

Frequency: 60Hz

Engine Size: 420cc

Engine Type: 4-Cycle Air-Cooled Spark-Ignition

Engine Speed: 3600RPM

Fuel Type: Dual Fuel (gasoline/propane)

Fuel Tank Capacity: 8.3 Gallons
Product:
Runtime: (Gasoline) at 50% Load: 10 Hours, (Propane) at 50% Load: 9 Hours

Start Type: Rocker Switch/Recoil

Volume Level: 72dB

EPA Certified: Yes

CARB Certified: Yes

CSA Certified: No

Product Dimensions: 29"L x 30" W x 26" H

Product Weight: 231 Lbs
Reliable and Dependable
Perfect for operating off the grid, the DuroMax XP10000DX pushes a remarkable 8,500 watts of sustained power, allowing it to juggle between tasks and handle multiple jobs with confidence.
Rather than relying on inferior aluminum conductors to save on cost, DuroMax generators are fitted with 100% copper windings. This superior heat conductor prevents the unit from damaging itself through overheating caused by continuous use while allowing it to run as smoothly as possible thanks to optimized heat dissipation.
Dual Fuel Technology
Featuring game-changing Dual Fuel Technology, the XP10000DX now runs on both gasoline and propane. While propane-powered, the 10,000-watt portable generator produces 50% lower harmful emissions whilst being the cheaper and easier-to-handle alternative, allowing for a safe and clean environment for you to operate in.
The DuroMax XP10000DX ensures you keep going even during power outages and allows for highly productive days thanks to 10 hours of runtime at 50% load.
See our full range of dual fuel portable generators here from leading brands.
CO Alert
Generators emit carbon monoxide, a colorless, odorless, and toxic gas that can have increasingly damaging impacts on your health.
CO Alert detects dangerous carbon monoxide levels and promptly shuts down the engine to keep you safe and allow you to operate with peace of mind.
EPA and CARB Approved
Safe for extended use, the XP10000DX generates significantly lower toxic emissions than standards thanks to both EPA and CARB certification.
To achieve this result, the 10,000-watt portable generator complies with eco-conscious guidelines from the Environmental Protection Agency and the California Air Resources Board, creating a safe and healthy environment for everyone.
Heavy-duty Protection
The DuroMax XP10000DX is a portable generator that is built to last by combining robust materials and convenient features that allow for easy traversal.
While full metal construction allows the unit to withstand years of severe weather, bumps, scratches, and inevitable accidents, solid-fill tires provide confident stability and grip even on rough terrain and will never run flat.
Foldable handles are conveniently placed, giving you an easier time moving the unit around, and making the unit look like a sleek piece of decor when folded.
Fully Featured Power Panel
Engineered for maximum compatibility, the DuroMax XP10000DX offers several outlets, including an L14-30R receptacle, meaning it can be directly plugged into your home breaker box to power the entire household in a matter of seconds.
The oil gauge allows you to monitor oil levels at a glance so that you can avoid running out. Should the latter happen, though, a low oil indicator lights up when the unit needs a refill.
Additionally, low oil shutoff prevents the use of contaminated oil that can potentially damage the unit and automatically shuts the engine down.
Benefits of Using Propane
Dual Fuel Technology allows you to make game-changing choices based on your living conditions, as well as opt for a cleaner, cheaper, and healthier fuel source. The benefits are as follows:
Quick Start-Up:

Propane is always ready to go - no matter how cold it gets - and immediately powers the engine every time you hit the electric start or pull the cord.

Affordable and Accessible:

Propane is more affordable and accessible than gasoline: you can find it at shops and home centers, and don't need power to pour it from the gas station into your container.

No Spills:

Unlike gasoline, which often leads to spills and a consequent mess, you can use a propane hose to avoid any leaks or spilling.

Low Maintenance:

Propane burns clean and doesn't produce much residue, if any. This makes it the perfect hassle-free option when compared to gasoline or other fossil-based fuels.

50% Less Pollution:

With Dual Fuel Technology, propane emissions are up to 50% lower than gasoline, allowing for a healthy environment without compromising power.

Extended Storage Time:

Propane lasts 30 years without expensive stabilizers, while gasoline only lasts a few months.
You can shop the full range of DuroMax generators here with factory direct pricing and free shipping.
DuroMax XP10000DX Video Overview