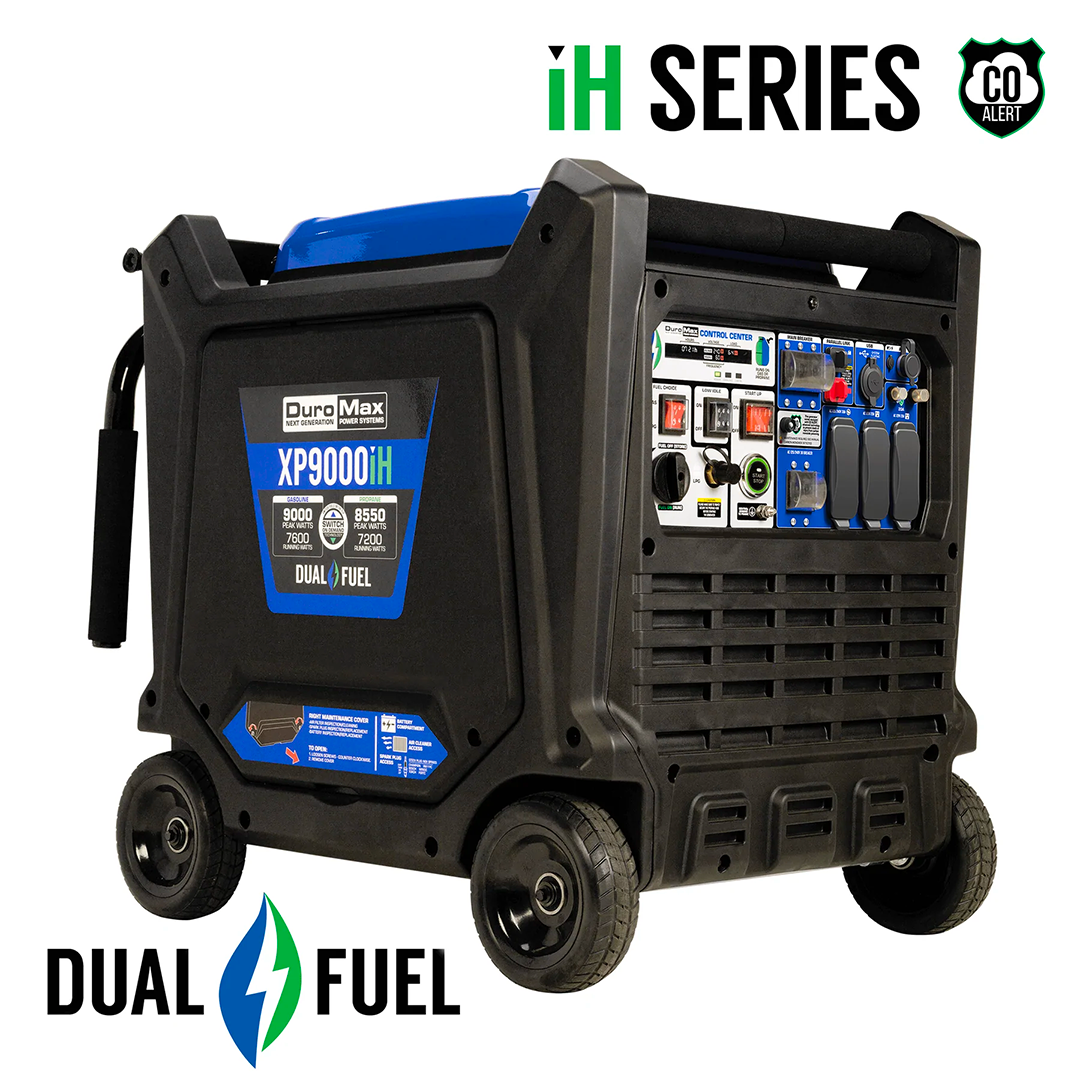 DuroMax XP9000iH - 9000 Watt Inverter Portable Generator
Save

Liquid error (snippets/product-badge line 32): Computation results in '-Infinity'

%
The DuroMax XP9000iH is one of the best generators DuroMax has to offer. It is packed with features that are sure to meet your needs. Plus, as an inverter generator, you get an immense amount of clean power output in a compact form factor. Even better is its quiet operation that you and your neighbors are sure to love.
Whether you need to power a jobsite, want backup power at home, or enjoy rustic camping, the DuroMax XP9000iH is sure to meet your demands. If 9000 watts isn't enough power, you can always hook it up to another DuroMax XP9000iH to double its power output with a parallel kit sold separately.
Super quiet operation

Dual fuel generator w co alert

ATS compatible

Electric remote start

Wheels and handle included

9,000 watt inverter
Dual Fuel Generator Technology
The DuroMax XP9000iH has dual fuel technology, allowing it to operate on gasoline or propane. A hose and regulator are included to hook the generator up to a standard propane bottle.
Also possible is to hook up the generator to a bigger propane tank commonly found in rural areas. However, you may need additional hoses and fittings to connect to larger propane tanks.
Propane offers many advantages over gas as you do not have to worry about transporting fuel which can easily spill. Moreso, some campgrounds restrict or prohibit gas cans or gas-powered generators as they are considered a larger fire hazard.
The ability of the DuroMax XP9000iH to switch between fuels is beneficial as you can change sources with the flip of a switch. Therefore you can always keep extra of the opposite fuel you typically use. This is also good if you sometimes want propane but other times want gas.
The most significant difference between gas and propane is the output wattage. With gasoline, peak wattage is 9,000, and running wattage is 7,600. But on propane, that drops to 8,550 peak watts and 7,200 running watts.
The DuroMax XP9000iH Inverter Generator
As an inverter generator, the DuroMax XP9000iH operates much quieter and more efficiently than its standard counterparts. In addition, an inverter generator produces a very clean power output compared to traditional generators.
Clean power is more important now than ever before as electronic devices and appliances are very sensitive to "dirty power." In a traditional generator, power is created and directly sent out. However, in an inverter generator, the AC power is turned into DC and then converted back to AC.
While going back and forth may seem inefficient, it is actually more efficient thanks to advances in inverter technology. In addition to the efficiency, running the power through an inverter means it is not subject to fluctuations. Instead, it produces a perfect sine wave that will not have a negative impact on your most sensitive electronics.
Check out our full inverter generator collection.
Versatile Power from DuroMax
The DuroMax XP9000iH has best-in-class versatility with a wide range of connection options. Four GFCI outlets allow you to connect any standard 120V device. Meanwhile, a NEMA L14-30 outlet can handle 240V connections. This includes larger equipment on a jobsite or even connected to a whole home transfer switch.
Speaking of transfer switches, the XP9000iH includes an ATS outlet making it automatic transfer switch ready. Therefore, you can use it as a home standby generator. Plus, if it's not quite enough power, you can always connect it to another DuroMax XP9000iH via a parallel kit sold separately.
But even if your home is not equipped with a generator port, you can always use extension cords and plug in directly. Also, there is a USB-A and USB-C port on the side of the generator for easy charging of mobile devices.
A Premium DuroMax Inverter Generator
The XP9000iH is truly a premium generator with its vast array of features. The dual fuel inverter generator from DuroMax allows fuel choice and even includes a remote control.
Having an electric start is one of the best features a generator can have. But DuroMax takes it a step further with the XP9000iH includes a remote control that allows you to start the generator while inside your home or RV.
Another premium feature is the digital control center, which includes easy-to-read numbers for voltage output, frequency, power output, and hours. Other benefits, such as USB and battery tender port, as well as connections for an automatic transfer switch, make this generator one of the best.
XP9000iH Features
The DuroMax XP9000iH has many great features that are sure to impress. Firstly, a four-wheel design makes it easy to pull around compared to other generators that only include two wheels and require lifting. The wheels are included, as is a handle.
Next, the generator has a low idle function which allows the generator to run at a low speed when high demand is not needed and therefore conserves fuel. The low idle feature is located on the convenient digital control center, which puts all of the generator's controls in one spot.
On the control center, you will find the digital voltmeter, power outputs, and breakers. That is also where the propane bottle port is located. Lastly, the start and run controls are also located on the digital control center.
Another convenient feature is a battery tender port. A set of cables are included to use the port, and it can act as a battery tender to keep your RV or other batteries charged.
A parallel port allows the DuroMax XP9000iH to connect to another generator in order to boost its power. This is an excellent option if you are on a jobsite and need to power larger equipment or even to increase your power output during an electrical outage.
XP9000iH Dual Fuel Inverter Specifications
The DuroMax XP9000iH is a dual fuel inverter generator w co alert with 9,000 gasoline peak wattage and 7,600 running watts. On propane, you can expect 8,550 peak watts and 7,200 running watts. The onboard fuel tank can hold 6.9 gallons of gas.
The generator is 27" x 21" x 25" in size, making it about the size of an extra-large moving box. It weighs 237lbs dry; keep in mind it will be considerably heavier if you add gasoline.
One of the biggest benefits of the XP9000iH is how quiet it runs. At only 68db, it is comparable to a vacuum cleaner or hair dryer. In comparison, a regular generator runs around 85db.
Two of the DuroMax XP9000iH's most essential features are the low oil shutoff of co alert. Both can automatically shut off the generator if a sensor is tripped. In addition, the co detector will alert you if co levels are high and turn off the generator.
Similarly, the low oil shutoff light will come on if the generator is low on oil. It will also turn the engine off to prevent damage. A 3-year warranty also backs the DuroMax XP9000iH. In the event you have a problem, simply bring the generator to an authorized service shop for repair.
XP9000iH Overview Video