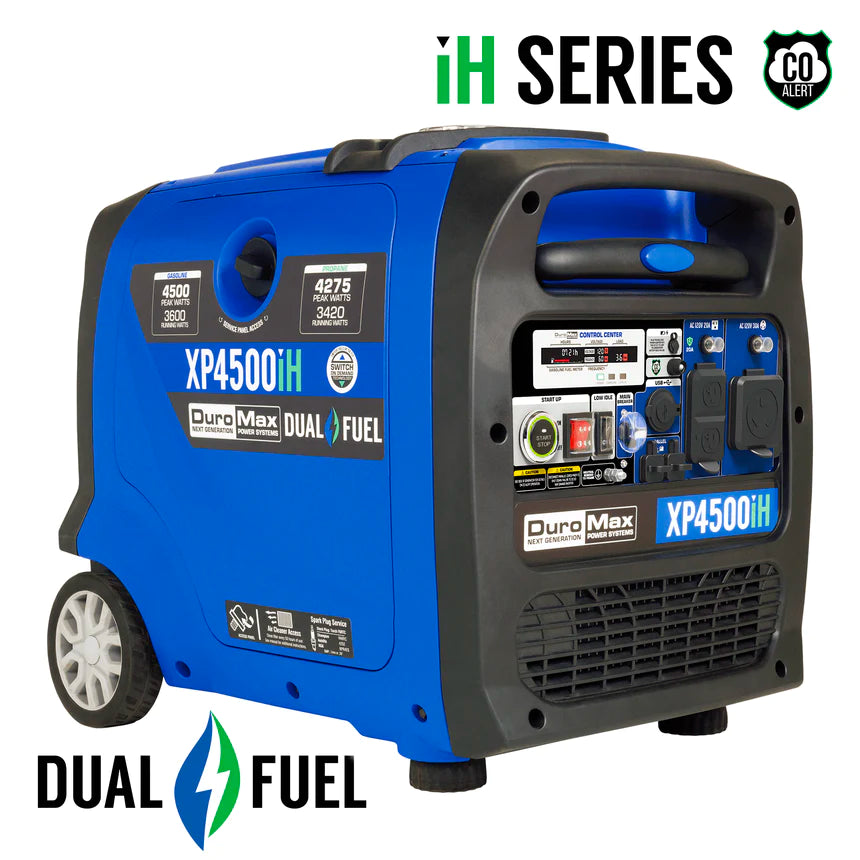 DuroMax XP4500iH - 4500 Watt Dual Fuel Inverter Portable Generator
Save

Liquid error (snippets/product-badge line 32): Computation results in '-Infinity'

%
Tailored for efficiency, the DuroMax XP4500iH runs using a top-of-the-line inverting technology providing even more power than its little brother the XP2300iH. The unit is equipped with a robust 223cc DuroMax engine providing reliability and power with quiet operation.
Peaking at 4,500 watts of power, the inverter generator delivers staggering levels of energy to small and large appliances, high amperage power tools, lights, and air conditioning units.
Standing at a light 130lbs, the DuroMax XP4500iH outclasses its competitors, storming through tasks while remaining easy to pull around, making it the ideal solution for work sites and camping trips.
Key DuroMax XP4500iH Features:
Powerful DuroMax Core:

The XP4500iH dual fuel generator registers a remarkable 3,600 watts of running power to make sure all your needs are suited.
Dual Fuel Technology:

The 4,500-watt portable generator gives you the choice of using liquid propane or gasoline as fuel, allowing for further convenience.
CO Alert:

To prevent the deadly hazards of accumulating carbon monoxide in the air, the DuroMax CO Alert feature automatically shuts off the engine when it detects that carbon monoxide levels are high.
16+ Hours of Runtime:

At low load, the 4,500-watt inverter generator can pull through hours of sustained use with no hiccups.
Rugged Build:

Full metal construction and industrial frames will make sure you don't have to worry about harsh conditions for years on end.
EPA and CARB Approved:

The DuroMax XP4500iH reduces toxic emissions by half by following rigorous environmental guidelines, keeping its users safe.
Low Noise:

Even throughout extended use, the inverter generator uses its oversized noise muffler to remain silent for calm and quiet operation.
XP4500iH Specifications:

Gasoline:
Peak Watts: 4,500

Running Watts: 3,600

Peak Amps @120V: 37.5

Running Amps @120V: 30
Propane:
Peak Watts: 4,275

Running Watts: 3,420

Peak Amps @120V: 35.6

Running Amps @120V: 28.5
Engine:
Amperage: 30A (Gasoline), 28.5A (Propane)

Voltage: AC: 120V 60 Hz, DC: 5V

Frequency: 60Hz

Horsepower: 7HP

Engine Size: 223cc

Engine Type: 4-Cycle Air-Cooled Spark-Ignition

Engine Speed: 3600 RPM

Fuel Type: Dual Fuel (gasoline/propane)

Fuel Tank Capacity: 2.64 Gallons
Product:
Runtime at 50% Load: Gasoline: 8 Hours, Propane: 11 Hours

Runtime at 25% Load: Gasoline: 16 Hours, Propane: 19 Hours

Start Type: Recoil

Volume Level: 65dB

EPA Certified: Yes

CARB Certified: Yes

CSA Certified: No

Product Dimensions: 24"L x 19" W x 22" H

Product Weight: 130 Lbs
Off-the-grid DuroMax Capabilities
Using the latest and greatest that DuroMax generator engines have to offer, the XP4500iH dual fuel generator clocks in at a fantastic 4,500 watts of maximum power, allowing all your appliances to run properly in addition to charging external batteries.
Combined with copper windings providing superior heat conduction compared to aluminum, the unit uses an alternator coupled with a microprocessor to generate power in a more efficient method, allowing the DuroMax XP4500iH to remain light, quiet, and productive.
Dual Fuel Technology
Using innovative Dual Fuel Technology, this 4,500-watt DuroMax inverter generator can function using both gasoline and propane and reach up to 19 hours of runtime, providing efficiency, reliability, and convenience.
Also thanks to idle control, the engine saves even more energy by automatically lowering the RPM when it detects it's not being used. Working in harmony with the idle control, an automatic voltage regulator stabilizes the engine in case of voltage spikes, protecting it from wear-and-tear for years to come.
Check out our entire range of dual fuel portable generators from leading brands.
CO Alert
To protect its user from the dangers of accumulated carbon monoxide, the DuroMax XP4500iH features a smart technology that allows it to automatically switch the engine off when it detects that emitted carbon monoxide levels are high.
The DuroMax XP4500iH guarantees a healthy and worry-free experience to host your peace of mind.
Eco-Friendly
The DuroMax XP4500iH follows health standards provided by the Environmental Protection Agency and California Air Resources Board, meaning it is both EPA and CARB-approved and therefore environment-friendly.
By complying with those guidelines, the 4,500-watt inverter generator show controlled emissions and reduces toxic fumes by 50%, making it the ideal solution for job sites and camping sites where users will be in close proximity to the unit.
Robust Build
Protecting the sleek attire of the DuroMax XP4500iH, full metal construction and heavy-grade frames are resistant to harsh weather conditions and years of wear-and-tear.
To facilitate going through rough terrain, solid-fill tires can help you navigate anywhere, never running flat and providing you with power anywhere you go.
Fully Loaded Power Panel
Plug your appliances, charge your batteries, and power your tools in seconds thanks to multiple outlets and maximum compatibility. The 4,500-watt inverter generator is perfect for construction sites where different tools are being used.
To push convenience even further, the fully featured power panel includes a circuit breaker next to the battery switch, both allowing you to turn the unit off in case of an emergency such as overload or a power surge.
Benefits of Using Propane
The DuroMax dual fuel range uses gas and propane. Although only capable of delivering 95% of the power that gasoline provides, using liquid propane as a fuel source can be extremely convenient. Some benefits include:
Immediate Start:

Because it doesn't need to be warmed up, propane immediately powers the engine, which is exceptionally helpful in cold locations and weather.
Economical: Liquid propane is a widespread resource, thus making it the cheaper option compared to gasoline, and when paired with an inverter generator such as the DuroMax XP4500iH, the runtime is even longer.
Avoid Spilling:

Thanks to a propane hose that connects via an inlet, propane will flow directly into the engine with no spills whatsoever.
Clean-burning Fuel:

Gasoline leaves residue all over the fuel lines, exhaust, and other engine parts. Propane doesn't, meaning you don't have to clean them even after extended use.
Suited for Outdoor Use:

Using propane on the DuroMax XP4500iH dual fuel generator results in half the carbon monoxide emissions, making it the healthiest option.
No Additives Needed:

While gasoline requires expensive stabilizers to preserve itself, propane can be stored for as long as 30 years with no additives.
DuroMax XP4500iH Video Overview