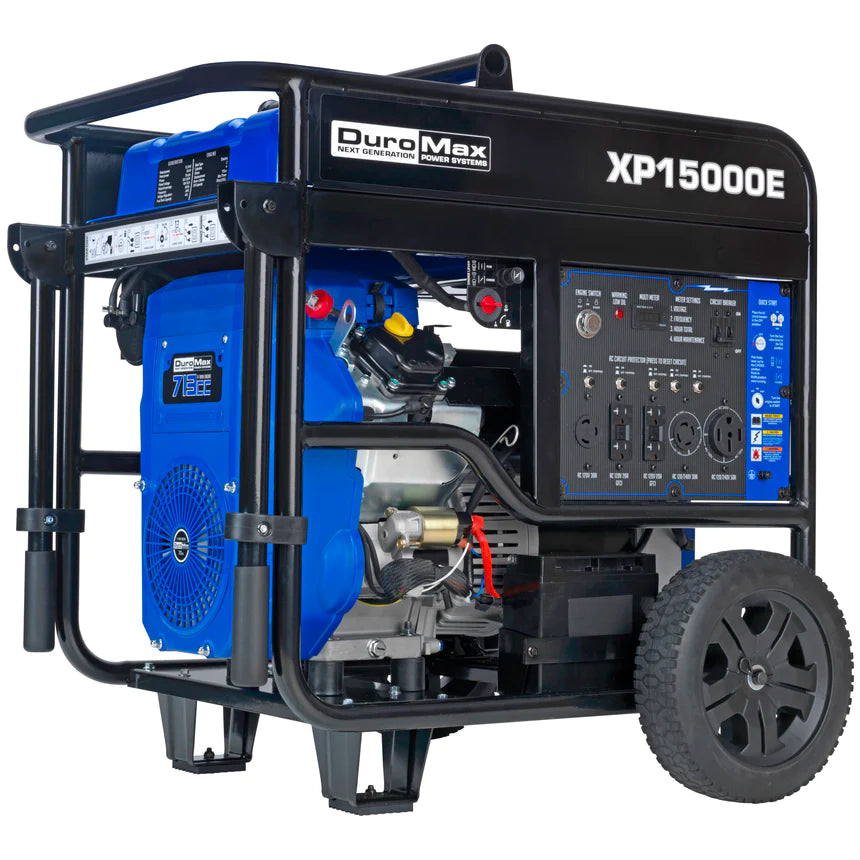 DuroMax XP15000E - 15000 Watt Gas Portable Generator
Save

Liquid error (snippets/product-badge line 32): Computation results in '-Infinity'

%
Capable of pushing out an astounding 15,000 Watts of power, the DuroMax XP15000E provides a portable home standby generator option with a reliable power source, a fully featured power panel, a built-in spark arrestor for noise reduction, low oil protection, and easy operation.

Built with zero compromises, this generator is ideal for heavy users. Because it is able to funnel power into high amperage power tools, the DuroMax XP15000E portable generator is an essential piece of utility for heavy loads, job sites, and an inevitable power outage.
Those who want it all will find the DuroMax XP15000E to be a reliable power source that not only provides high and sustainable levels of power but is also supported by a light and sturdy metal construction.
Key DuroMax XP15000E Features:
713cc V-Twin Engine: Now equipped with two cylinders, the electric start portable generator storms through heavy tasks and provides home backup for extended periods of time.

Fully Loaded Power Panel: This powerful gas-powered generator features a user-friendly user interface. The power panel includes a transfer switch, an electric start, a circuit breaker, and a wide set of outlets to power multiple devices for maximum compatibility.

15+ Hours of Runtime: Thanks to an optimized use of the 10.6 gallons of fuel capacity, the large standby generator sustains power for up to 18 hours at 25% load.

Industrial-Strength Durability: The metal construction and frames of the XP12000E portable generator protect it from wearing out over time. The all-copper windings deliver improved heat dissipation, thus less damage.

CARB and EPA Compliant: This gas-powered portable generator features an environmentally optimized use of its fuel system, better conducting gases and toxic fumes.

Spark Arrestor Noise Reduction: Using its built-in spark arrestor, the electric start portable generator offers reduced noise for easy operation.
DuroMax XP15000E Specifications:
Gasoline:
Peak Watts: 15,000
Running Watts: 12,500
Peak Amps @120V: 125.00
Running Amps @120V: 104.00
Peak Amps @240V: 62.50
Running Amps @240V: 52.00
Engine:
Amperage: 100A/50A
Voltage: 120V/240VAC
Frequency: 60Hz
Horsepower: 23HP
Engine Size: 713cc
Engine Type: 4-Cycle Air-Cooled Spark-Ignition
Engine Speed: 3600RPM
Fuel Type: Gasoline
Fuel Tank Capacity (Gasoline): 10.6 Gallons
Product:
Runtime (Gasoline) at 50% Load: 8 Hours
Start Type: Electric/Recoil
Volume Level: 83dB
EPA Certified: Yes
CARB Certified: Yes
CSA Certified: No
Product Dimensions: 30"L x 33" W x 35" H
Product Weight: 418 Lbs
Power Through Any Task
The 4-stroke 713cc V-Twin engine brings enough horsepower to make this one of the most powerful DuroMax portable generators. With an engine speed of 3600RPM, the gas-powered portable generator is suitable for heavy loads on job sites and provides a reliable home backup option.
Capable of a whopping 15,000 Watts output, the electric start portable generator provides a steady stream of power thanks to the technology of the powerful V-Twin engine.
On top of that, 713cc of headroom allows the DuroMax XP15000E to perform at its finest while remaining efficient.
Fuel Your Moments
Equipped with a 10.6 gallons fuel tank, the XP15000E will outrun your power outage and provide ample runtime for your needs.
Also thanks to an idle feature, the electric start portable generator lowers the engine speed to avoid you having to manually shut it off. Additionally, the DuroMax XP15000E features a low oil shutoff, automatically shutting it off when oil levels are low.
This unit also highlights an easily accessible fuel tank for safe and easy operation. On a full tank and half load, this portable generator can easily power all your appliances for hours on end.
Eco-Conscious
The DuroMax XP15000E guarantees an eco-friendly use, making it compliant with the California Air Resources Board (CARB) and the Environmental Protection Agency (EPA) guidelines.
The electric start portable gas generator from DuroMax emphasizes the control and better handling of toxic fumes such as reactive organic gases, nitrogen oxides, and hazardous particles.
Accentuating the user's quality of life, the electric start portable generator features a spark arrestor noise muffler, providing calm and reliable operation for camping and outdoor use.
In It For The Long Run
Durability is essential. That's why this portable generator was built using metal construction and heavy-duty frames. This build reinforces the DuroMax XP15000E generator and protects it against rain, corrosion, scratches, and wear over time.
Solid-fill tires allow for easy traversal and will never run flat. Combined with the wheel kit, the removable lifting brace facilitate raising the portable generator off the ground.
Added to that, 100% copper windings lay out improved heat dissipation, making the gas-powered DuroMax XP15000E even more efficient, thus lasting longer.
Thoughtful Design
Assembling this portable generator can be done in minutes, making it a reliable option for travel, exploration, and endless possibilities. The wheel kit and foldable handle bring an effortless out-of-box operation.
The XP15000E features a fully functional power panel, providing a wide range of outlets for easy connection. To simplify operation, the electric start activates the unit to begin producing power and immediately provides home backup. It even packs a recoil start in case of battery drain.
The panel includes a digital voltmeter, making it perfect for tracking output and maintenance hours. The circuit breaker offers the ability to turn the unit on or off in case of power surges or overloads.
To top it off, because the DuroMax XP15000E makes no compromises, the gas-powered portable generator features the MX2 Power Boost technology, capable of doubling the voltage up to 240V, conducting even higher levels of power.