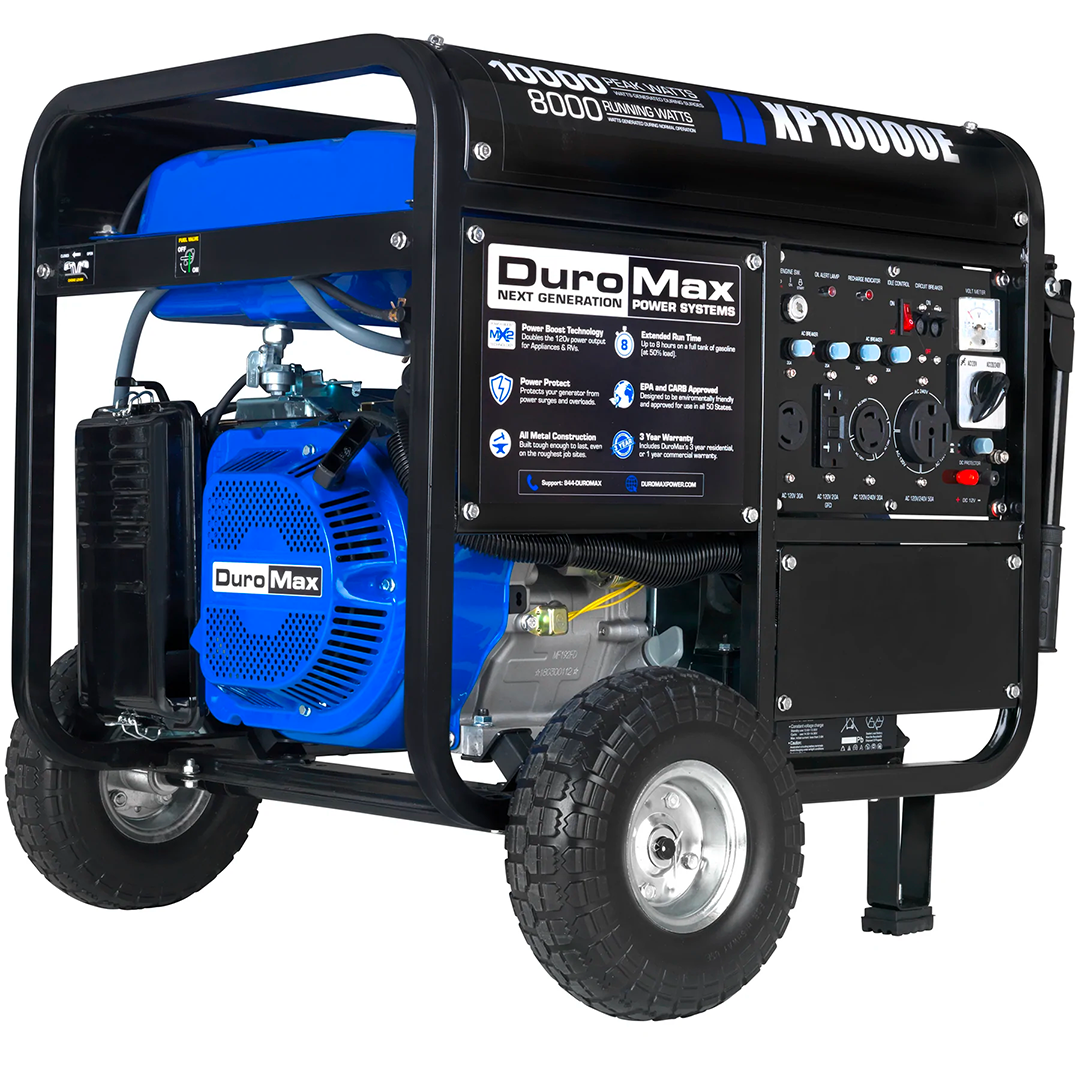 DuroMax XP10000E - 10000 Watt Gas Portable Generator
Save

Liquid error (snippets/product-badge line 32): Computation results in '-Infinity'

%
Find yourself at the mercy of an aging power grid? Live in an area known for frequent storms and outages? Don't get caught without power when you need it most. Stay prepared for any situation with the portable gas powered DuroMax XP10000E.
With a 10,000 watt maximum power output this unit will power everything from high amperage power tools to high-voltage appliances. Like all DuroMax generators, you can depend on the quality metal construction to handle multiple jobs and heavy loads.
Key 
DuroMax XP10000E

Features:
High Power, Low Complexity - 10,000 watt output easily handles heavy-duty loads, while simple controls reduce the pain of operation and maintenance

Power that lasts - U​p to 10 Hours of Runtime per tank and 1​2v DC charging post for charging external batteries

Safe & Easy to Use - Equipped with user-friendly electric start, automatic low-oil shutoff sensor, and built-in spark arrestor for safe, campsite approved operation

Maximum portability - The included easy to assemble wheel and handle kit allows you to transport power from site-to-site with ease

Environmentally Friendly - Satisfies the emissions standards and strict guidelines of both the EPA (Environmental Protection Agency) and CARB (California Air Resources Board) for all 50 states

High-quality American Made Machinery - Well-made cast-iron sleeved engine, and a durable all-metal construction built for tough situations
Have power when and where you need it with this portable generator. Power up the grill while tailgating, use it for your toughest job sites, or keep it for smooth quiet operation on-the-go for your RV or camping trip. No matter where you take it, the gas powered DuroMax XP10000E will give you maximum power and peace of mind.
With the quality and reliability that you expect from all DuroMax generators easily power virtually any device using the XP10000E's full panel of output options. No job is too big or small for this versatile and durable solution.
A Reliable Portable Generator with Maximum Compatibility
The DuroMax XP10000E portable generator is an affordable and effective alternative to expensive home standby units and their many hidden costs. Whether you need to power multiple small load appliances, heavy duty power tools, a water pump, or your home air conditioner, the XP10000E is sure to get the job done with safe and easy operation.
This gas powered portable generator comes ready to connect to your RV or home transfer switch. The 10,000 watt output offers consistent steady performance for powering high voltage appliances as well as high amperage lighting and electrical. Feel safe and secure during power outages knowing that the DuroMax XP10000E is equipped with an automatic voltage regulator protecting your systems and equipment from surges, sags, and brown outs.
At full power the robust 439cc DuroMax OHV engine allows you to enjoy up to 10 hours of operation. The durable all-metal construction and high-quality machinery will make this powerful portable generator your reliable go-to for job after job.
Fully-Featured Power Panel
Heavy loads and power surges are no match for this portable generator that provides reliable operation with its fully featured power panel. Monitor your loads and liquids with the easy-to-read volt meter, recharge indicator, and low oil shutoff sensor.
The DuroMax XP10000E power panel includes, Surge-Arrest protection, a circuit breaker switch, an idle control sensor, and a wide selection of power outlets for varying loads and appliances. With 120v GFCI outlets, transfer switch-ready 50A outlet, and 12v charging post for charging external batteries, you can begin producing power for a variety devices and machines.
Easy Operation
With this gas powered portable generator, you are able to begin producing power just easily as you would start your car. Simply add fuel and turn the key switch electric start, and your 10,000 watt power solution is up and running. The DuroMax XP10000E also includes an intelligent idle control feature to keep you saving fuel and reducing noise throughout the ebbs and flows of your load demands.
On the go? Moving this beast of a machine from site-to-site is a simple task thanks to the included wheel and handle kit. Sturdy fold-away handles evenly distribute the weight load, while 10" solid fill tires make transport a breeze regardless of the terrain.
Environmentally Friendly Engineering
The DuroMax XP10000E portable generator is equipped with a number of features that ensure that it is environmentally-friendly while also being compatible with the strict guidelines of many camping and job sites across the 50 states. Onboard features such as the built-in spark arrestor prevents site fires, while the oversized muffler reduces operational noise to a low 72 dB. Certified by both the EPA (Environmental protection agency) and CARB (California air resources board) you are free to operate the XP10000E portable generator with safety and confidence.
XP10000E Specifications
Gasoline

Peak Wattage: 10,000

Running Wattage: 8,000

Running Amperage at 120V: 66.67

Running Amperage at 240V: 33.33

Runtime at 25% Load: 22

Runtime at 50% Load: 10

Engine & Emission Specifications

Engine Manufacturer: DuroMax Power Equipment

Engine Type: 4-Stroke

Valve Type: OHV

Engine Cooling Type: Forced Air

Engine Size: 439cc

Engine Speed: 3600 RPM

Starting Type: Key Switch

Electric Start: Yes

Recoil Start: Yes

Idle Control: No Load Low Idle

Fuel Delivery System: Carburetor

Fuel Types: Gasoline

Oil Cooling Type: Splash

Recommended Oil: 10W-30

Recommended Oil Types: Blended, Conventional, or Synthetic

Oil Capacity: 37.2 fluid oz

Automatic Low Oil Shutdown: Yes

Cast Iron Sleeve: Yes

Bearing Type: Stainless Steel Ball Bearing

CO Sensor Shutdown: Yes

EPA Certified: Yes

CARB Certified:Yes

50 State Emissions: Yes

Panel Specifications

GFCI Outlets: Yes

Volt Meter: Analog

5-20R: 2

L5-30R: 1

L14-30R: 1

14-50R: 1

12V Post: 1

Generator Specifications

Manufacturer: DuroMax Power Equipment

Part #: XP10000E

Voltage: 120/240 Volts

Frequency: 60 Hertz

GFCI Outlets: Yes

Winding Material: 100% Copper Windings

Automatic Voltage Regulator: Yes

Battery Type: 12V SLA

Battery Included: Yes

RV Ready: Yes

Home Backup Ready: Yes

Fuel Tank Capacity Gasoline: 8.3 Gallons

Fuel Gauge: Yes

All Metal Construction: Yes

Product Dimensions: 29"-Long x 30"-Wide x 26"-High

Product Dry Weight: 218-lbs

Product Weight: 228-lbs

Volume (db): 72 dB

UPC: 891784001006

Warranty: 3 Year

Wheel & Handle Kit: Included

Wheel Type: Metal Hub

Wheel Diameter: 10-Inches

What's in the Box?: XP10000E Generator, Oil Funnel, Spark Plug Wrench, Tool Set, Wheel & Handle Kit, DC Charging Cables, and Owners Manual
This full-featured portable gas generator has everything you need to get the job done with ease. In the unlikely event that you experience performance issues with your XP10000E, you are covered by the same 1 Year Commercial Limited Factory, and 3 Year Residential Limited Factory warranties that apply to all DuroMax generators.
The simple electric start, powerful 10,000 watt output, durable construction, and safe and easy operation make the DuroMax XP10000E gas powered portable generator a reliable choice. With low emissions and redundant safety features, you can take control of your power needs with confidence and peace of mind.