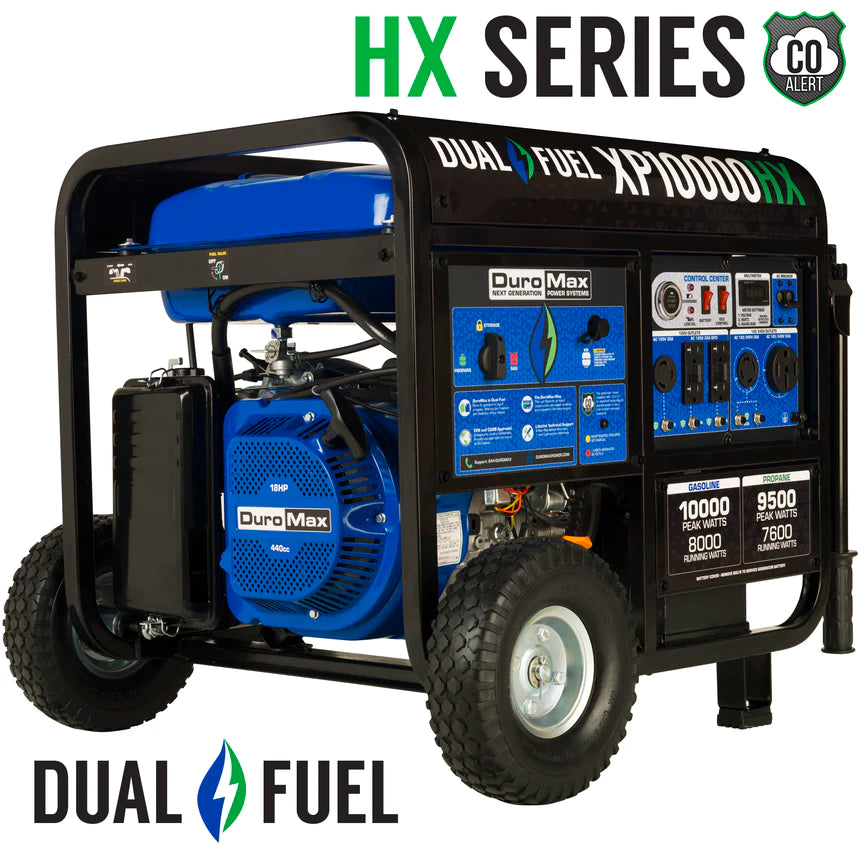 DuroMax XP10000HX - 10000 Watt Dual Fuel Portable Generator
Save

Liquid error (snippets/product-badge line 32): Computation results in '-Infinity'

%
Looking for an affordable and powerful portable generator? Look no further than the DuroMax XP10000HX and it's impressive feature set as part of the bestselling HX Series.
Producing power at up to 10,000 watts, this generator is a great choice for those who need a sturdy and reliable source of backup power. It is powered by a 7.5-horsepower 440cc OHV engine and can run for up to 12 hours on a full tank of gas. The generator has two 120-volt outlets and one 240-volt outlet, so you can power just about anything you need.
Like all models in the HX Series of DuroMax portable generators, the hybrid Dual Fuel technology means that the DuroMax XP10000HX 10,000 watt dual fuel unit can be fueled by your choice of propane or gasoline for maximum versatility. Another stand out feature of this line is the DuroMax CO Alert Technology that ensures operational safety for your home or job site. With efficiency in mind, the automatic idle control reduces fuel consumption when the unit is not in use.
The illuminated control center allows for easy viewing in low light conditions, and includes easy to read indicators. It features an automatic voltage regulator for stable power no matter the conditions, an hour meter to keep track of run time, and a circuit breaker which protects your equipment from overloads. Manage the machine's fluids with an oil change warning light, and a fuel gauge that lets you know when it's time to refuel.
The XP10000HX is a Versatile Generator With Many Uses
W​ith all the power of a stationary home standby generator at a fraction of the price, the DuroMax XP10000HX Dual Fuel is the perfect solution for providing backup power to your home. If there is a power outage or blackout, this reliable generator is able to power all your essential electrical needs including lighting, major appliances, and a central AC Unit.
The XP10000HX portable generator includes a large noise-dampening muffler allowing it to run at a low 72 dB noise level so you can use it without disturbing your neighbors. The CO Alert technology means that you can rest assured that this generator is safe to use. It will automatically shut off if harmful levels of Carbon Monoxide are detected, keeping you and your family safe.
Need a power source for your job site? Want to power your RV while camping in the great outdoors? This dual fuel gas propane portable generator is perfect in a variety of situations. I​n addition to its impressive power output, this versatile model is also packed with other features that make it a standout choice.
The 10" tire kit and handles make it easy to move this workhorse between sites, and it uses automated electric start and shutdown so that you don't have to waste your energy pulling cables to get it running. With the choice of propane or gasoline fuel, you are able to use whatever you have on hand, and don't have to worry about running out of power in the middle of a job.
T​he XP10000HX dual fuel is an inexpensive beast of a machine that can handle the most difficult tasks. It is one of the most popular DuroMax 10,000 watt generators. The heavy-duty construction makes this generator built to last. Storms and emergency events are no match for the XP10000HX, and the easy push-button start even works in cold weather. Its efficient fuel consumption, durable components, and all metal frame will cover you when you need power most.
E​asy Assembly
One of the major advantages of the DuroMax XP10000HX is its quick assembly. Easy to follow instructions and user-friendly controls make assembly and operation a breeze. With a simple propane hose hookup, easy-to-attach wheels and handles, and simple push-button start, you can get it out of the box and set up in minutes instead of hours.
S​afety & Reliability
T​he DuroMax dual fuel XP10000HX includes useful safety features to complement its strength and durability. If the oil level gets too low or the machine begins to overheat, an automatic shut-off system kicks in to protect the generator's components. The CO Alert functionality will shut down the device to prevent Carbon Monoxide output from reaching toxic levels, and GFCI outlets balance electrical currents to prevent damage from power shorts and surges.
With fire prevention in mind, the built-in Spark Arrestor makes it safe for use on regulated sites such as campgrounds. For easy transport, the 10-inch solid-fill tires are suitable for use on any terrain, and the secure fold away handles distribute the carry load. In case the battery is drained, the XP10000HX portable generator also includes a traditional recoil starter as a backup option. No matter how you start it, or which fuel you choose, you can count on reliable, safe and easy operation.
In the unlikely event that you run into issues with this well-built generator, you're covered by DuroMax's 1 Year Commerical Limited Factory Warranty, and 3 Year Residential Limited Factory Warranty. So, get up and running quickly with the DuroMax XP10000HX, and have peace of mind no matter what situation you find yourself in.
What's I​ncluded:
XP10000HX Generator, Oil Funnel, Spark Plug Wrench, Tool Set, 10" Diameter Wheel & Handle Kit, Propane Regulator, and Owner's Manual
Key XP10000HX F​eatures:
1​0,000 Watts (Peak) 8000 Watts (Running)

U​p to 10-12 hours of runtime

C​hoose between Gas or Propane with this DuroMax Dual Fuel model

Safe and Easy Operation with Feature-Packed Control Panel

D​urable All Copper Windings & All Metal Construction for Long-Life Operation

1​2v Battery included

RV-Ready with Built-in Spark Arrestor

American Made
Fully loaded power panel
Multiple Outlets to Power a Variety of Devices with Varying Load

4 - 1​20v GFCI Outlets

1-120v 30a Outlet

1- 240 Volts Twistlock Outlet

1​- Heavy Duty 120/240v 50a Outlet (Transfer Switch Ready)
Additional Specs:
Front-Facing Fuel Interface

R​ecommended Oil: 10W-30 Blended, Conventional, or Synthetic

G​asoline Fuel Tank Capacity: 8.3 Gallons

S​uggested Propane Tank Size: 40 lbs. (minimum)

I​ncluded Propane Hose & Regulator

4​39cc OHV DuroMax Engine with Cast Iron Sleeve

D​imensions: 29" Long x 30" Wide x 26" High

W​eight: 231 lbs.

F​ully-Isolated Motor Mounts

Oversized Muffler for Q​uiet Operation @ 72dB
Controls & Indicators:
Push-Button Electric Start

Individual Circuit Breakers

DuroMax CO Alert Technology

F​uel Guage

Low-Oil Sensor with Automatic Shutdown

I​dling Control

Digital Multimeter (Voltage, Frequency, Hours Run, Recommended Maintenance)
XP10000HX W​arranty Information:
1​ Year Commercial Limited Factory Warranty

3​-Year Residential Limited Factory Warranty
 Also check out our full range of dual fuel generator models from leading brands.
DuroMax XP10000HX Video Overview