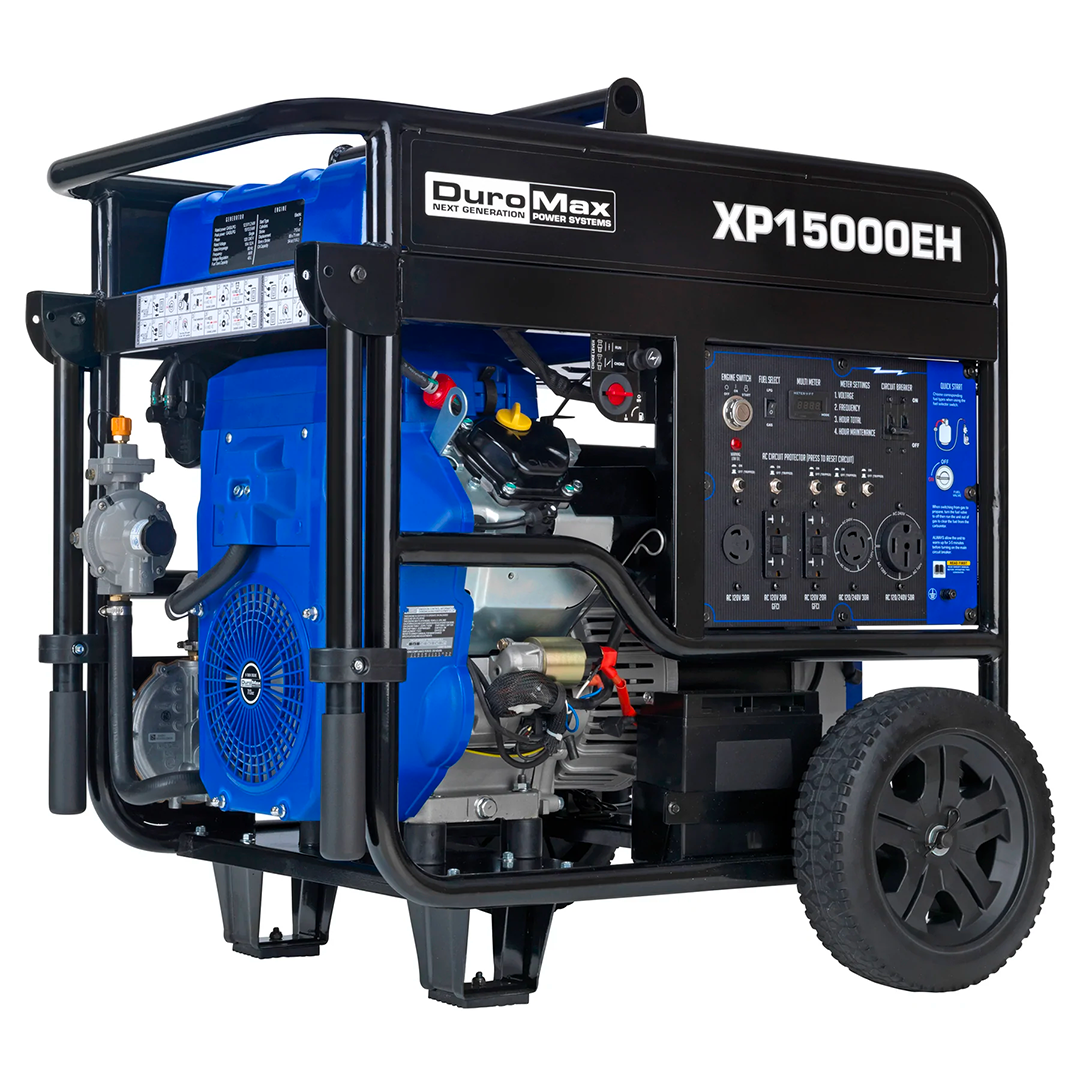 DuroMax XP15000EH - 15000 Watt Dual Fuel Portable Generator
Save

Liquid error (snippets/product-badge line 32): Computation results in '-Infinity'

%
The DuroMax XP15000EH dual fuel generator is a powerhouse capable of even the most demanding tasks. In addition, with a 15,000 watt peak output, it is capable of serving as a home backup generator.
This beast of a generator includes a wheel kit with handles. It is also built with a rugged steel frame to protect its 713cc v twin engine. The DuroMax XP15000EH is RV ready and home backup ready.
Check out some of the awesome features found on this powerful dual fuel generator:
V twin engine

Electric start

Power your entire home

Wheel kit included

50 amp outlet

15,000 watt reliable power source
Power Everything with this 15,000 Watt DuroMax Dual Fuel Generator
With the DuroMax XP15000EH, you can power your whole home or just a few tools on a jobsite. Wherever you need power, the XP15000EH can deliver it.
A common misconception is that you need to spend tens of thousands of dollars for a home standby generator. But the truth is a large generator like the DuroMax XP15000EH is more than capable of powering most of your home backup needs.
Don't worry if your home does not have a transfer switch. You can always plug your devices and appliances in directly to the four 120V 20A GFCI protected outlets. Simply use an extension cord to go from the generator and plug in anything you want, such as a refrigerator.
Similarly, large RVs need a lot of power to keep everything running, and you may feel like you are stuck going to campgrounds with power. But the truth is a large generator such as this is more than capable of powering even the largest RVs on the market.
With a 713cc v twin engine, the DuroMax XP15000EH is also capable of running large tools and appliances. In addition to a 120V/240V 30A twist lock outlet, it also has a 120V/240V 50A outlet. This 50A outlet is perfect for high amperage power tools such as welders or large saws.
Regardless of what you plan on using the generator for, you should always calculate the number of amps required. This will ensure that the generator will meet your needs.
The DuroMax XP15000EH is capable of running most home appliances and multiple window air conditioners. However, it may not be capable of running very large appliances such as central air conditioners.
DuroMax's Market Leading Dual Fuel Technology
With DuroMax dual fuel technology, you can choose between gas or propane. This offers great flexibility for those with large propane tanks at home as it can truly serve as a whole home backup generator.
Propane is great because it is less messy and easier to transport than gasoline. It is also great with tanks at home. But unfortunately, there is a lack of power output when compared to running the generator on gasoline.
The knob on the side allows you to easily switch between propane and gasoline by turning the switch on the side. The knob also serves to cut fuel off completely, which is convenient to prepare the generator for storage.
Moreso, you can choose between what is easier to access. For example, if you run out of propane, but there is a gas station nearby, just fill up the tank and flip the switch. This also enables you to use the onboard fuel tank as a reserve.
Everything you need to run either fuel is included. Such as a propane hose and regulator. The onboard 10 gallon gas tank holds plenty enough fuel for hours of runtime. The only thing you need is a gas can or propane bottle.
We also have a full range of dual fuel models here.
Key Features of the XP15000EH
DuroMax's XP15000EH is full of features to make the generator easy to operate. With a generator of this size, wheels are absolutely essential to stay mobile. Metal wheels with solid rubber tires and handles are included as part of the wheel kit.
A convenient, fully featured power panel is where you will find all of the necessary controls and connections for the generator. This includes a key on/off switch, which is perfect for jobsites where you don't want other people to access your power.
Also on the power panel is the fuel select switch to switch between gas and propane easily. The main breaker is also included to protect both the generator, wiring, and devices from short circuits and overcurrent.
One of the most convenient additions to the power panel is a multimeter which provides a digital readout of voltage, frequency, hours, and maintenance hours. There is also a low oil shutoff with an indicator light to the left of the multimeter. It lights up when the engine oil is low and will also shut the engine off.
Another necessary feature for a generator of this size is an electric start which works with the turn of a key. Starting a generator can be an arduous and back-breaking task, so an electric start is a welcome addition. Because the generator is so large, it does not have a recoil starter as it would be nearly impossible to use on the V-twin engine.
Generator Specifications
The DuroMax XP15000EH can deliver 15,000 gasoline peak wattage and 12,500 running watts. In comparison, it delivers 14,250 peak watts on propane and 11,400 running watts. See all DuroMax 15,000 Watt generator models here.
This generator is also capable of delivering 50 amps of power through its 120V/240V NEMA 14-50 outlet, perfect for powering an entire home or large tools like welders. Of course, there is also a 120V/240V NEMA L14-30 twist lock outlet capable of delivering 30 amps, perfect for smaller home needs and RVs.
You will also find a NEMA L5-30 outlet for smaller campers and larger tools. Finally, there are four GFCI protected 120V 20A outlets for all of your basic and essential power needs. You can use these outlets to plug appliances or extension cords directly rather than using a transfer switch.
All of these outlets are powered by a 713cc v twin engine that is 50 state EPA and CARB certified, delivering unmatched power you can take anywhere. It has an onboard fuel tank that holds 10 gallons of gas, enabling it to run for hours on end. In addition, a rugged steel frame helps protect the generator even on the roughest job sites.
The DuroMax XP15000EH is 30" X 33" X 35", with a dry weight of 380 lbs. Once filled with fuel and oil, it will be considerably heavier, which is why the included wheel kit and handles are absolutely essential.
With a cast iron sleeve and copper winding material, this generator is sure to last many years of service. DuroMax generators all include a three-year warranty to ensure quality. See the full range here.
DuroMax XP15000EH Video Overview