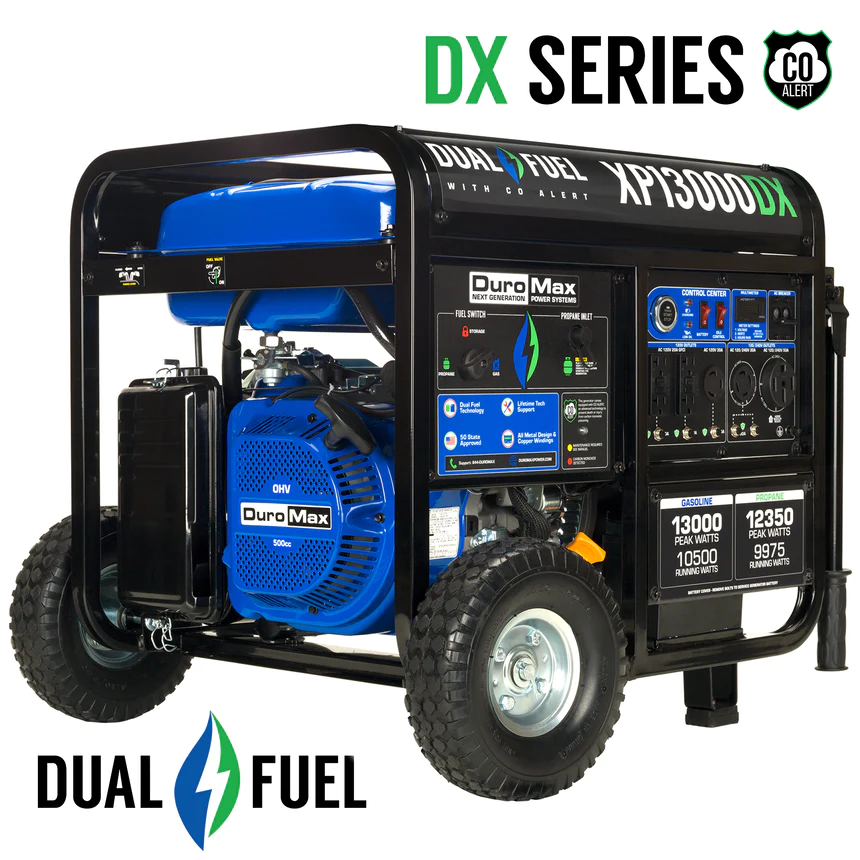 DuroMax XP13000DX - 13000 Watt Dual Fuel Portable Generator
Save

Liquid error (snippets/product-badge line 32): Computation results in '-Infinity'

%
The DuroMax XP13000DX provides an impressive 13,000 watts of power. This dual fuel portable generator will make sure you're crushing it.
Equipped with innovative Dual Fuel Technology, this 13,000-watt unit supports both gasoline and propane as a fuel source, offering you the convenience of choice.
While conventional standby units produce heavy amounts of toxic fumes and unhealthy particles, the DuroMax XP13000DX uses the brand new CO Alert Technology allowing it to automatically shut down the engine when it detects that carbon monoxide levels are high.
Key DuroMax XP13000DX Features:
Vigorous DuroMax Engine:

Capable of sustaining a whopping 10,500 watts of power, the portable generator flies through heavy loads thanks to its 500cc engine.
Dual Fuel Technology:

To accommodate your living conditions, DuroMax DX Series generators feature Dual Fuel Technology as standard practice, allowing you to use propane or gasoline as fuel sources.
9+ Hours of Runtime:

The 13,000-watt portable generator will keep up with you at all times, reaching as long as 17 hours of ongoing use.
Tough Build:

The DuroMax XP13000DX packs full metal construction and heavy-duty frames to protect it from harsh weather conditions and years of use.
EPA and CARB Approved:

Compliant with strict ecological guidelines, the unit features controlled emissions, therefore making it eco-friendly and suited for outdoor scenarios.
Noise Reduction:

Through sound reverberation inside the engine, the dual fuel portable generator is able to reduce the magnitude of the sound coming out of the exhaust to accommodate outdoor use.
XP13000DX Specifications:
Gasoline:
Peak Watts: 13,000

Running Watts: 10,500

Peak Amps @120V: 108.3

Running Amps @120V: 87.5

Peak Amps @240V: 54.2

Running Amps @240V: 43.8
Propane:
Peak Watts: 12,350

Running Watts: 9,950

Peak Amps @120V: 102.9

Running Amps @120V: 83.1

Peak Amps @240V: 51.5

Running Amps @240V: 41.6
Engine:
Amperage: 87.5A/43.8A (Gasoline), 83.1A/41.6A (Propane)

Voltage: AC: 120/240V 60 Hz

Frequency: 60Hz

Engine Size: 500cc

Engine Type: 4-Cycle Air-Cooled Spark-Ignition

Engine Speed: 3600RPM

Fuel Type: Dual Fuel (gasoline/propane)

Fuel Tank Capacity: 8.3 Gallons
Product:
Runtime: (Gasoline) at 50% Load: 8.5 Hours, (Propane) at 50% Load: 3.2 Hours

Start Type: Electric/Recoil

Volume Level: 72dB

EPA Certified: Yes

CARB Certified: Yes

CSA Certified: No

Product Dimensions: 30"L x 29" W x 26" H

Product Weight: 246 Lbs
Top-of-the-line DuroMax Performance
Thanks to 13,000-watt peak performance, the dual fuel portable generator can do it all. From lights and small and large appliances to high amperage power tools, the possibilities are endless.
While conventional units are built using aluminum windings to save on costs, the XP13000DX features 100% copper windings. Aluminum is an inferior heat conductor to copper and as a result, quickly overheats, slowly damaging the unit over time, whereas copper provides better heat dissipation thus lasting for years.
Dual Fuel Technology
The DuroMax DX dual fuel lineup now also supports propane as a fuel source, giving you the freedom of choice. the front-sided fuel input switch allows you to choose which source to pull from in moments.
To complement the blazing 500cc engine, idle control will automatically reduce engine speeds to prevent the unit from consuming more fuel than necessary. Efficient use of fuel will consistently translate to hours of runtime, yielding up to 17 hours of continuous use.
We have a wide range of generators with dual fuel technology here from leading manufacturers.
CO Alert
Overexposure to carbon monoxide can lead to numerous health issues, which is why the all-new CO Alert Technology prevents the DuroMax XP13000DX from negatively impacting its users, and automatically shutting the engine down if it detects that carbon monoxide levels are dangerous. This guarantees a risk-free experience even when in close proximity to the unit for extended periods of time.
Suited for Outdoor Use
To protect their users, DuroMax generators follow a precise set of guidelines regarding gas emissions, therefore making them eco-friendly and both EPA and CARB-approved.
These guidelines are provided by the Environmental Protection Agency and California Air Resources Board, meaning any certified portable generator is perfectly healthy to use in public spaces and forested areas.
DuroMax Longevity
The DuroMax XP13000DX features a rigid full metal build as well as heavy-grade frames to resist severe weather conditions and push the limits of what you're capable of doing when off the grid, guaranteeing years of use. The entire DuroMax collection is know for it's impressive longevity.
In addition, solid-fill tires allow for easy traversal through rough ground and will never run flat. This versatile Duromax 13,000 watt generator is also fitted with a foldable handle, making the 246lbs unit feel like an empty grocery cart.
Fully Featured Power Panel
The DuroMax XP13000DX features a side-mounted power panel that includes multiple outlets for plugging heavy-duty power tools and charging external batteries, as well as small and large appliances for maximum compatibility.
To prevent any damage, the power panel includes a circuit breaker and a battery switch, giving the option to turn the engine off in case of overload or power surges.
Benefits of Using Propane
By using propane instead of gasoline, you sacrifice about 5% of maximum performance but gain numerous advantages depending on your lifestyle:
Cold-proof:

During cold weather, gasoline needs to be warmed up before being able to run through the fuel lines. Propane doesn't, and immediately powers the engine every time.
Low-cost:

By choosing propane over gasoline, you can save money since it is more widespread than its liquid counterpart.
Spill-free:

Avoid any spilling by connecting your gas tank directly through a propane hose.
No Residue:

While gasoline leaves unwanted dirty spots on the fuel lines and engine components, propane burns clean and does not leave any residue.
Reduced Toxic Emissions:

By only emitting half the amount of toxic waste that gasoline produces, propane is undoubtedly the healthier and eco-friendly option.
Long Storage Time:

Gasoline requires expensive stabilizers to keep it from decaying and becoming unusable, while propane can sit for up to 30 years with no need for additives whatsoever.
DuroMax XP13000DX Video Overview