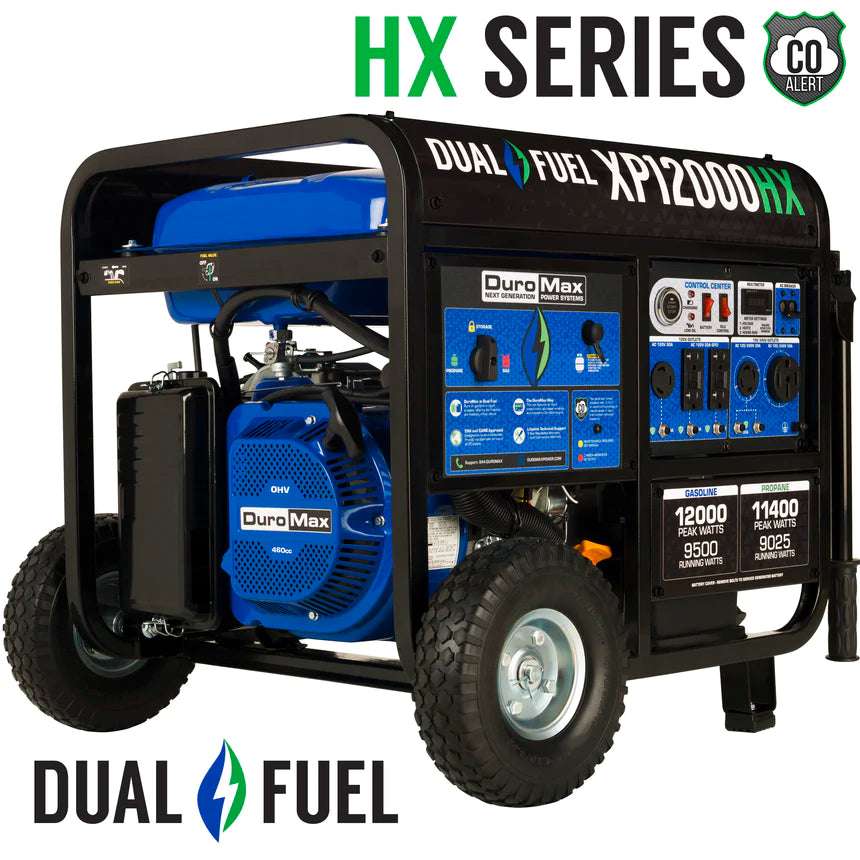 DuroMax XP12000HX - 12000 Watt Dual Fuel Portable Generator
Save

Liquid error (snippets/product-badge line 32): Computation results in '-Infinity'

%
The DuroMax XP12000HX is a 12,000-watt dual fuel portable generator, ideal for use during home power outages and on job sites. This model DuroMax generator also has CO Alert carbon detection technology to protect your loved ones from the dangers of carbon monoxide (CO2) poisoning. 
The DuroMax XP12000HX 12,000-watt generator is powerful enough to easily power most household essentials, including high-power and multiple small-load appliances. The DuroMax generators are genuinely your home backup solution in case of an outage or emergency event.
The top DuroMax XP12000HX features
The XP12000HX is one of the most powerful models of the HX series and, as one of the stationary home standby generators, has several innovative features to make using your generator safe and easy to operate:
Dual fuel choice equipped – propane, gas

Push button start

Fully loaded power panel

CO Alert technology

Metal construction and a cast iron sleeve

Smooth, quiet, and safe and easy operation

EPA and CARB approved with warranties
The DuroMax HX series of generators
DuroMax's HX generators are a series of powerful portable generators that can run on a fuel choice of gasoline or propane, thanks to the innovative DuroMax dual fuel system. The "H" in the DuroMax HX series stands for "hybrid fuel capability," while the X stands for the CO Alert system. Like other DuroMax generators, the DuroMax HX generators have robust and durable OHV engines.
The DuroMax HX generators – including the DuroMax XP12000HX generator – all feature the CO Alert carbon monoxide detection system. This system automatically detects the levels of carbon monoxide in the generator's environment. Should this level become unsafe, the generator automatically shuts down. This makes these generators especially ideal for Home Power Backup, where the generator may be used in a smaller space than on a job site.
The DuroMax series further features a newly designed, fully loaded power panel with a digital multimeter, front-facing fuel interface, and, in the case of the 10,000-watt and above models, a push button start. The smaller generators in this series feature a rocker start mechanism. There are also various sizes in the DuroMax HX series, from 4,850 watts to 13,000 watts.
The durable and long-lasting parts of the HX series also make the DuroMax HX Series generators a significant investment. The series also contains the longest-lasting all copper windings designed to ensure that the DuroMax HX generators are the longest-lasting portable generators on the market. The engines also range ranging from 500cc to 210cc in size. You won't need a more durable or powerful generator to power your home during a power outage or on a job site powering power tools. 
The DuroMax XP12000HX boasts some impressive specifications.
Wattage 12,000 watts

Weight 222 lbs.

Voltage 240 Volts

Engine  4-stroke, 460cc OHV DuroMax Engine 

Amperage 79.17A / 39.58A

Fuel Gasoline or propane 

Start Type  Electric / Recoil
Break down of the DuroMax XP12000HX Wattage According to the Fuel Type
Fuel Type Wattage
Gasoline  12,000 peak watts | 9,500 running watts 
Propane  11,400 peak watts | 9,025 running watts 
Dual Fuel choice equipped
The DuroMax XP12000HX with CO Alert runs on gas or propane, and the all-new control center onboard the generator, with its front-facing fuel interface, allows you to change your fuel type in seconds and without any hassle. A fuel choice also makes it easier to keep your generator running in an emergency event when fuel may be difficult to come by.

The DuroMax XP12000HX gas and liquid propane-powered generator also contains individual circuit breakers, idle control lever, and a low oil sensor for extra peace of mind. The suggested propane tank size for the DuroMax XP12000HX generator is 40 lbs minimum.
Looking for more dual fuel generator options? See them all here.
Fully loaded power panel
The DuroMax 12,000 watt XP12000HX has a fully loaded power panel and a newer style control panel that includes:
Four 120V GFCI household outlets

One 120V 30 AMP outlet

One 120/240V 30 AMP twist-lock outlet

A heavy-duty 120/240V 50AMP outlet to make it transfer switch ready

Digital volt meter and automatic voltage regulation
Co Alert technology
The innovative CO Alert technology helps keep your loved ones safe by automatically detecting CO2 levels in the generator's environment. The generator will automatically shut down if the environmental carbon monoxide levels become unsafe. This automatic CO Alert switch means you don't have to go to the unit to switch it off and breathe in the CO2 surrounding it, keeping you and your loved ones safe from CO2 poisoning.
Metal frame construction
The rugged construction of all HX DuroMax generator models, with construction frames made entirely from metal, ensures that the frames are stronger than competitors who may use plastic elements.
Smooth, quiet, and safe and easy operation
The DuroMax HX series of generators have fully isolated motor mounts and an oversized noise-reducing muffler with a built-in spark arrestor, allowing smooth and quiet operation. Coupled with a push button start button, CO Alert, a new control panel, and more makes for safe and easy operation.
EPA and CARB approved with warranties
All DuroMax generators run on solid-fill, no flat tires, which makes it easy to transport the generator smoothly over any terrain. The kit to assemble the no flat tires is included with the generator purchase. It has also been EPA and CARB approved for use in all 50 states. The DuroMax XP12000HX 12,000-watt dual fuel portable generator also has a 3-year residential and a 1-year commercial factory warranty.
What you get in the box
The DuroMax XP12000HX 12,000-watt dual fuel portable generator

Oil Funnel

Spark Plug Wrench

Tool Set

Wheel and Handle Kit

Propane Regulator

Owner's Manual
Regarding reliable, safe, and easy-to-operate generators, you can't go wrong with the DuroMax XP12000HX 12,000-watt dual fuel portable generator. DuroMax generators are lauded for their dependability, durability, versatility, performance, and longevity.
The Difference between the DuroMax HX and EH generators
The main difference between the DuroMax HX and EH generators is that, while they are both portable and fuel choice equipped, only the HX generators such as the XP12000HX have Co Alert built-in to automatically shut down in case carbon monoxide levels become dangerously high.
The DuroMax EH Series of portable generators is DuroMax's longest-running and best-selling open-frame generator line. It is a staple in the industry and, like the HX series, boasts with DuroMax OHV engines. There are many sizes of EH generators, from 4,000 watts to 15,000 watts. In the DuroMax EH series of generators, the "E" stands for electric start, while the H – as with the HX series – stands for hybrid fuel or dual fuel.
DuroMax XP12000HX Overview Video