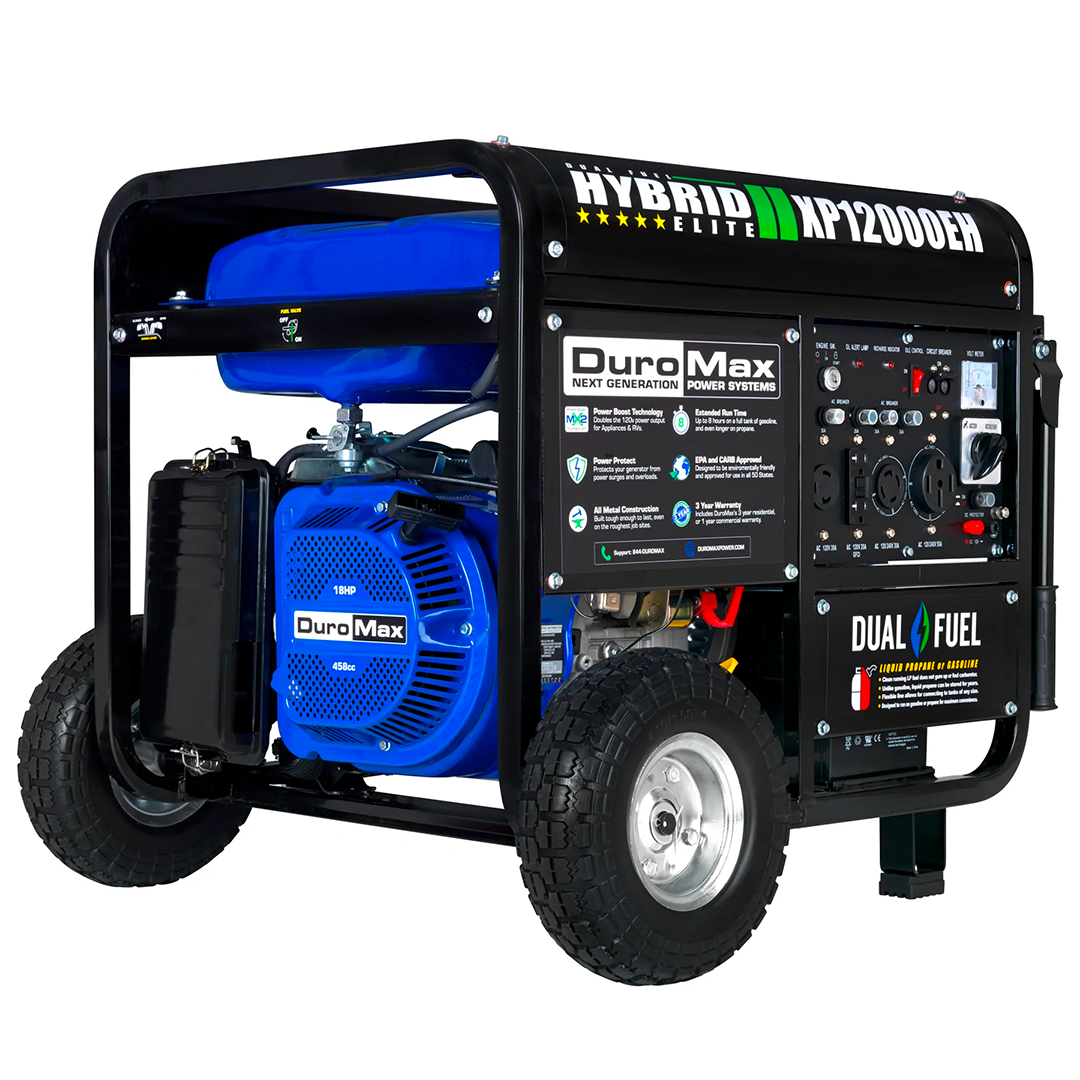 DuroMax XP12000EH - 12000 Watt Dual Fuel Portable Generator
Save

Liquid error (snippets/product-badge line 32): Computation results in '-Infinity'

%
With Dual Fuel Technology, the DuroMax XP12000EH gives you flexibility by allowing you to choose fuel input. The 12,000-watt dual-fuel generator runs on both gasoline and propane as fuel sources to suit your living conditions.
Clocking in at a whopping 12,000 watts of maximum power, the DuroMax XP12000EH wins its battles, effortlessly powering high voltage appliances, and high amperage power tools, all in a portable power source. This also includes charging external batteries and small appliances, you can even go for a hot cup of tea on your camping trip.
Supported by a fully loaded power panel, the DuroMax XP12000EH offers multiple outlets for maximum compatibility, making the 12,000-watt dual-fuel portable generator ideal for a job or camp site where different heavy-duty power tools are often used.
To take efficiency to another level, this portable power unit features idle control which lower engine speeds when not in use, saving fuel, and optimizing runtime. Added to that, an automatic voltage regulator handles voltage spikes and keeps performance stable throughout use. It also raises tolerance to overloads and power surges for safe operation.
Key DuroMax XP12000EH Features:
Dual Fuel Technology: Doubles as the perfect home backup solution in case gasoline is unavailable immediately. It also allows the DuroMax XP12000EH to run on propane, benefiting from a quick start in cold temperatures and less residue and dirty spots you will inevitably have to clean when using gasoline.

Blazing Power: Able to run at a steady 9,500 watts, the dual fuel portable generator powers high amperage power tools and your home air conditioner like it's nothing. The DuroMax XP12000EH can reach 12,000 watts on maximum power, allowing it to handle multiple jobs and heavy loads with no stutters.

10+ Hours of Runtime: The 12,000-watt dual-fuel generator features remarkable fuel life even on full power, lasting up to 9 hours at 50% load. During a power outage, the DuroMax XP12000EH can be a lifesaver.

Heavy-Grade Durability: DuroMax generators are made to be efficient, but are also built to make sure you can count on them when you need them. Metal construction protects the unit from rain, bumps, and scratches, while industrial frames close up the seams and provide further resistance to unfavorable conditions. When it comes to endurance, the DuroMax XP12000EH can take a lot of punches.

CARB and EPA Compliant: The DuroMax XP12000EH follows environmental guidelines provided by the California Air Resources Board and Environmental Protection Agency. This means reduced emitting of toxic gases and hazardous particles.

Noise-Reducing Muffler: Equipped with a spark arrestor, the dual fuel portable generator diminishes the noise coming out of the exhaust through sound reverberation - also known as echo - for a smooth and quiet operation.
Specifications:
Gasoline:
Peak Watts: 12,000

Running Watts: 9,500

Peak Amps @120V: 100

Running Amps @120V: 79.2

Peak Amps @240V: 50

Running Amps @240V: 39.6
Propane:
Peak Watts: 10,200

Running Watts: 8,075

Peak Amps @120V: 85

Running Amps @120V: 67.3

Peak Amps @240V: 42.5

Running Amps @240V: 33.6
Engine:
Amperage: 79.2A/39.6A (Gasoline), 67.3A/33.6A (Propane)

Voltage: AC: 120/240V 60 Hz, DC: 12V

Frequency: 60Hz

Horsepower: 18HP

Engine Size: 457cc

Engine Type: 4-Cycle Air-Cooled Spark-Ignition

Engine Speed: 3600RPM

Fuel Type: Dual Fuel (gasoline/propane)

Fuel Tank Capacity: 8.3 Gallons
Product:
Runtime: (Gasoline) at 50% Load: 9 Hours, (Propane) at 50% Load: 4 Hours

Start Type: Electric/Recoil

Volume Level: 72dB

EPA Certified: Yes

CARB Certified: Yes

CSA Certified: No

Product Dimensions: 29"L x 30" W x 26" H

Product Weight: 224 Lbs
State-of-the-art DuroMax Generator
Fitted with one of the most robust tailor-made DoruMax engines, the 12,000-watt dual fuel generator has a lot to offer. Thanks to 9,500 watts of running power, this unit is capable of delivering hours of sustained energy, providing the perfect home backup solution. Whether you're on a mission or just love the taste of coffee in the woods, the DuroMax XP12000EH is your companion.
Besides, efficient air digestion allows the cylinders to perform at their finest levels. The 457cc engine gives its components enough room to take air in and out and thus remain productive for the duration of use, even on heavy loads.
Traditional generators use a pressurized oil system, which can make run hot. Generators made by DuroMax use a splash-type oil cooling system that stabilizes temperatures and prevents the unit from overheating, thus leading to improved performance and longevity.
The 12,000-watt dual-fuel portable generator can reach speeds of up to 3600RPM but is often handled by idle control, lowering rotational speeds when not in use. This allows for extended runtime, lower temperatures, and overall better performance.
DuroMax's Dual Fuel Technology
To complement the fierce 457cc engine, fuel life shows up to 19 hours of runtime on gasoline, and up to 14 hours on propane. Allowing you to choose the most convenient fuel input for you, Dual Fuel Technology doubles as the perfect home backup solution. Gasoline can have a 5% more powerful output than propane in terms of wattage, but the latter reduces carbon emissions by 70%, making dual fuel generators a reliable eco-friendly option.
100% copper windings provide better thermal dynamics, keeping temperatures stable while running. This translates to improved work capacity and extended runtime.
The 12,000-watt dual fuel portable generator from DuroMax also features a low oil indicator, automatically shutting off when oil levels are critical for safety measures.
Besides the low oil shutoff, an automatic voltage regulator keeps the unit running at optimal speeds, preventing overloads and power surges.
Environment-Friendly
Although capable of pushing out high levels of power, the DuroMax XP12000EH remains eco-friendly. The 12,000-watt dual fuel generator complies with strict guidelines provided by the EPA (Environmental Protection Agency) and CARB (California Air Resources Board). This means reduced toxic emissions for a healthier and evergreen environment, making it ideal for outdoor scenarios and public use.
Through the use of sound reverberation, the DuroMax XP12000EH is less noisy when operational. Sound bounces on the sides of the built-in spark arrestor, reducing its magnitude for a smooth and quiet operation.
DuroMax Longevity
Built to perform but also constructed to last, the 12,000-watt portable generator can exert full power for years to come. Thanks to full metal construction, the engine is protected from all sides against water, dust, scratches, and bumps. Sturdy frames tie up the seams of the unit while keeping it safe from external damage.
When moving across rough terrain, durable solid fill tires offer improved grip and stability over regular ones. They are filled with foam, so they will never run flat. This makes the dual fuel portable generator perfect for a job or camp site.
For added convenience, the DuroMax XP12000EH is equipped with a foldable liftoff handle, making pulling the 224lbs unit a lot lighter.
Fully Loaded Power Panel
The power panel includes a number of outlets, all designed to fit specific needs, allowing for maximum compatibility and ease of use. The panel features a circuit breaker and battery switch in case of short circuits or overloading, an idle control switch for saving fuel and money, and a volt meter displaying information about the engine when it's running.
The DuroMax XP12000EH also features an electric start button, so you can begin producing power at the press of a button. A recoil start is available in case of battery drain.
You have the ability to choose fuel input via a fuel switch, and an inlet where you can connect your propane hose.
Benefits of Using Propane
Generators using Dual Fuel Technology conveniently allow you to choose which fuel source to pull from, which is standard in DuroMax Dual Fuel Generators. Using propane as a fuel source can translate to roughly 5% worse performance, but the benefits overshadow the power difference.
Here are the benefits of using propane as a fuel choice:
Convenient for Winter: Unlike gasoline, propane does not need to be warm to go through the oil funnel and allows the engine to start right away. This is especially helpful in cold locations or in cold weather.

Cost Effective and Efficient: Propane costs less than gasoline and can burn for longer periods at a time. Besides that, the former can be found in gas stations, stores, and shops during a power outage, unlike gasoline which requires power in order to be pumped into a container.

No Spills: Spilling is an eventuality when pouring gasoline from one container to another. Propane can be connected through a propane hose safely and effectively. This prevents you from spilling and leaving greasy spots on the ground.

Low Maintenance Solution: After being burned, gasoline residue sticks to the sides of the exhaust and fuel lines, which you'll have to clean. On other hand, though, propane is a clean option leaving no spots whatsoever.

Reduced Toxic Gases: Propane reduced the health hazards by emitting half as much carbon monoxide as gasoline.

Longer Shelf Life: You can store propane for up to 30 years, unlike gasoline which requires expensive stabilizers to keep it from going bad, even if it is just sitting on a shelf. Unlike propane, gasoline degrades much faster and can only last for a few months.
DuroMax XP12000EH Video Overview