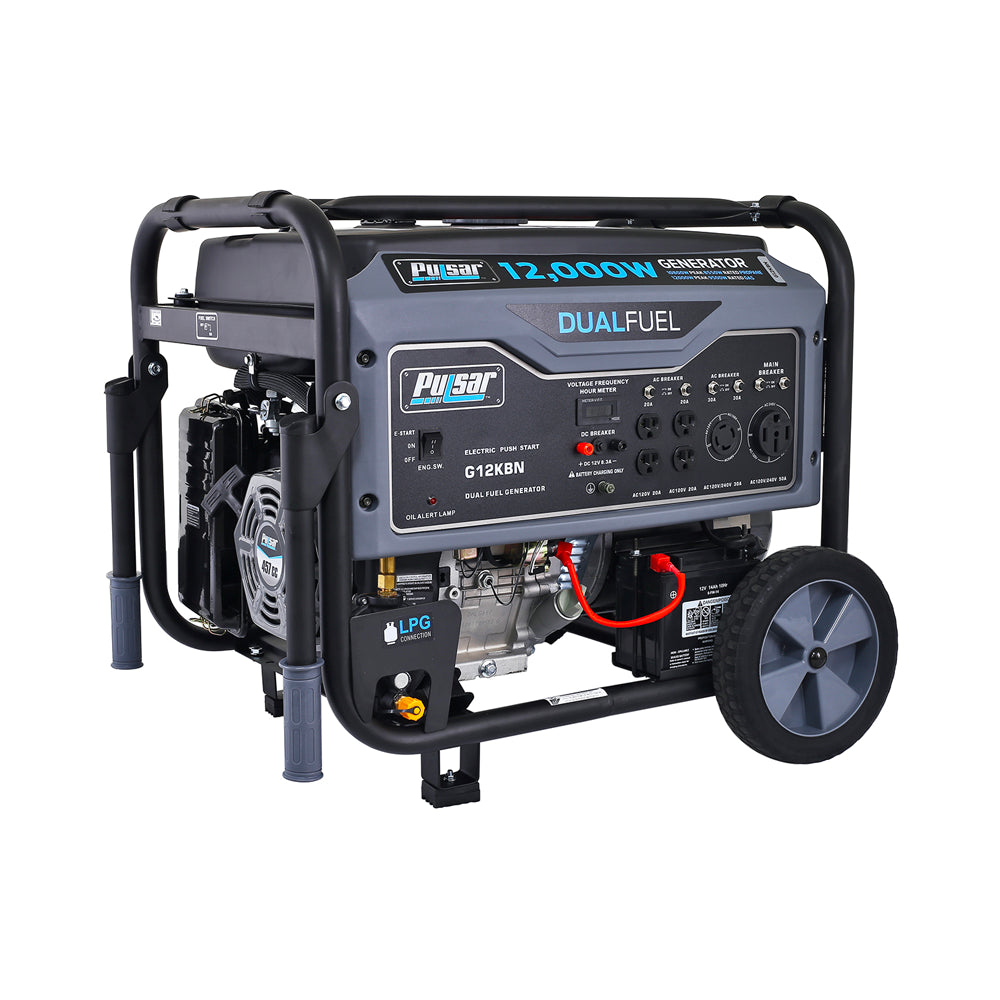 Pulsar G12KBN - 12,000 Watt Dual Fuel Portable Generator
Save

Liquid error (snippets/product-badge line 32): Computation results in '-Infinity'

%
The Pulsar G12KBN dual fuel portable generator is the ideal choice for anyone who wishes to stay up and running during power outages, thanks to its ability to deliver 9,500 watts of running power. This generator can power large and small appliances, so you can always handle several tasks simultaneously and maintain top speed and efficiency.
It doesn't end there, though. The Pulsar G12KBN is a powerful and versatile dual-fuel generator that can run on gasoline and liquid propane. Even better, a Switch-and-Go feature makes it easy to seamlessly move from one fuel source to another, even when the generator is in use.

This dual-fuel option is the perfect elixir for emergencies, especially since you have options for unforeseen circumstances. It helps make the generator more flexible when it comes to fuel use, more fuel-efficient, and a lot friendlier to the environment.

Then, as powerful as this generator is, it produces only 74 dB of sound, so no one should have issues with noise. The same can't be said for other standard generators with higher decibels. Not only will you enjoy a powered-up, fully-lit home, but your neighbors will also appreciate the fact that your generator isn't blasting loud noises while operating.

Similarly, the G12KBN is a premium option for anyone big on portability. This is because the device is lightweight and even features drop-down handles and zero flat wheels for easy movement and storage. That means you can always move the generator anywhere to supply you with power anytime you need it.

Then, let's not omit the fact that it has a durable steel frame that can endure impact and adverse weather conditions. You don't have to worry about having to build or purchase a shelter or protective case just because it's too fragile to withstand potential damages. Essentially, you're bound to enjoy this dual-fuel generator for a long time.

Finally, and most importantly, this Pulsar 12,000 watt dual-fuel generator comes complete with a CARB certification, meaning it produces fewer toxic fumes. substances harmful to humans.

Key Pulsar G12KBN Features:
12 Hours of Runtime:

The Pulsar G12KBN provides about 12 hours of runtime at half load capacity.

457cc Engine:

This generator features an electric push start with which you can start the engine without fuss. And in cases where there's an issue with this push start feature, there's a recoil backup to set things in motion.

3-in-1 Digital Meter:

Adequate for measuring electrical quantities like resistance, voltage, and current so that you rest assured that you're in a safe zone.

CARB Certified:

The Pulsar G12KBN is certified to produce lower toxins, thereby minimizing health risks.

Modern Look:

This Pulsar generator is as elegant as it is functional. Its contemporary look ensures it'll always blend well with other items in your environment.
Specifications:
Product Length - 28.5 inches

Width - 21.8 inches

Starting Wattage - 12,000W (gas), 10,800W (propane)

Running Wattage - 9,500W (gas), 8,550W (propane)

Engine - Single Cylinder, 457cc OHV

Oil Type - 10W30

Oil Capacity - 37.2 oz

Fuel Type - Propane, Gasoline

Operational Volume - 74 dB

Half Load Run Time - 12 hours
The generator also features a fuel gauge, voltage meter, automatic voltage regulator, SLA battery, spark plug wrench, and propane hose.
Superior Power Panel
The Pulsar G12KBN dual-fuel generator features four 120V receptacles, 120/240V Twist-lock, 12V DC output, and 120/240V 50 Amp RV outlets. All of these allow you to plug in as many appliances as you can at the same time for increased productivity. 
Also, the generator features circuit breakers to protect the unit from electrical risks or fire hazards caused by a short circuit or overcurrent. This is definitely a must-have feature to minimize dangers in your home or office.

Seamless Engine Start
You don't have to go through so much stress to start the generator. With the electric push start, you can start the engine in no time. Also, whenever the "push start" button becomes faulty, there's a recoil backup to ensure you don't waste time looking for a solution to the switch.
A Robust Unit
With a running power of 9,500 watts on gas and 8,550 watts on propane, the Pulsar G12KBN is built to operate major appliances in your house, both big and small, without issues. Therefore, you can use this unit either as a regular homeowner or a business person.
Pulsar Dual Fuel Efficiency
This Pulsar generator uses both gasoline and propane simultaneously, but that's just one thing that makes the Pulsar G12KBN unique. You can choose to use any fuel options as you please and switch from gas to propane and vice versa, even when the unit is still on. See our full range of dual fuel generators here.
Exceptional Runtime
The Pulsar G12KBN allows you to use fuel efficiently since it offers 11 hours of runtime at just half load capacity. This is a surefire sign that you won't have to compromise your productivity level at any point as you're certain of a stable power supply. 
Usage Safety
EPA and CARB (California Air Resources Board) certifications mean this model produces a relatively low level of emissions and can be used in all 50 states.
Shop our full Pulsar range here.
G12KBN Video Overview