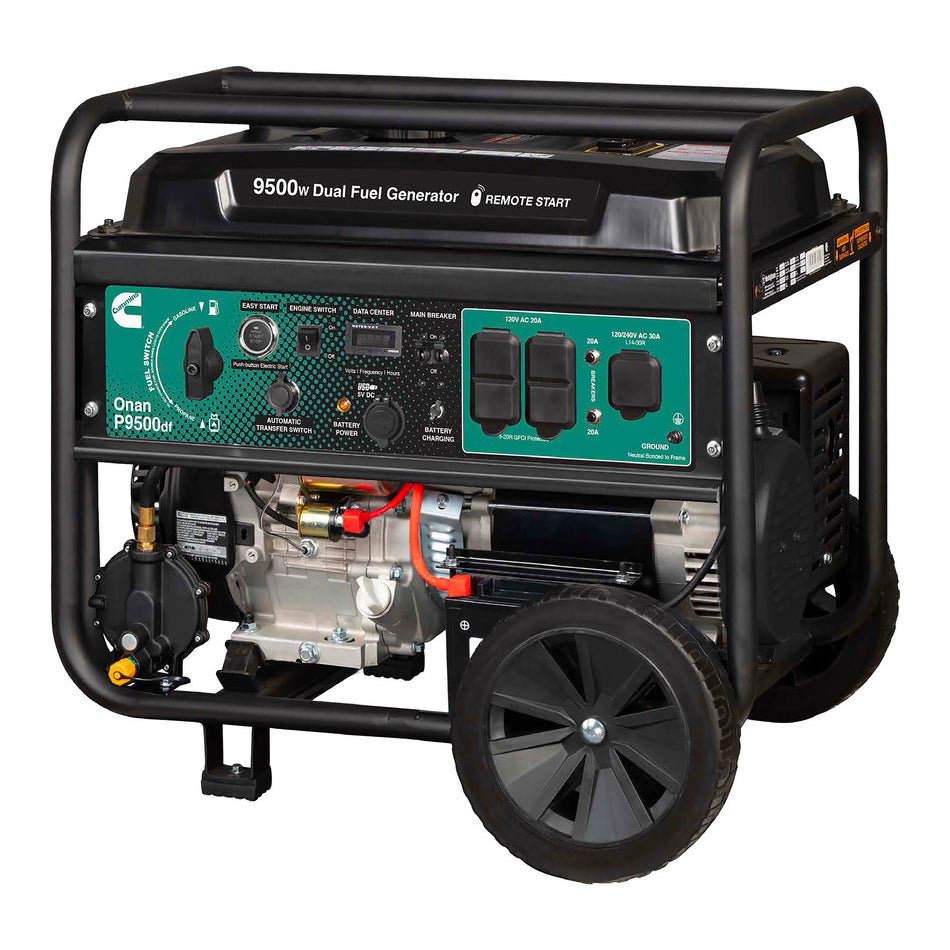 Cummins Onan P9500DF Dual Fuel Portable Generator - A058U967
Save

Liquid error (snippets/product-badge line 32): Computation results in '-Infinity'

%
The Cummins Onan p9500df dual-fuel portable generator (model A058U967) is a powerhouse wherever you need it. Whether powering a home, jobsite, or campsite, this will tackle it all easily. It can output 9,500 peak watts when running on gasoline, and alternatively, it can also run on propane.
Dual fuel allows you to switch between fuel sources, but more importantly, it can connect to large propane tanks to keep your whole house powered during an outage. The P9500df even comes with a wheel kit to help you maneuver it. Plus, it features a remote start, so you don't even have to get out of your seat to start it.
Dual fuel

Remote Start

LED display

Transfer switch ready
Dual Fuel Power from Cummins
Dual fuel generators give you the best of both worlds by allowing for maximum versatility. However, gasoline gives you a little more power and is conveniently stored in the onboard 6.6-gallon fuel tank. It will even run for up to 16 hours on just a single tank.
While the onboard tank will keep you filled for a while, many choose propane because it is easier. There is some truth, as gasoline is messy, and storing it can be a little more challenging. However, the benefit is that it is a more powerful fuel, allowing it to output a higher wattage.
But a propane tank can be much easier to store and transport because it is in a sealed tank. Plus, you don't have to worry about dumping fuel into the generator's tank. But the biggest benefit is that you can connect to a large propane tank for extended periods of use. This is perfect for homes that rely on propane or even those with a large propane tank.
Switching between gasoline and propane is super easy and requires just the turn of a knob. The knob lets you switch between gasoline, propane, and storage mode. When you're done using the generator for a while, just start it up and flip the switch to storage mode to remove any excess fuel in the carburetor.
A Practical 9500W Dual Fuel Portable Generator
Having a generator can be a real lifesaver, especially in the event of a power outage. Unfortunately, many people assume the best way to stay energized during an outage is to get a permanently attached standby generator. But a portable generator can actually be more beneficial.
The benefit of a portable generator is that you can take it with you and use it for other purposes. For instance, you can use it at your home in the event of an outage, but you can also take it camping. Similarly, you can take it from job site to job site with ease.
At home, you can run individual appliances and devices from the standard 120 Volt outlets. Or you can connect your entire house if it is equipped with a generator port. If your home is equipped with a generator port, the P9500df can serve as a standby generator.
There are a few key features that make it the perfect standby generator. In addition to the 240 Volt outlet, other key features include an electric starter and the ability to power with propane. The electric start allows anyone to use the generator without the strain of a pull start. In addition, the propane connection will enable you to hook up a large tank for extended runtime.
Power Everything in Your Life
Regardless of your intended use for the Cummins Onan P9500df dual-fuel portable generator, it is important to calculate how much power you need to ensure it meets your needs. Whether powering a camper, tools or even home appliances, sizing to the proper wattage is crucial for seamless operation.
with 9500 peak watts, you won't have any problems powering even the largest campers. Similarly, it will easily be able to run nearly all power tools and even some welders. However, you should still consider how many devices you intend to run at once. Check each individual device you want to use in order to calculate your total needs.
When it comes to powering a whole home, the P9500df dual fuel generators can easily supply most of your appliances and devices. This includes lighting, most kitchen appliances such as refrigerators, and televisions without a problem. It can even run the fan on a gas furnace, but it will not be able to power most central air conditioners or central electric heaters.
Cummins Onan P9500DF Features
The Cummins onan p9500df dual fuel portable generator comes packed with plenty of features. The first thing you've probably already noticed is the included wheel kit. While many generators in this class have an optional wheel kit sold separately, Onan includes one along with a handle.
The next great feature is an electric starter. All that it takes to start the generator is the push of a button, and the electric starter will kick in to turn the engine on. In addition to the standard electric start button, it also includes a remote start so you can start the generator without having to leave the comfort of your home or RV to get it running.
There is no need to mess with annoying pull cords or recoil starters. However, A recoil starter is also included so you can still start the generator in the event of an emergency, such as a dead battery. Having an electric start also means that the Onan P9500df also features an automatic choke, so you don't have to worry about manually choking it on a cold day.
One of the most convenient features is an LED display which shows the run time, voltage meter, frequency and lifetime hours. In addition, it lets you easily access information about your generator to ensure that it is producing optimal power and can help you keep track of maintenance.
Each power outlet features its own protective covering as well as a breaker. Plastic caps cover each outlet when not in use to prevent dirt and debris from getting inside and causing damage. The Breakers protect the individual outlets from short circuits and serve as overcurrent protection.
Specifications of the P9500DF Generator (A058U967)
The Cummins Onan p9500df dual fuel portable generator provides 9,500 peak watts and 7,500 running watts on gasoline. On propane, the generator delivers 8,550 peak watts and 6,750 running watts. It features multiple outlets, including 4-120V 20A GFCI outlets. This makes it the most powerful model in the Cummins portable generator range.
There is also a 120/240V 30 A L14 30r twist lock connection for powering larger tools, campers or whole homes. The total size with the handle down is 27.25" X 26.25" X 26.25" and has a dry weight of 194lbs. The fuel capacity is 6.6 gallons which can keep it running for 16 hours at 25% load.
It also has a low oil shutoff sensor which will automatically turn the engine off if it gets too low on oil. The generator is also backed by a 3-year residential use warranty and a 1-year commercial use warranty. Cummins Onan also has a support line that is available 24/7 to assist with any questions or problems that may arise.