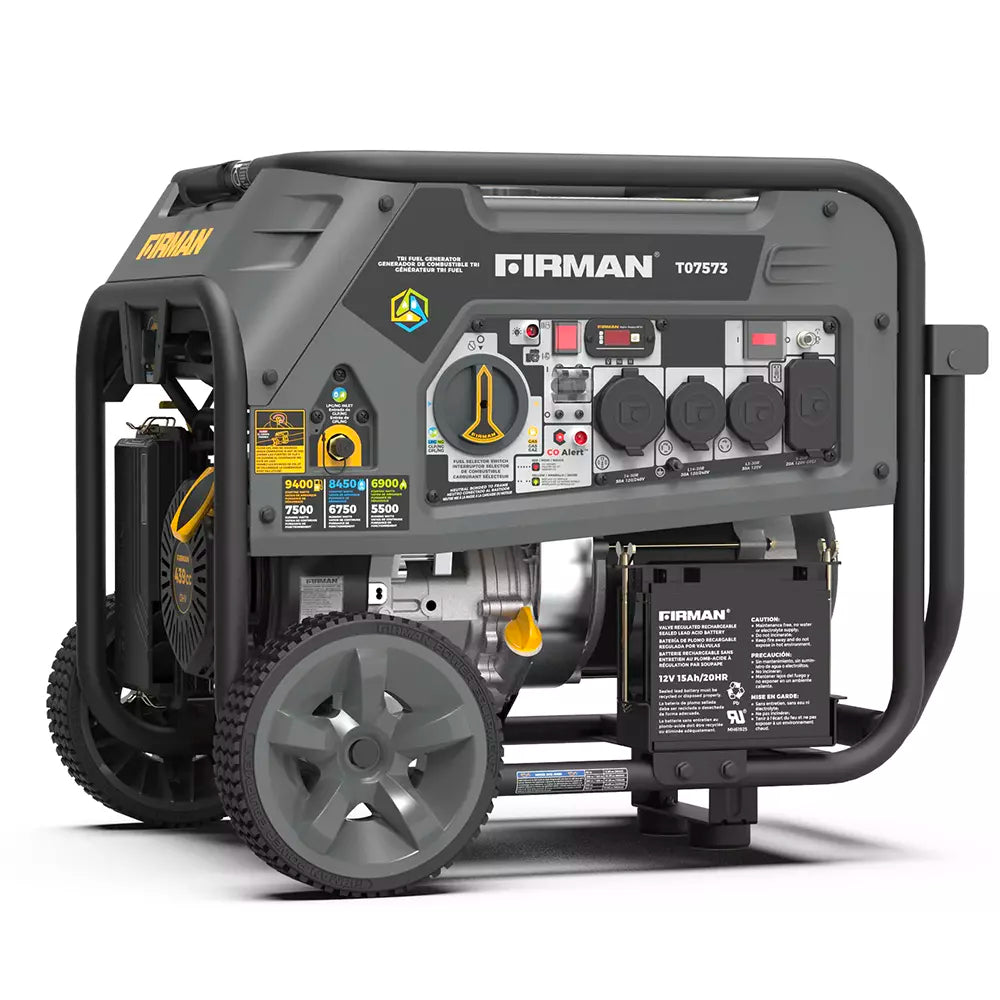 Firman T07573 Tri Fuel Generator - 9400 Watt
Versatile, robust, and reliable, the Firman T07573 operates using 3 different fuel sources: liquid propane gas, natural gas, and gasoline to ensure maximum convenience. Remain ahead of your needs with this tri-fuel portable generator and zero in on your tasks with minimum concern.
With its powerful 439cc engine, the T07573 will get you through both routine workdays and unexpected emergencies with ease. This 9,400-watt portable powerhouse can handle multiple jobs with consistency, reliability, and safety. This includes powering high-amperage power tools on the job site and household appliances in case of a blackout.
While the Firman T07573 may deliver staggering numbers in terms of power supply, it does not come at the expense of its autonomy. You'll be able to storm through productive workdays as well as power outages with the help of this portable generator since it can run continuously for up to 12 hours at 25% load.
Because it was built with maximum compatibility in mind, the T07573 houses an L14-30R receptacle. This outlet allows you to plug the unit directly into the breaker box in your home and begin producing power to the entire household immediately.
The built-in CO Alert Technology allows the unit to automatically detect unsafe levels of carbon monoxide, which is a toxic, colorless, and odorless gas and shut the engine down in the event of danger so that you can remain safe both inside and outside.
Key Firman T07573 Features:
439cc Engine:

With a maximum running power of 7,500 watts, the T07573 ensures you remain productive and operational at all times no matter your requirements.
Tri Fuel Technology: Fuel availability is no longer an issue since you can use propane, natural gas, or gasoline as fuel for this tri-fuel powerhouse.
Up to 12 Hours of Runtime:

You can run the 9,400-watt generator for up to 12 hours on a single fill of the 8-gallon fuel tank, giving you plenty of time to get through power outages and long days on the work site.
Modern Finish:

The Firman T07573 is a stylish addition to any workspace or backyard thanks to its sleek design, muted gray color, and yellow accents that are a signature of the Firman brand.
EPA and CARB-Approved:

This tri-fuel portable generator keeps its toxic emissions far below industry standards by complying with internationally recognized environmental laws, so you can remain safe and healthy at all times.
Specifications:
Gasoline:
Peak Watts: 9,400

Running Watts: 7,500
Propane:
Peak Watts: 8,450

Running Watts: 6,750
Natural Gas:
Peak Watts: 6,900

Running Watts: 5,500
Engine:
Voltage: AC: 120/240V, 60 Hz

Frequency: 60Hz

Engine Size: 439cc

Engine Type: OHV 4-stroke

Engine Speed: 3600RPM

Fuel Type: Tri Fuel (Gasoline/Propane/Natural Gas)

Fuel Tank Capacity: 8 Gallons
Outlets:
1 x 5-20R 120V 20A DUPLEX GFCI

1 x L5-30R 120V 30A TWIST LOCK

1 x L14-30R 120V/240V 30A TWIST LOCK

1 x 14-50R 120V/240V 50A
Product:
Runtime: (Gasoline) at 25% Load: 12 Hours

Start Type: Electric Start/Recoil

Volume Level: 74dB

EPA Certified: Yes

CARB Certified: Yes

Product Dimensions: 29.8"L x 27.5" W x 26.1" H

Product Weight: 213 Lbs
The Firman T07573 Tri Fuel Generator is Built for Performance
The Firman T07573 features a powerful 439cc engine that can maintain a remarkable 7,500 watts of running power, providing enough current for all of your household appliances and heavy-duty power tools.
Designed to protect you as well as the unit, the 9,400-watt portable generator features a Power Stream Alternator, which automatically handles sudden electrical surges to prevent any damage from being done to either you or the unit.
Firman Tri Fuel Technology
Firman are well known for their tri-fuel portable generators.
Because of the ingenious design of its internal components, the T07573 can operate on any one of three different fuels: liquid propane gas, natural gas, or gasoline. This versatility enables game-changing benefits such as cost-effectiveness, convenience, and control.
This tri-fuel portable generator was built to last for up to 12 hours on a quarter load, allowing you to remain productive on the job site or remain fully operational during a power outage.
If the oil level drops too low, the engine will turn off automatically to prevent damage from being done by using contaminated oil. The unit also features a low oil indicator that turns on when the tank needs to be refilled.
Eco-friendly Standards
Due to the T07573's compliance with the Environmental Protection Agency and the California Air Resources Board's strict environmental guidelines, its toxic emissions are significantly lower than standards. This makes using the device risk-free and considerably lessens potential health problems.
Ergonomic Build
The tri-fuel portable generator's foldable U-shaped handle makes it easy to transport, despite its hefty 213-pound frame.
The plastic wheels also have the added benefit of never needing to be replaced since they will never run flat.
Fully Loaded Power Panel
The fully featured power panel not only has 4 covered outlets but also has an L14-30R receptacle, which ensures maximum compatibility. This means that the T07573 can be connected to your home's breaker box and used as an emergency power source right away.
While this powerhouse features an electric start feature, you can quickly resume power production by using the recoil mechanism if the battery dies. 
If the unit becomes too taxed, the power can be quickly cut off via the circuit breakers located in the electrical panel. It protects itself from overheating and wear and tear, while the spark arrestor keeps it from starting any fires.
Benefits of Using Propane and Natural Gas
Only a small percentage of performance is lost when switching to green fuels, but the practical, environmental, and financial benefits can be game-changing:
Speedy Start-ups:

Green fuels, unlike gasoline and other non-renewable fuels, do not need to be heated before they can be pumped through the fuel system, so they can be used as a backup power source whenever you need them.

Cost and Availability:

Propane and natural gas are less expensive and easier to find when the power goes out, but gasoline is unreliable because it needs electricity to be pumped from one container to another.

Spill-free:

There will always be the possibility of an accident occurring, which may result in you having to clean up a greasy gasoline stain on the floor. You can avoid any unnecessary trouble when refueling the unit by using the hose contained within the box.

Hassle-free:

Propane and natural gas, being clean burning substances, cause minimal residue to remain on engine components after combustion.

50% Lower Toxic Emissions:

Using green fuel can cut toxic fumes by up to half, making it the more environmentally friendly and safer option.

Extensive Storage Time:

Propane, in contrast to gasoline, which must be maintained with pricey additives to prevent it from deteriorating, has a shelf life of up to 30 years and does not require any maintenance.
Want to see the full Firman generator range? Check them all out here.