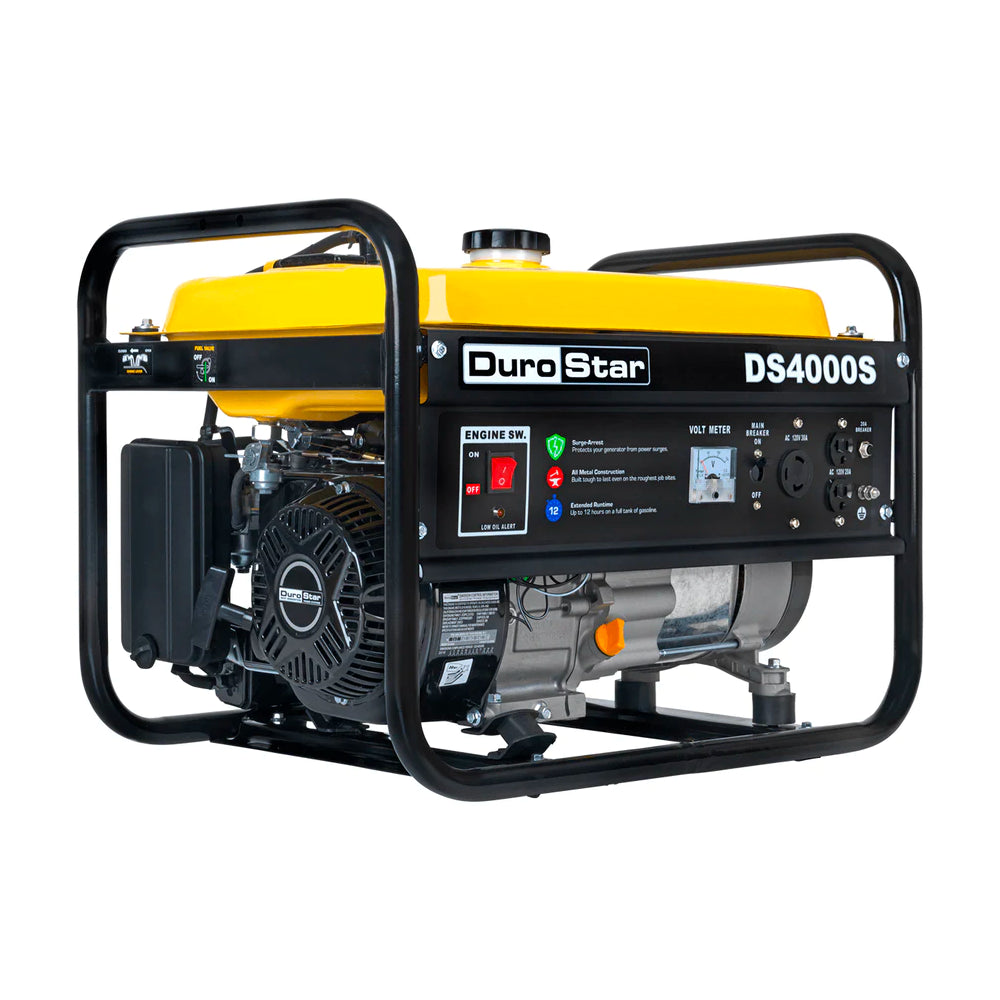 DuroStar DS4000S - 4000 Watt Gas Portable Generator
Save

Liquid error (snippets/product-badge line 32): Computation results in '-Infinity'

%
For professional workers, amateur DIY lovers, and nomads alike, the DuroStar DS4000S offers the perfect power backup solution on the go. Although only kitted with a 3.96-gallon fuel tank capacity, this portable unit is nothing short of spectacular, peaking at 26 hours of ongoing use.
Thanks to its compact, lightweight, and open-frame design, this 4,000-watt portable generator can easily be moved around for convenient use, making it ideal for partaking in festivals and camping trips and being time-efficient in your job.
Packing a 208cc engine, the DS4000S 4000 starting watt generator can sustain 3,300 watts of running power to keep your high-amperage power tools and small and large appliances running smoothly.
Complementing the robust capabilities of the engine, the fully featured power panel provides control and convenience with multiple inlets as well as a circuit breaker for safe and easy operation.
Key DuroStar DS4000S Features:
DuroStar Core:

Get everything you need up and running thanks to a robust 208cc engine coupled with efficient thermals.
Surge Arrest:

To protect the engine from sudden increases in voltage, the DuroStar generator features a surge arrest functionality to prevent any damage.
12+ Hours of Runtime:

Even on heavy loads, the DS4000S can sustain hours of use, and even longer with moderate usage which makes it perfect for on-the-go scenarios.
Sturdy Build:

Entirely wrapped in metal, the 4,000-watt portable generator can withstand severe weather conditions and years of wear-and-tear.
EPA and CARB Approved:

To accommodate for healthy outdoor use, the DuroStar DS4000S is both EPA and CARB-approved, meaning less toxic emissions.
Specifications:
Gasoline:
Peak Watts: 4,000

Running Watts: 3,300

Peak Amps @120V: 33.3

Running Amps @120V: 27.5
Engine:
Amperage: 27.5A

Voltage: AC: 120V

Frequency: 60Hz

Engine Size: 208cc

Engine Type: 4-Cycle Air-Cooled Spark-Ignition

Engine Speed: 3600RPM

Fuel Type: Gasoline

Fuel Tank Capacity (Gasoline): 3.96 Gallons
Product:
Runtime (Gasoline) at 50% Load: 12 Hours

Start Type: Recoil

Volume Level: 69dB

EPA Certified: Yes

CARB Certified: Yes

CSA Certified: No

Product Dimensions: 23"L x 18" W x 17.5" H

Product Weight: 102 Lbs
State-of-the-art DuroStar Engine
Peaking at 4,000 watts, the DS4000S portable generator can rejuvenate your home during a power outage, keep your high-duty power tools running, and handle multiple jobs without breaking a sweat.
Running on 208cc of headroom, the engine's efficient air digestion through the cylinders allows for more torque to accommodate heavy needs which, coupled with its compact design, makes it perfect for job sites.
While conventional units use aluminum to save on cost, DuroStar generators feature 100% copper windings. Aluminum quickly overheats and holds the temperature, slowly damaging the unit over time, whereas copper is a superior heat conductor that allows for better heat dissipation, meaning it protects the unit from slowly deteriorating over long periods of use.
Check out our full DuroStar generator range here.
Extended Runtime
Through optimized use of fuel and a 3.96-gallon fuel tank capacity, the DS4000S makes every minute count, providing a reliable power source for hours on end.
The 4,000-watt portable generator can reach up to 12 hours at 50% load to make sure you're getting as much value as possible during your work hours, camping moments, and friendly gatherings.
The unit also features a top-sided easy-to-access fuel tank and a recoil start mechanism. Reliably and immediately begin producing power including charging external batteries and powering high-amperage power tools.
Surge Arrest
Power surges are simply a sudden increase in voltage that can damage electronic devices if strong enough. They can originate from a lightning bolt or high voltage changes in large appliances such as air conditioning units and refrigerators.
To protect the engine from damage and permanent failure, the exclusive DuroStar Surge Arrest feature prevents the unit in case of malfunctioning, providing peace of mind.
Controlled Toxic Emissions
To ensure we aren't damaging the environment, the DuroStar DS4000S portable generator conforms to guidelines from the Environmental Protection Agency and California Air Resources Board. This translates to less toxic emissions and unhealthy particles for more eco-conscious use.
Since the 4,000-watt portable generator is both EPA and CARB-approved, it is perfectly suited for public settings where people can be in close proximity to the unit and be used worry-free.
In addition, the built-in spark arrestor prevents any fire hazards from occurring which makes this unit ideal for camping trips and forested areas.
Years of Use
To make sure you're getting the most out of your investment, the DuroStar DS4000S is wrapped in full metal construction protecting it from all sorts of scratches, harsh weather conditions, and bumps. Additionally, heavy-grade frames protect the outer layers of the unit and prevent damage to the engine by being the first defensive line.
While the solid-fill tires kit is sold separately, they provide a game-changing experience when traversing rough terrain. Combined with the onboard handle, relocating the 92lbs unit is as easy and convenient as it gets.
Fully Loaded Power Panel
Gearing the DuroStar DS4000S for maximum compatibility, the fully featured power panel includes different outlets to accommodate different purposes such as charging external batteries, powering high-amperage power tools, and small and large appliances.
The DuroStar supports RV connection via an L5-30P to TT-30R adaptor allowing for a quick setup to get everything you need up and running.
The power panel also includes a voltmeter and fuel gauge allowing you to check oil levels as well as other information about current use at a glance. Additionally, a low oil light indicator will notify you when oil levels are low.
Providing an even safer experience, a circuit breaker switch can be turned on to automatically shut the engine off in the case of a short circuit or overload. Besides that, the low oil shutoff functionality automatically turns the engine off when oil levels are insufficient.