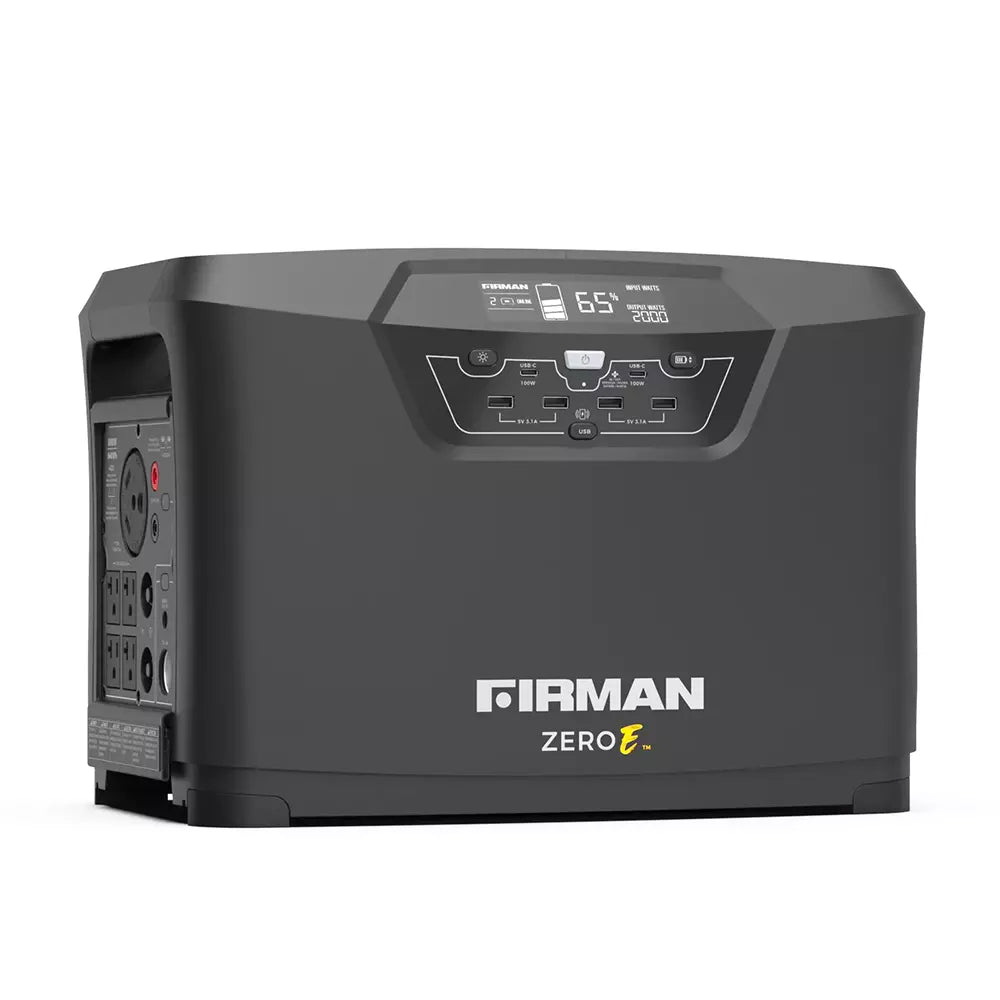 Firman Zero E Portable Power Station - E201001
Designed to meet your needs with zero emissions, zero maintenance, and almost silent operation, the Firman E201001 provides 2,000 watts of running power from a compact and lightweight package.
Wirelessly charge your phone, safely power your RV, and confidently use your household appliances thanks to the Firman Zero E Portable Power Station's versatile arsenal of outlets and short circuit protection.
Clocking in at a light 42 lbs, the E201001 can last for hours with its 1,040 Watt Hours capacity and can be charged up to 80% in ONE hour, so you can keep going no matter what the situation calls for.
Using the parallel port, you can combine two E201001 power stations to double the output, or stack up to 10 Firman Power Packs for robust energy production.
Unlike Lithium-Ion builds, the Zero E Portable Power Station performs flawlessly for more than 4,000 charge/discharge cycles. Thanks to Lithium Iron Phosphate, the most advanced sustainable form of energy in the industry, the Firman E201001 presents itself as a dependable and trustworthy power backup solution in every scenario.
Key Firman Zero E Power Station Features:
Reliable Performance:

Thanks to an impressive 2,000 watts of running power for its size, the E201001 delivers when you need it the most whether you're going through a power outage or simply enjoying a peaceful moment outdoors.
Zero Emissions:

Fueled by clean energy, this portable power station is perfect for indoor use as well as crowded areas since it doesn't emit any fumes or gases.
Quiet Operation:

Almost inaudible, the Zero E Portable Power Station performs quietly so you can work or enjoy the moment in peace.
Supercharge:

You can rest assured knowing the Firman E201001 charges up to 80% in ONE hour so you can keep going for longer. Alternatively, it can be coupled with another E201001 unit or a Firman Power Pack +1000 for extended runtime.
Maximum Compatibility:

This portable power station houses multiple outlets to ensure you're always one step ahead of your needs. From USB outlets to a 30 AMP RV-Ready receptacle, this unit has got you covered at all times.

E201001 Specifications:
Model:

Capacity: 1040Wh, 41.6V/25000mAh
Input:
AC Charge Port: 90V-140V~50Hz/60Hz (15A Max)

EC5 DC Input: 11V-50V⎓10A Max (Solar and Car Charging)

USB-C (Bidirectional x 1): 5V⎓3A/9V⎓3A/12V⎓3A/15V⎓3A/20V⎓4.95A 99W
Output:
AC Outlet (5-20R) x 4, RV Port (TT-30R) x 1: 2000W/4000W Surge total, 120V/60Hz

USB-C (Bidirectional x 1, Unidirectional x 1): 5V-3A/9V-3A/12V-3A/15V-3A/20V-4.95A 99W

USB-A x 4: 5V/3.1A

DC 5521 x 1: 12V, 10A Max

Car Port: 12V, 10A Max

Wireless Charging: 5V/1A, 9V/1.12A (10W)
Other Ports:
Expansion Port: 41.6V/65A max.
Wattage & Voltage:
Peak Watts: 4,000

Running Watts: 2,000
Voltage: AC: 120/240V, 60 Hz

Frequency: 60Hz
Product:
Start Type: Electric Start

Product Dimensions: 16" L x 10.6" W x 11.2" H

Product Weight: 43 Lbs
Designed to Deliver
Using pure sine waves to produce power, the Firman E201001 supplies a consistent 2,000 watts of running power that allows it to handle multiple jobs from powering high-amperage power tools to RVs and household appliances.
All while remaining quiet, you can use a parallel cable to connect another E201001 unit and double the power.
In an effort to keep you and the unit safe from harm, the portable power station has built-in safeguards against electrical surges called Short Circuit Protection and Over Current Protection.
Eco-friendly Power Source
Since it generates power purely from sine waves, the E201001 features zero emissions, making it a safe and healthy backup option indoors. It's also a perfect power supply in crowded areas since the absence of toxic emissions means creating an eco-friendly environment for everyone included.
Reliable Autonomy and Supercharge
With its 1,040 Watt Hours capacity, the Firman E201001 lasts for hours to ensure you can power through your tasks. Engineered to last, its internal components allow it to endure more than 4,000 charge/discharge cycles.
Thanks to Firman's Supercharge Technology, this portable power station charges up to 80% in one hour so that it's set and ready to go at a moment's notice.
Fully Loaded Power Panel
In addition to 4 USB-A outlets, 2 USB-C outlets, and 4 120-volt AC outlets, the power panel includes a TT-30R outlet for maximum compatibility. This makes the E201001 RV-ready, meaning it can be plugged directly into your recreational vehicle to immediately begin producing power using the electric start feature.
The fully featured power panel also displays useful information such as remaining battery percentage, outlets that are being used, input watts when charging, output watts when in use, and more.
Sleek and Compact Build
Weighing in at a convenient 42 lbs, the E201001 remains easy to carry and can be used for a variety of outdoor activities such as camping.
The Zero E Expandable Power Station is packed into a compact build that is wrapped in an elegant matte finish, allowing it to turn into a fitting piece of decoration when turned off.
See the full range of generators from Firman Power Equipment here.
Video Overview: Firman Zero E