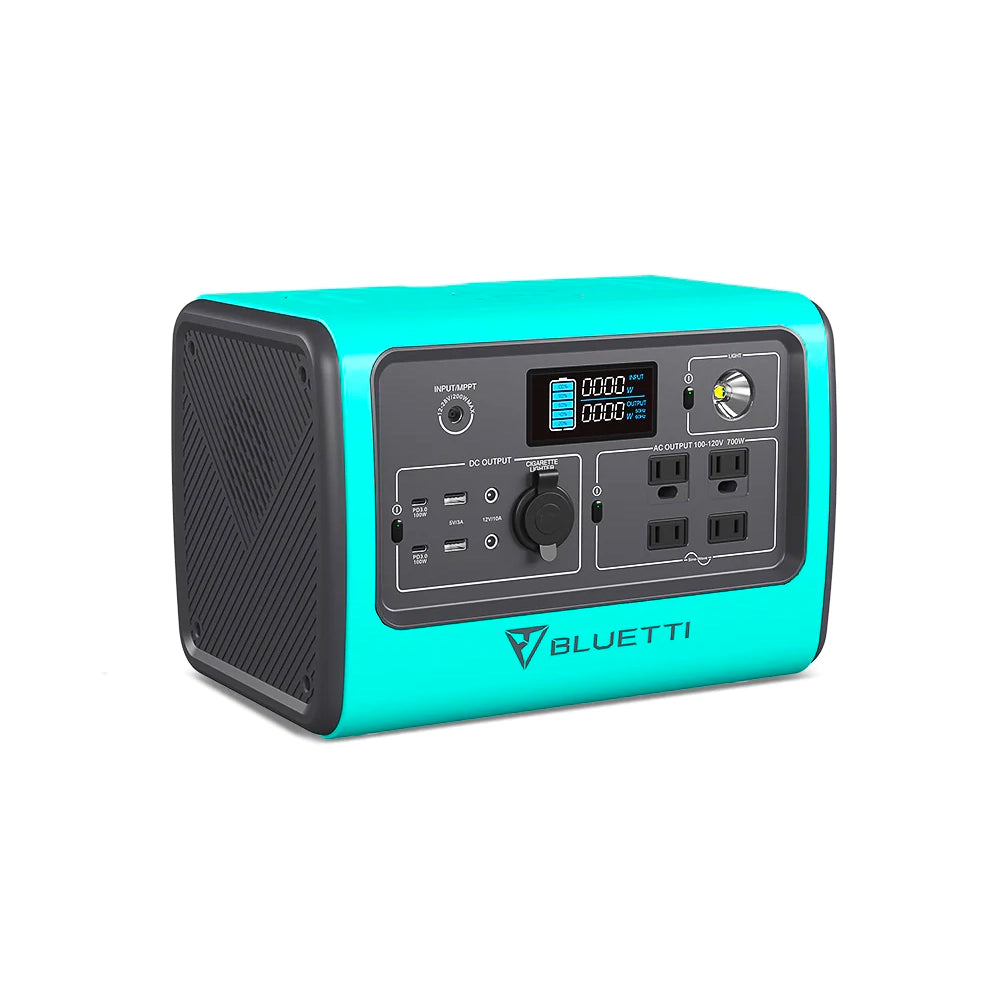 BLUETTI EB70 Portable Power Station - 700W 716Wh
Finding a solid, reliable power station that isn't too heavy and allows you to easily pack and carry it around can be a challenging ordeal, especially if you aren't sure which brands have proven reliability and which models have received the best reviews from customers.

We're going to discuss the BLUETTI EB70 Portable Power Station in detail, and why this lightweight power station has everything you need to get power in a wide variety of different situations. Whether you're camping, on the go, or just need power due to an emergency situation or power grid failure, this little device has everything you need to survive and thrive.
After walking through the specifications of this device, we'll look into common use cases, charging times and methods, and why you should get this device for your charging and portable battery needs. 
BLUETTI EB70 Specifications
The BLUETTI EB70 Portable Power Station has a wide variety of use cases and features built-in. Even though it might seem like our standard power source, this model is much more powerful than it initially lets on when just glancing at it from the outside. 
We're going to walk through the specifications of this incredible device in detail, and after going through each bullet point, you should have a much better idea of how this particular portable power station fits our requirements and specifications.
Specifications:
Battery Capacity: 716 Wh

Battery Type: LiFePO4 (Lithium Iron Phosphate Battery)

Life Cycles: 2500+ Cycles to 80% Original Capacity

Shelf-Life: Recharge to 80% Every 3-6 Months for Optimal Shelf-Life

Management System: BMS, MPPT Controller, and More

AC Outlets: 4x 120V/20A AC Outlets, 700 Watts in Total

Inverter Type: Pure Sine Wave

Surge Power: 1400 Watts

USB-C Ports: 2x 100W Maximum

USB-A Ports: 2x 5V/3A

12V DC Outlets: 1x 12V/10A (Car Outlet), 2x 12V/10A (DC5521 Port)

Wireless Charging Pad: 1x 15W Maximum

AC Adapter Input: 200W Maximum

Solar Input: 200W Maximum, VOC 12-28V, 8A

Car Input: 12/24V from Cigarette Lighter Port

Recharge Time AC Adapter (200W): 4 ~ 4.5 Hours

Recharge Time Solar (200W): 4 ~ 4.5 Hours (with prime sunshine, ideal orientation, low temperature)

Recharge Time 12V/24V Car Outlet (100W/200W): 7.5 or 4.0 hours, respectively

Pass-Through Charging: Yes

Weight: 21.4 lbs

Dimensions: 12.6" x 8.5" x 8.7"

Operating Temperature: -20C to 40C

Storage Temperature: -10C to 45C

Certifications: DOE, CEC, QC3.0, FCC, CA Prop 65

Warranty: 24 Months

AC Adapter and Charging Cable Included

Car Charging Cable Included

Solar Charging Cable Included

User Manual Included

Warranty Card Included

Certificate Included
Portable Power Station Use Cases
There are a wide variety of different use cases for which you can use your BLUETTI EB70 Portable Power Station, and we're going to walk through some of the most common and most popular use cases that customers who purchase this particular model typically tend to use it for.
We're going to cover outdoor adventures and camping, using this power station as a backup power source, off-grid solar recharging capabilities that come with this device, LED lighting and SOS lighting, and how you can use this incredible power station to power small appliances and cookware when on the go our out in the wilderness away from civilization.
Even if your use case isn't one of the ones listed below, remember that you can always adapt the way you use your power station and even try using it for one of these mentioned use cases. This isn't an exhaustive list and there are much more potential ways you can utilize your power station out in the wild, but this list should get you started brainstorming and moving forward in the right direction. 
Outdoor Adventures & Camping
When you're out in the wilderness, whether on an expedition, outdoor adventure or just on a camping trip with friends or family, you can make your camping experience better for everyone by having a power station on hand like the BLUETTI EB70.
Instead of worrying about whether you'll be able to charge your devices or have an emergency light in case of an emergency, having this power station on hand will let you experience peace of mind and allow you to truly enjoy your time outdoors and out in nature without any worries.
We never know when we might need emergency power or a way to charge one of our devices, or if there's a specific situation that'll come up where an extra LED light or SOS light is required. This power station has all of these features and more, giving you the ultimate peace of mind, and reliable power, and allowing you to sleep soundly and know you have your power needs taken care of for any situation. 
Backup Power Source
You can use this power station as a backup power source to ensure that you have power no matter what. Even if the power goes out for an extended period of time, you'll have peace of mind and be able to sleep soundly knowing that you're covered.
If an emergency situation comes up like a natural disaster, earthquake, hurricane, or just a power grid failure that lasts for multiple days or weeks, having a power station like the BLUETTI EB70 will let you move through each day without the difficulty of not having electricity.
Imagine how much more difficult an emergency situation could potentially be if you didn't have power that you could use to charge your phone, run small appliances or electrical devices, and just have the option of having electricity in case the situation required it. Furthermore, you'll have the ability to charge your backup power supply through solar power, giving you as much power as you need even if you're unable to charge it through a power outlet or through the power grid. 
Off-Grid Solar Recharging Capability
If there's a power grid failure, whether that's due to an emergency in your area or a natural disaster that just passed through, extended periods without power can be challenging to navigate. Most people might have a battery power source prepared that might last them a few days or even a week, but what do they do if the power grid still remains down?
Since traditional power stations or backup power supplies require you to charge it through the power grid and rely on having working electricity, you won't have the flexibility you would with a device like the BLUETTI EB70 Portable Power Station.
With its off-grid solar recharging capability, you can recharge your device using solar panels in just a few hours, and have power for an extended period of time. Instead of waiting for the power grid to come back up or for power to be restored, why not have everything you need to have power and not rely on a central power source and power outlets?
For the ultimate off-grid power solution, consider getting this BLUETTI EB70 power station model, and never worrying about going through an extended power outage ever again. 
LED Lighting & SOS Signaling
Do you have emergency lights or an SOS signal that you can use, just in case you're in a situation that requires it? The BLUETTI EB70 has both of these built-in, letting you use it as either a lantern or an emergency signal if you need it.
Most power supplies or backup power sources just have a battery inside and that's it – they typically aren't equipped with additional lantern capabilities just like this incredible device has. Even if you're stuck out in the dark, this BLUETTI power station will ensure you'll be able to make it through with less difficulty than someone who doesn't have an emergency light and emergency power on hand. 
Power for Small Appliances & Cookware
When you're on the go, whether at an outdoor event or camping, you'll sometimes find yourself in situations where you don't have any power outlet for powering or charging your electronic devices. What do you do?
With the EB70 Portable Power Station, you'll have all of the power you need to power small appliances, hardware, electrical devices, and even cookware on the go. No more worrying about needing to start a primitive fire while out in the wild, you'll be able to power your cookware or small devices with ease by using this power station, even if there isn't any outlet or power line anywhere nearby. 
EB70 Charging Times & Methods
There are multiple different ways you can charge the EB70 Power Station, and we're going to walk through each charging method in detail as well as how long it takes to charge using each of these methods.
The first charging method is using a standard AC Adapter that's typically about 200 watts. With this power adapter, you'll find yourself charging your device for approximately 4 to 4.5 hours.
The second method is using solar panels and their solar charging capability to fully recharge your device. With this method, at approximately 200 watts of solar charging capacity, you should also expect anywhere from 4 to 4.5 hours of charging time. Note that this time is based on an ideal solar panel orientation, prime sunshine, and low temperatures for optimal charging.
You can also use your car outlet, either at 12V or 24V. For a 12V and 100W car outlet, it'll take approximately 7.5 hours to charge. With a 24V car outlet at around 200W, you should be able to charge your device in about 4.0 hours. 
Who is the BLUETTI EB70 Power Station for?
The BLUETTI EB70 Power Station is perfect for anyone who needs an emergency backup power solution or a portable power source that isn't too heavy to carry around and is small enough to fit in most traditional bags, backpacks, or packing situations.
There are much larger capacity power stations available on the market today, and even though they can run a large number of your devices for an extended period of time, they're often very heavy to carry around and use on the go.
This power station will allow you to easily transport and carry your portable battery, and ensure that you have power anywhere you need it, whether out in the wilderness or right at home. 
Primary Benefits of the BLUETTI EB70
One of the biggest benefits of the BLUETTI EB70 is its portability, lightweight, and carrying capacity. Instead of lugging around a heavy power source that's too large to store reliably or transport with ease, this power station weighs just 21.4 lbs and is still lightweight enough to be carried around wherever you need it.
Another great benefit is the large number of outputs it has. You can choose between USB-C and USB-A ports, a wireless charging pad, 12V DC outlets, and even AC outlets. No matter what type of device or appliance you need to power, this incredible power station will give you everything you need to get power to all of the electronics and electrical devices you need. 
Get the BLUETTI EB70 today for an Excellent Portable Power Source
For a great experience and all of the power you need on the go, consider getting the EB70 today. For anyone who needs a device for power outages, one with an AC wall outlet, a power station solar generator capable device, or one that has extended life cycles and a wireless charging pad, this is a great model that we recommend purchasing and using on the go. It also has LED lights, great max input, is perfect for camping or RV trip use, and an overall great model of portable power station.
EB70 Portable Power Station Overview Video