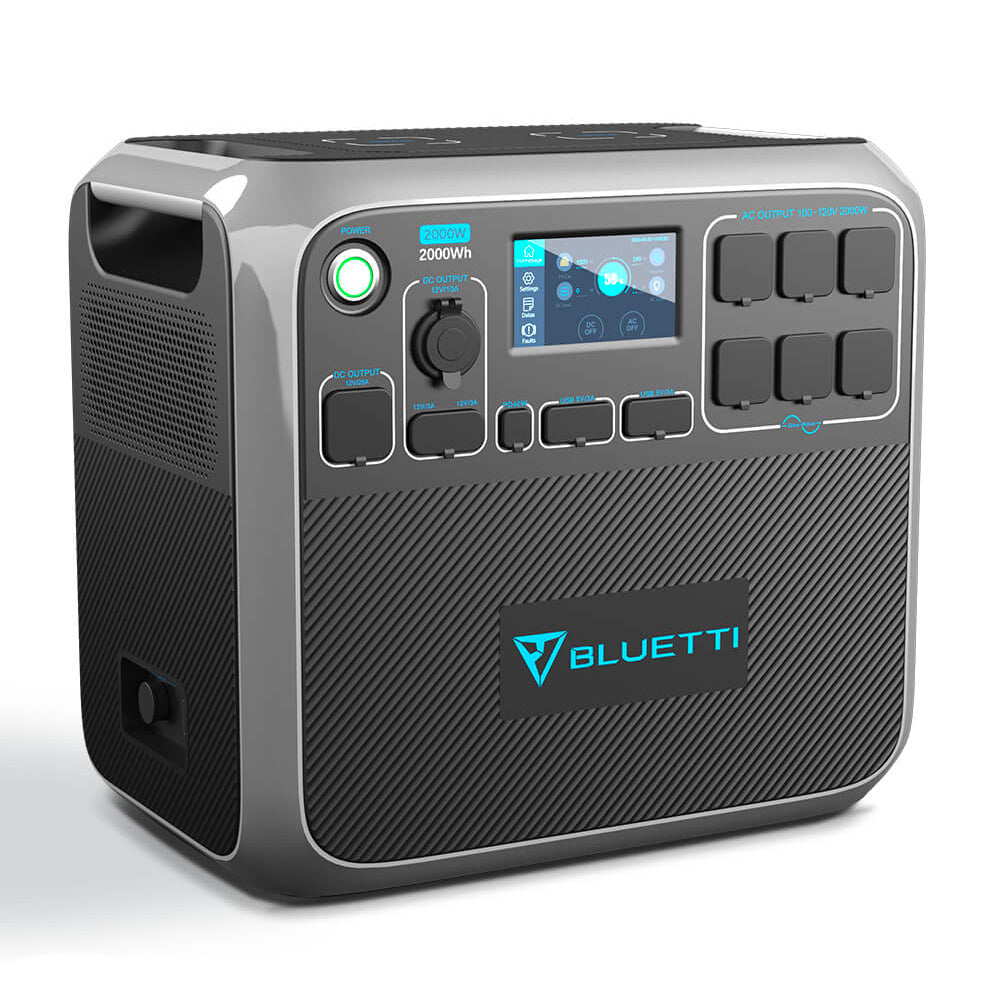 BLUETTI AC200P Portable Power Station - 2000W 2000Wh
Save

Liquid error (snippets/product-badge line 32): Computation results in '-Infinity'

%
For an eco-friendly yet cost-effective source of portable power, look no further than the BLUETTI AC200P. With its compact design, moderate power output, and ample outlets, these portable power stations can keep your devices running and charging through all your adventures.
So, whether you're going hiking, camping, tailgating, or just chilling at the beach, you'll be glad to have this generator by your side. Plus, it'll come in handy, for sure, whenever you experience an emergency power outage or need to run your power tools on the job site. With a quick look at all it can do, it's clear that this generator is the way to go when you need portable power on your side.
A Look at BLUETTI AC200P Specifications
The AC200P has just the right amount of power to run all your kitchen appliances, electronics, and more, but it doesn't take up a lot of room. In fact, at just 16.5x11x15.2 inches in size, this generator needs less than two square feet of space when accompanying you on your travels.
Plus, it's only 60 pounds, allowing you to move it from place to place without breaking a sweat. Although its overall dimensions are more than impressive, that's definitely not all there's to love about these portable solar generators.
When you buy the BLUETTI AC200P solar generator, you'll get:
2,000/4,800 watts

2,000 watt hour LiFePO4 battery capacity

Pure sine wave inverter for sensitive electronics

17 AC, DC, USB, and RV ports

Dual wireless charging pad 

7 smart ways to recharge

700-watt maximum solar input

3,500 charging cycles

Compact 60-pound design

LCD display panel
What You'll Get with Your Solar Generators Purchase
When you treat yourself to a BLUETTI AC200P portable solar generators, you'll receive:
AC200P generator unit

AC adapter

Car charging cable

MC4 solar charging cable

XT90 to aviation plug

Certificate of authenticity

BLUETTI warranty card

Power station user manual
Upon buying your power stations new, the manufacturer provides a two-year, hassle-free warranty. They offer lifetime customer support as well.
For even more support, buy your generator from us. We'll provide the highest quality of service every step of the way. Beyond that, we offer factory-direct pricing always plus free local shipping anywhere in the United States. See the full range of Bluetti power stations here.
A Truly Dependable Source of Off-Grid Power
If you need a truly dependable source of off-grid power, you cannot go wrong with the BLUETTI AC200P Portable Power Station. Built with your convenience in mind, this generator uses a 2,000 watt AC pure sine wave inverter with the potential to hit a surge wattage of 4,800.
With all that power on tap, you can run your most sensitive electronics, like air conditioners, CPAP units, and electric grills, with ease. Recharging is quick and easy, too, thanks to its seven ways to tap into the power in your midst.
Take Your Power Station Anywhere Without Breaking a Sweat
The BLUETTI AC200P features a fully-enclosed case built to go anywhere you do. You just have to grab this 60-pound generator by its two carrying handles and hit the road. Once you arrive at your campsite, job site, or any other location, find two square feet of open space for your generator, and start using it for all your power hungry devices.
Enjoy More Than Enough Electricity for All Your Devices
Despite its small footprint, the AC200P has all the power you need for your car fridge, space heater, coffee maker, cameras, drones, and so much more. Day in and day out, the AC inverter easily produces a running wattage of 2,000 and hits a peak of 4,800 watts. All that power lets you run and charge up to 17 devices whenever you need stable voltage at home or on the go.  
Use The BLUETTI AC200P Portable Power Station to Run Your Sensitive Electronics at Their Full Capacity
The innovative inverter creates pure sine wave energy designed to match the power created by a standard wall outlet. With that, it's able to run even the most sensitive electronics at their full capacity and without the risk of causing any damage. You never again have to go without your electronics that use AC motors, including your car fridge, air conditioner, microwave, and CPAP machine.
Decrease Your Carbon Footprint on All Your Adventures
With its 700 watt max solar input, the AC200P generator can help decrease your carbon footprint on all your adventures. Your generator will make you a whole lot less reliant on the grid, letting you put the sun to work in your favor. To enjoy all that freedom, just recharge your eco-friendly portable power station with your solar panels each time the LiFePO4 battery runs low.
Get True Peace of Mind from the Battery Management System
While using your BLUETTI AC200P Portable Power Station, you'll get true peace of mind as the advanced Battery Management System watches over all its operations. Risk drops considerably as this smart system oversees the operation of all the functions, including the operating temperature. If anything goes awry along the way, the system makes changes to protect its internal parts, like kickstarting the temperature-activated fan.
Skip Worries About Carbon Monoxide Output and High Noise Levels
Since the pure sine wave inverter runs on a LiFePO4 battery, you never need to add stinky fuel or deal with carbon monoxide output. Thanks to its gas-free operation, high noise levels are never a concern either. So, you can run your portable power station wherever your travels take you without worry. Plus, your neighbors will appreciate your ability to avoid causing a ruckus while powering multiple devices on the go. 
With so many benefits set to come your way, how could you resist the charm of the BLUETTI AC200P power station? Upon adding this generator to your life, you'll always be ready for outdoor recreation activities, power outages, and all the other times you need portable power at your fingertips.
BLUETTI AC200P Gives You Eco-Friendly Power for All Your Devices – and Recharging Needs
With the BLUETTI AC200P in your toolkit, you can get the power you need again and again without increasing your carbon footprint. As long as the sun is shining down, you can plug your generator into the 700 watt max solar input to get recharged fast. Then, as you run and charge all your essential devices with AC output and more, you can rest assured that you're using the most environmentally-friendly, reliable power source around.
Charge and Run Up to 17 of Your Essential Devices at a Time
You never have to pick and choose when it comes to what devices to run and charge using your power station.
All around the LCD display panel at the front, you have 15 outlets to choose from, including:
6 110V AC outlets

4 5V USB-A ports

1 12V 10A max DC outlet

2 12V 3A max DC outlets

1 fast charge USB-C port
In addition, this solar generator helps you stay RV ready with its 12V 25A max port located near the On/Off switch.
As if all that's not enough, you have two convenient 15 watt wireless charging pads right along the top surface. These pads make it easy to charge your cellphone, tablet, or other compatible devices by simply placing them on top of the unit.
Get the Ultimate in Convenience with Seven Ways to Recharge
Upon reaching the end of the LiFePO4's 2,000 watt hour battery capacity, just hook up the cords to the right inputs, and then draw power from your source of choice.
The AC200P power station offers multiple charging options for your convenience, too, including:
AC charger

Car outlet

Solar panels

Generator hookups

Lead battery
Want to charge even faster? Run two AC cords to draw double the power into the battery pack with the quickness.
For the ultimate charging speed, connect the generator to a solar panel and AC power adapter simultaneously. Then, watch in awe as your portable power station's battery boogies back up to 100% in no time flat using solar charging.
Recharge Your AC200P Power Station Through 3,500 Life Cycles
As you run down the battery in your solar generator and charge it back up again, you might wonder just how many times you'll get to repeat that song and dance. Thankfully, when you invest in a BLUETTI AC200P Portable Power Station, you truly get your money's worth.
The LiFePO4 battery pack can go more than 3,500 life cycles to 80% without fail, after all. So, even if you use your solar power generator once per day every day, you'll get 10 years of use out of just one machine.
Whether you're getting ready for outdoor adventures or just want extra protection when unstable voltage raises its ugly head, set your sights on the BLUETTI AC200P. You won't regret having portable power on hand when camping, van life explorations, and other adventures call your name. Plus, your solar generator will come through in a pinch if power outages leave you without a surefire way to charge and run all your essentials.
Additional Products You Can Use with Your BLUETTI AC200P
If you want to enjoy your AC200P solar generator to the fullest, then you might want to invest in additional BLUETTI products, such as:
Solar Panels and Solar Charging Cable
Eco-friendly recharging is possible with any of BLUETTI's solar panel models. If you want to run multiple smaller solar panels at a time, it's possible to hook up five of the 120 watt PV120 panels in tandem.
If you want bigger solar panels, go with three of the 200 watt PV200 or two 300 watt PV350 solar panel models. The sky is the limit in how you organize your charging setup, so reflect on your budget and preferences to find your perfect solar panel arrangement.
Expansion Battery
For even more power on demand, you just need to hook up either the B230 or B300 expansion battery to your solar generator. The extra battery packs connect using the included XT90 cable, giving you convenient power whenever you need it most. You can then run and charge all your devices for even longer as needed on your weekend trips or other extended adventures.
No matter how you set up your AC200P Portable Power Station, it's sure to leave you wholly impressed. The sheer convenience of having power whenever you need it will keep you having a great time on all your travels. You'll never again have to go without your essential devices when you're away from the grid as a result, opening up your world to endless outdoor recreation opportunities.
Stay Powered Wherever Life Takes You with the BLUETTI AC200P
If you want to stay prepared for outdoor adventures, power outages, and whatever else comes your way, the BLUETTI AC200P Portable Power Station will never let you down. You'll get to power up your appliances, electronics, and other essential electrical devices with ease despite a lack of stable voltage coming your way. The truly eco-friendly design lets you enjoy virtually endless power that you can feel good about, too.
So, if that's the type of battery backup power you're looking for in your life, it's high time to get your hands on your very own BLUETTI AC200P – and we make it easy. Just load up your portable generator in your cart, and then move through all the steps in the checkout process. After that, we'll take over by expertly processing your order and preparing your generator to arrive at your doorstep.
Once your portable power station arrives, you can hit the road with confidence that you have all the electricity you need on the go. And you'll stay protected from emergency power outages that would otherwise knock out your ability to use all your essentials at a moment's notice.
AC200P Video Overview