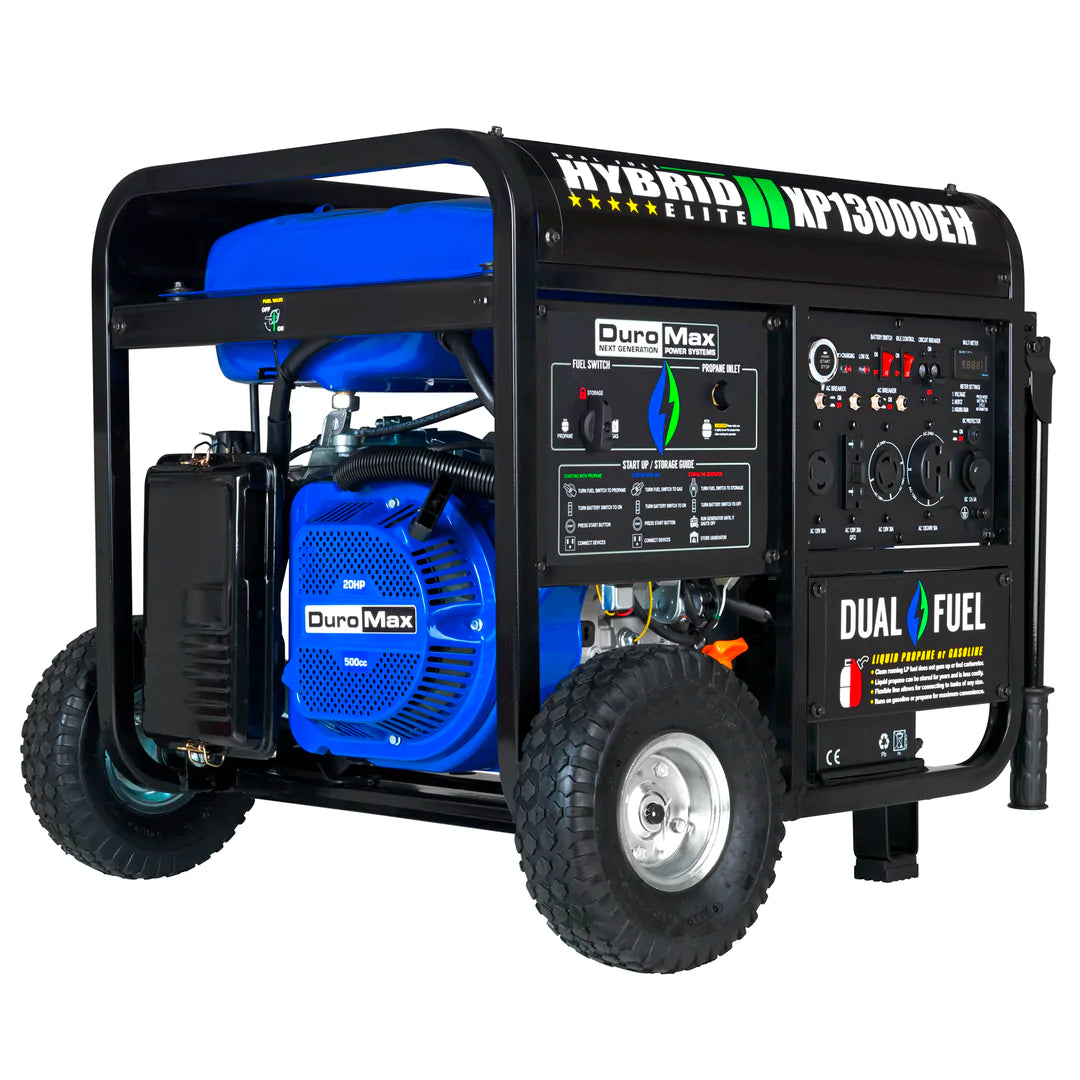 DuroMax XP13000EH - 13000 Watt Dual Fuel Portable Generator
Save

Liquid error (snippets/product-badge line 32): Computation results in '-Infinity'

%
Now featuring a propane inlet, the dual fuel workhorse powered by a 500cc engine offers robust capabilities, sustained power, and flexibility. As opposed to stationary home standby units, the DuroMax XP13000EH features dual fuel technology, meaning it can be powered by 2 oil types: propane or gasoline.
Capable of 10,500 watts of running power, the gas propane generator can deliver when you need it. The 13,000-watt portable generator can effortlessly power household essentials, high amperage power tools, and entire campsites.
Also featuring a fully loaded power panel, the DuroMax XP13000EH offers even more flexibility with multiple outlets for charging external batteries, powering small and large appliances, and heavy-duty power tools, making it perfect for job sites where many tools are used.
For added convenience, this 13,000 watt dual fuel portable generator is equipped with idle control and an automatic voltage regulator, lowering the engine speed, saving fuel, and extending runtime. In addition to that, the DuroMax XP13000EH is protected by metal construction. This guarantees the portable generator to last for years to come.
Key DuroMax XP13000EH Features:
Dual Fuel Technology: Fuel choice is now yours. You can power this 13,000-watt portable generator using propane with all its benefits. The fully loaded power panel allows you to choose fuel input via a front fuel switch.

Robust 500cc Engine: Powered by an 18HP 4-stroke engine, the 13,000-watt dual fuel unit allows the user to storm through their most demanding tasks and handle multiple jobs, powering high voltage appliances, small and large appliances, charging external batteries, and even going for a coffee on a camping trip.

12+ Hours of Runtime: The dual fuel workhorse can withstand hours of use thanks to idle control, allowing for peace of mind. Thanks to an 8.3-gallon fuel capacity, the 13,000-watt DuroMax XP13000EH provides a portable power source for the outgoing and a reliable home power backup for an eventual power outage.

Industrial Durability: Reinforced by full metal construction and sturdy frames, the DuroMax XP13000EH manages to pull through the toughest conditions and remain impeccable after years of use.

EPA and CARB Approved: Compliant with strict environmental guidelines, the 13,000-watt dual fuel generator is both EPA and CARB approved. This translates to better gas dynamics, reducing toxic fumes and unhealthy particles.

Noise Reduction: Equipped with a spark arrestor, the portable generator reduces outcoming noise using sound reverberation. This makes the XP13000EH DuroMax generator ideal for outdoor use and job sites.
Specifications:
Gasoline:
Peak Watts: 13,000

Running Watts: 10,500

Peak Amps @120V: 108.3

Running Amps @120V: 87.5

Peak Amps @240V: 54.2

Running Amps @240V: 43.8
Propane:
Peak Watts: 12,350

Running Watts: 9,975

Peak Amps @120V: 102.9

Running Amps @120V: 83.13

Peak Amps @240V: 51.5

Running Amps @240V: 41.56
Engine:
Amperage: 87.5A/43.8A (Gasoline), 83.13A/41.56A (Propane)

Voltage: AC: 120/240V 60 Hz, DC: 12V

Frequency: 60Hz

Horsepower: 18HP

Engine Size: 500cc

Engine Type: 4-Cycle Air-Cooled Spark-Ignition

Engine Speed: 3600RPM

Fuel Type: Dual Fuel (gasoline/propane)

Fuel Tank Capacity: 8.3 Gallons
Product:
Runtime: (Gasoline) at 50% Load: 8.5 Hours, (Propane) at 50% Load: 3.5 Hours

Start Type: Electric/Recoil

Volume Level: 74dB

EPA Certified: Yes

CARB Certified: Yes

CSA Certified: No

Product Dimensions: 29"L x 30" W x 26" H

Product Weight: 234 Lbs
A Powerful and Consistent DuroMax Generator
Clocking in at a staggering 10,500 watts of running power, the DuroMax XP13000EH sustains high levels of power with ease and efficiency. This dual-fuel portable generator peaks at 13,000 watts, making it a reliable and robust option for running power. From energizing high amperage power tools to small and large appliances, the DuroMax XP13000EH helps you when it matters most.
Combined with 13,000-watt peak wattage, the 500cc headroom allows the unit to power household essentials with more torque and higher engine speeds. Efficient air digestion optimizes the cylinders' performance, which translates to better handling of heavy loads.
Traditional stationary home standby units can run hot. A splash-type oil cooling system can prevent overloading by keeping temperatures stable.
Although capable of speeding up to 3600RPM, idle control lowers the engine speed when not in use, saving fuel, and prohibiting the unit from using more than necessary.
DuroMax's Dual Fuel
Dual fuel technology allows for even better flexibility. You can now fuel this portable generator with either gasoline or propane, giving you a runtime of 8 hours and 6 hours respectively. Although gasoline is converted to about 5% more power than propane, the latter emits 70% less carbon, making the DuroMax XP13000EH perfect for eco-friendly users.
Besides, 100% copper windings provide better heat dissipation to stabilize temperatures and running power. As opposed to aluminum, copper is a better heat conductor, allowing the 13,000-watt dual fuel generator to last for years to come.
The DuroMax XP13000EH also features a low oil shutoff, automatically shutting the unit off when oil levels are low for safety measures.
Additionally, an automatic voltage regulator keeps the running power in check to prevent overloading or power surges.
Also check out our full dual fuel collection here.
Eco-Friendly
This 13,000-watt DuroMax generator is a dual fuel workhorse powered by a robust 500cc engine complies to strict guidelines regarding environmental use. The portable generator is both EPA and CARB approved (Environmental Protection Agency and California Air Resources Board respectively) meaning it handles toxic gases in a safe and healthy way, reducing the waste and residue - a standard for DuroMax generators.
In addition, the DuroMax XP13000EH features a spark arrestor noise muffler that, thanks to an intelligent mechanic, reduces the volume coming out of the exhaust through reverberation. This means that the sound bounces a lot before exiting, reducing its magnitude, and providing a more peaceful and environmentally friendly way.
The DuroMax XP13000EH Was Built to Last
Full metal construction wraps around the engine and fully featured power panel to protect the unit against rain, scratches, and bumps. Supported by heavy-duty frames, the 13,000-watt dual fuel generator performs brilliantly regardless of weather and conditions and is guaranteed to do so for years thanks to its industrial-grade build.
To compliment the strong construction, solid-fill tires offer a distinguishable experience when traversing rough terrain. Also, because they are filled with foam, they will never run flat. Perfect for camping trips and construction sites.
The DuroMax XP13000EH is also equipped with a foldable liftoff handle to ease the weight of the 234lbs unit, allowing you to effortlessly pull the 13,000-watt portable generator around in a portable package.
Easy and Intuitive
Featured on the fully loaded power panel, multiple outlets are available for maximum compatibility. On top of that, the power panel includes individual breakers and a battery switch in case of a short circuit, an idle control switch to automatically save fuel and money when not in use, as well as a multi-meter displaying voltage, hertz, and duration of use.
Although the gas propane generator features an electric start button, it also offers a recoil start option in case of battery drain.
On the left side of the power panel lies another panel with a front fuel switch to choose which fuel source to pull from, and an inlet to connect your propane hose.
Benefits of Using Propane
The XP13000EH is powered by DuroMax Dual Fuel Technology, giving you the ability to choose your fuel input. Although gasoline yields about 5% more power, propane presents a few benefits that may be convenient to you depending on weather and various factors.
The benefits of using propane as a fuel source can be resumed as follows:
Perfect for Winter: Gasoline needs to be warm before being able to make its way through the oil funnel. Propane takes that out of the equation and allows the engine to begin producing power immediately. This can be significantly helpful in cold locations or during cold seasons.

Better Output and Cheaper: Propane can burn for longer periods of time and costs less, making it ideal if you'd like to save a few bucks. Besides, during a power outage, gas stations cannot provide gasoline - because they require power in the first place, but stores, home centers, and shops can provide propane at that desperate time.

No Spills: When pouring gasoline into the tank, spilling is inevitable, leaving a dirty spot on the floor. You certainly don't want that anywhere. Propane can simply be connected via a propane hose with no overflow or spilling, making it the safer and more reliable option.

Easy Maintenance: While gasoline can yield more running power, it leaves unwanted residue on the sides of the exhaust and engine. Propane burns clean and leaves no dirty deposits on the fuel lines.

Eco-Friendly: Propane emits half as much carbon monoxide as gasoline, reducing the damage to the environment and users close to the unit.

Extended Shelf Life: Gasoline degrades over time even when it is just sitting on the shelf. To keep it from going bad, you would have to use expensive stabilizers. Propane has no need for any maintenance whatsoever. While gasoline only lasts for a few months, propane can be stored for up to 30 years at a time.
DuroMax XP13000EH Video Overview